---
TOLSTOY'S PLAY THE POWER OF DARKNESS DIRECTED BY IGOR VUK TORBICA PREMIERES ON THE "RAŠA PLAOVIĆ" STAGE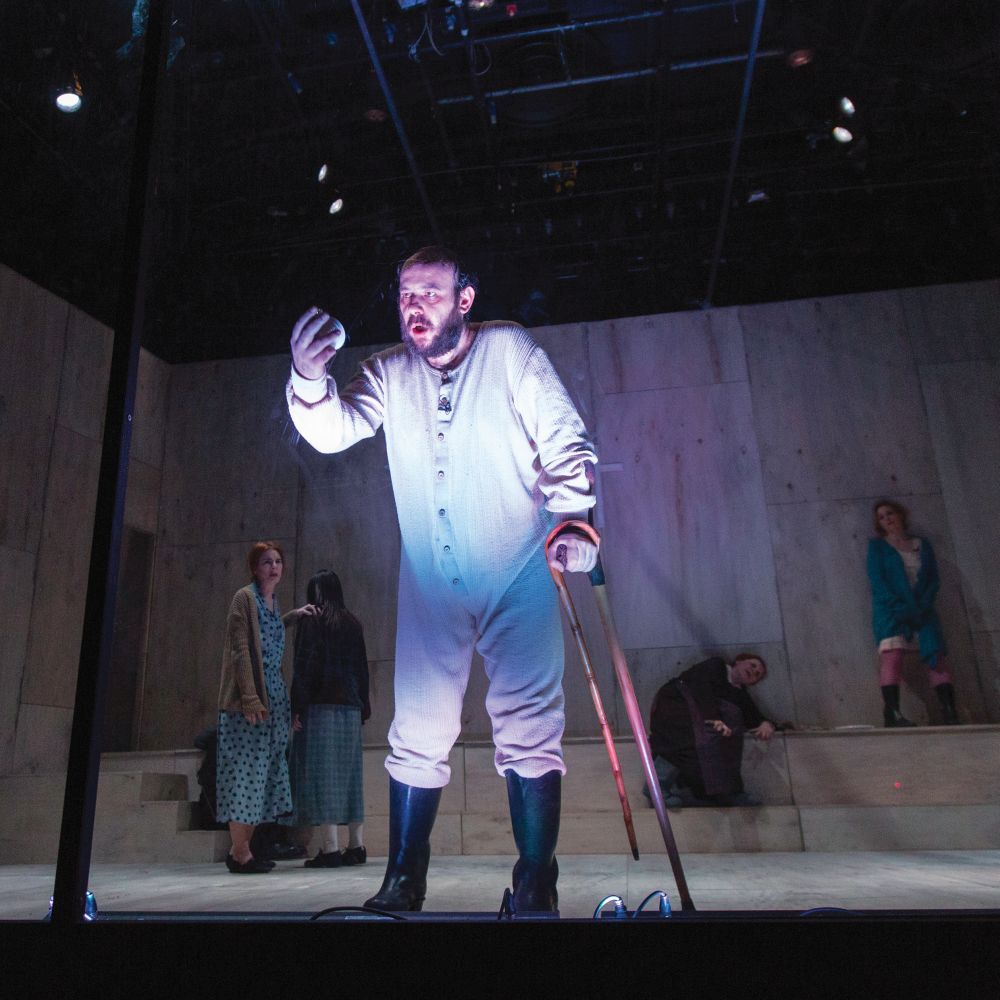 Play The Power of Darkness by Leo Nikolayevich Tolstoy, stage directed by Igor Vuk Torbica, premiered on the "Raša Plaović" Stage on Friday, 24th March.
This has been the third staging of this play in the National Theatre, which Tolstoy, one of the greatest Russian realists of his time, wrote in 1886.
The cast: Olga Odanović (Matryona), Hana Selimović (Anisya), Vanja Ejdus (Akoulina), Ljubomir Bandović (Peter), Anastasia Mandić (Godmother), Nebojša Ljubišić (Akim), Ivan Đorđević (Nikita), Nikola Vujović (Mitritch), Ivana Šćepanović (Marina), Novak Radulović (Wedding Guest) and young Jelena Blagojević (Anyutka).
Initially, the play was forbidden for staging; it had its first premiere 16 years after it was written – in 1902, when the playwright conceded to write alternations to the most dreadful scenes.
Themes from Tolstoy's play, such as deceit, greed, adultery, hypocrisy, murder and infanticide, all for money that is "the master of every action", are relevant even today.
In this play about sin and immorality of character, the great writer blames horrible poverty for everything, he provides sufficient evidence that all these characters who live in such dark circumstances are dark themselves and all are equally capable for worst deeds…
The staging of this play is unique, among other things, because there is a special glass wall on stage, so the actors cannot see or hear the audience. This unusual solution, used for the first time in a Belgrade theatre, is considered justified by the young and talented director due to conceptual, practical and artistic reasons.
The audience has watched with concentration and interest every moment of this complex performance. When the performance ended, they awarded the cast with a cordial applause.
Besides Torbica, the creative team consists of Molina Udovički Fotez / Tijana Grumić (dramaturges), Marina Medenica (costume designer), guest artist from Slovenia Branko Hojnik (set and lighting designer), guest artists from Croatia Nenad and Alen Sinkauz (composers), while Nenad Sinkauz also selected the music, Ljiljana Mrkić Popović (stage speech instructor), Dunja Kostić (assistant set designer) and Olga Mrđenović (assistant costume designer).
Ivana Nenadović is the executive producer, while Nemanja Kostić is the organiser.
Associates in the production have been Sanja Ugrinić Mimica (stage manager), Gordana Perovski (prompter) and a student, Miloš Golubović (organiser in training).
M.B.