---
NUŠIĆ'S COMEDY A SUSPICIOUS PERSON, STAGE DIRECTED BY ANDRAŠ URBAN, PREMIERES ON THE "RAŠA PLAOVIĆ" STAGE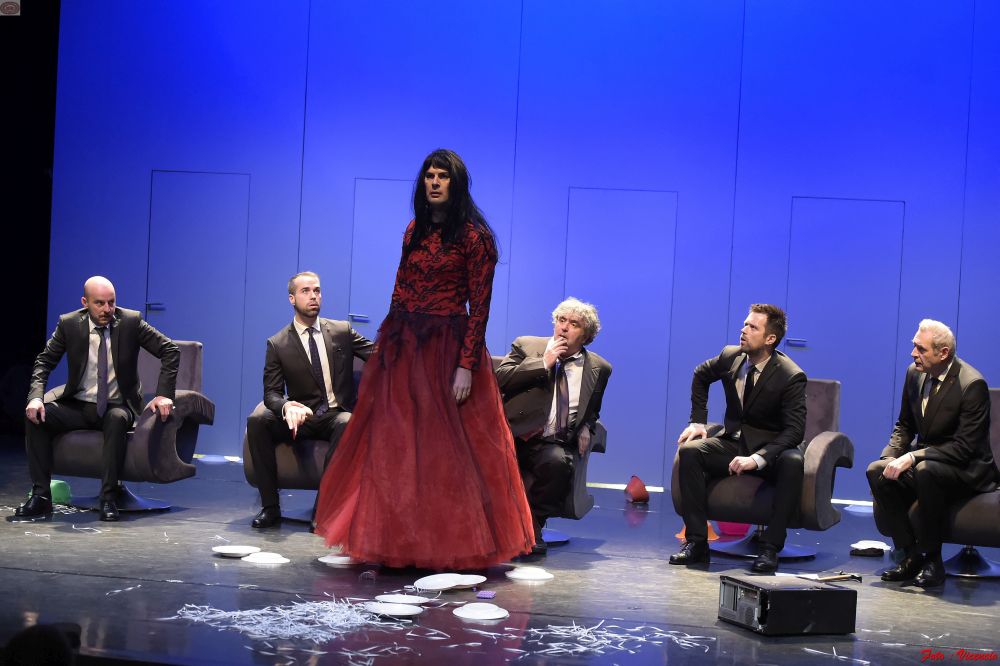 New version of A Suspicious Person, a comedy by Branislav Nušić, adapted and stage directed by Andraš Urban, premiered on the "Raša Plaović" Stage on 21st June.
In this play that portrays political and social relationships in a small town, the cast is the following: Slobodan Beštić (Jerotije Pantić), Nela Mihailović (Anđa), Suzana Lukić (Marica), Pavle Jerinić (Vića), Nikola Vujović (Žika), Hadži Nenad Maričić (Milisav), Nebojša Kundačina (Tasa), Miloš Đorđević (Aleksa Žunjić), Anastasia Mandić (Spasa, Miladin), Bojan Krivokapić (Đoka) and Dragan Nikolić (Josa).
Musicians Irena Popović Dragović, Nikola Dragović and Ivan Mirković also take part in the performance.
A Suspicious Person is a well-known comedy by Nušić that portrays dictatorship of police during the rule of Obrenović dynasty. It vividly depicts despotism of police administration in a province and reveals its narrow-mindedness and bureaucratic backwardness. In addition, the play is a satirical illustration of police methods of suspicion and detection, while at the same time it illustrates anarchy resulting from dictatorship of police and their authority to terrorize the citizens without being accountable for their actions.
Police officials were embodiment of bureaucratic manners devoid of civilized behaviour and Nušić ridiculed such kind of bureaucracy. They were slow at thinking and life became mechanized in their frame of mind. The police officials were preoccupied with their own personalities, interests and profits; consequently, they lost realistic connection towards life and reality itself.
The plot is vaudevillian and connected to two letters, an official letter and a love one. Love story incites the main plot and intermingles with it in most crucial and interesting moments.
Nušić skilfully manipulates information and accomplishes strong dramatic irony, which can be seen best when the audience have more information than the characters, the audience knows that Đoka, a fiancée of the police captain's daughter, has been arrested as the suspicious person.
In this play as well, Nušić emphasizes vitality of antiheroes, because they always want more and believe they are allowed to do anything they want. On the other hand, we can recognize the playwright's optimism in their charm and humour.
Urban's starting point for interpretation of this play, written in 1887 and 1888, was personal and social paranoia.
In this staging, he examines the need for constant creation of a so-called enemy by a community, with a doubtful legitimacy, which they use to maintain their status. By creating the enemy, at the same time, they validate the existence of certain phenomena, which would not exist otherwise.
Urban emphasizes the three important characteristics in Nušić's works – the people in power, e.g. the district captain Jerotije, then the lack of scruples, since the characters present their negative traits as positive ones, and the vitality of negative traits, while the people with those negative characteristics do not realize this about themselves.
When the performance ended in front of the hall filled to capacity, the audience gave a long applause and shouted "bravo" to actors during several curtain calls.
Besides the stage director, who is also a set designer in the production, the production team consists of Molina Udovički Fotez (dramaturge), Kata Đarmati (dramaturge and associate stage director), Marina Sremac (costume designer), Irena Popović Dragović (composer), Ljiljana Mrkić Popović (speech) and Jasna Saramandić (assistant set designer).
Milorad Jovanović is an executive producer, Nemanja Konstantinović is an organizer, Sandra Žugić Rokvić is a stage manager, Danica Stevanović is a prompter, while Martina Vranjić is an organizer in training.
This has been the fifth production of A Suspicious Person in the National Theatre in Belgrade, where the play had its first premiere on 29th May 1923, followed by premieres on 14th March 1938, 7th October 1960 and 25th November 1984.
M.B.