---
OPERA ATTILA AGAIN ON THE REPERTOIRE AS OF 25 MARCH, DRAGOLJUB BAJIĆ INTERPRETS THE TITLE ROLE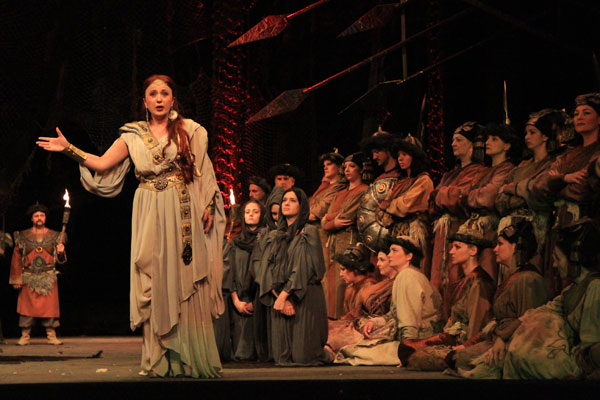 After a two and a half years long interval, opera Attila by Giuseppe Verdi, directed by Dejan Miladinović and conducted by Zorica Mitev Vojnović, will be placed again on standing repertoire of the Main Stage as of 25th March; Dragoljub Bajić, a bass, will interpret the title role.
Vuk Zekić, a baritone, will interpret the role of Ezio for the first time, Sanja Kerkez, a soprano, will interpret Odabella; Dušan Plazinić, a tenor, will sing the role of Foresto; Stevan Karanc, a tenor, will sing the role of Uldino and Mihailo Šljivić, a bass, will interpret Leone.
Orchestra, Choir and Ballet Company of the National Theatre in Belgrade take part in the performance.
Opera Attila, libretto by Temistocle Solera after Zacharias Werner's play Attila, King of the Huns (Attila, König der Hunnen), was on the repertoire for the last time on 10 October 2012.
Aleksandar Zlatović designed the set, Milanka Berberović designed costumes and Vladimir Logunov choreographed the production.
The first opening performance of the opera took place in Teatro la Fenice, Venice, on 17 March 1846.
The plot takes place mid-5th century in Aquileia, Adriatic lagoons and near Rome.
Ensemble of the Opera Company of the National Theatre placed the piece on its repertory for the first time in season 1986/87. The production premiered on Big Stage in the Centre "Sava" and was also directed by Miladinović, who entrusted the title role to Aleksandar Đokić.
In the meantime, the production was revived on 23rd January 1993 and four years later, on 14th June 1997, it had a premiere revival.
The previous premiere revival took place on 25th June 2011; the title role was interpreted by Ivan Tomašev, a bass.
M.B.