---
ON FRIDAY 20 JANUARY THE NATIONAL THEATRE CELEBRATES ITS SAINT PATRON'S DAY – THE ST. JOHN'S DAY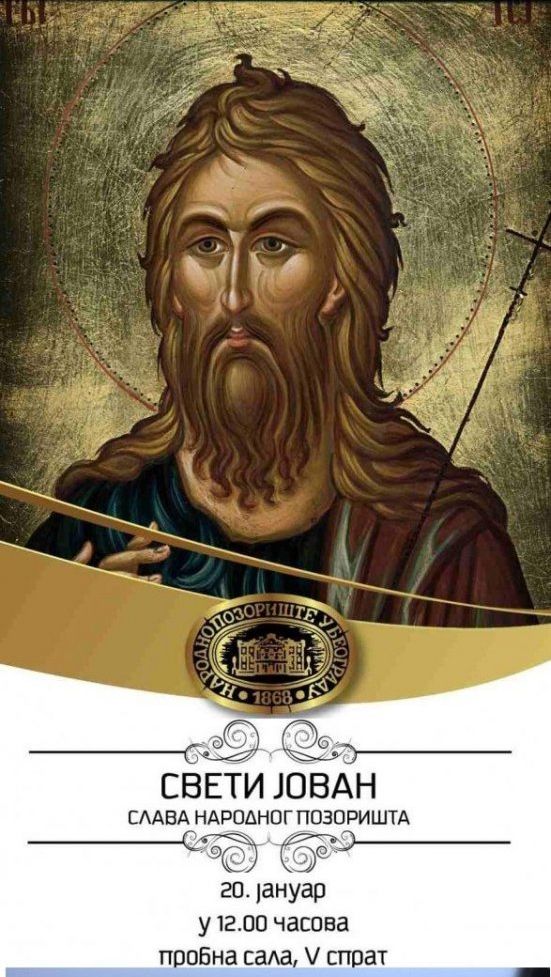 On friday 20th January, at noon, the National Theatre will celebrate its Saint Patron's Day - the Day of St. John the Baptist, in the hall on the fifth floor.
The Day of St. John the Baptist is dedicated to Jesus Christ's relative, also known as John the Predecessor. The saint is known as the Baptist because he baptised Jesus Christ and as the Predecessor because he announced Christ's coming.
St. John baptized people who repent in the Jordan River.
He was killed during the rule of Herod, who ordered decapitation of the prophet.
There is a tradition to confirm someone's friendships (fraternize and become godfathers) on St. John's Day, because St. John is considered a model of character and truthfulness.
Sponsor will be Italian Cultural Institute Belgrade.
The National Theatre in Belgrade resumed celebrating St. Patron's Day in 2001, after 67-year long interval, and on that occasion, Protojerej Petar Lukić blessed the Theatre.
M.B.