---
OPERA GALA CONCERT CLOSES THE 145TH SEASON ON THE MAIN STAGE, 29 JUNE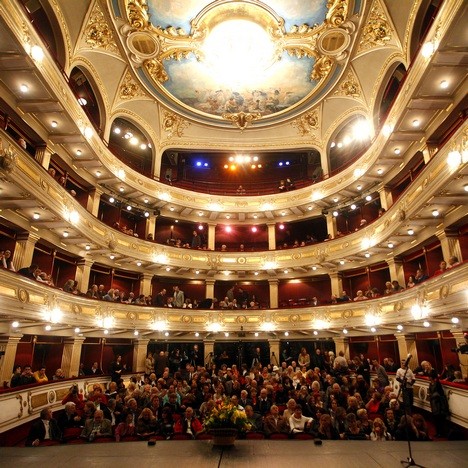 Opera Gala Concert will take place on the Main Stage, Sunday 29 June, and close the National Theatre's 145th season.
The programme shall consist of popular arias and duets from operas on the National Theatre's standard repertoire.
The Gala Concert, directed by Ivana Dragutinović Maričić, with participation of the Opera Company's Orchestra and Choir, shall feature principal singers and soloists of the Opera Company of the National Theatre in Belgrade.
The baton will be held in succession by Ana Zorana Brajović, Đorđe Stanković and Zorica Mitev Vojnović.
Nevenka Vidak designs the set.
M.B.

FIRST PART
1 • Overture Nabucco - Zorica Mitev Vojnović
2 • Pietro Mascagni: Cavalleria rusticana, Viva il vino spumeggiante; Aleksandar Dojković and Choir - Zorica Mitev Vojnović
3 • W.A Mozzart: The Marriage of Figaro, Aria Figaro, Vladimir Andrić - Đorđe Stanković
4 • Giuseppe Verdi: La traviata, Chorus of Matadors and Gypsies 2nd Act - Đorđe Stanković
5 • Giuseppe Verdi: Rigoletto, Rigoletto's Aria; Aleksandar Stamatović - Ana Zorana Brajović
6 • Pietro Mascagni: Cavalleria rusticana, The Prayer, Ana Rupčić Petrović and Choir - Zorica - Mitev Vojnović
7 • Georges Bizet: Carmen, Habanera; Aleksandra Angelov, Choir - Ana Zorana Brajović
8 • Giuseppe Verdi: Il trovatore, Manrico's Aria 3rd Act; Janko Sinadinović, Choir - Zorica Mitev Vojnović
9 • Gioachino Rossini: The Barber of Seville, Act 1 Finale - Đorđe Stanković
Singers:Dragana Popović, Ljubodrag Begović, Dragoljub Bajić, Ljubomir Popović, Svetlana Nestorov, Miloš Đuričić, Aleksandar Đuričić and Men's Choir
********** INTERVAL *********
1 • Richard Wagner: The Flying Dutchman, Sailors' Chorus 3rd Act - Ana Zorana Brajović
2 • Charles Gounod: Faust, Аria of Marguerite, Suzana Šuvaković Savić - Ana Zorana Brajović
3 • Gaetano Donizetti: L'elisir d'amore, 1st Act Finale - Zorica Mitev Vojnović
Singers: Ivanka Raković-Krstonošić, Danilo Stošić, Tatjana Mitić, Vladimir Andrić
4 • Ruggero Leoncavallo: Pagliacci, Canio's Aria, Dušan Plazinić - Ana Zorana Brajović
5 • Georges Bizet: Carmen, The Toreador Song, Miodrag Jovanović - Zorica Mitev Vojnović
6 • Gioachino Rossini: The Barber of Seville, Don Basilio's Aria; Dragoljub Bajić - Ana Zorana Brajović
7 • Giuseppe Verdi: Nabucco, Chorus of Hebrews - Ana Zorana Brajović
8 • Giacomo Puccini: Tosca, Tosca's Aria; Jasmina Trumbetaš - Ana Zorana Brajović
9 • Francesco Cilea: Adriana Lecouvreur, Aria Della Principessa, Nataša Jović Trivić - Ana Zorana Brajović
10 • Giuseppe Verdi: Aida, Triumphal Scene - Zorica Mitev Vojnović
Singers: Ana Rupčić Petrović, Nataša Jović Trivić, Janko Sinadinović, Aleksandar Stamatović, Dragoljub Bajić i Stefan Pavlović