---
FIRST PHILOSOPHICAL THEATRE IN BELGRADE TOOK PLACE ON THE "RAŠA PLAOVIĆ" STAGE
Project Philosophical Theatre was held for the first time in Belgrade on the "Raša Plaović" Stage of the National Theatre in Belgrade on Tuesday, 1st December. The project has been organised as a series of discussions, lectures and debates with audience, with certain theatrical elements such as public readings of philosophical texts and inscenations of philosophical pieces.
Guest of the first Philosophical Theatre Project was Franco "Bifo" Berardi, one of the most prominent and surely one of the most interesting Italian philosophers and activists. Berardi talked to Srećko Horvat, the initiator of the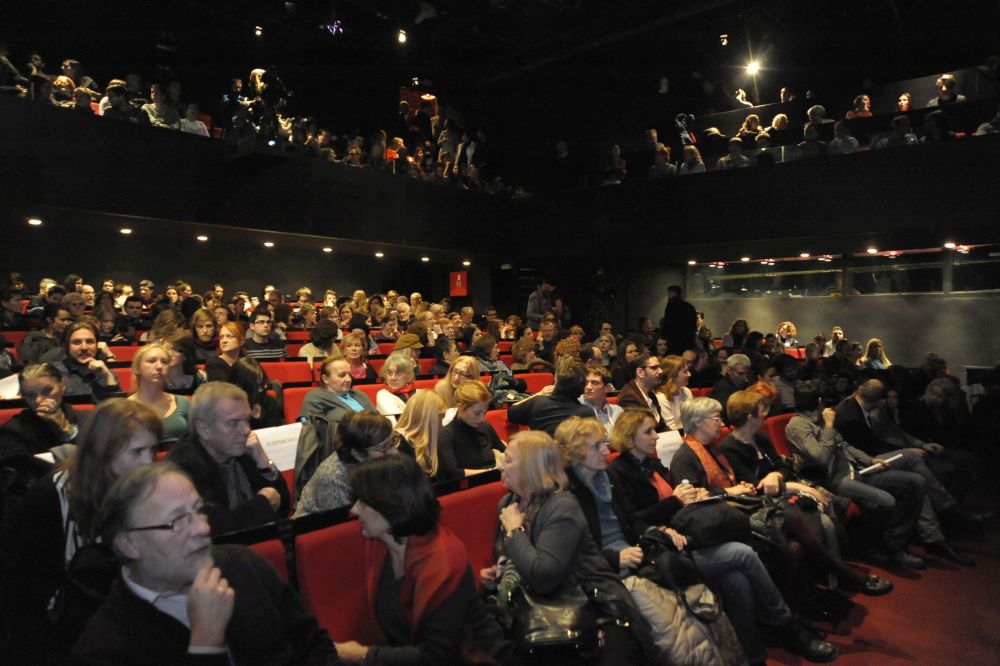 project, about the relationship between real and virtual worlds, about finding a path between technophilia and technophobia, and many other current themes of today's world – starting from the refugee crisis to terrorism acts in Paris, future of the left movement, hope and melancholy, relationship between depression and feminism, etc.
Within the programme, Berardi's work was presented through the texts read by Slobodan Beštić, a renowned actor from the Drama Company of the National Theatre in Belgrade.
Before the performance, Berardi and Horvat had a meeting with Dejan Savić, Acting General Manager of the National Theatre in Belgrade. During the meeting, they expressed their satisfaction that the project revives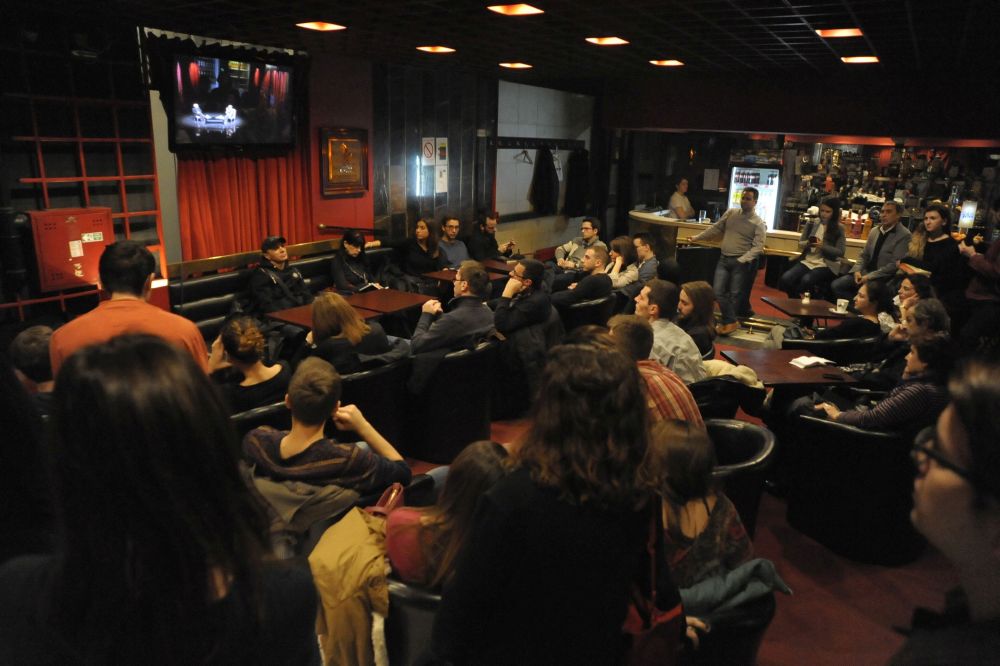 cooperation between the National Theatre in Belgrade and the Croatian National Theatre in Zagreb after a 30-year long pause. The project was initiated in the Croatian National Theatre and it was their idea to implement it in the Serbian capital city. In addition, they talked about future plans regarding the Philosophical Theatre event in the National Theatre, which should in their opinion stir a lot of interest in the cultural public, which showed to be true shortly after their conversation. The viewers filled the hall to capacity and, on behalf of the National Theatre, they were addressed by Željko Hubač, Acting Director of the Drama Company, who wished them welcome and expressed his pleasure to see so many people gathered for the event. He announced that the next Philosophical Theatre event, planned for 14th February next year, would take place on the Main Stage.
Hubač said that the realisation of the first Philosophical Theatre event in the National Theatre in Belgrade represents the beginning of cooperation with the Croatian National Theatre (CNT) from Zagreb.
Hubač also used the occasion to express gratitude to Ms. Dubravka Vrgoč, General Manager of the CNT, Mr. Srećko Horvat, initiator of the Philosophical Theatre project in the CNT, and dramaturge Maja Pelević, the initiator of the Philosophical Theatre event in the National Theatre.
The fact that the audience (belonging to various age groups) even sat in the aisles shows that there was much interest for the project. For all those people who could not find a seat in the hall, a direct broadcast of the event was organised on a plasma TV in the Theatre's foyer.
Horvat, a philosopher from Croatia, initiated the Philosophical Theatre Project last year in the CNT in order to re-establish close connection between philosophy and theatre.
The Philosophical Theatre has had renowned guests in Zagreb, some of the guests were Thomas Pikkety, Slavoj Žižek, Julija Kristeva, Vanessa Redgrave, etc. The project's target group are the people who go to theatre with the intention to contemplate instead to find entertainment.
M. B.
Click HERE to see photographs from the event