---
PRINCIPAL DANCERS OF THE BOLSHOI THEATRE SVETLANA ZAKHAROVA, MIKHAIL LOBUKHIN AND ANNA TIKHOMIROVA PERFORM IN LA BAYADERE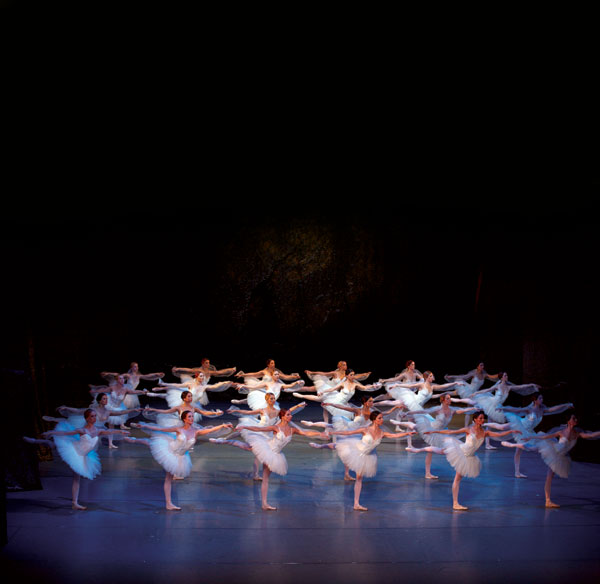 Principal dancers of the Bolshoi Theatre from Moscow, Svetlana Zakharova, Mikhail Lobukhin and Anna Tikhomirova toured Belgrade on 26 October and performed in La Bayadere in the Sava Centre within the 47th BEMUS Festival.
The only prima ballerina assoluta today, Svetlana Zakharova, interpreted the role of main character, Indian dancer Nikiya, a Bayadere, in this ballet spectacle to the music by Ludwig Minkus, choreographed by Gabriela Komleva.
Zakharova's partner was Mikhail Lobukhin, as Solor, Indian prince, while the role of Gamzatti, Rajah Dugmanta's daughter, was interpreted by Anna Tikhomirova.
Other dancers in the cast: Denis Kasatkin (High Brahmin), Miloš Kecman (Magedaveya, a fakir), Stevan Hadži-Slavković (Rajah Dugmanta, a ruler), Goran Stanić (Toloragva, Solor's friend, a warrior), Tamara Antonijević (Aya, Gamzatti's maid), Igor Pastor (Golden Idol), etc.
The whole ensemble and the soloists of the Ballet Company, as well as the Orchestra of the National Theatre took part in the performance. The Orchestra was conducted by Maestro Alexei Bogorad, also a guest artist from the Bolshoi Theatre.
Boris Maksimović designed the set and Olga Mrđenović designed the costumes.
The production premiered on 19 May 2011 on the Main Stage of the National Theatre in Belgrade.
The premiere was, at the same time, the first performance of this classical ballet in full since the Ballet Company of the National Theatre has been formed. Namely, more than two decades ago, in 1991, a scene from La Bayadere was performed; it was titled The Dreams and choreographed by Larissa Shatilova.
Ballet La Bayadere is a piece that can be found on repertoires of every respectable ballet company in the world. Therefore, the production of this ballet in the National Theatre, in its full length, represents a great and important accomplishment.
First opening of the ballet took place in the Mariinsky Theatre, Saint Petersburg, in 1877. Famous choreographer Marius Petipa designed his choreography under the strong influence of Romanticism by using classical aesthetics.
M.B.