---
PREMIERE OF PUCCINI'S COMIC OPERA GIANNI SCHICCHI TAKES PLACE ON THE MAIN STAGE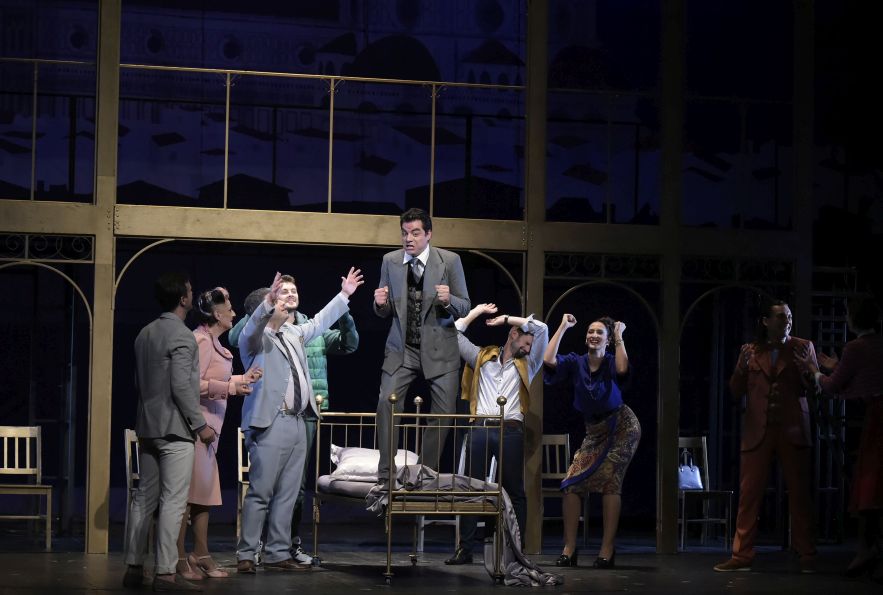 Puccini's comic opera, Gianni Schicchi, under the baton of Italian maestro, Giuseppe Acquaviva, and stage directed by Ana Grigorović, premiered on the Main Stage on the Day of the Theatre, 22nd November.
The title role in this one-act opera dating from 1918, which is a part of renowned Puccini's Il trittico (together with Suor Angelica and Il tabarro), was sung by baritone Vuk Zekić.
The cast at the premiere performance: Sofija Pižurica (Lauretta, Gianni Schicchi's daughter), Nenad Čiča (Rinuccio), Dubravka Filipović (Zita, Rinuccio's aunt), Slobodan Živković (Gherardo), Nevena Matić (Nella, Gherardo's wife), Stevan Karanac (Gherardino, their son), Nikola Mikić (Betto), Mihailo Šljivić (Simone), Pavle Žarkov (Marco, Simone's son), Ljubica Vraneš (Ciesca, Marco's wife), Gavrilo Rabrenović (Maestro Spinelloccio), Sveto Kastratović (Amantio di Nicolao, a notary), Strahinja Đokić (Pinellino, a cobbler) and Predrag Gligorić (Guccio, a dyer)
Opera Gianni Schicchi had its world premiere in New York on 14th December 1918. Giovacchino Forzano wrote the libretto for the opera inspired by Dante's Divine Comedy.
Dante's verses, and the opera, are based on an actual incident that took place in XIII century Florence. Gianni Schicchi is one of the people who take part in the actual incident. Dante placed Schicchi into the eighth circle of hell, together with other forgers.
This production differs from the previous one, which premiered in the National Theatre on 21st January 2006, in which the plot took place at the time when libretto was written and the costumes dated from 1917-1918, as well. In this staging, the plot still takes place in Florence, but there is a strong association to today's Belgrade, to old inhabitants of the city and to the new ones, who are coming to settle in Belgrade.
When the performance ended, the audience awarded the cast with several-minute long applause and ovations.
Edit Makedonska is a concertmaster, choreographer in the production is Dejan Kolarov, costumes have been designed by Katarina Grčić Nikolić, while the set has been designed by Miraš Vuksanović.
The production team also include Jasna Saramandić (assistant set designer), Maša Milanović Minić, Snježana Vujasinović Đorđević and Nemanja Stanojević (organisers), Ana Milićević (stage manager) and Kristina Jocić (prompter).
The following performance of Gianni Schicchi will take place on 26th November; on that occasion, the opera will be performed together with Cavalleria rusticana.
M.B.
Click HERE to see photographs