---
Caligula by Albert Camus, Directed by Snežana Trišić, with Igor Đorđević in the Title Role, Premieres on the Main Stage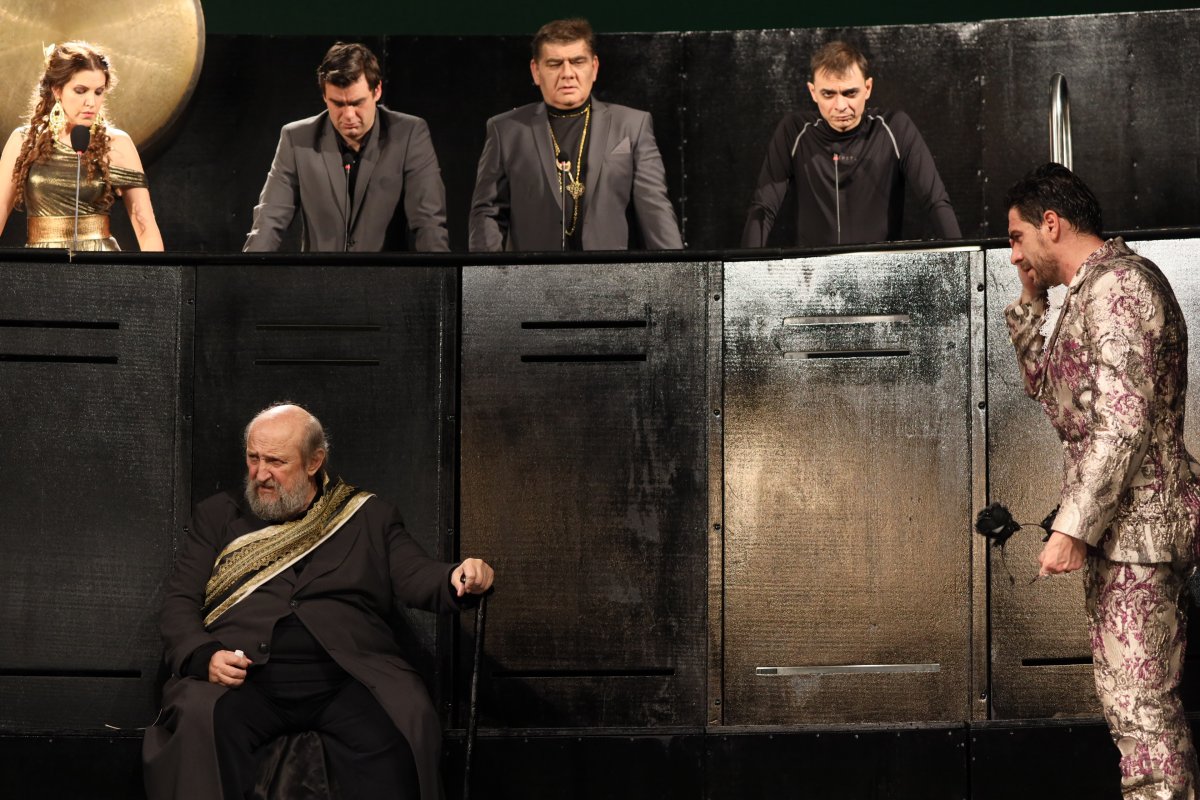 Caligula, a play in which the renowned French Nobel Prize winner, Albert Camus, deals with modern men and the purpose of living by narrating a story about the Roman emperor, premiered on the Main Stage on 5th February. The production has been directed by Snežana Trišić, who cast the title role to Igor Đorđević.
In this complex philosophical play that features strong social criticism, the roles were cast to Sena Đorović (Caesonia), Đorđe Marković (Helicon), Bojan Žirović (Cherea), Nemanja Stamatović (Scipio), Petar Božović (Mereia), Dimitrije Ilić (Senectus), Vladan Gajović (Octavius), Zoran Ćosić (Lepidus), Bojan Krivokapić (Mucius) and Sanja Marković (Wife of Mucius).
Aleksandra Lazin, a violoncellist, as well as Olga Olćan, Iva Ignjatović and Čedomir Radonjić, soloists of the Ballet of the National Theatre, also take part in the performance.
Although Camus based the play on a historical figure, the play is not a historical one; instead, he used the story of Caligula to review issues of the time he lived in, namely the period of the Second World War, the time of concentration camps and crimes against humanity, when the understanding of what it means to be human had gone through crucial and radical change.
Milan Marković Matthis's adaptation relies heavily on the play itself; since it was written in a modern manner, there was no need to modernise it additionally.
The play deals with pertinent issues regarding the position of man and meaning of life, possibility of rebellion, idea of freedom, idol worshipping, importance of high art and culture in concepts and limitations of modern world…
After more than two hours of a very inspired performance in the hall full to capacity, the audience rewarded the performers with a long and cordial applause.
Darko Nedeljković designed the set, Marina Medenica designed the costumes, Irena Popović Dragović composed the music and Isidora Stanišić choreographed the performance.
Caligula was produced only once previously in the National Theatre in Belgrade; it premiered on 11th May 1979 and was directed by Petar Šarčević.
In the previous production, Petar Pašić designed the set and Ljiljana Orlić designed the costumes. The roles were cast to Miki Manojlović (Caligula), Olivera Marković (Caesonia), Pavle Minčić (Helicon), Mihajlo Viktorović (Cherea), Bogdan Diklić (Scipio), Predrag Tasovac (Senectus), Boško Puletić (Mucius), Ognjanka Ognjanović (Wife of Mucius), Branko Jerinić (Poet)…
M.B.