---
Public Reading of Tanja Šljivar's Play All Adventurous Women Do, Directed by Ivana Vujić, Opens the "Workshop", a New Stage of the National Theatre in Dorćol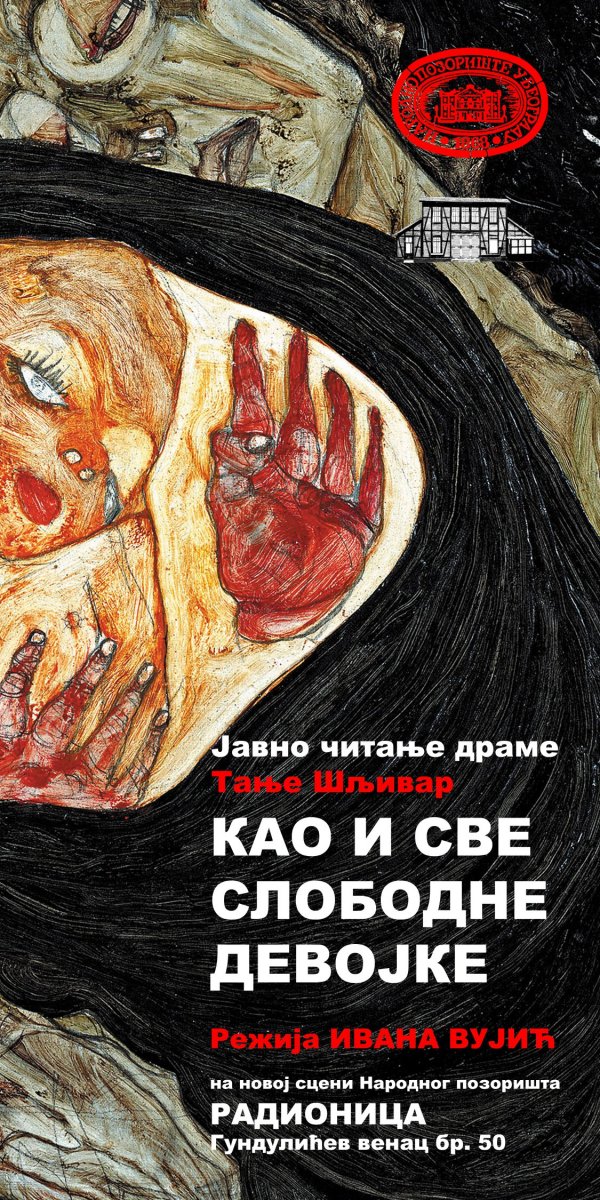 Public reading of Tanja Šljivar's All Adventurous Women Do, directed by Ivana Vujić, opened the "Workshop" Stage on 23rd April. The "Workshop" is a new stage of the National Theatre at the address 50 Gundulićev Venac in Dorćol.
Conceptual directing of stage reading means that the monologues of seven teenage girls were read by actresses and actors of the National Theatre who did not have a premiere in the Theatre during the previous five years.
The roles were persuasively and inspirationally interpreted by Hana Anđeli, Bojana Bambić, Jelena Helc Vesković, Vladan Gajović, Lepomir Ivković, Dimitrije Ilić, Vjera Mujović, Aleksandra Nikolić, Lidija Pletl, Suzana Petričević, Bojana Stefanović, Danijela Tomović and Stela Ćetković.
The delighted audience awarded the cast with a strong and long applause after the reading in this unique hall that can seat 150 people.
The event opened a series of stage readings at the "Workshop" Stage; once a month there will be a reading of a contemporary play from the region, directed by young stage directors and performed by the members of the Drama ensemble of the National Theatre.
In addition, after the public reading event, there were numerous comments that opening of this stage has been an endeavour worth of respect and admiration.
The starting point for play All Adventurous Women Do is a true story(?), reported by Bosnian and international media in 2014, when seven Bosnian teenage girls became "collectively pregnant" during a short school excursion.
Seven thirteen-year-old girls, seven scenes and seven monologues make a thematic frame of the drama, in which only constant is the girls' unreliability when their memories and statements are concerned. Some of the main themes in the play are pregnancy tests, Skype, Instagram, American pop culture, grandmothers, critical theory, chauvinistic pornography, patriarchal milieu of a small town and abortus.
All Adventurous Women Do is a play about necessity to go someplace else to be able to fully realise one's own sexuality, to go someplace else to be able to make decisions about one's own body, to go someplace else to be able to make decisions about one's own life. The seven young girls want to tell us everything in their monologues, except how they actually became pregnant during a school excursion.
The play had its world premiere in the Deutsches Theatre in Berlin. The production has received invitation for this year's Sterija's Theatre Festival. The play was also staged in the Theatre Paderborn, and radio version has been recorded for WDR Radio in Köln.
M.B.