---
New Stage "Workshop" Presented and Beginning of Rehearsals for Drama Impure Blood Announced at the Press Conference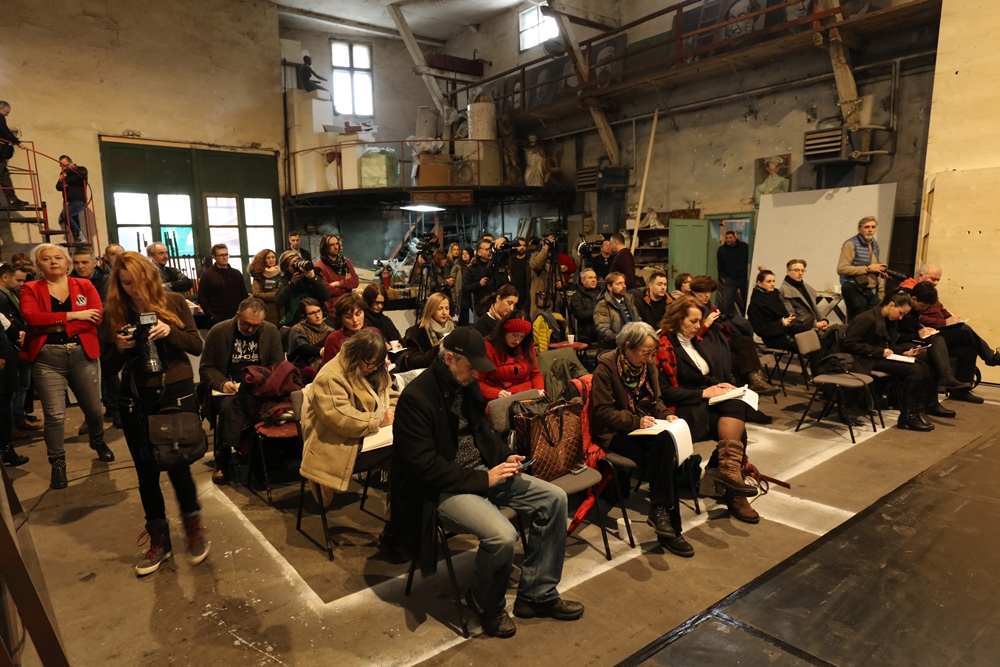 "The National Theatre in Belgrade intends to reconstruct its Painting Room, a building dating from 19th century situated in Dorćol, in order to preserve legacy and provide better conditions for work of artists and craftsmen, as well as to attain space for ambience performances", said the General Manager, Ivana Vujić at a press conference when she addressed numerous representatives of press and electronic media and expressed gratitude to the Government of Serbia, the Ministry of Culture and the City of Belgrade, without stating the deadline for reconstruction.
Vujić explained that the building is the National Theatre's Painting Room, situated at the address Gundulićev venac no. 50, and reiterated that the building has been owned by the National Theatre since 1921.
"After the First World War it was not simple to procure sets and props from Vienna, therefore the then Government issued a decision to construct the workshop to manufacture sets and props for the National Theatre. The first set painter was Jovan Stoiljković. This great artist, nicknamed the Wall-Painter, painted backdrop in the "Joakim Vujić" Theatre in Kragujevac in 1835. The first manager of the workshop was Mr Jovan Gnjelić, an extraordinary artist", said Vujić and added that the Painting Room, constructed only with bricks and wood, is a rare example of the 19th century architecture.
According to her, after the reconstruction of this remarkable building, companies of Drama, Ballet and Opera might perform their future projects there.
"It is our wish to take this slowly, meaning that after reconstruction, which would take a certain time period, we could launch new projects in this inspirational building. When speaking about the Ballet Company, it is certain that a modern dance theatre could find their place in there, and when Opera is concerned, chamber operas could be performed in this building. Drama could give performances here as well. Conditions are indeed moderate, however moderate conditions could be very inspirational at the same time", said Ivana Vujić.
Two premieres for productions done after Bora Stanković's work were announced at the press conference; opera Koštana, which would be conducted by Ana Zorana Brajović and directed by Jug Radivojević (6th April) and drama Impure Blood, which would be directed by Milan Nešković, both productions will have their premieres on the Main Stage.
M.B.