---
Impure Blood, after Motifs from Borisav Stanković's Novel, Dramatised by Maja Todorović and Directed by Milan Nešković, Premieres on the Main Stage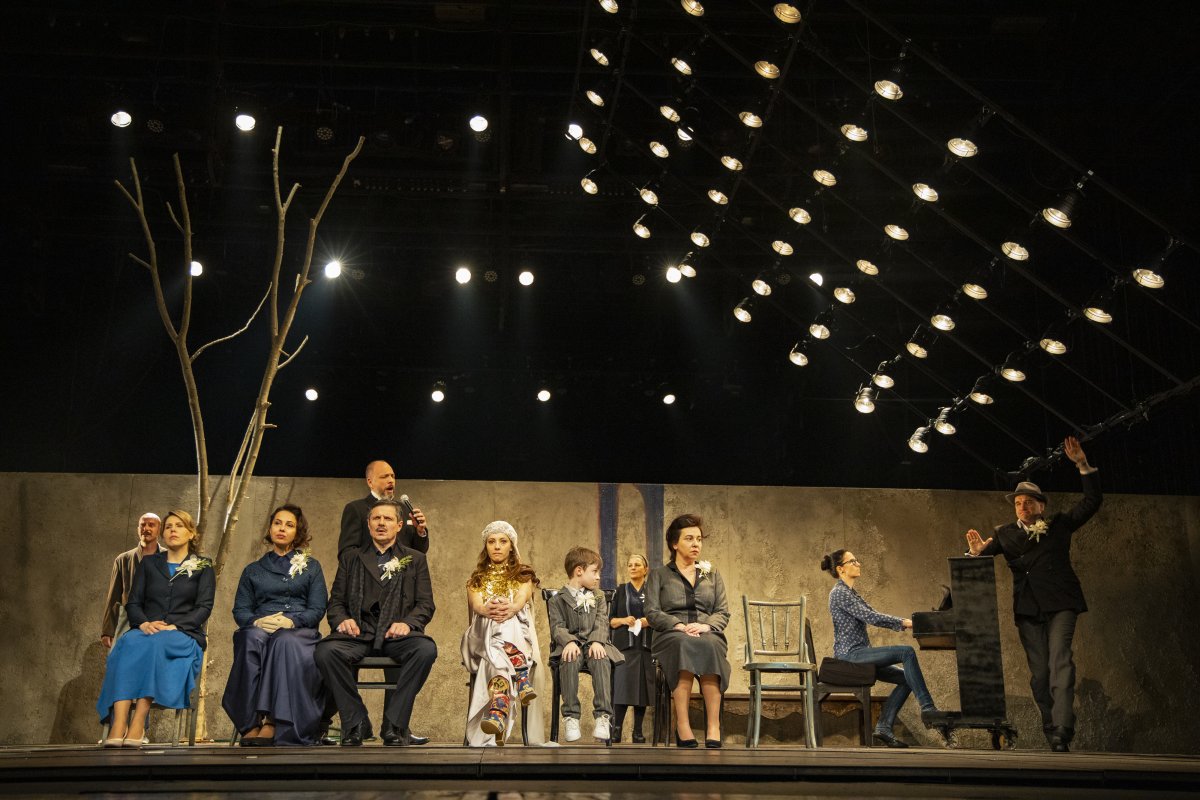 Production Impure Blood, after motifs from Borisav Stanković'sn novel, dramatized by Maja Todorović and directed by Milan Nešković, premiered on the Main Stage on 12th April.
The new reading of that scorching and luscious and yet so sombre world depicted by Stanković, focusing on women's position and issue of freedom in a narrow-minded society, has found a very warm reception with the audience in the hall filled to capacity, who expressed their appreciation to the cast with a cordial applause and standing ovations when the performance ended.
The proud and passionate Sofka, a character who fights to defy her destiny, was interpreted by Jovana Stojiljković, her father – Effendi Mita, who sold her like a thing, was interpreted by Nebojša Dugalić, Marko, a rich farmer who succumbed to unfulfilled ambition and failure in life, was interpreted by Nenad Jezdić, and the role of Tomča, Marko's son and Sofka's husband, by Pavle Jerinić.
In this powerful story about love, its variations, and the way it ends, the roles have been cast to Nataša Ninković (Todora, Sofka's mother), Dušanka Stojanović Glid (Stana, Marko's wife), Zlatija Ocokoljić Ivanović (Stoja, Todora's sister), Ljiljana Blagojević (Magda, a maid), Radmila Živković (Simka), Tanasije Uzunović (Arsa, Marko's servant), Nikola Vujović (Vanko, a deaf servant) and Stefan Kalezić (Young Tomča).
Opera singer Nebojša Babić, baritone, also takes part in the performance, singing "My Last and First Love" in the wedding scene accompanied by the piano played by Tanja Ščerbak. The lyrics and music for the song were written by Kemal Monteno; Tereza Kesovija performed the song and triumphed with it at the 1986 MESAM Festival in Belgrade.
There are no folklore elements and the dialect from Vranje is not being spoken in this new version of Impure Blood; however, there is a timeless story not only of love, but also of passion, longing and suffering on personal and familial levels.

All of the characters have kept qualities Bora Stanković gave them, but they were given a "modern touch" as well by changes in language and situations they find themselves in.
Sofka remains a woman aware of herself, her beauty and her origins, Marko remains a rich man who can afford to buy himself a young wife, Mita is a man who went through bankruptcy during transition… Of course, those are characteristics present today, only in slightly different form comparing to the time from Stanković's novel.
Molina Udovički Fotez is a dramaturge, Vesna Popović designed the set, Marina Vukasović Medenica designed the costumes, Anja Đorđević wrote the music and Andreja Kulešević choreographed the production.
The same evening, just before the premiere, an exhibition Impure Blood and Koštana on Stage in the National Theatre, created by Dragan Stevović and Dragica Gaćeša, was opened in the foyer of the Second Gallery. The exhibition consists of numerous photographs and cast lists from the plays and it will remain on display until the end of June.
The following performance of Impure Blood will take place on 21st April.
This is the third staging of Impure Blood in the National Theatre in Belgrade, where it had its world premiere on 23rd February 1933. The first production was directed by Josip Kulundžić and Stanislav Beložanski designed the set.
The roles were cast to Nadežda Riznić (Sofka), Dobrica Milutinović (Effendi Mita), Teodora Arsenović (Todora, Sofka's mother), Dušan Radenković (Marko), Roksanda Beković (Stana, Marko's wife), Vojislav Jovanović (Tomča, Marko's son, Sofka's husband), Ruža Tekić (Magda, a maid), Zora Zlatković (Simka), Srboljub Het Petrović (Arsa, Marko's servant), Miloš Paunković (Vanko)…
The following opening took place on 5th December 1975, directed by Gradimir Mirković.
The set on the Main Stage was designed by Miomir Denić, the costumes were designed by Božana Jovanović, the music was composed by Vojislav Voki Kostić, and the cast consisted of Vera Čukić (Sofka), Milan Puzić (Effendi Mita), Ksenija Jovanović (Todora, Sofka's mother), Branislav Jerinić (Marko), Mira Bobić (Stana, Marko's wife), Predrag Miki Manojlović (Tomča, Marko's son and Sofka's husband), Gorjana Janjić (Magda, a maid), Dara Vukotić Plaović (Simka), Boris Andrusević (Arsa, Marko's servant), Mida Stevanović (Vanko)…
In the meantime, a ballet production of Impure Blood premiered on the Main Stage on 15th June 2008. Lidija Pilipenko choreographed the ballet and wrote the libretto as well; she staged the production after several Bora Stanković's works.
M.B.