---
National Theatre Signs the Agreement on Cooperation with the National Theatre from Budapest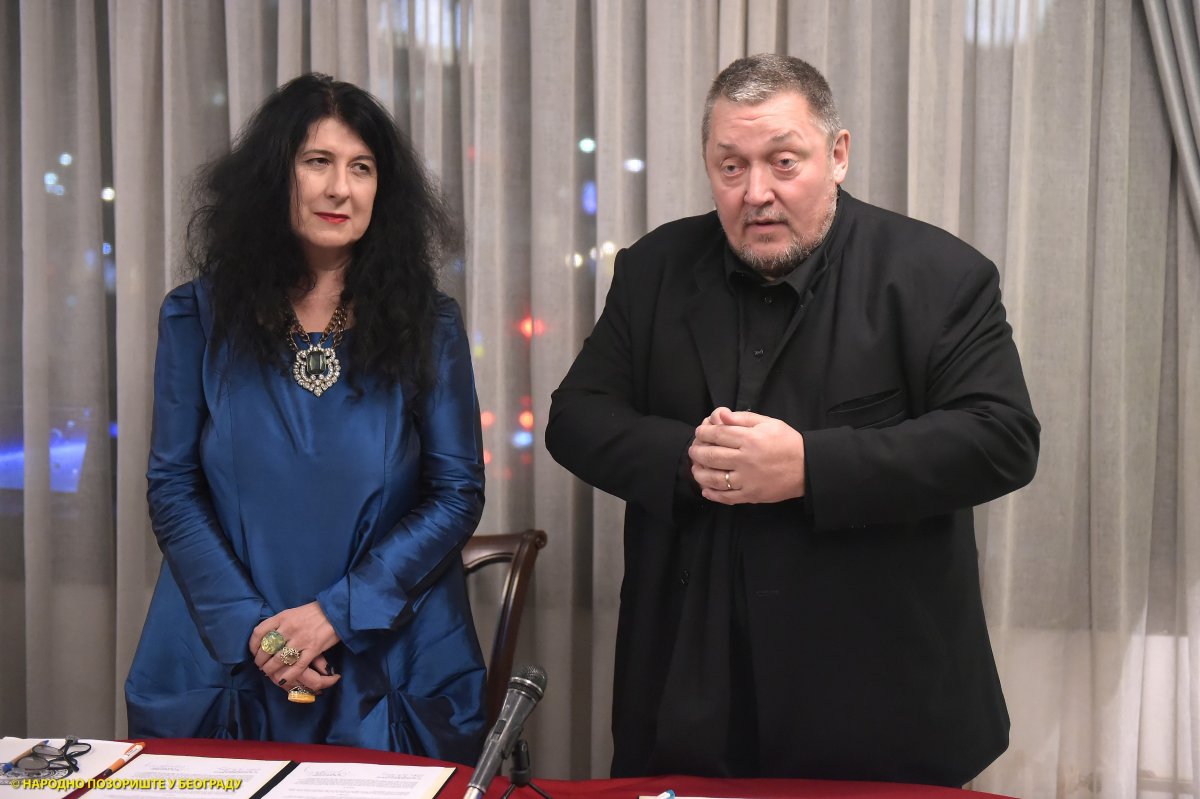 The National Theatre in Belgrade and the National Theatre from Budapest signed the Agreement on Cooperation on 23rd November, preceding the two guest performances of the renowned Hungarian theatre in Serbian capital.
The Agreement, signed by the Acting General Manager of the National Theatre in Belgrade, Mrs. Ivana Vujić, and her Hungarian counterpart, Mr. Attila Vidnyanszky, is intended to expand and improve artistic cooperation based on shared interests.
In her address to the press, Mrs. Vujić said that the Agreement should provide the best conditions for cross-border theatre and artistic cooperation, which means exchange of authors, artists and other professionals, joint production of performances, as well as all other forms of cooperation in the sphere of theatre which are of interest for both theatres.
In addition, the Agreement shall enable participation of actors from the National Theatre in Belgrade at workshops organised by the National Theatre in Budapest and vice versa.
Mrs. Ivana Vujić stated that she was very proud and pleased that the first document she had signed in capacity of Acting General Manager of the National Theatre, is the one signed with her dear Hungarian counterpart, who is also a stage director.
Mr. Vidnyanszky expressed his pleasure with the Agreement and added that he was sure the Agreement should contribute to upgrading cooperation between the theatres to higher level.
"A person cannot find friends easily. However, during the six years I have been working in the Theatre, we managed to acquire many good friends, and today, we have found another one, here in the National Theatre in Belgrade. People who work in the sphere of culture should connect and cooperate", said Mr. Vidnyanszky.
He reiterated that the production of The Patriots, written by Jovan Sterija Popović and stage directed by Andraš Urban, had a successful tour performance in the National Theatre in Budapest on 14th April 2016, within the Third MITEM Festival (Madách International Theatre Meeting), and announced that Chekhov's play Ivanov, directed by Tatjana Mandić Rigonat, would be performed at the same festival in April the following year.
The National Theatre from Budapest toured Belgrade on occasion of 'Week of Hungarian Culture in Serbia' event and gave two performances on the National Theatre's Main Stage; both productions push genre limits and were directed by Attila Vidnyanszky – Merry-Go-Round (23rd November) and Bánk Bán (24th November).
Merry-Go-Round combines prose, dance and music, while Bánk Bán is on border of chamber theatre that provides opportunity to make the 'drama conflict' and 'language of strong emotions' closer to audience.
The National Theatre from Budapest opened on 22nd August 1837, originally named the Hungarian Theatre of Pest, then in 1840 its name has changed to the present one.
Its repertoire mainly consists of world drama literature classical pieces and contemporary Hungarian plays.
New theatre building, opened on 15th March 2002, is unique in Europe for its modern design and extraordinary technical potential.
M.B.