---
The National Theatre in Belgrade Celebrates Its Saint Patron's Day – Day of St. John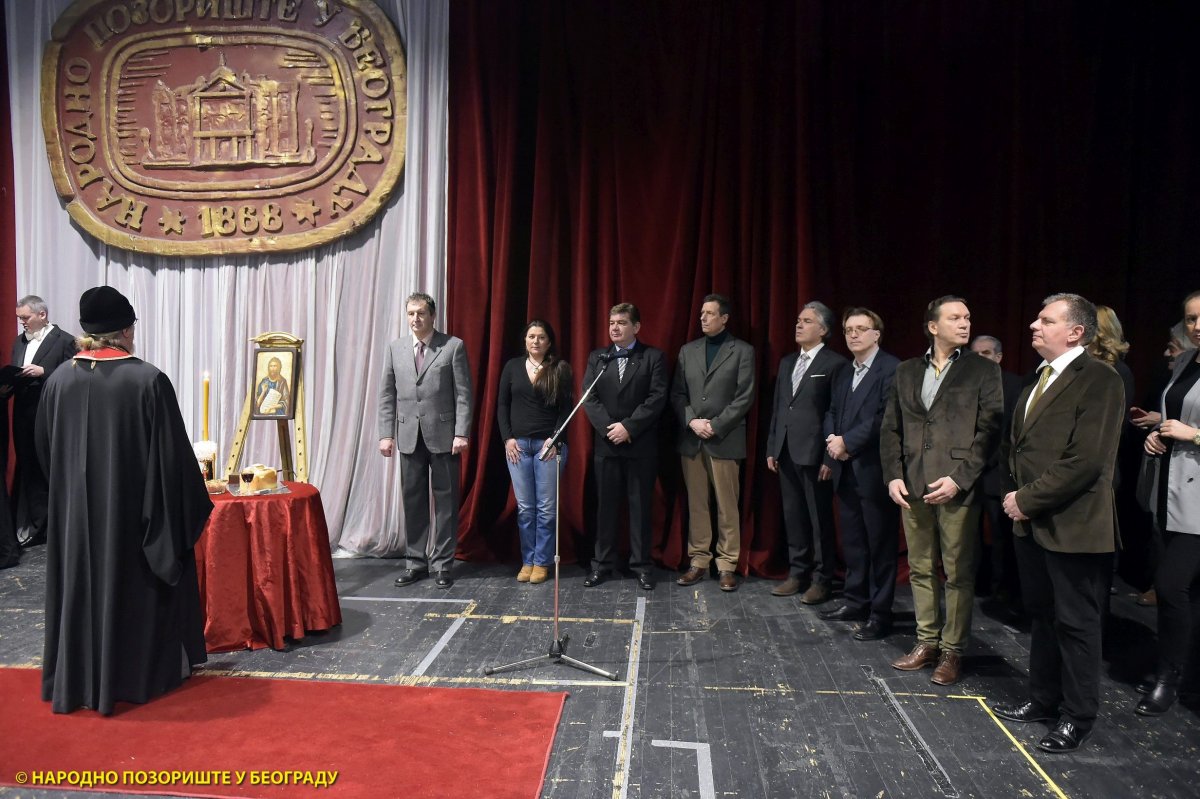 With a traditional ceremony and reception for numerous guests from Serbian public and cultural life, reporters, friends of the Theatre and the staff, the National Theatre in Belgrade celebrated its Saint Patron's Day, St. John's Day, on 20th January; the day is dedicated to the saint and prophet who baptized Jesus Christ in the Jordan River.
The ceremony of blessing and cutting of the Slava Cake was done by Protopresbyter-Staurophor Petar Lukić, Head of Belgrade Orthodox Cathedral Church, with participation of the National Theatre's Choir conducted by Maestro Đorđe Stanković.
In his formal address, among other things Lukić pointed out that St. John is an example of solid and unyielding faith, honesty, bravery and integrity. He reminded that that was also the cause of his death, because he spoke publicly about immorality and fornication of Emperor Herod, who lived in sin with his sister in law Herodia, the mother of Salome.
"God created a man as a pinnacle of his creation, with special characteristics and privileges, and He gave the man a body, soul and spirit. When we take care of the body, we should take care about what we eat, drink, the quality of the water we drink and the food we consume… We take care about the way we dress our body, about the styling, as it is referred to nowadays. We also have to take care about hygiene and, when we clean our body, we even use perfume. All of this should be taken into consideration in view of the fact that a man is not only a physical being. Unfortunately, today, more significance is given to the body, which of course should not be neglected, than to the spirit and the soul", cautioned Lukić.
He asked if our lives would have been better and if there would have been numerous differences if we took care about the "styling of our spirit and soul" at least to the same extent as we do for our bodies.
With this in mind, he said that the National Theatre in Belgrade is a beacon of light. He said that the Theatre is a temple of culture and a place in which all its employees carry a banner of culture that makes a nation good, special and spiritually dignified.
Lukić said that one of the culprits for our current spiritual and soul downfall is a plague called reality shows; he said that they are simply "despicable, and imported from those unfortunate, but rich places".
"The reality shows serve no other purpose but to blunt the sharp edge of intelligence and sensibility of culture and spirituality of the nation", said Lukić and told the employees of the National Theatre that in such circumstances they all carry a much larger burden of responsibility that they are aware.
"So carry on with your work, be persistent and glorify the name of God and your patron saint, Saint John, to the joy of our nation and leave a mark in this world. May the God bless you all with long lives and good health for many years to come. God bless you", said Protopresbyter-Staurophor Petar Lukić.
On behalf of the host of the St. Patron's Day, Hotel Metropol Palace, public relations representative Irena Stanojković addressed the guests.
"On behalf of the Hotel's management, I would like to thank the National Theatre for being here with you today. It is our pleasure and honour. I would like to wish you all the best on your St. Patron's Day and thank you for all the work you do for us and for taking care of our culture. I wish you many more successful years and decades and, of course, many jubilees," said Stanojković.
General Manager of the National Theatre, Mr Dejan Savić, thanked the guests for coming to the celebration and said that it is a proof that the Theatre as an institution of culture is important for everybody present. He also expressed his pleasure that they would have an opportunity to spend some time together on that joyful and pleasant occasion.
"Judging by the beginning, the second part of our season, in 2018, the year of jubilee, has taken a good start. We had an excellent premiere yesterday of The Bereaved Family, which was received exceptionally well by the audience and by the press. With God's help and our saint patron's help, we shall continue on the same course" said Savić and added that the staff of the National Theatre would face many challenges in the future.
According to him, this important jubilee, a century and a half since the establishment of the National Theatre in Belgrade, will last during the following year as well, while in 2020, they would celebrate a centennial of establishment of the Opera.
"However, all these commitments do not represent a problem for us, because we love our job. All these future obligations represent a great artistic and work challenge for us. Although we are fewer and fewer in the Theatre, we still enjoy our work and we give our best to compensate for the staff we need", said Savić and added that the National Theatre has a lot of support from the state.
"A new performance hall will be built just across the street from our building. This will also represent quite a challenge for us and a recognition to the National Theatre as well. We will get a new performance hall, a new temple of arts in which we will, of course, do what we do best – work on our art. I wish you a happy Saint Patron's Day and good health to all. Also, I wish everybody a happy and successful New Year", said Savić while being applauded by the guests.
The National Theatre in Belgrade has been celebrating its Saint Patron's Day since 2001, when Protopresbyter-Staurophor Petar Lukić blessed the building of the National Theatre.
M.B.