Premiere Revival of Rossini's Comic Opera Cinderella Takes Place on the Main Stage
25 April 2018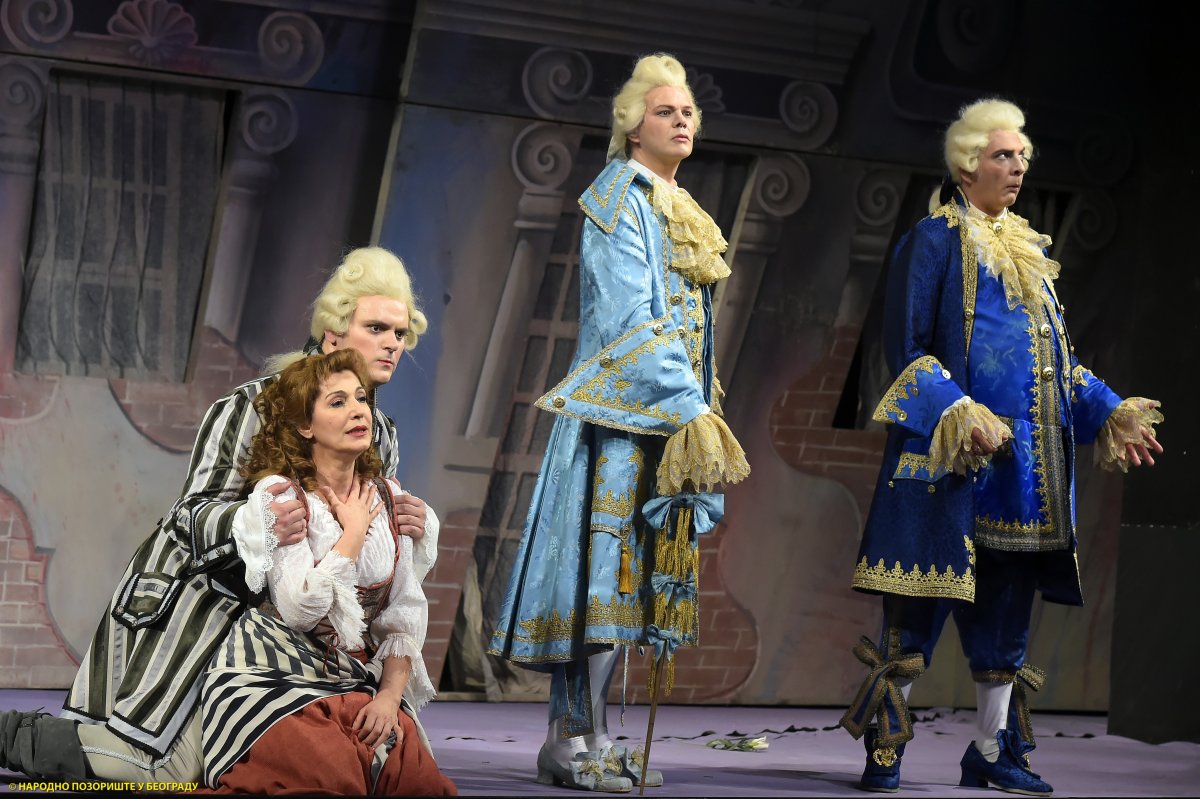 Premiere revival of Gioachino Rossini's comic opera, Cinderella, under the baton of Ana Zorana Brajović, stage directed by Jagoš Marković, took place on the Main Stage on 25th April.
Just like almost two decades ago, when Cinderella premiered within the 30th BEMUS Festival (on 17th October 1998), this masterpiece of operatic art, which does not portray evil or hatred, and features justice and forgiveness instead, has again delighted all the viewers.
When the performance ended, the cast received standing ovations and "bravos" for superb interpretations of their roles in Marković's staging. The cast at the premiere revival: Jadranka Jovanović (Angelina), Marko Živković (Don Ramiro), Vladimir Andrić (Dandini), Nebojša Babić (Don Magnifico), Ivana Raković Krstonošić (Clorinda), Tatjana Mitić (Tisbe) and Sveto Kastratović (Alidoro).
Orchestra and Choir of the National Theatre in Belgrade have taken part in the performance.
Vesna Jansens has been the concertmaster and Đorđe Stanković has been the chorus master.
Miodrag Tabački designed the set, Vladimir Logunov designed the stage movements, while Renato Balestra, a renowned Italian fashion designer and an icon of fashion industry, designed the glamorous costumes for this opera production.
In this opera, Rossini and librettist Jacopo Ferretti used the fairytale from the collection titled Old-Time Stories by Charles Perrault, published in 1697. However, there are several key differences in the opera when compared with the traditional and well-known version of Cinderella. Namely, the story takes place late in the 18th century; instead of an evil stepmother, we have the evil stepfather; the Prince's teacher, philosopher Alidoro, replaces the fairy godmother and the magic; and a bracelet is used instead of the glass slipper.
However, despite all the differences, Rossini's opera has kept all the magic of the original fairytale with its wonderful melodies and plenty of humour, although Rossini wrote it in less than three weeks in January 1817.
According to Konstantin Vinaver, "Cinderella has been composed in tradition of commedia dell'arte – there are a lot of disguises and real buffo scenes", while "the vocal parts have been written for true virtuosos, with almost acrobatic vocal requirements".
After the premiere in 1998, also stage directed by Marković, the opera was the most popular performance in the National Theatre for several seasons; it had 57 performances and approximately 30,000 people saw it. Last time the performance was on the repertoire was on 22nd December 2005.
Before the premiere revival started, a part of Balestra's latest collection was shown; the collection was designed by this prominent fashion and costume designer with intention "to make all women feel like princesses"
The fashion show was organized by Fashion Agency "Fabrika" and it featured mainly black clothes with golden and yellow details that, according to the designer, symbolize good luck.
M.B.