Stanislav Binički's One-Act Opera At Dawn Premieres on the Main Stage
30 October 2019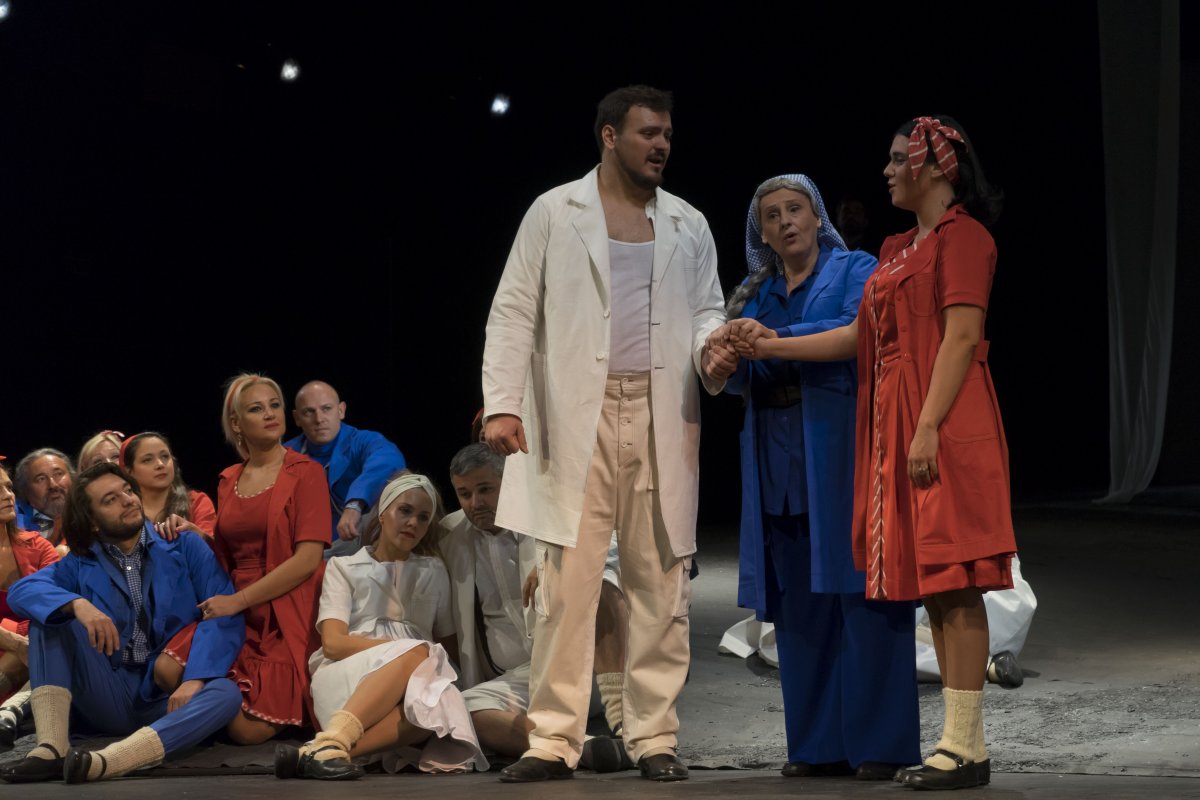 At Dawn, Stanislav Binički's one-act opera after the libretto written by Branislav Nušić, conducted by Stefan Zakić and directed by Ana Grigorović, premiered on the Main Stage on 30th October.
The plot takes place in tumultuous period at the end of XIX century somewhere in the south of Serbia; it narrates the story of a love triangle between a pair of young two people in love and a Turkish aga… The staging is contemporary, the plot has been modernized in order to bring this universal love story closer to the audience.
Although the play is a tragedy, the director Grigorović effectively highlighted some comical elements of a provincial society's frame of mind.
It is interesting that the orchestration used for this production is the same one used in 1968, for the previous production.
The cast of the opera At Dawn, that features our individualities, our society and the paradox of becoming victims of our own actions, consists of the following artists Evgenija Jeremić (Stanka), Marko Živković (Rade), Dubravka Filipović (Anđa), Vuk Zekić (Redžep), Mihailo Otašević (Muezzin), actor Haji Nenad Maričić (Entrepreneur), Nataša Radovanović (a woman), Milan Panić (a man) and Vuk Radonjić (a man).
The Orchestra, Choir and the "Borislav Popović" Opera Studio of the National Theatre in Belgrade take part in the performance.
Dunja Kostić designed the set, Katarina Grčić Nikolić designed the costumes, Miloš Kecman is the choreographer, while Suzana Lukić was the author of stage movement.
In the hall filled to capacity, the audience rewarded the cast with a long applause and standing ovations.
Prior to performance, actor Nebojša Kundačina addressed the audience and said that the 30th October is an important date in the history of the National Theatre in Belgrade, because 150 years ago on that same day the first performance was given in the newly built theatre, it was The After-Death Fame of Prince Mijailo M. Obrenović III, by Đorđe Maletić.
Opera At Dawn had its world premiere in the National Theatre in Belgrade on 20th December 1903.
Since then, the opera had three more premieres in the National Theatre in Belgrade, on 26th September 1968, 7th October 1999 and 4th December 2003.
M.B.