149th Season of the National Theatre in Belgrade Opens with the Performance of Nušić's play The Cabinet Minister's Wife
1 October 2017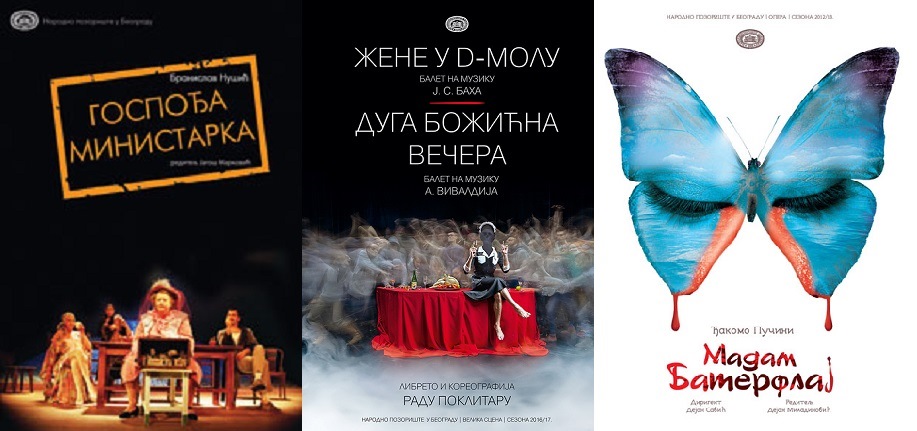 New 149th season of the National Theatre in Belgrade has been opened with a performance of the cult play The Cabinet Minister's Wife by Branislav Nušić, stage directed by Jagoš Marković. The opening took place on Sunday, 1st October, on the Main Stage.
The title role has been interpreted by Radmila Živković, principal actress of the Drama Company, and the rest of the cast were Gojko Baletić (Sima Popović), Olga Odanović (Dara), Marko Janjić (Raka), Aleksandar Srećković (Čeda Urošević), Andreja Maričić (Dr Ninković), Branko Vidaković (Uncle Vasa), Dobrila Stojnić (Aunt Savka), Andjelka Milivojević (Aunt Daca), Dimitrije Ilić (Pera Kalenić), Radovan Miljanić (Panta), Milena Đorđević (Soja), Predrag Miletić (Uncle Jakov), Milo Lekić (Sava Mićić), Dušan Matejić (Pera the Notary), Ivan Ivanov (Clever Child / Policeman), Bojana Bambić (Anka), Milena Đorđević (Teacher) and Milan Gerdijan (Nikaragua).
This has been the 147th performance of this production since its premiere on 10th March 2004.
Ballet season opened on Monday, 2nd October (Main Stage, 19:30) with two one-act ballets Women in D-Minor, to the music of Johann Sebastian Bach, and A Long Christmas Dinner, to the music of Antonio Vivaldi.
Radu Poklitaru, one of the leading contemporary choreographers, has designed choreography, stage directing, concept and libretto for the two ballets.
Opera season opened on 3rd October on the Main Stage with Giacomo Puccini's opera Madam Butterfly. The performance has been dedicated to recently deceased director Dejan Miladinović, who staged this operatic masterpiece about tragic destiny of a Japanese geisha and her true and pure love, full of desire, disappointment and suffering. The opera premiered more than three decades ago – on 15th December 1984.
M.B.