Rehearsals of Albert Camus' Play Caligula Start, Snežana Trišić Is the Stage Director, Igor Đorđević Interprets the Title Role, Premiere on the Main Stage on 5 February
5 December 2019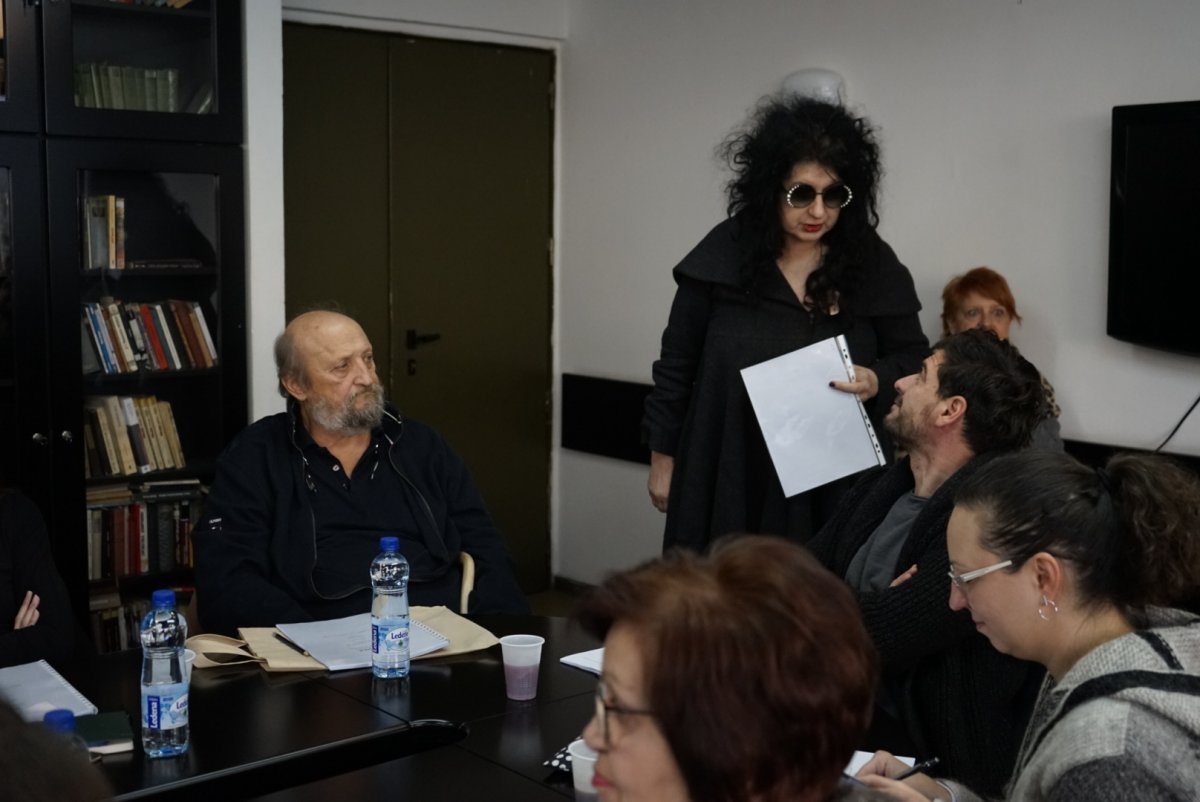 First reading rehearsal of Caligula, one of the best-known plays by renowned French writer, philosopher, journalist and Nobel Award Winner, Albert Camus, directed by Snežana Trišić, with Igor Đorđević in the title role, was held on 5th December in the Theatre's library.
The premiere is planned to take place at the Main Stage on 5st February and the roles have been cast to Sena Đorović (Caesonia), Miloš Đorđević (Helicon), Bojan Žirović (Cherea), Nemanja Stamatović (Scipio), Petar Božović (Mereia), Dimitrije Ilić (Senectus), Vladan Gajović (Octavius), Zoran Ćosić (Lepidus), Bojan Krivokapić (Mucius) and Sanja Marković (Wife of Mucius).
Milan Marković Matis has been in charge of text adaptation and dramatization, while Darko Nedeljković is in charge of set design and Marina Medanica of costume design.
Other members of the creative team are Irena Popović Dragović (Composer), Isidora Stanišić (Stage Movement Design) and Ljiljana Mrkić Popović (Stage Speech).
General Manager of the National Theatre, Ivana Vujić, and Acting Director of the Drama Company, Molina Udovički Fotez, were present at the first rehearsal.
Stage Director, Trišić, who is staging her fourth production in the National Theatre in Belgrade (Hedda Gabler, Bizarre and Richard the Third), said that Gaius Julius Germanicus (12-41 AD) had been one of the most horrifying and controversial Roman emperors, in Camus' play he brings the absurdity of world order to ultimate heights.
"Caligula appreciates and accepts the logics of absurd as the only possible and true one and he does not accept its submission to interests of politics and social conventions. Political takeover in the play opens issues about the position of man and purpose of life, about possibility of revolution, idea of freedom, importance of high art and culture in the modern world's concept and limitations", said Snežana Trišić.
Caligula was produced once previously in the National Theatre in Belgrade; it premiered on 11th May 1979 and was directed by Petar Šarčević.
Petar Pašić designed the set and Ljiljana Orlić designed the costumes. The roles were cast to Miki Manojlović (Caligula), Olivera Marković (Caesonia), Pavle Minčić (Helicon), Mihajlo Viktorović (Cherea), Bogdan Diklić (Scipio), Predrag Tasovac (Senectus), Branko Jerinić (Poet)…
In his book, Theatre Tendencies in the 20th Century, renowned Serbian writer and critic, Slobodan Selenić wrote, "There were no psychological reasons that brought Camus' Caligula to a state in which he does despicable things, it was his philosophical belief that each and every action is equally absurd in this absurd world – an action that complies with the norms of civilised behaviour and the one that sees murder as a legitimate act that does not ask for justification and reasons".
M.B.