Puccini's Opera Manon Lescaut, with Jasmina Trumbetaš Petrović in the Title Role, Premieres on the Main Stage
26 February 2020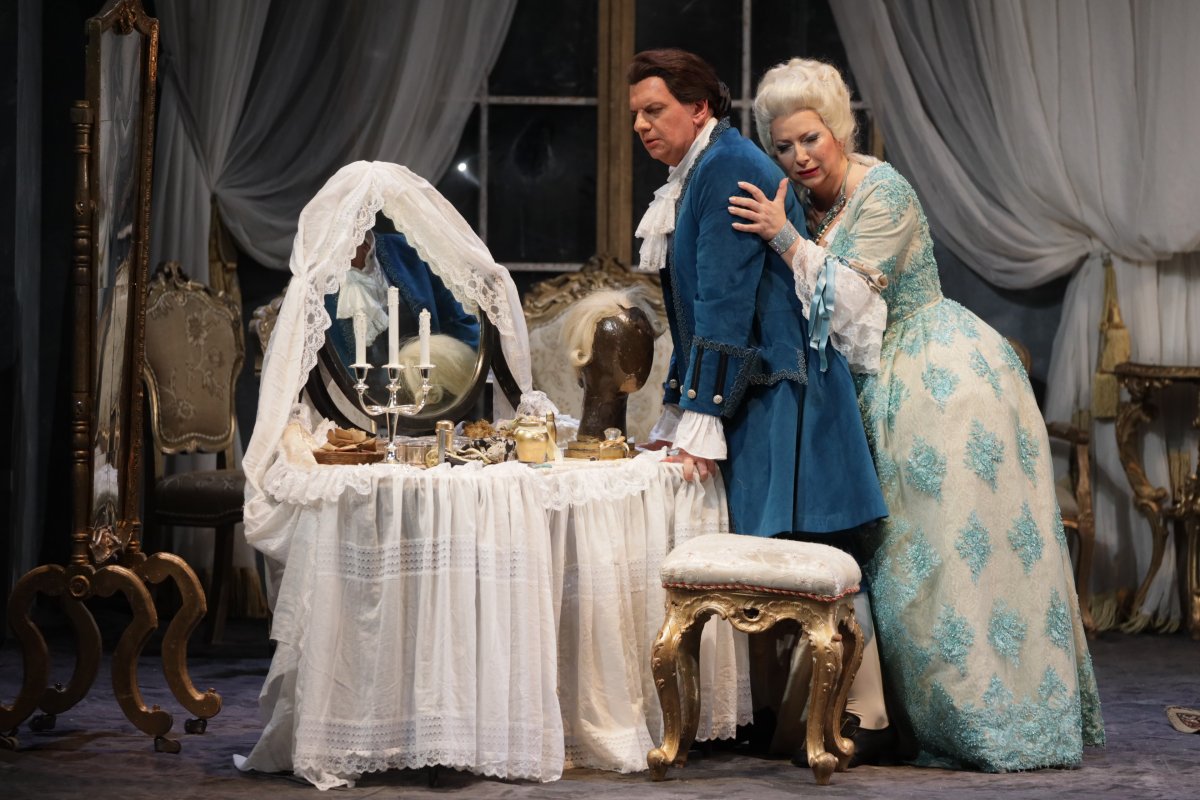 Opera by Giacomo Puccini, Manon Lescaut, which has not been performed in the National Theatre for more than half a century, premiered on the Main Stage on 26th February. The premiere was conducted by an Italian maestro, Stefano Romani, and directed by an Italian director, Pier Francesco Maestrini.
In this masterpiece of operatic art, produced jointly with the Opera & Theatre Madlenianum, where the premiere takes place three days later, on Saturday 29th February, the title role was interpreted by soprano Jasmina Trumbetaš Petrović, the role of her obsessed lover Cavalier de Grieux was interpreted by tenor Janko Sinadinović, the role of her brother, a sergeant in the King's guard, was cast to baritone Nebojša Babić, and the role of her older lover Geronte was interpreted to bass Dragoljub Bajić.
In this opera in four acts, written in period 1890-1893, which is still considered one of the most captivating pieces of operatic literature, other roles were cast to Milan Obradović (Innkeeper), Siniša Radin (Edmondo / Dance Master / Lamplighter), Nataša Rašić (Singer), Mihailo Šljivić (Sergeant of the Guard), Milan Obradović (Naval Captain) and Luka Pređa (Hairdresser).
The Choir, Orchestra and members of the "Borislav Popović" Opera Studio of the National Theatre in Belgrade took part in the performance as well.
Edit Makedonska was a concertmaster, and Đorđe Stanković was the choir leader.
Costumes were designed by Luca Dall'Alpi and set was designed by Alfredo Troisi.
Associates in the production were Ivana Dragutinović Maričić (Assistant to the Director), Ana Grigorović (Assistant Director), Jasna Saramandić (Assistant Set Designer), Srđan Jaraković, Nevena Živković, Gleb Gorbunov (Music Rehearsal Associates), Branislava Pljaskić / Ana Milićević (Stage Managers) and Silvija Pec / Kristina Jocić (Prompters).
The libretto was based on the eponymous novel by Antoine (Abbé) Prévost from 1731 (original title, History of Chevalier De Grieux and Manon Lescaut) and written by Domenico Oliva, Marco Praga, Giuseppe Giacosa and Luigi Illica.
When the performance ended, the cast was rewarded with standing ovations and shouts of "Bravo!".
This has been only the second staging of this opera in the National Theatre in Belgrade. The first and only previous premiere took place on 5th May 1967, under the baton of Nino Verchi, a conductor from Italy and directed by Serge Vafiadis from France.
In the previous production the title role was sung by Radmila Bakočević, and the rest of a large cast were Nikola Mitić (Lescaut, a Sergeant), Angelo Lo Forese (Chevalier Grieux), Aleksandar Veselinović (Geronte di Revoir), Drago Starc (Edmondo), Vladimir Popović (Innkeeper), Nikola Jančić (Dance Master), Olga Milošević Lačković (Singer), Ivan Murgaški (Sergeant of the Guard), Vladeta Dimitrijević (Naval Captain), Milivoje Petrović (Lamplighter) and Živorad Mitrović (Hairdresser).
M.B.