Rehearsals of the Comedy "Brawling in Chioggia" Started, Play Scheduled to Premiere on June 23 on the "Raša Plaović" Stage
26 April 2023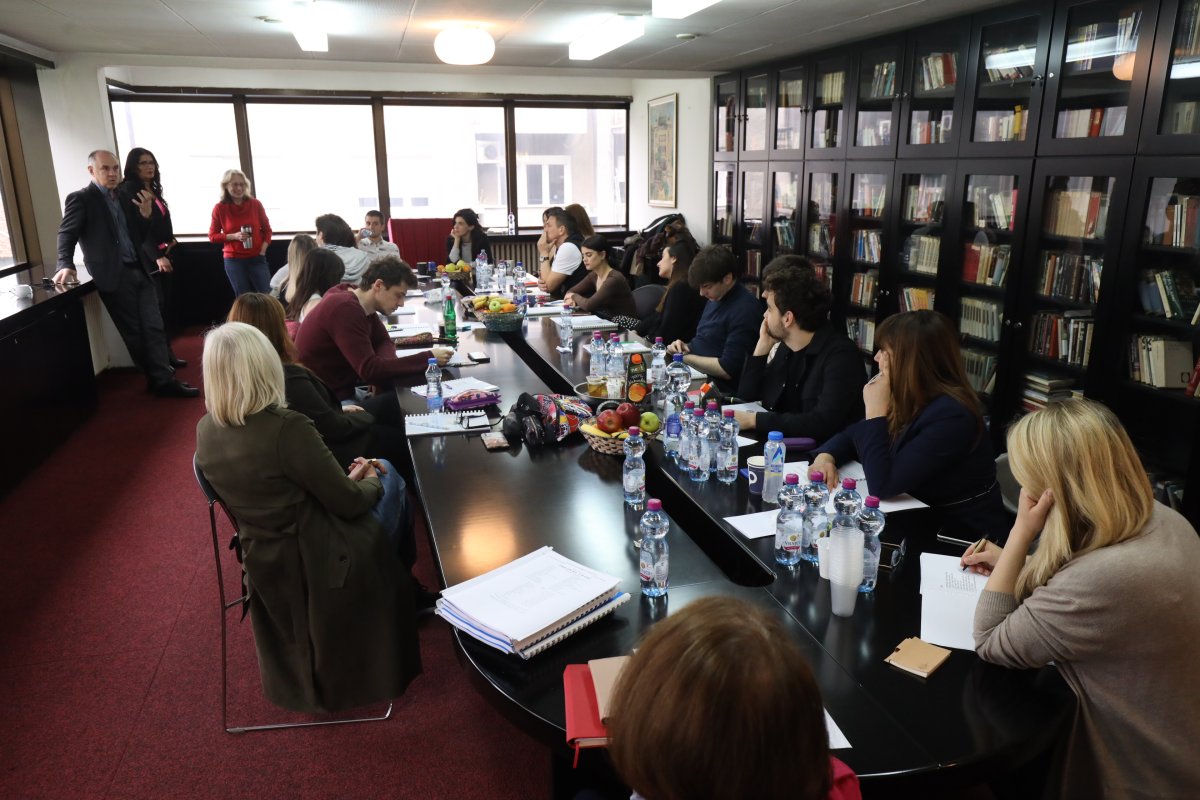 Rehearsals of Carlo Goldoni's famous comedy "Brawling in Chioggia", directed by Ana Tomović, have begun at the National Theatre in Belgrade.
The premiere is planned for June 23 at the "Raša Plaović" Stage.
Director Tomović, together with the dramaturge Đorđe Kosić, made an adaptation of the text that will be performed using the translation of Ivo Tijardović.
The creative impulse to the play will be given by the author team consisting of Andreja Rondović (set designer), Marija Marković Milojev (costume designer), Irena Popović (composer), Marija Milenković (stage movement and choreography), Dr Ljiljana Mrkić Popović (stage speech), Vuk Ršumović (assistant director), Ema Pavlović (assistant set designer) and Ena Krotić (assistant costume designer).
The cast members are Branislav Tomašević (Master Toni), Ivana Šćepanović (Madam Pasqua), Tamara Šustić (Lucietta), Vučić Perović (Beppe), Jovan Jovanović (Titta-Nane), Hadži Nenad Maričić (Master Fortunato), Zlatija Ivanović (Madam Libera), Iva Milanović (Orsolina), Teodora Dragićević (Checca), Dragan Sekulić (Cristoforo) and Nedim Nezirović (Isidoro).
"Brawling in Chioggia" was first performed at the Carnival in Venice in 1762, and Goldoni "found" his protagonists in a nearby small fishing village.
The director, Ana Tomović, reminds us that even today, after more than two and a half centuries since that event, this comedy of character captivates the audience with its humorous and touching portrayal of jealousy derived from love and poverty.
"A quarrel that breaks out trivially between two poor fishing families living next to each other in a small fishing village who both have girls of marriage age, escalates to unimaginable proportions under the influence of the sirocco – a warm wind blowing from the sea, but also because of hard-headed and proud characters who have nothing else in this world other than their honour... This comedy resonates differently in every age. Today, in 2023, it cannot help but look into the eyes of the environmental disaster we are witnessing. Gigantic ships in the service of gigantic companies plough the seabed, grabbing fish and leaving behind wasteland, and the uncontrolled use of plastic results in enormous pollution of the coast and the sea", Ana Tomović says.
According to her, this awareness of the world we live in now will be reflected on stage, primarily in the elements of set design or "context" where and when this universal love comedy takes place.
"In working with actors, I want us to stay on the path of warmth, love and humanity, and above all on the path of very good characterization of characters that provoke laughter and joy with the audience. Despite the ecological disaster, love triumphs!", Ana Tomović says, a multiple award-winning director who directed the plays "Ronald, Understand Me" (2009) and "Mother Courage and Her Children" (2014) at the National Theatre.
This will be the third production of "Brawling in Chioggia" at the National Theatre in Belgrade; in 1973 it was directed by Paolo Magelli, and two decades ago, in 2003, Goran Ruškuc staged the play.