Renowned Nobel Prize Laureate's Play for the First Time in the National Theatre; The Stadttheater Klagenfurt Gives a Tour Performance of Peter Handke's The Hour We Knew Nothing of Each Other
5 March 2020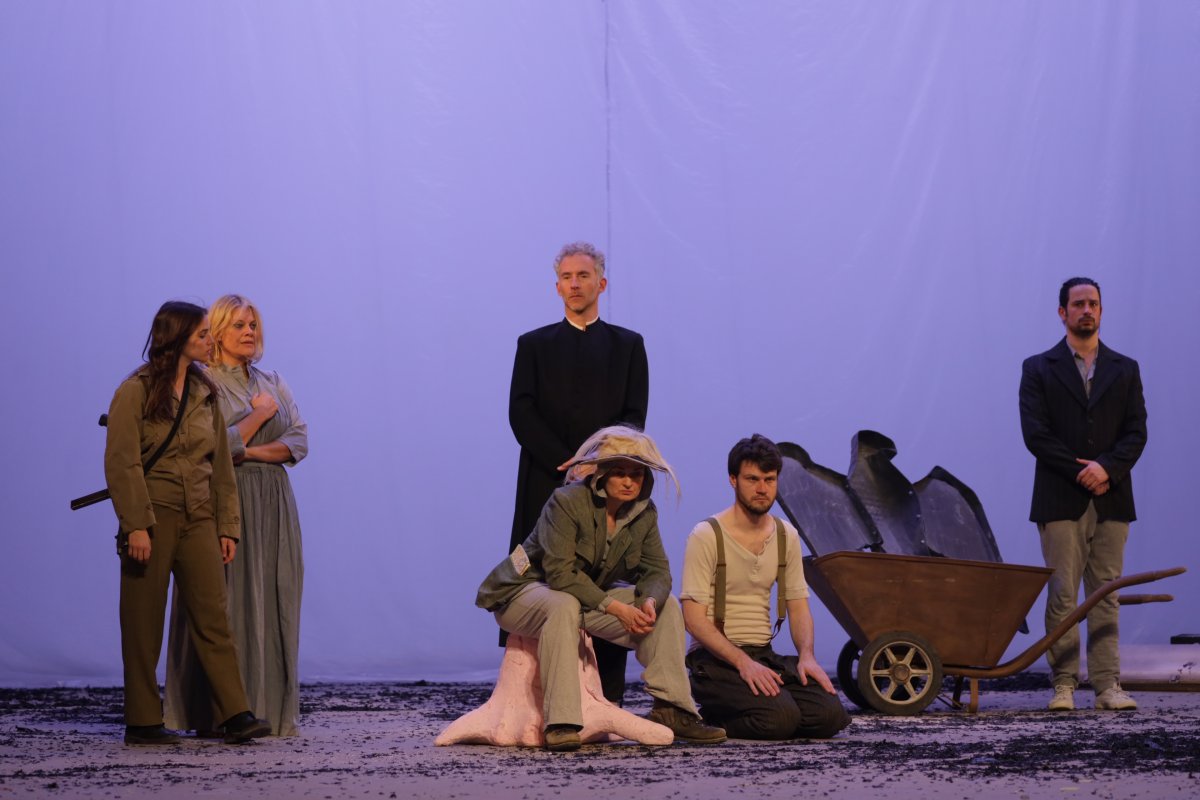 The Stadttheater Klagenfurt gave a tour performance of The Hour We Knew Nothing of Each Other, written by the Nobel Prize Laureate Peter Handke, on the Main Stage, 5th March. The play does not have dialogue; however, it narrates the poem of men and features their passing through history.
This production has been done in cooperation with German Theatre Vereinigten Bühnen from Bozen, Italy, and the KULA Company from Berlin. The play premiered on the 10th October last year, the same day the Swedish Royal Academy announced that the renowned Austrian writer, Peter Handke, was awarded with the Nobel Prize in Literature.
This has been the first performance of the renowned Austrian theatre in the National Theatre, following the recent signing of the Agreement on Cooperation between the National Theatre's General Manager, Ms. Ivana Vujić and the Stadttheater Intendant, Mr. Florian Scholz. (read more HERE).
In addition, this tour performance of the play directed by Robert Schuster and choreographed by Martin Gruber, will be remembered for being the first work of the renowned Austrian writer to be performed at stage of the National Theatre in Belgrade.
The main character in the play is a place in a city, in a country somewhere in the world, which becomes a stage for scenes from everyday life, a place where things happen and people meet while passing by – young and old, familiar and strange, privileged and underprivileged, those who are forgotten and those who are still alive in memory…
During the two action packed hours, in a play featuring endless poeticism, innovation and enthusiasm, the twelve-member cast (six women and six men in a minimalistic ambient set and in front of a wavering curtain), has interpreted numerous scenes from human experience and life, with a lot of inspiration and without a break – with vigour, wonder, laughter, crying, screaming and breathlessness…
The delighted Belgrade audience rewarded the cast with a long and cordial applause and the actors reciprocated by throwing roses into the audience.
After the performance, General Manager Ivana Vujić presented Mr. Schuster, the director and also one of the performers, with the Plaque of the National Theatre.
The set and the costumes were designed by Sascha Gross, while Max Bauer was in charge of music and sound design.
Handke was awarded with the Nobel Prize in Literature (according to the statement from the Swedish Royal Academy), "for an influential work that with linguistic ingenuity has explored the periphery and the specificity of human experience'.
The National Theatre is thankful to the Austrian Embassy in Belgrade and to the Austrian Cultural Forum and its Director Mr. Adrien Feix for their cooperation and support for making this tour performance possible.
M.B.