---
Traditional New Year's Press Conference Takes Place, Tanja Šljivar is a New Director of Drama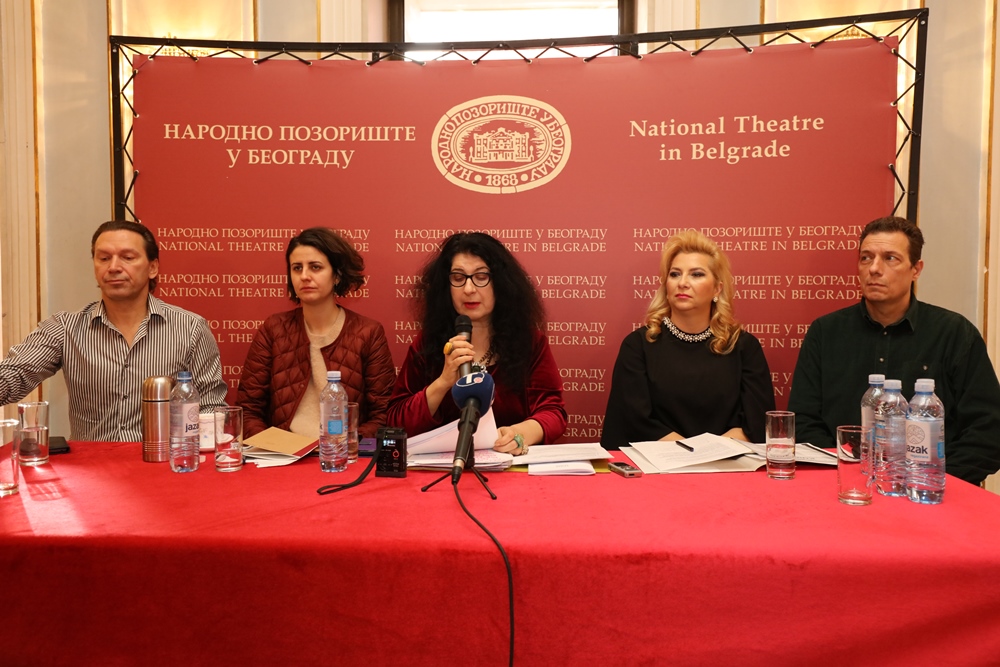 Traditional New Year's Press Conference took place on Tuesday, 25th December at the Foyer of the Second Gallery and on the occasion, Ivana Vujić, Acting General Manager of the National Theatre, introduced new Director of Drama, Tanja Šljivar.
At the beginning of the press conference, Ms Ivana Vujić addressed the press for the first time since she has been appointed a head of the National Theatre, a little more than a month ago (on 21st November) by decision of the Government. She reiterated the results during 2018 and emphasized that there were nine premieres during the period.
Drama Company had seven premieres, The Bereaved Family, The 1990s, The House of Bernarda Alba, Bollywood, Plutus (joint production with the National Theatre of Greece), Balkan Spy and a form of performance production, Topography of Paradise, a joint production with the Royal Drama Theatre Dramaten; Ballet Company had one premiere – Dictionary of the Khazars – Dream Hunters (joint production with the Opera & Theatre Madlenianum), while the Opera Company had the premiere of Andrea Chenier and renewal of Cinderella.
The General Manager said that there have been numerous successful tours and involvements at festivals in the country and abroad during the year, as well as celebrations of several important jubilees, three exhibitions in the Museum of the National Theatre, etc.
She also mentioned numerous events held at both stages in the National Theatre and added that the National Theatre was host to the World Congress of International Federation for Theatre Research for the first time in history of Serbian theatre; the Congress was held at the Main Stage in period between 9th and 13th July.
Accompanied by her associates (Jasmina Trumbetaš Petrović, Director of Opera, Konstantin Kostjukov, Acting Director of Ballet and Dragan Stevović, Director of Museum), Ms Vujić introduced the new Director of the Drama Company, Tanja Šljivar, and stated that Ms Šljivar is a renowned playwright who has received numerous awards and has been "outstanding in all spheres of operations".
"When I came to the National Theatre about thirty days ago there was no appointed Director of Drama Company. I made a decision to appoint Tanja Šljivar, who was the best student of her generation at the Faculty of Dramatic Arts. I used to be her Professor and I may say that she was outstanding in all spheres", said Ivana Vujić and mentioned awarded plays by Tanja Šljivar, How Much is Pâte?, Regime of Love and others that were produced in Serbia and abroad, most often in Germany.
When speaking about achievements of Tanja Šljivar, her intellectual curiosity and contacts in Europe, Ivana Vujić said that she proudly selected a very well educated and gifted young woman for the position.
"I believe that our primary duty is to provide the young people with space to work and be creative, in order for them not to go somewhere else, and to work and utilise their gift here, so that our theatres shall excel", said Ivana Vujić.
Tanja Šljivar expressed her gratitude for the trust she was given and said that it was an honour and great responsibility for her "especially regarding previous events".
"Ivana Vujić mentioned support to young people, but we should have in mind that she is only the second female General Manager of the National Theatre, therefore gender aspect is also important here", said Tanja Šljivar.
Drama Company shall have the premieres of Impure Blood by Bora Stanković and Shakespeare's A Midsummer Night's Dream as planned, while the other plays have not been selected yet.
Tanja Šljivar said that the National Theatre as a national institution has its tasks regarding the repertoire and added that she would like to make it exemplary for its proper functioning.
"I do not refer to material conditions only, but also to changes in communication models in the Theatre and to advancement of every member of the ensemble", she said.
Šljivar added that the "Raša Plaović" Stage would be dedicated to questioning of the cannons and to discovery of new, but also of already existing but neglected, such as the opus of Biljana Jovanović, who wrote at the same time as Danilo Kiš and Mirko Kovač.
To the journalists' question to Tanja Šljivar if she had contacts with actors who request the previous Director of the Drama, Željko Hubač, return to the position, Ivana Vujić responded that she "had talks with the majority of them who wanted to talk".
"I presented the plans to them in most friendly and collegial discussion, and they were satisfied", Ivana Vujić explained.
Tanja Šljivar added that Hubač shall remain a part of the staff as a dramaturge and that he shall remain "a part of the team as an artistic adviser and a person with hands-on experience".
Ivana Vujić listed respect, humanity, work, discipline and dedication as values she would advocate for.
"Future of the National Theatre depends on us. These are big ensembles; our work will make a difference between having better or worse circumstances", she said and added that she is thankful to her predecessors for their work and results they achieved.
Ivana Vujić said that the new project would be focused on attracting new audiences, which would be the task of a group of young directors and dramaturges – Ana Konstantinović, Ana Popović, Tea Puharić, Tijana Grumić and others, and that special consideration would be given to teenagers.
"Tickets for the performances in the National Theatre are being sought for, it is not a problem. However, we have to ask ourselves who are our audiences and who shall be our audiences in the next 50 years", said Ivana Vujić, who answered the question regarding the appointment procedure for the new General Manager saying that a new Managing Board of the National Theatre has been appointed and that the procedure shall be put in place according to the law, step by step…
Besides support to young artists, important aspect shall be to place the Theatre in its place at the European level, to establish cooperation with national theatres in London and Paris that correspond the Theatre regarding their respective profiles, and to continue cooperation with national theatres in Budapest and the region.
There is also a plan to place the Theatre at its place in international festivals, to invite guest stage directors, etc.
There is a plan to have Katie Mitchell from London direct a play, she is one of the greatest European stage directing stars. In February, Imanuel Schipper, from the Rimini Protocol group, shall lead workshops with actors, as well as workshops regarding the project for audience development, said Ivana Vujić, and emphasized the importance of professional development, personal development and attainment of new knowledge for each member in the ensembles of Drama, Opera and Ballet.
Ivana Vujić said that she would like to establish a National Theatre Foundation in order to have integration of private and state entrepreneurship support funds of the National Theatre.
There is a plan to have a workshop in Lower Dorćol, which would at the beginning serve as an ambience stage and, later on, as a third stage of the National Theatre, said Ivana Vujić.
She has also commented on the initiative of the previous General Manager, Dejan Savić, to have a new Opera building built across the street from the National Theatre, and assessed that that would, in every case, be necessary for a big city such as Belgrade.
At the end of her speech, the General Manager said that her door is open to everybody who want to talk and that she would gladly listen to ideas and suggestions.
Director of the Opera, Jasmina Trumbetaš Petrović, announced premiere of Koštana by Petar Konjović, under the baton of Ana Zorana Brajović and stage directed by Jug Radivojević, for 23rd March.
She said that it is an unusual and highly demanding opera piece, which was written after eponymous play by Bora Stanković, and that the previous performance of Koštana took place on 19th October 1959.
"We have an idea to reintroduce children's operas and matinees and to have premiere of Manon Lescaut in the next season", said Jasmina Trumbetaš Petrović, who also spoke about her first meeting with the new General Manager, who gave her a rose at the occasion.
"The National Theatre is being led by a person who respects artists, a strong woman who shall defend us. She will demand discipline, work ethics and creativeness. This gives me hope that our Theatre shall prosper", she said.
Konstantin Kostjukov expressed his satisfaction that five new dancers have been employed recently and thanked Ivana Vujić for that.
"As soon as she assumed her responsibilities, she recognized our biggest problem in the Ballet ensemble, and that is Human Resource policy. I have been fighting for years against the fact that some of our dancers have been soloists for a long time and yet they still have status of part-timers. The Manager has immediately started working on that and contacting the Government of the Republic of Serbia. We have hired five young dancers and we shall continue with the efforts. Ballet is, first of all, art of the young", said Kostjukov.
The Ballet ensemble shall be engaged in a big project, Swan Lake, which would be fourth production of the ballet in the National Theatre. Set and costumes for the production will be created by Renato Balestra, a renowned Italian fashion designer, costume designer, an icon of fashion industry and one of the greatest names of the first generations of fashion gurus.
Kostjukov said that the project has already been announced in Italian press and that the goal is to promote our ballet production outside the country.
He also announced a renewal of the cult ballet Dr Jekyll and Mr Hyde, to the music by Edward Elgar and Dragoljub Đuričić; Vladimir Logunov did choreography, libretto and directing for this ballet production.
Director of the Museum of the National Theatre, Dragan Stevović, announced the plan of exhibitions for the following year for the occasions of 200th anniversary of Serbian Theatre and 10 years since death of Ballet principal dancer, Radomir Vučić, as well as participation in event The Long Night of Museums, and a change in standing exhibition…
Stevović said that there should be an opening of exhibition titled Shakespeare on Stage of the National Theatre on 26th November the following year, that would present all three companies – Drama, Opera and Ballet.
He added that the Museum was visited by 1500 tourists from river cruisers this year, and announced that there is a plan to have 101 group of tourists, from river cruisers as well, visit the Museum during the following year.
М.B.