About Performance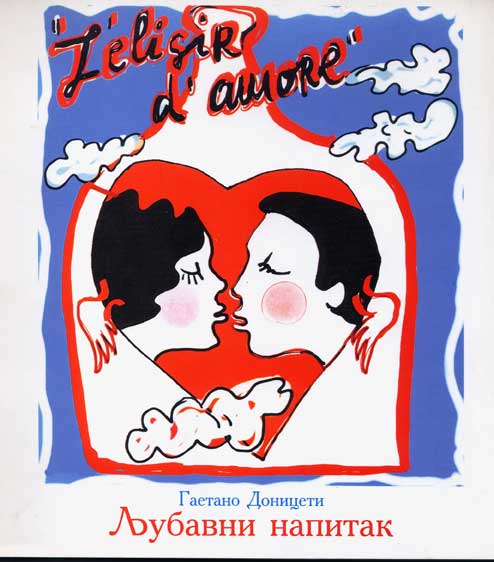 (...) The story about how The Elixir of Love was written confirms that Donizetti was capable of writing pages and pages of musical score in a very short period of time. He was commissioned by a Milan theatre's impresario, Alessandro Lanari, to adapt one of his operas in just two weeks, in time for the beginning of the season. Donizetti took to work and accomplished "the mission impossible" and instead of adapting an already finished opera, he wrote a new one in cooperation with Felice Romani, famous librettist of the time, based on the text by Eugene Scribe. The opera triumphed at the premiere partly owing to superb singers who greatly contributed to the opera's success.
(…) Although the music seems easy and simple, the opera demands experienced singers, especially today when modern opera stage directing requires complex performing tasks from singers.
Danica Stipanović
Premiere performance
Premiere, 5th November 2003 / Main Stage

Conductor Dejan Savić
Stage Director Plamen Kartalov (Sofia)
Set Designer Boris Maksimović
Costume Designer Ljiljana Orlić
Choreographer Vladimir Logunov

Premiere Cast:

Adina, a wealthy girl Sanja Kerkez / Sofija Pižurica
Nemorino, a young peasant Dejan Maksimović / Radivoje Simić
Belcore, a sergeant Oliver Njego / Vladimir Andrić
Dulcamara, an itinerant medicine man Mika Jovanović / Vuk Matić
Giannetta, a girl from the village Aleksandra Stamenković / Ivanka Raković

The Choir and Orchestra of the Opera of the National Theatre in Belgrade take part in the performance

Concertmasters Iskra Uzelac, Edit Makedonska
Assistant Conductor Ana Simić Radonjić
First Assistant Director Ivana Dragutinović
Assistant Costume Designer Nevenka Milosavljević, Branka Bončić
Choir rehearsed by Đorđe Pavlović
Music Associates Srđan Jaraković, Nevena Živković, Aleksandar Brujić, Nada Matijević, Tatjana Ščerbak
Music Stage Manager Mirjana Goločevac
Prompters Silvija Pec, Biljana Manojlović
Organisers Maša Milanović Minić, Nevena Paunović (student at the FDA)
Secretary Snježana Vujasinović
Translation and caption Konstantin Carina
Stage Associate Trajko Jordanovski
Technical Organiser Ivan Janjić
Stage Master Zoran Mirić
Male Wardrobe Jugoslav Purić
Female Wardrobe Vera Mekić
Make-Up Nijaz Memiš, Dragoljub Jeremić
Props Dejan Janković
Pyrotechnics Miroslav Petrović
Footwear Tomislav Vladisavljević
Sound Master Miroslav Vuković
Sets were made in the National Theatre's workshops under supervision of Željko Rudić.
Costumes were made in the National Theatre's workshops under supervision of Drena Drinić, Dana Ognjenović and Boža Zarić.