PETER PAN
ballet choreographed by Bruce Steivel
---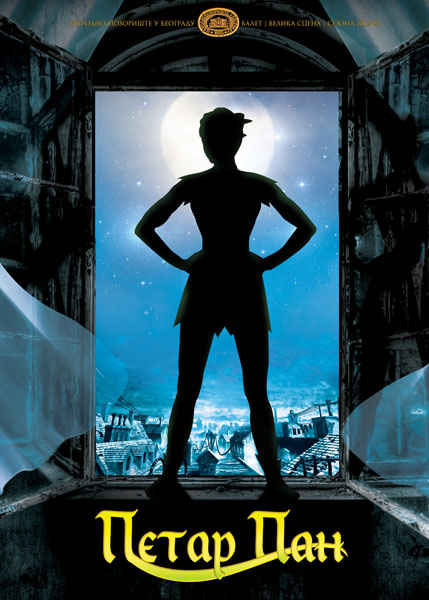 Premiere 10th November 2012 / Main Stage

Ballet in two acts
Choreography Bruce Steivel
Music Thomas E. Semanski
Costumes Olga Mrđenović
Sets Boris Maksimović

Premiere Cast:
Peter Pan Jovan Veselinović
Wendy Bojana Žegarac
Michael Miloš Kecman
John Miloš Marijan
Tinker Bell Silvija Džunja
Tiger Lily Milica Jević
Captain Hook Nathan Cottam
Crocodile Željko Grozdanović
Mrs. Darling Jasna Paunović
Mr. Darling Goran Stanić
Nana Nemanja Suvačarević
Maid Ines Ivković
Indians Teodora Spasić, Milena Ivić, Nada Stamatović, Verica Stanojević, Ivana Savić, Jovana Nestorovska, Ada Raspor, Olivera Gavrilov
Lost Boys Igor Čupković, Džošua Ejkob, Stefano Peskjuli
Pirates Igor Gut, Balint Raušer, Igor Pastor, Dušan Milosavljević
Fish Sandra Stojanović, Sanja Ninković, Lidija Pavlović, Nelka Lazović, Vladimir Panajotović, Balint Raušer, Čedomir Radonjić, Danilo Kastratović
Sirens Olja Đukić, Ana Vrljičak

WITH SOLOISTS AND ENSEMBLE OF THE NATIONAL THEATRE BALLET
Director of Ballet Bruce Steivel
Production Managers Brankica Knežević, Gojko Davidović
Music Associate Milica Bezmarević
Stage Manager Ana Milićević
Appearing: Students from "Lujo Davico" and "National Dance Foundation" Ballet Schools
Ballet Associate Lidija Pavlović
Flying Special Effects / Wire.Stunt.Safety.Effects.
Assistant Costume Designer Marija Tavčar
Assistant Costume Designer - Volunteer Aleksandra Pecić
Sculptor Vladimir Radovanović
Make-Up Dragoljub Jeremić
Light Operator Miodrag Milivojević
Set Crew Chief Nevenko Radanović
Sound Operator Perica Ćurković
SETS AND COSTUMES WERE MANUFACTURED IN THE NATIONAL THEATRE'S WORKSHOPS
Interview with the choreographer
A BALLET FOR ALL

What made you choose Peter Pan for staging?
The theatre needs a program that will bring children back to the theatre and I felt this was the best choice. We have many of the full classics performing in the evening, which is a bit difficult for children to attend. Peter Pan will have evening performances as well, but there will be early matinees on Sundays, which will give parents the opportunity to bring their children to the theatre. This is my first choreographic input into the artistic scene in Belgrade and a little daunting as well. Peter Pan is not Swan Lake or Sleeping Beauty. I have brought this ballet to Belgrade to entertain and, hopefully, to bring children, our future audience, back into the theatre. We were very fortunate to have the American Embassy become involved with the project and they funded the music. It has been a great collaboration between the United States and Serbia.
Was Peter Pan one of your favorite books when you were a child?
It is one of my favorite books and I saw the Disney cartoon version many times as a child. I was brought up on a farm and my cousins and I always spent the summer months outdoors playing Peter Pan.
Does the production ask for any special acting skills from the dancers?
Dancers must be actors, no matter which ballet they are performing. Their job is to get a specific idea or feeling across to the public and it is very important for them to be able to transform from one character to another. In Peter Pan, they must convey childhood and I think there is a lot of the Peter Pan complex in all of us. It gives the dancers a chance to return to their childhood.
We all know that children fly in the story. How did you deal with the flying scenes?
There are numerous flying scenes in the ballet and the first act ends with an aerial pas de deux between Peter and Wendy. It takes two people behind the stage to allow one person to fly – one person lifting and the other person moving the character across the stage. This asks for comprehensive preparations…
Music was made exclusively for your ballet. Tell us something about cooperation with composer.
I met with Mr. Semanski in New York to discuss the ballet and music. We had talks on what we wanted to be the most important aspects of the ballet. I spent several weeks working on the scenes, the time signature of each dance piece, the length and order. I sent the information to Mr. Semanski and he started to work on the music. I flew back to New York several weeks later after several phone conversations to listen to the music. We made a few minor changes and the music was formed. It was a wonderful experience to be able to work with a composer who understood what I wanted and was able to convey my feelings in the music.
You have already staged Peter Pan in USA. Was there a difference in working with our dancers?
I first choreographed the ballet in Las Vegas and had several weeks to work on the project. I tried to incorporate the personalities of the dancers into the ballet as well and felt the dancers had a lot of input on the choreography. The dancers here in Belgrade have adapted to the choreography well and seem to have enjoyed it. It is a ballet to have fun with and, hopefully, the audience will enjoy it as well.
Brankica Knežević
---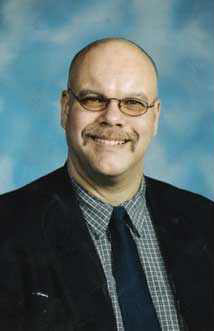 THOMAS E. SEMANSKI
The original score for Bruce Swivels Peter Pan was composed by the late Thomas E. Semanski. He graduated from Now York's Crane School of Music and received his Master's Degree in Music from New York's Fredonia State University. He studied musical arrangement with Arthur Frackenphol and saxophone with James Stoltie. In addition to his work on commercials, movie soundtracks and experimental electronic compositions, Semanski composed five full length ballets. His first ballet, Dracula, was commissioned by the Columbia City Ballet in South Carolina and won an ASCAP Popular Music Award. His second ballet, Beauty and the Beast, also was an ASCAP winner. The Nevada Ballet Theatre commissioned Semanski to produce this score for the world premiere of Bruce Steivels Peter Pan. The ballet has received rave reviews in Nevada, in Lisbon, Portugal and in Eugene, Oregon. Thomas Semanski passed away in September 2007. He is greatly missed.
---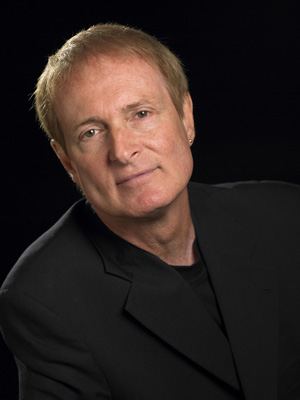 BRUCE STEIVEL
Internationally recognized choreographer and teacher. Previously, he served as the Artistic Director of Bern Stadt Theatre in Switzerland, the Hong Kong Ballet, the Universal Ballet of Korea and most recently Nevada Ballet Theatre, where he served as artistic director for over a decade. As Artistic Director for the Hong Kong Ballet and the Universal Ballet, he developed a strong internationally accepted company and launched each company on their first American and European tours. Hong Kong Ballet's tour to mainland China was the first time the Hong Kong based company performed in China. As Artistic Director of Nevada Ballet Theatre, Steivel expanded the repertoire by adding 30 ballets – 13 from visiting choreographers and 17 from of his own creation. His Nutcracker was a holiday favorite, along with Peter Pan, A Midsummer Night's Dream and Good Times.
Steivel is frequently sought after as a guest teacher, teaching for Nederland Dans Theatre, the Norwegian National Ballet, the Hungarian National Ballet, the National Ballet of Portugal, the Berlin Stadstoper, Beijing Ballet, Shanghai Ballet, Bat-Dor of Israel, the National Institute of Istanbul, Turkey and numerous schools in Japan and America.