---
Rehearsals of Vassa Zheleznova by Maxim Gorky and Others Start, Adapted and Directed by Zlatko Sviben, Premiere on the Main Stage in April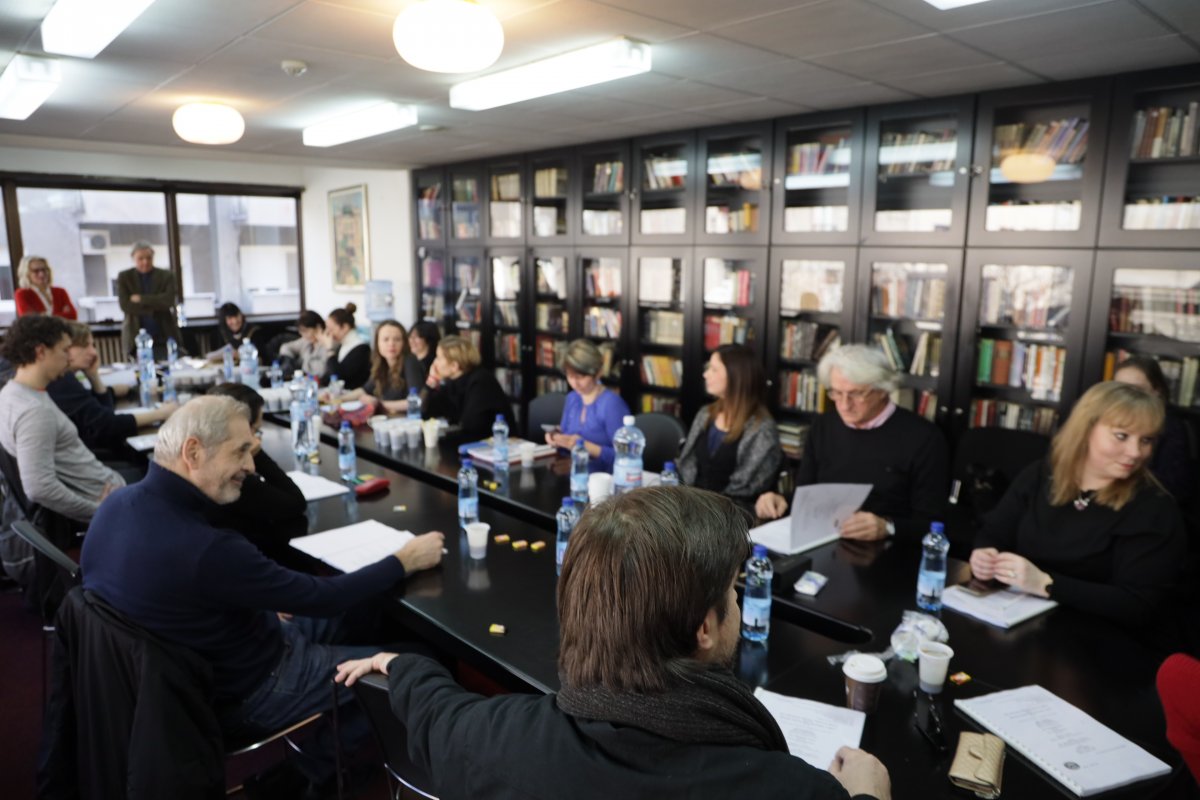 The first reading rehearsal of Vassa Zheleznova by Maxim Gorky and Others, adapted and directed by Zlatko Sviben, was held in the Theatre Library on 6th February.
The production is based on the second version of Vassa Zheleznova by Maxim Gorky, written in 1935; however, the adaptation also contains dramatized parts from Gorky's novel The Artamonov Business, as well as scenes and several characters from the first version of Vassa Zheleznova (Mother), interplay and characters from The Song of the Falcon and the epilogue, also after Gorky's novel – Foma Gordeyev.
The premiere is planned to take place on the Main Stage at the beginning of April and the roles have been cast to Ljiljana Blagojević, Miodrag Krivokapić, Ivan Đorđević, Nemanja Stamatović, Haji Nenad Maričić, Vladan Gajović, Vanja Milačić, Katarina Žutić, Rada Đuričin Popović, Stojša Oljačić, Vjera Mujović, Petar Božović, Nebojša Kundačina, Suzana Lukić, Vanja Ejdus, Bojana Stefanović Tornjanski, Gojko Baletić, Lazar Nikolić, Bojana Bambić, as well as to the Ballet soloists, Ana Ivančević and Miloš Kecman.
The creative team consists of Slavenka Milovanović (Dramaturge), Miodrag Tabački (Set Designer), Irena Dragović and Ana Krstajić (Composers), Katarina Grčić (Costume Designer), Ljiljana Mrkić Popović (Stage Speech Associate), Tamara Antonijević (Stage Movement Associate) and Svetlana Volic (Video Projection Associate).
Associates in this production are Maksim Milošević (Assistant Director), Jasna Saramandić (Assistant Set Designer), Aleksandra Pecić (Assistant Costume Designer), Milorad Jovanović (Executive Producer), Nemanja Konstantinović (Producer in the Drama Department), Saša Tanasković (Stage Manager), Danica Stevanović (Prompter) and Dimitrije Ignjatović (Producer in training).
Ms. Ivana Vujić, General Manager of the National Theatre, and Ms. Molina Udovički Fotez, Acting Manager of the Drama Department, also attended the first rehearsal.
M.B.