---
General Manager of the National Theatre Ivana Vujić Presented with the "Sreten Stojanović" Golden Plaque of the University of Arts with Charter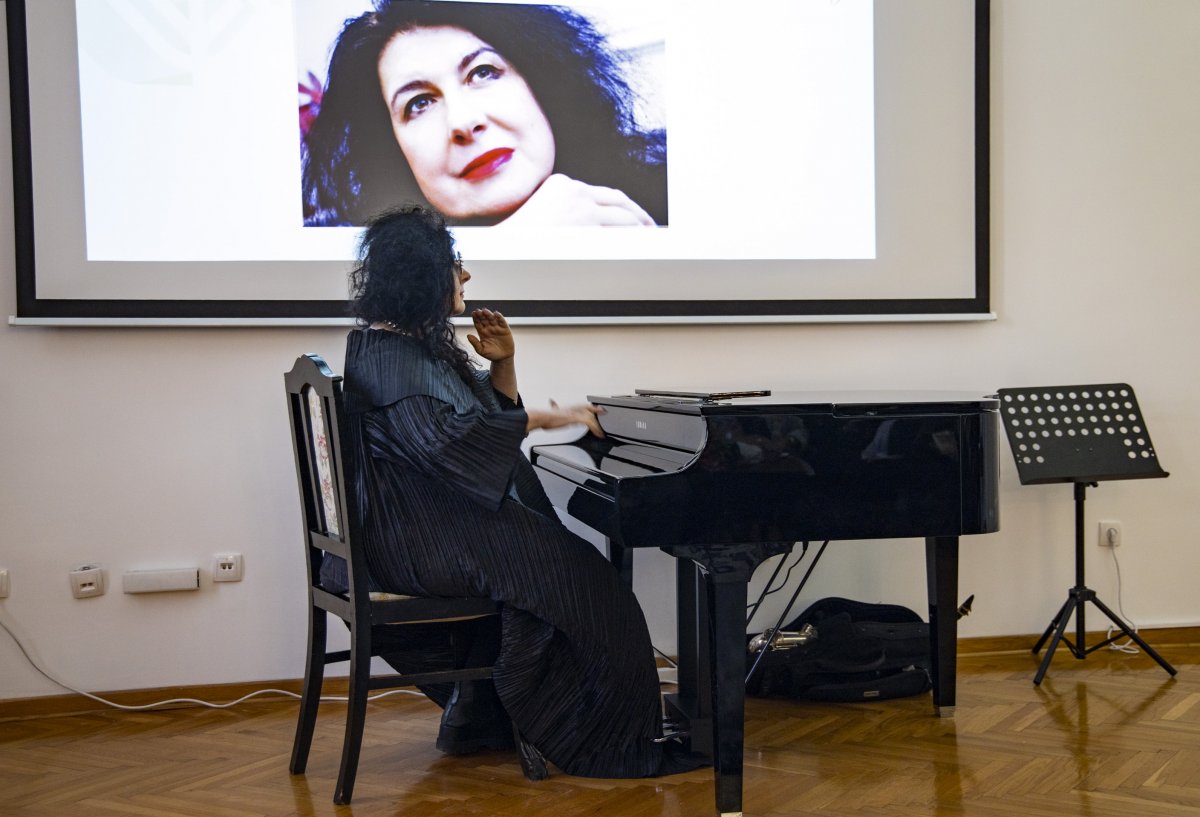 The "Sreten Stojanović" Golden Plaque of the University of Arts with Charter was presented to Ms Ivana Vujić Kominac, General Manager of the National Theatre in Belgrade and Professor at the Faculty of Dramatic Arts, on 20th December.
This prestigious recognition "for many years of substantial support to development and activities of the Faculty of Dramatic Arts of the University of Belgrade and outstanding contribution in the sphere of education, art and culture" was presented by Dr Mirjana Nikolić, Vice-Chancellor, at the ceremony held in the Formal Hall of the Rectory, on the Day of the University of Arts.
"Thank you all, I'm infinitely thankful for your existence, because thanks to you, I exist as well…" said Ms Ivana Vujić Kominac among other things and added that she had prepared to play something, although, as she admitted, she does not play.
Then, to delight of the viewers, she gave a short performance on a piano, without playing.
As one of the highest recognitions, the "Sreten Stojanović" Golden Plaque of the University of Arts with Charter is awarded only to most deserving people who have given outstanding contribution and left permanent mark in the history of the University of Arts.
The Plaque has been awarded only three times so far. It was presented to Professor Emeritus Darinka Matić Marović, Professor Dr Milena Dragićević Šešić and Professor Dr Ljiljana Mrkić Popović.
This year they were joined by another outstanding professor and great artist Ivana Vujić Kominac, who was suggested for this renowned recognition by the Department for Theatre and Radio Directing of the Faculty of Dramatic Arts in Belgrade.
The Council of the University of Arts unanimously decided on the recipient of the award at the session held on 2nd December.
"Ivana is one of our most successful theatre directors and a long-time professor at the Department of Theatre and Radio Directing at the FDA. Her prolific career is proof of her versatility both in the sphere of art and pedagogy, as well as in the domain of theatrical research, through constant communication with relevant experts in correlating spheres throughout the world. Her productions are well known to professional and general public. She has directed more than 110 productions in theatres of former Yugoslavia, Serbia, region and Europe. She has directed plays in all Belgrade theatres and opera houses, as well as in numerous alternative and cultural organisations. Her theatre productions participated in numerous national and international festivals and we would find it difficult to name all awards she received for her artistic work that shows her abundant talent and unusual artistic sensibility", was stated among other things in the explanation of the Council and it was added that the Ring with Joakim Vujić's image awarded for overall service in development of Serbian theatre is among her awards.
M.B.