---
Under the leadership renowned artist Dimitris Sotiriou were held three workshops from series titled Kinaesthetic Intelligence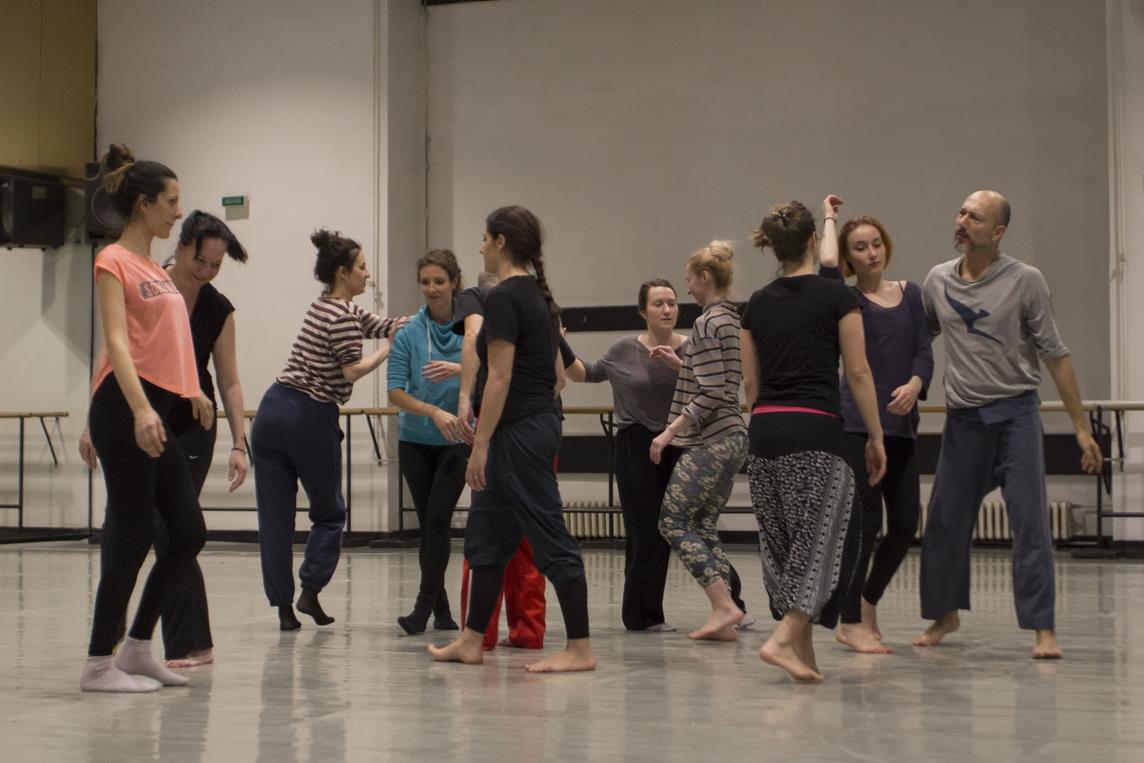 Within the new programme line of the National Theatre, "Platform", (initiated by the Acting General Manager, Mrs Ivana Vujić) which is focusing on professional advancement of professionals from the sphere of performing arts, as well as with education of audience, a renowned Greek choreographer and dancer, Dimitris Sotiriou, was a guest of our Theatre.
Under the leadership of this renowned artist, three workshops from series titled Kinaesthetic Intelligence were held in the Ballet Hall of the National Theatre in period between 11th and 13th March.
"Improvisation is a part of our everyday life, we use it all the time, while walking down a street, while chatting, and every time we react to what happens to us without knowing the outcome upfront. What is different when a lesson in improvisation is concerned? It is only a more conscious effort to unite one's mind and body through movement. Our basic task during the workshop was practicality. Our basic materials are feelings and body. We use specific physical instructions and limitations in order to design a map so as not to lose ourselves in infinity of choices, and so we could trust our body to do what it knows so well; to move. We did not dwell on the outcome here, the outcome is inconsistent, it is as fleeting as the time that passes; instead, we focused on consciousness that is rehearsed through conquering more and more of this crazy theme park - the life and dance", said Sotiriou.
The workshop was open for members of the Drama, Opera and Ballet companies of the National Theatre in Belgrade in the afternoon and evening periods, as well as for other interested artists – actors, dancers, choreographers, performers, etc.
The new programme line of the National Theatre, became operational as of 26th February, with a two-day tour of dramaturge Imanuel Schipper from renowned German theatre company "Rimini Protokoll", who held a performance lecture titled "Relational Dramaturgies and Staged Post-Democracy in Rimini Protokoll 'State 1-4'", as well as a workshop "Relational Dramaturgies and Strategies of Interactivity".
Sotiriou (1968, Drama, Greece) studied dance at the State School of Dance in Athens and continued his studies in New York.
He apprenticed next to famous Greek choreographer, Zouzou Nikoloudi for ten years in her group Chorika.
He is a founding member of the group Sinequanon dance company and has toured the world with the group's performances.
He has trained in different techniques and skills such as yoga, movement research - Alexander technique, Tai-Chi.
He has worked as a choreographer and scenic movement author on numerous shows – Greek tragedies, comedies, operas, and contemporary pieces, many times in collaboration with national theatres in Greece, Serbia, Bulgaria, and Northern Macedonia.
He has collaborated with the director Slobodan Unkovski on several projects, including the performance of the National theatre in Belgrade, "Figaro's Marriage and Divorce".
He is deeply interested in the Sufism: training of the character connected to the training of the body, a place where eastern and western techniques meet.