---
PREMIERE OF THE ROAD TO DAMASCUS, DIRECTOR NIKITA MILIVOJEVIĆ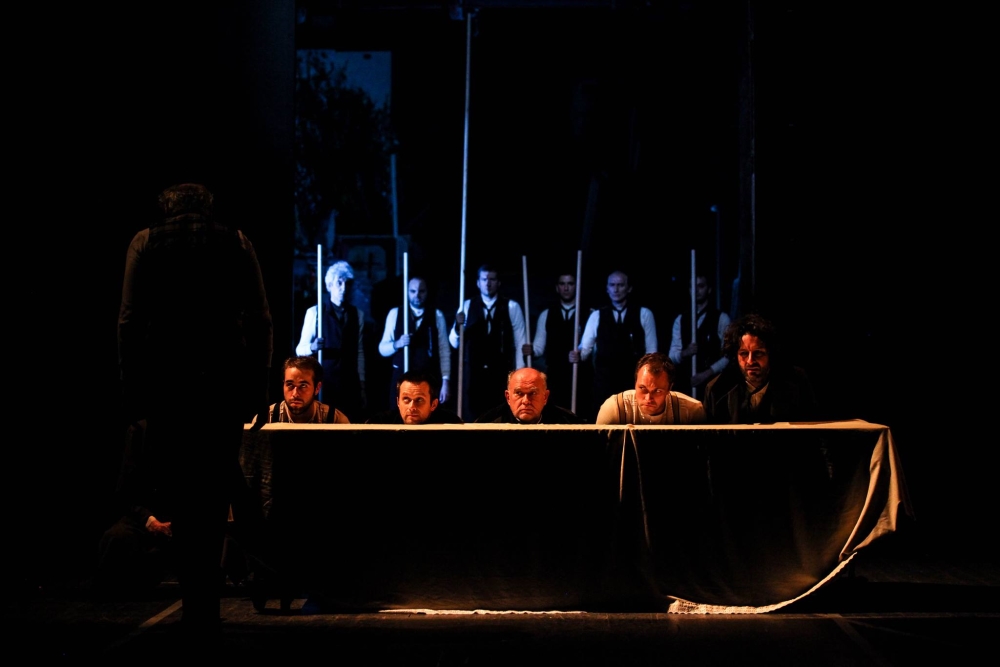 Production The Road to Damascus, after August Strindberg's drama, directed and adapted by Nikita Milivojević, premiered on Saturday, 22nd November, on the Day of the National Theatre.
This is an unusual production where actors play in the auditorium, boxes and addendum to the stage, while about a hundred visitors are seated on the Main Stage. The cast: Hаdži Nenаd Mаričić (Stranger, Caesar, Mourner), Senа Đorović (Lady, Mother), Boris Pingović (Stranger, Doctor, Mourner), Nebojšа Kundаčinа (Stranger, Landlord), Bojаn Krivokаpić (Stranger), Pаvle Jerinić (Stranger, Mourner), Jelenа Đulvezаn (Lady), Brаnko Jerinić (Stranger, Mourner, Beggar), Aleksаndrа Nikolić (Lady, Mother), Tаnаsije Uzunović (Stranger, Beggar, Old Man) and extras Božidаr Kаtić, Drаgoljub Denić, Miloš Dmitrović, Stаnko Đаlić, Vojislаv Obrаdović, Aleksаndаr Vukić, Slаven Rаdovаnović, Milаn Gerdijаn and Zorаn Trifunović.
After an hour and a half of inspired, powerful and condensed performance by the whole ensemble, the audience rewarded the actors with a long and cordial applause.
The Road to Damascus (The first part of the same name trilogy) is partly autobiographical piece – the story about events, fears and dilemmas, dreams and nightmares, while the central theme is focused on search for lost faith.
Several actors interpret the main character – The Stranger, because the characters are part of his mind, memories, product of his demons, inexplicable forces, and almost all actors interpret other characters from this Strindberg's piece, a piece which opened a new chapter in modern drama history.
Some critics call this play the "pilgrimage play" because the famous Swedish playwright documented his mental crisis in the piece, as well as in Inferno his novel-diary.
Slаvko Milаnović is a dramaturge, Zorаn Erić wrote the music, Mаrinа Vukаsović Medenicа is a costume designer, while the director Milivojević and Amаliа Bennett were in charge of conceptual design of the set, Amаliа Bennett is in charge of stage movement as well.
The rest of the production team are Ljiljana Mrkić Popović (Speech Instructor), Ivаnа Nenаdović (Assistant Director), Milorаd Jovаnović (Producer), Mаrijа Tаvčаr (Painting on Costumes and Props), Mirаš Vuksаnović and Jаsnа Sаrаmаndić (Set Design Realisation).
Sаndrа Žugić Rokvić is the Stage Manager and Gordаnа Perovski is the Prompter in the production.
M.B.
Click HERE to see photographs