---
THE BAT BY STRAUSS AGAIN ON THE MAIN STAGE OPERA REPERTOIRE AS OF 1ST APRIL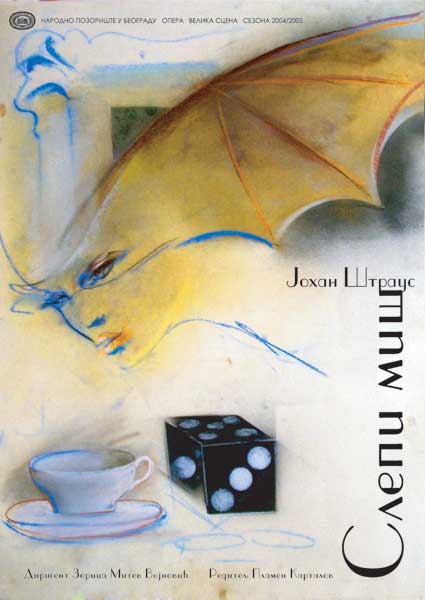 After two years, The Bat, an operetta by the famous Austrian composer, conductor and violinist Johann Strauss, shall again be a part of the standing repertoire of the Main Stage as of 1st April (19:30 h).
Ivana Petrović Gašić (Rosalinde), Ivanka Raković Krstonošić (Adele), Aleksandra Angelov (Orlofsky), Aleksandar Dojković (Eisenstein), Ljubomir Popović (Alfred), Ljubodrag Begović (Falke), Darko Đorđević (Blind), Miroslav Markovski (Frank), Milica Stojčev (Ida) and Andreja Maričić (Frosch) will perform under the baton of Zorica Mitev Vojnović.
The Orchestra and the Choir of the Opera, as well as members of the Ballet of the National Theatre in Belgrade take part in the performance.
Libretto was written by Haffner and Genee after Meilhac and Halevy's version.
The production premiered on 22nd June 2005; it was directed by Plamen Kartalov, a guest stage director from Bulgaria.
Miodrag Tabački designed the set, Olja Ivanjicki designed the costumes, while Vladimir Logunov was in charge of choreography.
Operetta in three acts, The Bat, was previously on the repertoire on 1 June 2013.
The world premiere of this opera masterpiece took place in Vienna on 5th April 1874.
In the meantime, audiences enjoy the Strauss's operetta which found its way to the most important international opera stages, from the Vienna State Opera, Covent Garden in London to the Metropolitan Opera in New York.
Overture of the operetta has always been a part of the New Year's Concert by the Vienna Philharmonic Orchestra because the joy of Strauss's music touches performers and viewers equally.
M.B.