---
PREMIERE OF THE MIRACLE IN ŠARGAN ON THE MAIN STAGE, 20TH FEBRUARY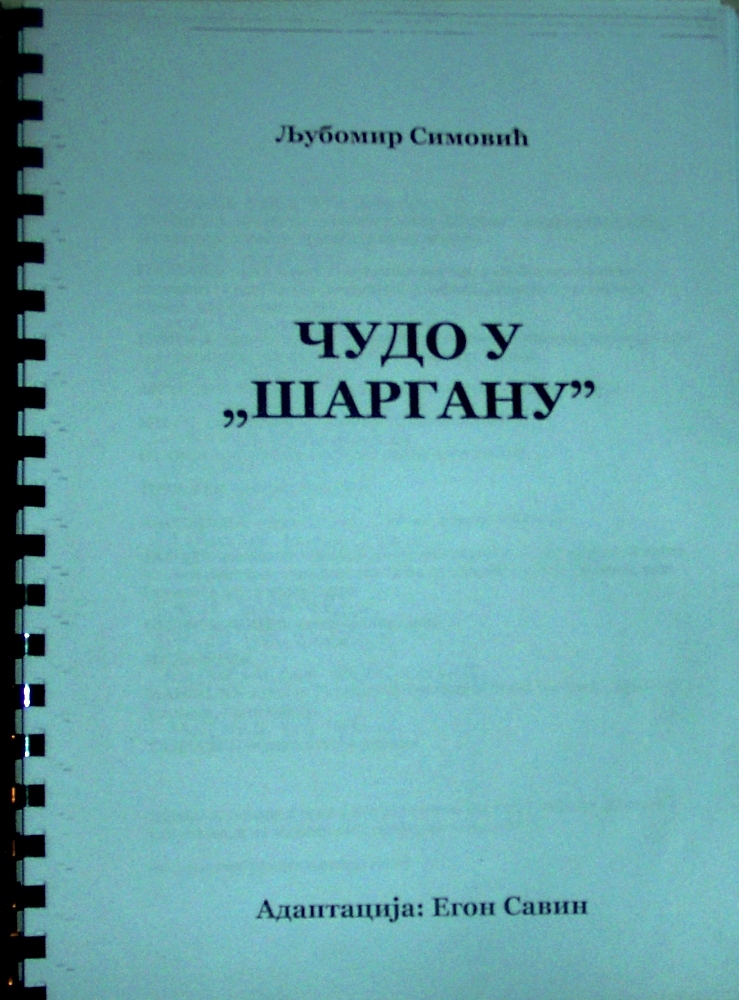 The Miracle in Šargan, a play by Ljubomir Simović, adapted and directed by Egon Savin, will premiere on the Main Stage on 20th February (19:30 h).
In this play, which possesses the spirit of poetic realism and is a tragic, realistic and amazing piece at the same time, the cast is Dušanka Stojanović Glid (Ikonija), Nataša Ninković (Gospava), Hana Selimović (Cmilja), Ivan Bosiljčić (Anđelko), Aleksandar Đurica (Mile), Nebojša Kundačina (Stavra), Predrag Ejdus (Beggar), Branko Vidaković (Vagabond), Sloboda Mićalović (Jagoda), Boris Pingović (Vilotijević), Bojan Krivokapić (Investigator), Aleksandar Srećković (Manojlo) and Nikola Vujović (Tanasko).
The plot of The Miracle in Šargan takes place in an inn at the outskirts of a town, where marginal people gather; they find themselves trapped somewhere between a village and a town. The thing these people have in common, except the Šargan Inn, is the anguish which each one of them carries within and brings to this strange inn. Thus, the inn becomes a gathering point for waitresses, prostitutes, politicians, beggars, vagabonds, former convicts, etc.
The parallel plot is about two Great War warriors, who, although dead for long time, are still searching for justice, thus arriving into present. Extraordinary character, who links the two parallel plots, is a vagabond who possesses supernatural power to take wounds and pains of other people upon himself…
Savin's stage directing concept, as he announced, will be focused on "response to present circumstances" with this production.
"We have a duty to produce a 'Šargan' of social despair. Why? Because we live in the time of social despair. It is not an issue of justice or injustice. Instead, it is a matter of a decisive plead to immense misfortune. The social despair, actually, has a goal to invoke a big war and a big revolution. That is my impression, which I wanted to present with this play. I say just 'an impression'; it cannot be clearly seen, although it exists. Individual misfortunes are only a part of the collective misfortune of social despair in which people, and children especially, do not have same opportunities. In such a world, every rational person can understand that it is necessary to have a new great war and a big revolution, as soon as social despair reaches its climax. Unfortunately, it is only a matter of time. Of course, we should not forget that the social despair, having in mind the place where we live, deliberately results in ethnic nationalism, which will, perhaps, ignite our territory in the Balkans again", says Savin.
According to Savin, the motif in the play is suffering, human misfortune and wounds, which produce the misfortune.
"Life is not designed to be happy. Life is, actually, in its essence, a series of misfortunes that come on their own and a large number of misfortunes that result from our lives, behaviour, relationships to ourselves and to others. Here, despair is so truthfully, deeply and exactly rooted in what we call a direct life truth, while the authenticity, which is almost brought to truth, is packaged paradoxically in poetic and metaphoric language. This is, in deed, a Shakespearean procedure. Simović is a great poet, a playwright who forcefully understands people and their destinies", says Savin, who also selected the music for the production.
Slavko Milanović is the dramaturge, Geroslav Zarić designed the set, Bojana Nikitović designed the costumes, while Peca Antonović was in charge of the sound and video design.
Radovan Knežević is the speech instructor, Belinda Božičković is the assistant stage director (in training), Jasmina Urošević/Natalija Ignjić are the organisers, Ista Stepanov is the associate in charge of stage movement, Vladislava Kanington is the assistant set designer, Sanja Ugrinić Mimica/ Sandra Žugić Rokvić are the stage managers, Jelena Halupa is the prompter and Borislav Balać is the producer.
M.B.