---
PREMIERE REVIVAL OF ROSSINI'S COMICAL OPERA THE ITALIAN GIRL IN ALGIERS ON THE MAIN STAGE, 6TH APRIL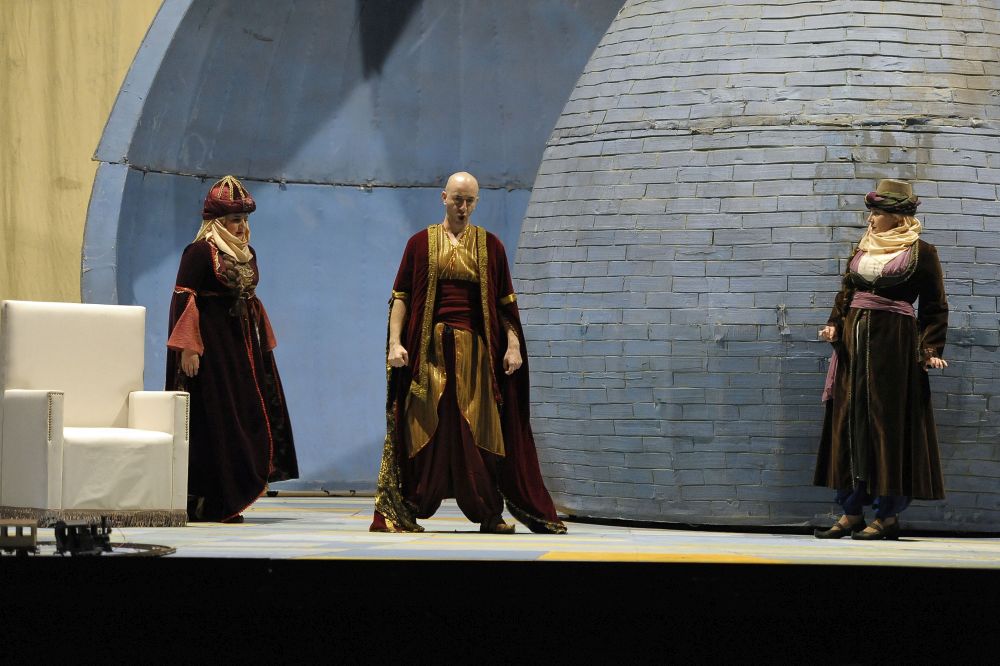 Premiere revival of Gioachino Rossini's comical opera The Italian Girl in Algiers, conducted by Vesna Šouc, will take place on the Main Stage on Wednesday 6th April (19:30 h).
The title role of a young Italian girl, Isabella, will be interpreted by Aleksandra Angelov, a mezzo-soprano; the Bay of Algiers, Mustafa, will be interpreted by Nebojša Babić, a bass; his wife, Elvira, will be interpreted by Ivanka Raković Krstonošić, a soprano; the role of Zulma, by Tatjana Mitić, also a soprano; while the young Italian slave, Lindoro, will be interpreted by as a guest Roberto Jachini, a tenor.
Pavle Žarkov (Haly) and Miroslav Markovski (Taddeo) will also be part of the cast.
The Orchestra and the Choir of the National Theatre's Opera take part in the performance.
Piano Nevena Živković.
Stage directing by Ursula Horner has been revived by Ana Grigorović.
The Italian Girl in Algiers premiered on 13th June 2007. It was a joint production between the National Theatre, the Central and Eastern Europe Musiktheater from Vienna and the Macedonian Opera and Ballet Theatre from Skopje.
The cast under the baton of Italian Maestro, Alessandro Sangiorgi, consisted of Jadranka Jovanović (Isabella), Dragoljub Bajić (Mustafa), Snežana Savičić Sekulić (Elvira), Željka Zdjelar (Zulma), Michael Spyres (Lindoro), Vuk Matić (Haly) and Predrag Milanović (Taddeo).
It was the second staging of this opera in two acts in the National Theatre; the opera possesses all the characteristics of Rossini's opus – "vivid imagination of a Southern melodist, lively temperament and superb knowledge of orchestra."
World premiere of the opera took place on 22nd May 1813 in the San Benedetto Theatre in Venice. At the premiere, the role of Isabella was interpreted by Marietta Marcollini, for whom Rossini wrote most of his coloratura mezzo roles; while the role of Mustafa was interpreted by Filippo Galli.
The Italian Girl in Algiers was staged for the first time in the National Theatre in Belgrade on 21st June 1976. Borislav Pašćan held the baton, Borislav Popović stage directed the production and the cast consisted of Olga Milošević Lačković (Isabella), Živan Saramandić (Mustafa), Olga Đokić (Elvira), Dubravka Zubović (Zulma), Predrag Protić (Lindoro), Vladimir Jovanović (Haly) and Nebojša Maričić (Taddeo).
Libretto for The Italian Girl in Algiers was written by Angelo Anelli, it is allegedly based on the story of Roxelana, the favourite slave of sultan Selim II.
M.B.

Click HERE to see photographs with rehearsal