---
Mozart's Don Giovanni Premieres on the Day of the National Theatre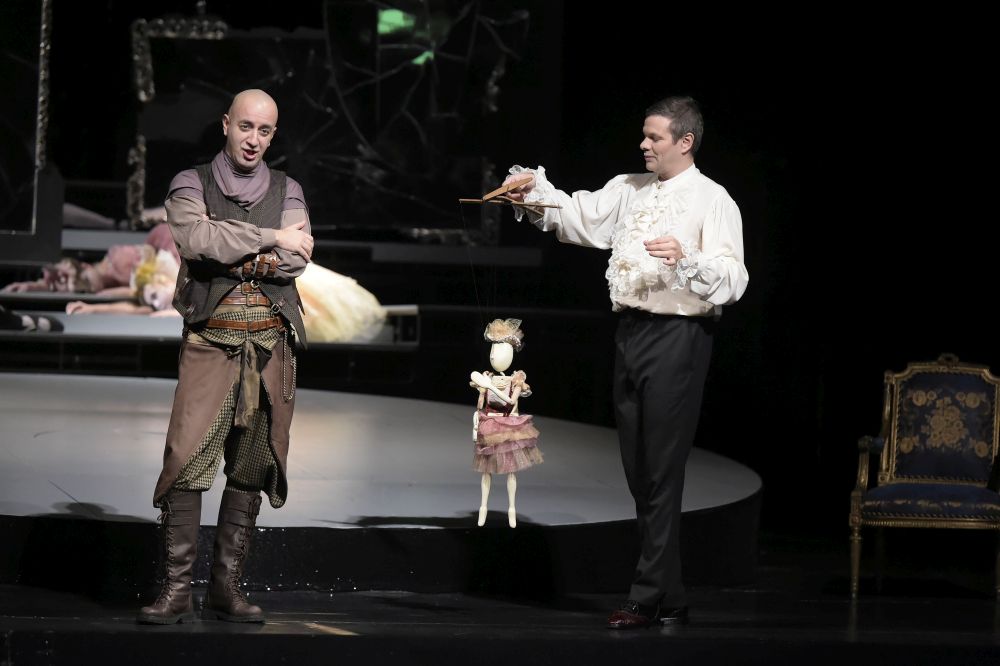 Opera Don Giovanni, by Wolfgang Amadeus Mozart, premiered on the Day of the National Theatre, 22nd November. The opera has been conducted by Marco Boemi and stage directed by Albert Triola from Italy. This is a joint production with the Opera & Theatre Madlenianum, where the second premiere will take place on 28th November.
The intriguing and legendary Spanish nobleman and unscrupulous ladies' man, Don Juan, has been Mozart's inspiration for creation of "his most serious opera" as Mozart himself said, later on described by philosopher Kierkegaard as "a work without blemish, of uninterrupted perfection".
Don Giovanni is portrayed as the first 'libertine' opera hero – an antihero without ideals and scruples, motivated by individualism and pursuit of pleasure.
He is a serial seducer, but the purpose of his obsession is more spiritual than physical.
Characters in the opera insistently try to share their own emotions (even the strongest ones and the ones they do not talk about) with others and to encourage each other – everybody, except Don Giovanni. Here we can find the leading hero's most outstanding trait – his neurotic behaviour manifests his inability to experience empathy for other human beings…
In the hall filled to capacity at the premiere, the audience rewarded the artists, with baritone Vladimir Andrić in the leading role, with ovations.
Other cast members at the premiere were Ivanka Raković Krstonošić (Donna Elvira), Dragoljub Bajić (Leporello), Snežana Savičić Sekulić (Donna Anna), Marko Živković (Don Ottavio), Sofija Pižurica (Zerlina), Gavrilo Rabrenović (Masetto) and Aleksandar Manevski (Commendatore).
The Choir, Orchestra and Ballet of the National Theatre in Belgrade also take part in the performance.
Edit Makedonska is a Concertmaster and Đorđe Stanković is a Chorus Master.
The set has been designed by Santi Tiziano, also a guest artist from Italy, while the costumes have been designed by Katarina Grčić Nikolić.
Dijana Cvetković is an assistant conductor, Ana Grigorović is an assistant stage director, while Miraš Vuksanović and Jasna Saramandić have been in charge of set design realization.
At the premiere in the Opera & Theatre Madlenianum, on 28th November, under the baton of Maestro Marco Boemi, the cast will be Vladimir Andrić (Don Giovanni), Aleksandra Stamenković Garcia (Donna Elvira), Vuk Matić (Leporello), Aleksandra Petrović (Donna Anna), Stevan Karanac (Don Ottavio), Nevena Matić (Zerlina), Marko Pantelić (Masetto) and Sveto Kastratović (Commendatore).
This opera in two acts, after the libretto by Lorenzo da Ponte, had its first opening in the Prague National Theatre on 29th October 1787.
The opera had been staged four times in the National Theatre in Belgrade. First staging was opened on 17th January 1938.
The following premieres took place on 20th October 1953, then on 8th November 1982 and the last one on 12th October 2006.
M.B.