---
First Reading Rehearsal of Are You Pro Safety? Takes Place, Directed and Adapted by Anđelka Nikolić, Premiere Planned for 10th June at "Raša Plaović" Stage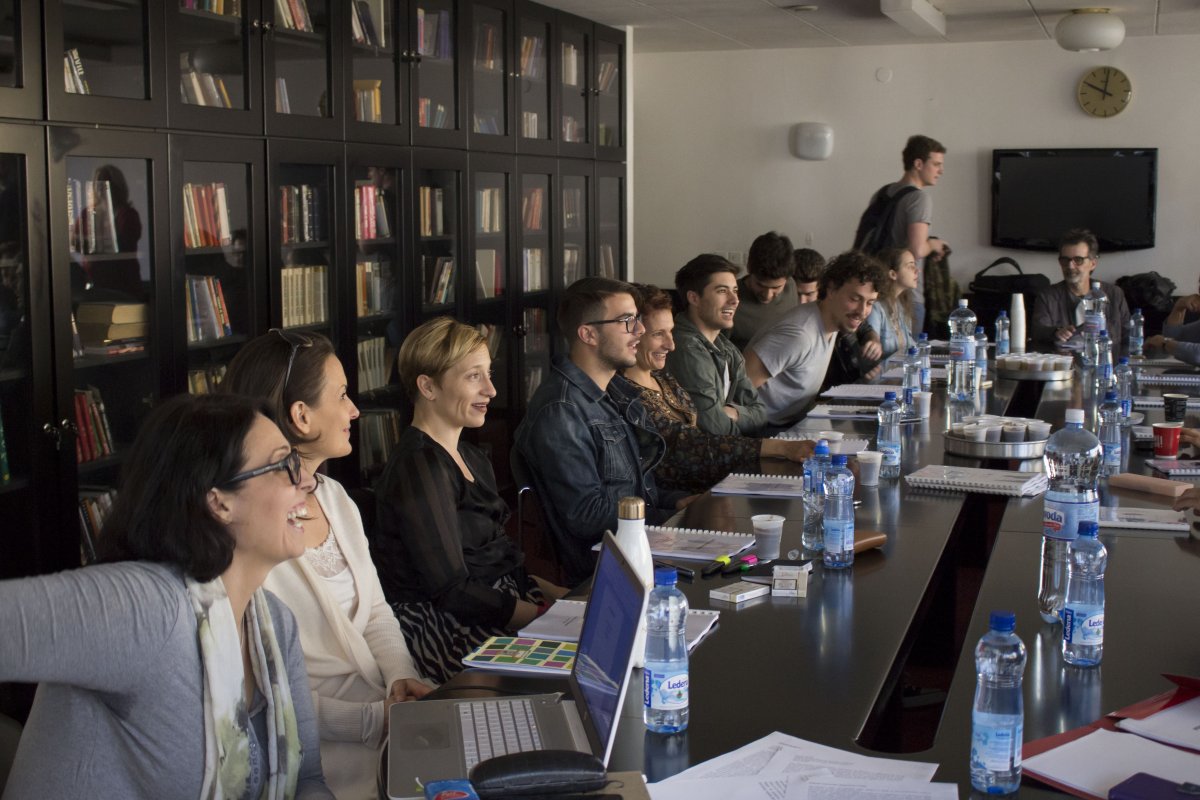 First reading rehearsal of play, Are You Pro Safety?, directed and adapted by Anđelka Nikolić, took place in the Theatre's library on 2nd April.
The play will premiere 10th June on the "Raša Plaović" Stage. It is based on Biljana Jovanović's three short stories, Are You Pro Safety?, David Šalamun's travel stories Welcome to Dialisio and anti-war correspondence Wind Blows to South and Turns to North that Biljana had with Maruša Krese, Rada Iveković (Slovenian and Croatian writers respectively) and Serbian poet Radmila Lazić.
"Their correspondence dating from the beginning of 1990s, which chronicled the breakup of former Yugoslavia, has been collected in the book of the same title. It is about female perspective on political circumstances that did not end well, especially for cultural workers who, at the time, lived in different parts of the country and abroad (Germany)", says Tanja Šljivar, Acting Manager of Drama Company.
The main roles are cast to Vanja Ejdus (Biljana Jovanović), Sena Đorović (Maruša Krese), Milena Đorđević (Radmila Lazić) and Anastasia Mandić (Rada Iveković).
Other roles are interpreted by Petar Đurđević, Dragan Petrović, Stojša Oljačić, Vukašin Jovanović, Lazar Nikolić, Dragan Sekulić and Nemanja Stamatović (7 young men – security officers / Yugoslav Army men / deserters / prisoners of war / students; National Security officers, Brnik Airport employees, Zagreb police officers, municipality and Department of Foreign Citizens clerks; Dialysis Ward patients in Sarajevo hospital; Milan Milišić, a poet; David, Maruša's son; Saša, Territorial Army soldier).
The creative team consists of Branislava Ilić (dramaturgy and text adaptation), Vesna Popović (set design), Olga Mrđenović (costume design), Dr Dejan Sredojević (stage speech), Dr Maja Đukanović (Slovenian language editor), Irena Popović (music) and Marija Milenković (stage movement associate).
Ivana Nenadović and Nemanja Konstantinović are producers of the production, Miloš Obrenović is a stage manager and Dušanka Vukić and Maša Radulović are prompters.
Alisa Radovanac is an organiser in training and Nikola Isaković is an assistant director.
When Biljana Jovanović (born on 28th January 1953 in Belgrade) made her presence known on literary scene in late 1970s, she was a breath of fresh air in the favoured milieu of so-called reality prose.
She fought small-town mentality and prejudice with bravery, irony, cynicism, nonconformism, intellectual wit and her directness to call on things that represented taboo for social, ideological and sexual conventions.
Biljana's published works are, collection of poems The Guardian; novels Avala Is Falling, The Dogs and the Others and My Soul, My Only Child; plays Ulricke Meinhhof (which served as base for production Stammheim by Student Cultural Centre, Belgrade 1982, directors Ljubiša Ristić and Nada Kokotović), Fly to the Mountains Like a Bird (produced by Atellier 212 Theatre, Belgrade, 1983, director Zoran Ratković), Central Prison (National Theatre Bitola, 1992, director Vladimir Milčin), A Room at the Strait of Bosporus and the already mentioned Wind Blows to South and Turns to North
She was a fearless opponent to ghettoization of states, nations and people, and she never accepted separation according to nation and faith.
She graduated from the Faculty of Philosophy in Belgrade with a degree in Philosophy.
Biljana died on 11th March 1996 in Ljubljana.
M.B.