About Performance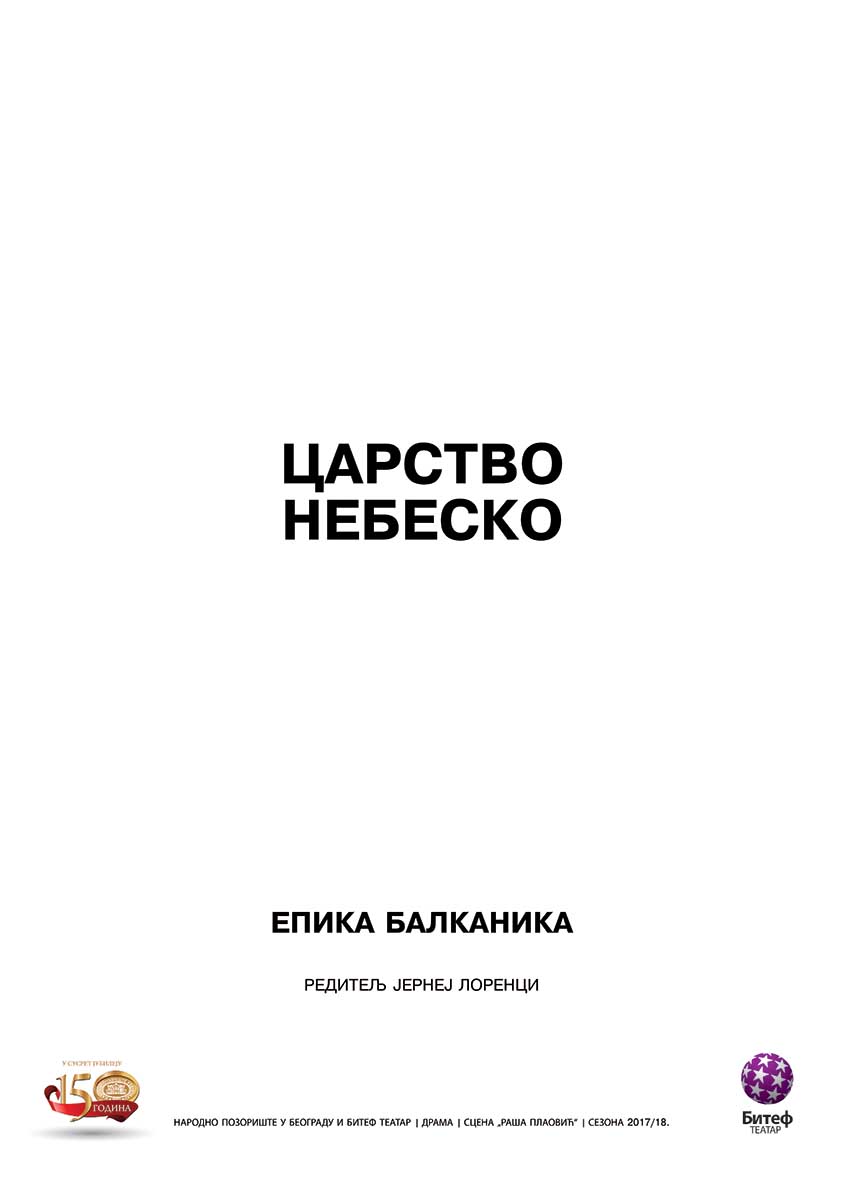 JERNEJ LORENCI
He was born in 1973 in Maribor, Slovenia. He started directing theatre performances as a secondary school student at the Dead Theatre Maribor. Following his graduation production of Antigone by Sophocles in 1996, he obtained his BA degree in 1999. In 1997, he co-founded the Maribor Grammar School Theatre School. Upon completeion of his studies, he began gaining experience as a theatre director in Slovenian, Croatian and Bosnian theatres. He was artistic director of the Ptuj City Theatre and received numerous national and international awards. In 2006, he was appointed assistant professor, and in 2007 associate professor of Theatre and Radio Directing at the Academy of Theatre, Radio, Film and Television in Ljubljana. His national and international awards include the following: the Maribor Theatre Festival Award for best production (S. Kane Cleansed, 2002, and The Crazy Locomotive, 2012 - SNT Drama Ljubljana), Grand Prix at the Golden Lion Festival in Umag (S. Kane Cleansed, 2002, SNT Drama Ljubljana), the Best Production Award at the Ex Ponto Festival (The Longing and Death of Sylvia Plath, 2003, Sarajevo War Theatre SARTR in co-production with the B-51 Society from Ljubljana, 2003), three Maribor Theatre Festival awards for best director (The Epic of Gilgamesh, 2006; text adaptation by Nebojša Pop Tasić, SMG, Aeschylus Oresteia, 2009, SNT Drama Ljubljana, and Alexander Nikolayevich Ostrovsky The Storm, 2012; MGL), the Golden Laughter Award for best director at the 35th Zagreb Days of Satire Festival (2011), the best director award at Bitef, the national Prešeren Fund Award (2014), the Politika Newspaper Prize for best director, awarded at the 49th Bitef (Homer's The Iliad, 2015; MGL, SNT Drama Ljubljana and Cankarjev dom), the Anđelko Štimac Award for best director at the 23rd International Small Scenes Festival in Rijeka (The Crazy Locomotive, 2016, SNT Drama Ljubljana) and the Golden Laurel Wreath for the best director at the 56th International Theatre Festival MESS Sarajevo (Ubu the King, SNT Drama Ljubljana).
Transleted by Vesna Radovanović
---
INTERVIEW WITH THE STAGE DIRECTOR
As Long as I Sing – I Exist
Kingdom of Heaven – Epica Balkanica (a joint production of the National Theatre and the BITEF Theatre) is the first time Jernej Lorenci has been engaged to work in Serbia. He has selected Serbian epic poetry for the theme: "Epically wide" will show in the manner of performance: the first part of the performance will take place on the "Raša Plaović" Stage, while the second part will take place in the BITEF Theatre. This unusual move has been motivated by the director's idea to change perspective within the same theme…
Why did you choose Serbian epic poetry?
First of all, I have an inclination towards ancient stories and poetry, as first documents of our civilization. I have been interested in themes, motifs, dilemmas, anguishes and desires, and also how they pertain to us today. There is a lot in common. In epic poetry, the things are only a bit more cruel, direct, and with less lies. And the passions are also less concealed. I have been fascinated with fantasy in stories and poetry, since imagination is the greatest privilege of human existence. Serbian epic poetry is a great combination of history, on one hand, and mythology on the other. Even mythomania, sometimes. I find this line between history and mythomania very interesting, all that is archetypal and important for our need to tell a story.
Whole of the Balkans is similar, what makes these works unique?
Due to historic circumstances, Serbia has strived to maintain its identity through language and poetry. It is a fascinating manner of resistance: as long as I speak and sing, I exist! It doesn't matter how the circumstances may be difficult, how much blood has been shed, as long as I sing – I exist. It's a primal and wonderful need. Archetypal stories can be found in all traditions throughout the world and it is the most beautiful thing, because it means that there is a space in us where we are all brothers and sisters. The manner we desire, fear, love and want too much.
In epic poetry, the ideals are sublime and freedom is worth every sacrifice. Today, there is a prevalent opinion that 'only fools die for ideals'?
I don't want to glorify the past, nor diminish the present. The picture is not black and white, something is lost and something is gained along the way… I wouldn't die for Slovenia. I don't want to identify too much with the nation, my affiliation is primary affiliation with the language. In a story of ideals and heroes, there is a danger that certain political options may vulgarize and misuse them, as is the situation with certain poems and notions. Politics strives to permanence and with this aim it uncontrollably steals the past. Poems themselves cannot be neither bad nor the source of evil, it is always the matter of interpretation… Every moment in history is so multifaceted that it cannot be comprehended in all its complexity. With this in mind, the production won't, can't and doesn't strive to pass judgement, or even emphasize things. Moreover, it will definitely be performed with complexity that is always so elusive. There will be no end conclusions, it will be about the beauty of retelling a story, the need to tell a story, and of course also about the danger of adopting stories which are not ours and the danger of over-identifying with a theme, content, phrase.
What themes are particularly important in this vast sphere of epic poetry?
There are only but a few, everything else is a variation, as is life itself. We are all a strange Bach's fugue, with the feeling that we are special, different. I like the diction of epic poetry. Dialogue and character building are less interesting to me. An actor is less of an interpreter and more of a storyteller in this performance. Being a storyteller in theatre is quite a position. Nevertheless, themes important to me are the archetypal ones: commencement of evil, hatred, revenge, desire towards love and belonging somewhere, sorrow… and maybe mostly storytelling as such, the need to tell a story. My memory exists with storytelling.
What belongs to collective memory of our contemporaries?
The twentieth century has brought about a lot of misery, but it also gave us many wonderful things we have forgotten about. Women's rights, races, unions. Arts flourished during the twentieth century, many boundaries were broken. So, the world asked the question of human rights one hundred years ago, and now we find ourselves in serious danger of making several steps back. Without clear coordinates, opportunity for the rise of fascism appears. (…) The West is getting more spoiled; social injustice is getting more articulated. In order to cover up the rot inside, emphasis is placed on insecurity and real issues are being concealed. Weakness of democracy allows the worst to happen; the old method of scapegoat and seeking out the guilty party is in use again. (…)
What is an artist's position in such society and in today's world?
It is my privilege to go into some other stories, but it doesn't mean that I run away from something. I always question present time. I don't want to lose my faith in poetry, strength of words, imagination, an attempt to create, without passing judgement, a collective world that is more auditory than visual. (…) On one hand, people want to belong somewhere, while on the other, they want to be unique. Theatre is collective work – it brings together individuals, no one can lose his/her identity, but they have to be aware that a performance needs to be cleverer than the group of individuals. Stage director does not decide on everything, because everybody is an author and everybody needs to express himself/herself.
Taken from: Vukica Strugar, You Have Survived
Thanks to Language and Poetry, Večernje Novosti, 27th August 2017
Premiere performance
Premiere 26th September 2017, BITEF

Directed by Jernej Lorenci
Set Designer Branko Hojnik
Costume Designer Belinda Radulović
Composer Karmina Šilec
Choreographer and Assistant Director Gregor Luštek
Voice Coach Ljiljana Mrkić Popović
Executive Producers Jovana Janjić, Milorad Jovanović
Producer Natalija Ignjić

Premiere cast:
OLGA ODANOVIĆ
NATAŠA NINKOVIĆ
NADA ŠARGIN
HANA SELIMOVIĆ
BRANKO JERINIĆ
NIKOLA VUJOVIĆ
BOJAN ŽIROVIĆ
MILUTIN MILOŠEVIĆ
SLAVEN DOŠLO

Stage Managers: Sanja Ugrinić Mimica, Maja Jovanović
Prompter Gordana Perovski
Assistant Directors: Tara Manić, Jug Đorđević, Rastislav Ćopić
Assistant Costume Designer Dunja Kostić
Assistant Producer Miloš Golubović

Tehnical manager: Ljubomir Radivojević
Sound tehnicians: Miroljub Vladić, Jugoslav Hadžić
Light tehnicians: Dragan Đurković i Igor Milenković
TECHNICAL PRODUCTION: National Theatre in Belgrade and Bitef Theatre