BOLLYWOOD
musical after the text by Maja Pelević, composed by Anja Đorđević
About Performance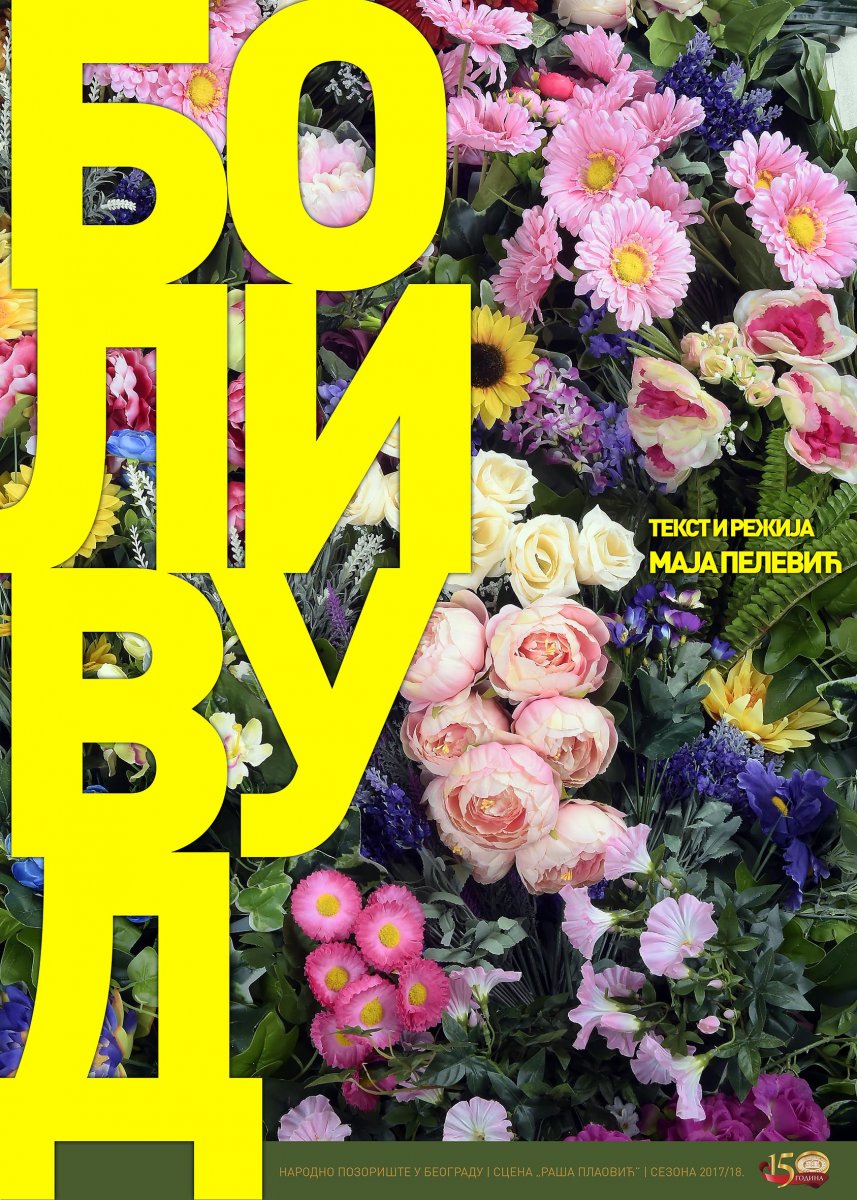 NOTE BY THE AUTHOR
Life of citizens in a small town near the border is interrupted by sudden news: a great Bollywood producer is coming to buy a small factory and open a big Bollywood studio there. This would result in many job opportunities, which is something that does not happen often is such a small town. The sudden news brought excitement amongst actors in the theatre, who decide to organize a recital, thus hoping to increase their chances of getting roles in a future Bollywood spectacle. The town is united by a common idea and collective enthusiasm, but life takes its own course – full of unexpected events. Through this fairytale-like utopia of Bollywood's arrival to our country, we tell the story about all of us and about the things we are prepared to do when better future becomes a prospect. Bollywood's arrival thus becomes the background for the story about collapse of industry, xenophobia, disreputable privatization process, false worlds, while everything has been portrayed through song and dance under the slogan 'if they don't have bread, let them eat cake.' Thus Bollywood, as an industry of entertainment and happiness, becomes a place of escapism and a reason for banding together, solidarity and teamwork, the values that have been forgotten in these post-communist, transitional and absurd times in which we live. At the same time, we are being forced to forget our past and accept everything that has been offered, which puts us in an infantile position, which is very difficult to overcome. As Boris Buden says in his book Zone of Transition: On the End of Post-Communism, "In the strange world of post-communism, democracy appears at the same time as a goal to be reached and a lost object. Thus for the 'children of communism' the prospect of a better future opens up only from a melancholic perspective. (…) As a result, the question of the future in post-communism is considered as already answered, and the question of the past does not make sense. One does not expect the children of communism to have a critically reflected memory of the communist past. It is precisely for this reason that they have been made into children, namely in order not to remember this past."
---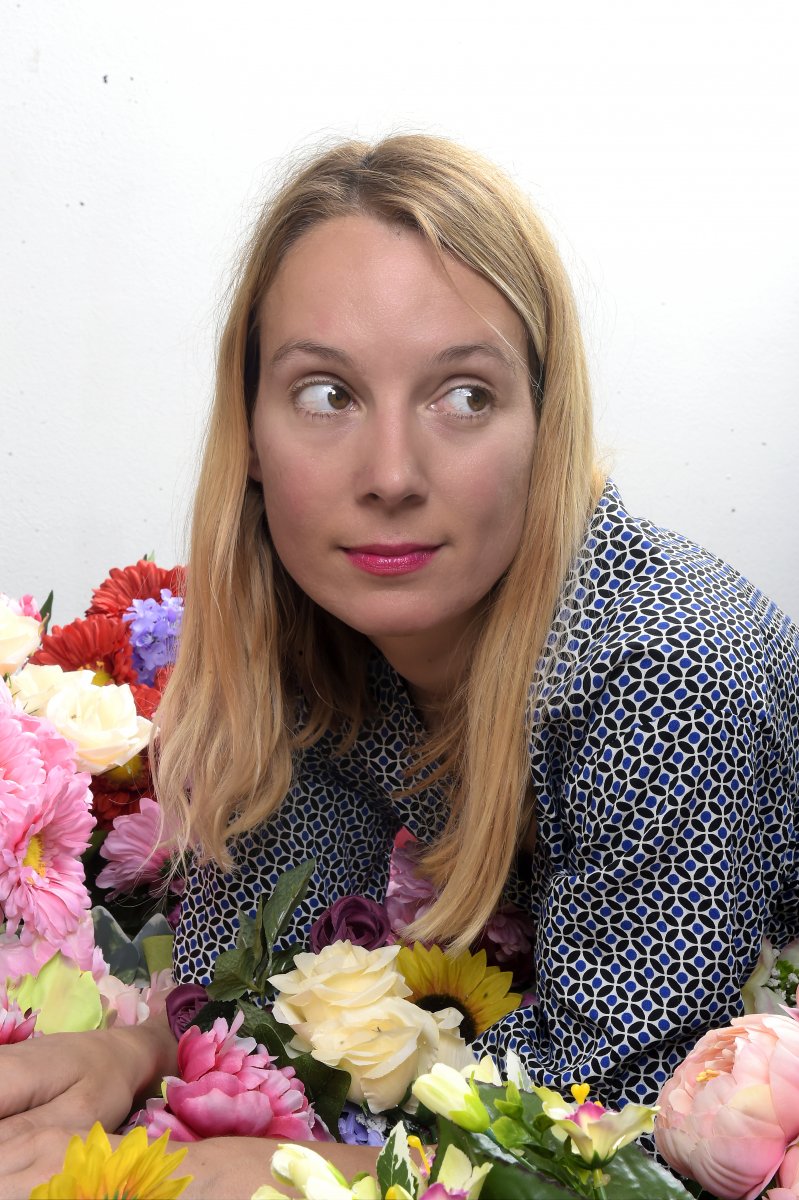 MAJA PELEVIĆ
Maja Pelević was born on 13th February 1981 in Belgrade. She graduated from the Faculty of Dramatic Arts in Belgrade in 2005 and obtained her Ph. D. Degree at the Interdisciplinary Studies at the University of Arts in Belgrade in 2012. Maja is a member of the New Drama Project. Her staged plays: ESCape, In Neutral Gear, Be a Lady for a Day, Belgrade-Berlin, Orange Peel, I or Someone Else, Jumpgirl, Hamlet Hamlet Eurotrash (with Filip Vujošević), Fake Porn and Fakebook (group of authors), Maybe We Are Mickey Mouse, Strange Loves, Consequences and A Fully Abridged History of Serbia (with Slobodan Obradović) and The Invisible One. Her plays have been translated into English, French, German, Russian, Norwegian, Polish, Slovakian, Czech, Hungarian, Bulgarian, Slovenian and Ukrainian and published in numerous contemporary national and international anthologies. She has worked as a dramaturge in over 20 theatre productions and has dramatized several novels and written texts for four musicals. In 2012, with Milan Marković, she implemented the project They Live – Searching for the Zero Text. In 2013, she has written, directed and performed the play Consequences at the Bitef Theatre Festival. In 2015, she staged My Prizes by Thomas Bernhard in the National Theatre in Belgrade. In 2016, together with Olga Dimitrijević, she staged Freedom Is the Most Expensive Capitalist Word. Maja Pelević won the following awards: Borislav Mihajlović Mihiz Award for dramatic work; Slobodan Selenić Award for best graduation play; Sterijino Pozorje Festival Competition Award for original dramatic text for Maybe We Are Mickey Mouse; Sterija Award for best dramatic text for Orange Peel; and Award of the UNIMA Competition for best original text for The Invisible One for puppet theatre. Maja Pelević lives and works in Belgrade and Bečići.
---
ANJA ĐORĐEVIĆ
Anja Djordjević was born in Belgrade in 1970. She obtained her Master's Degree at the Faculty of Music Arts mentored by professors Vlastimir Trajković and Zoran Erić. Her works diversify when genre and form are concerned; they range from short songs to opera, from symphony to children's music, from world music to electronic experiment. Anja has written music for numerous theatre productions, she has taken part in more than forty productions in a variety of theatrical styles in Serbia and abroad. She is also an active vocal performer. Selection of her works:
Works for stage: opera Narcissus and Echo, stage cantata Atlas, musical Tesla – Total Reflection, musical for children Strange Loves, multimedia performance Classfields / Opera is of Feminine Gender, experimental work Canzone distorte…
Works for orchestra: Abduction of Europe, Joy of a Re-Encounter
Modern dance performances: Lift, Self-Erase, Paranoia Chic, Sensecapes, Myriads of Worlds...
Anja Djordjević has won the "Stevan Mokranjac", "Božidar Valtrović" and "Vitomir Bogić" awards.
---
IGOR KORUGA
Igor Koruga is freelance artist in the sphere of performing arts (dance and choreography). He is a member of several organizations, Station – Service for Contemporary Dance in Belgrade, Association of Ballet Artists of Serbia and the regional dance network – Nomad Dance Academy. As a choreographer, dramaturge, performer and pedagogue, he has cooperated with numerous artists, art organizations, institutions and networks in Europe. Through the Station organization, he has taken part in cooperative design and realization of art and educational programmes. Igor has authored dance performances such as Hopelessness (2017), Only Mine Alone (2016), Streamlined (2014), Expose (2013). He is a member of a regional team for archiving of performing arts in the Balkans. Igor has graduated from the Department of Ethnology and Anthropology at the Philosophical Faculty in Belgrade, as well as from the Department of Solo/Dance/Authorship at the University of Arts in Berlin. Igor was a recipient of several scholarships, Nomad Dance Academy, DanceWeb and the Mayor of Berlin Chancellery's scholarship. He won numerous awards; award at the Festival of Choreographic Miniatures, award at the INFANT Festival, annual awards of European Association for Education of Young People and the award of the national Organization for Rare Diseases.
---
IGOR VASILJEV
Igor Vasiljev was born in 1973 in Pula. He obtained his Master's Degree in stage design at the Faculty of Applied Arts in Belgrade. He has designed sets for more than seventy productions in theatres in the region (Serbia, Croatia, Montenegro, Bosnia and Herzegovina, Slovenia), as well as in several European theatres (Great Britain, Denmark, Austria). The productions have been staged in the following theatres The Lyric Theatre Belfast (Great Britain); Aarhus Theatre, Aber Dabei and Catapult (Denmark); City Theatre and Slovenian Youth Theatre Ljubljana; Sherman Cymru Theatre Cardiff (premiere at the Traverse Theatre Edinburgh) and Volcano Theatre (Great Britain); Taschenoper Festival (Austria); Zagreb Youth Theatre and Croatian National Theatre in Zagreb; Istrian National Theatre in Pula; City Puppet Theatre, City Youth Theatre and Croatian National Theatre in Split; CNT "Ivan Pl. Zajc" Rijeka; "Marin Držić" Theatre in Dubrovnik; YDT Belgrade, National Theatre, Atelje 212 Theatre, Belgrade Drama Theatre, Bitef Theatre, Little Theatre "Duško Radović", Zvezdara Theatre, Madlenianum, Belef Festival, "Boško Buha" Theatre, Jugokoncert, Užice National Theatre, Sombor National Theatre, Zrenjan National Theatre, Cinema Rex and Herceg-Novi Theatre. The set designs for productions of Uncle Vanya and In the Sign of Libra have been published in "Spectacular! Stage Design" book in 2015. Igor Vasiljev has won the Award for Best Set Design at the Assitej Festival in Čakovec and the Naj, naj, naj Festival in Zagreb in 2015 and 2018; the 2011 Annual Award for scenic design from ULUPUDS; recognition for stage design at the YUSTAT Biennale of Stage Design and annual awards for set design from the "Duško Radović" Little Theatre. Igor has exhibited in the Prague Quadrennial of Performance Design and Space, PQ99.
---
MARINA VUKASOVIĆ MEDENICA
Marina Vukasović Medenica graduated at the Faculty of Applied Arts in Belgrade in 1984 and obtained the title of Master of Arts in Costume Design in 2001. She has been designing costumes for theatre, films, television and marketing productions. Marina has been engaged in research, as well as in individual and group exhibitions and teaching activities. She designed costumes for fifteen films directed by Dušan Makavejev, Slobodan Šijan, Darko Bajić, Srđan Dragojević, Miloš Radović, Goran Paskaljević, etc. In drama and opera productions, she cooperated with stage directors such as Nikita Milivojević, Egon Savin, Nebojša Bradić, Jagoš Marković, Božidar Đurović, Jiri Menzel, John Ramster, Dušan Kovačević, Snežana Trišić, Milan Nešković, etc. Marina has won several annual awards from ULUPUDS (Association of Applied Arts Artists and Designers of Serbia): for film St. George Slays the Dragon; for collection Djerdan i smilje; for individual exhibition Zubun in the Ethnographic Museum; for costume design for play Henry VI of the National Theatre. She has also won several awards for costume design in films and in theatre festivals in the country and abroad. Marina is a member of ULUPUDS Association, has a status of distinguished artist, and is a laureate of the Lifetime Achievement Award.
Premiere performance
Premiere 25 May 2018 / "Raša Plaović" Stage

Direction Maja Pelević
Composer Anja Đorđević
Coreographer Igor Koruga
Set Designer Igor Vasiljev
Costume Designer Marina Vukasović Medenica
Assistant Set Designer Isidora Spasić
Assistant Costume Designer Aleksandra Pecić
Executive Producer Ivana Nenadović
Producer Jasmina Urošević
Stage Manager Miloš Obrenović
Prompter Anja Gavrilović

Premiere Cast:
Miloš Đorđević
Jelena Đokić
Danijela Ugrenović
Suzana Lukić
Pavle Jerinić
Bojana Đurašković

Musicians:
Nevena Pejčić
Aleksandar Solunac
Danilo Tirnanić

Assistant producer Marija Kovačević
Light Designer Milan Kolarević
Make Up Marko Dukić
Stage Master Zoran Mirić
Sound Master Tihomir Savić
Costumes and set were made in the National Theatre's workshops.