About Performance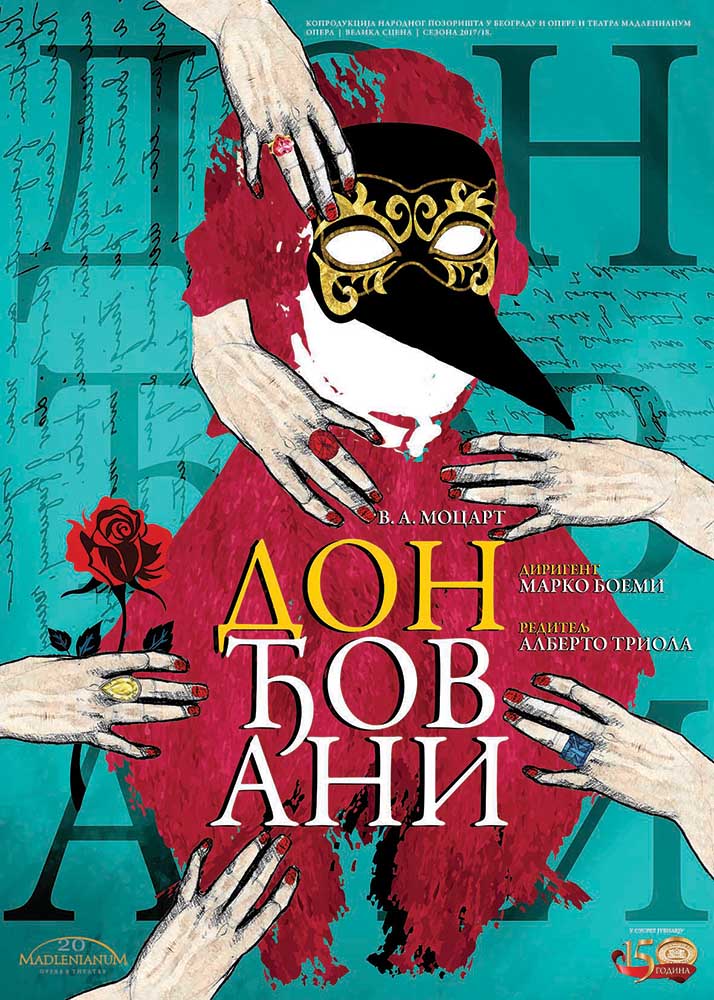 DON GIOVANNI – OPERA OF ALL OPERAS
Monday, 29 October, 1787. In the theatre rented to a respectable Italian opera company, in Prague, finally, after two delays, a new opera by a Viennese composer, Wolfgang Amadeus Mozart, is being performed. A renowned composer of The Marriage of Figaro and his librettist abbot Lorenzo da Ponte have chosen well-known and well-loved story of a fearless, impudent seducer, legendary Spanish nobleman Don Juan. Citizens of Prague, lovers of Italian opera, themselves very musical, can listen to Mozart's melodies at balls, in inns, from organ grinders, and that is why they give Mozart three rounds of applause when he enters the orchestra. Mozart trusts his singers and his audience, and knows that his new work, bold and unusual, must charm connoisseurs. He wasn't wrong as the success was bigger after each performance, and newspapers wrote "that it has never been like that". The first to play the character of Don Juan, bold seducer of ladies, on the stage, was Spanish monk Gabriel Teles, known as Tirso de Molina in the play The Libertine of Seville. In 1665, Moliere deepened this subject matter psychologically and named it Don Juan; or The Stone Banquet; it deviates from Italian road shows' improvisations. Carlo Goldoni's arrangement was less successful and it had a short life on stage. During the whole of the 18th century various plays about legendary seducer were shown in Austria and Germany. Viennese Theatre in Leopoldstadt had a comical adaptation of this theme on stage from 1783 till 1821. Significant literary adaptations were signed by Pushkin, Merime, Grabe, Bernard Shaw and others, while Max Frisch wrote Don Juan or Love of Geometry. Don was first sung "in Italian in Brno in 1734, and than he was a hero in Gluck's ballet of the same title", and after that a whole series of successful composers compose operas on this topic. According to experts, as there were no copyright laws, libretto of Mozart's opera is a rather skilful compilation of various adaptations of this popular theme. Mozart and Da Ponte must have worked together on the libretto, but it is difficult to determine what demands of the composer were and the extent of his direct involvement. He started composing the opera in spring, worked on it with interruptions till late summer and left for Prague with unfinished score not at the beginning of September, as was thought till recently, but on 1 October, and met with the performers on 3 October! Overture, scene of the country wedding with a choir, Masetto's aria from the first act, introductory duet of the second act, Don Giovanni's canzonetta and the whole famous finale of the second act will be written during rehearsals! Nowadays, not even stimovi? would be written. Premiere, set for 14 October, had to be postponed first for 24 and then, due to the illness of one of the singers, for 29. Librettist Da Ponte arrived in Prague at the beginning of October, but stayed for only a few days, because he had to be present in Vienna for rehearsal of a new Salieri's opera. By postponing the premiere Mozart gained another six days to get everything exactly as he wanted, he also helped Gvardasoni with his directing, as some anecdotes testify... As was a practice in these days there were no reviews, there was only a note on 3 November in Prague Post Gazette that maestro Mozart's long expected opera was performed on 29 October and that connoisseurs and musicians said that nothing like that had ever been heard in Prague. "Mr Mozart conducted himself. The opera itself is extremely difficult and everybody admires exceptional performing after such a short preparation. Both singers and orchestra did their best to reward Mozart with good performance. Numbers of spectators testify that it was generally liked...
Mozart made some changes and additions for the performance in Vienna, most important of which is the new tenor aria. Until recently it was thought that Mozart himself approved the version without the final sextet, in order to achieve greater direct effect by Don Giovanni's falling into "hell" which opens, but now it has been established that the same ending was played both in Vienna and in Prague, and that Mozart's pupil Sismeyer is responsible for the "jump" at the end. Swords were crossed over this, essays were written, discussions held, and even Gustave Mahler in Vienna accepted performance without the real ending?! At the beginning of the last century in Paris after the death of the leading character his corpse was carried across the stage to the sounds of Master's "Requiem". What else was concocted, changed and added in order "to save" the opera for audience? It would seem that the original is still the best. Mozart's Don Giovanni was sung in German in 1789 in Mainz, in 1797 in Petersburg, in 1828 in Russian, 1805 in Paris in French, 1817 in London in English and very soon became famous in the opera world. Italy took much longer. In his Memoirs Stendhal mentions a Duke from Milan who was paying singers and musicians for several months so that they could learn to perform this music correctly. Yugoslav premiere was on 19 January 1875 in Zagreb. The premiere in Belgrade was held under the title Don Zhuan, but later this mispronounced Spanish name was corrected. Generally accepted pronunciation today is again Don Žuan (Zhuan), according to French pronunciation, because this mysterious, tireless and irresistible seducer is known in our language as such. Don Giovanni would be acceptable it this opera were sung in Italian, the language it was composed, and the only language those fast recitatives can be sung in. In the world of opera Don Giovanni is considered to be Mozart's master-piece. and music writers put it above all other operas. In our midst this opera never had the real and lasting success, probably because this work should be listened to several times before it can be fully appreciated and loved. Mozart himself, in the scene of Don Giovanni's dining, in the second act, gave us the opportunity to compare his music with music of his rivals, and listening to the best known arias from two of his operas we can immediately realise the complete advantage of melodies from The Marriage of Figaro, which was very popular in Prague at that time. Arias from Don Giovanni could also be bought on the day of the premiere, but on the whole did not become so popular, excepting champagne-arias, canconettas, duet "Give me your hand" and Zerlina's aria. Don Giovanni has to be understood, follow incessantly, clarify the psychological finesses in musical shaping of the scenes, so that the listener cannot just simply surrender to the abundance of beautiful sounds, musical themes and voice harmony. Many writers, E.T.A. Hoffmann and Søren Kierkegaard, to mention just a few, interpreted libretto and music, but that is available only to those who can play the score themselves. Numerous recordings of the whole opera on gramophone records brought it into many homes of music lovers, and interpreters of the leading roles: George London, Cezare Sieppi and Ruggero Raymondi, became everybody's favourites mostly because of their unique interpretation of the Spanish wanton seducer. From the very first accord of the overture the listener is drawn into the magic circle of Don Giovanni. Mysterious tension of the gentle introduction is replaced by the lively allegro molto, which brilliantly sketches unrestrained enthusiasm, audacity and freedom-loving of Don Giovanni. Simple song of a servant from the beginning of the opera is followed by a dramatic scene of Don Giovanni with Dona Anna, who wants to see him as a bully. Duel with the Commendatore and his death – with triplet of basses – proves that this ingenious composer could find solution for each and every vocal combination. Triplet with Dona Elvira offers opportunity to singers to act with their voices. Well-known register aria is the anthological example of a comic opera aria: nobody can characterize master better than his servant. Country wedding is given with a few merry sounds, with a tune that sounds almost folkloric. Duet of a pleasant sound points out to each listener that the real couple has found each other at last, because that is not flirtation, that is not gallantry, it is an invitation and acceptance of physical blissfulness. Quartet has all the qualities of a mastership, but ordinary listener would prefer easily remembered melody. Renowned orchestral recitative and Donna Anna's aria in which she confessedly tells Don Ottavio the events of the previous ominous night represent one of the most difficult tasks and permanent challenge for every soprano. Tenor aria and champagne aria are the true antipodes. Energy, swing, enthusiasm and determination of the host are inimitable and the audience really cannot accept that he cannot succeed in anything, as we are all convinced that by morning his register will be even fuller! Finale, with three orchestras playing various dances in different rhythms at the same time is studied in all music schools. Building the whole out of the separate parts is astounding, so that we can easily accept Brahms' opinion that other composers can pass only because the audience does not know Mozart that well. Triplet of masks, cheering to freedom in which classes do not exist, and a famous minuet deserve to be mentioned separately. Revealing, that is, exposing the villain – malefactor, is carried out not only, musically speaking, convincingly, but also uninterruptedly. Dignified and respected nobleman is unmasked as a nocturnal "vampire" who leads double life and that is why he cannot appear in public till the end of the opera. He has a few hours left, which he will use in the usual way: to court Elvira's maid with a sweet cantilena; he will have to hide in a secluded spot in the graveyard and, in the end, to return to the table and the meal that he will not finish. When he beats Masetto masked as Leporello, he expands his "repertoire", because he does not use a knightly weapon to attack a peasant – a sword. At the graveyard he is still self-confident and bold, nobody else would invite ghostly guest. His true attitude towards his servant can be noticed here, even though they are inseparable and, as a matter of fact, a part of a higher entirety, he threatens with a sword and demands submission by force. In finale he is again self-confident, does not think anymore that "he cannot succeed in anything, that everything has teamed up against him", he enjoys his meal, wine, music and cheers all women. That is why Elvira's warning has no effect on him. The Commendatore's arrival changes everything, as he is the opponent worthy of the fearless knight. The Commendatore used to be thought of as an emissary of the Providence, as a "higher – unearthly force", the only one that can punish the person who broke "eternal" laws. Today directors find different interpretations, starting with broadcasting the Commendatore's voice over the loudspeakers till omitting him completely. And so Don Giovanni falls torn apart with his inner struggle, struck by a heart attack or maybe a stroke (which is more and more used in Boris Godunov as a solution). Generally speaking Don Giovanni is lavishly used for original solutions. All those philosophizing about the particulars of the libretto for listeners and opera lovers is meaningless, as each bar of this music radiates beauty and it will last as long as there is opera, to the joy and satisfaction of those who surrender to beauty, expressiveness and force of this "opera of all operas".
Konstantin Vinaver
---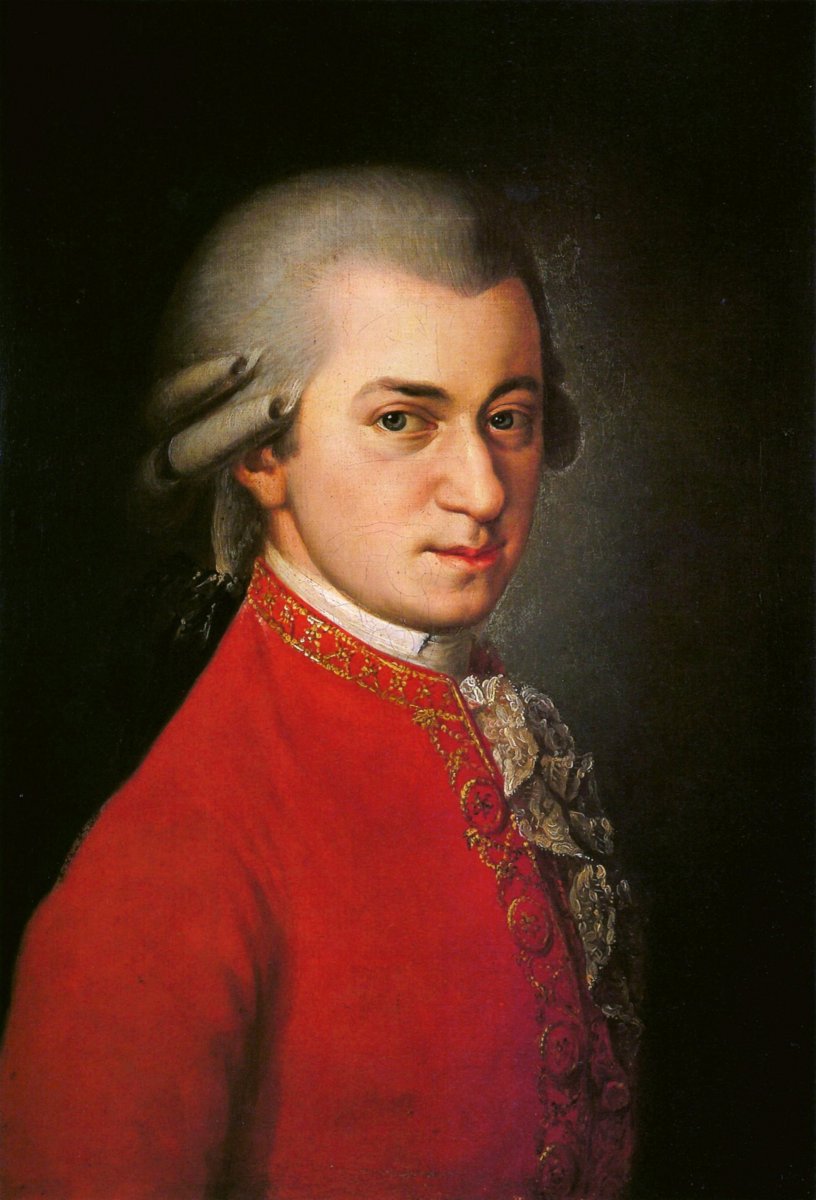 WOLFGANG AMADEUS MOZART
Mozart was born in Salzburg in 1756. Since he started composing harmonious melodies on the piano at the age of three, he was declared "a child prodigy". He composed his first opera Bastien and Bastienne at the age of eleven; at the age of thirteen, he already held the place of a Concertmaster in the Salzburg Archbishop's Orchestra. Not long after that, he received first important acknowledgments for his work in Italy. His legacy in all spheres of music is very prolific and comprehensive. Mozart composed piano sonatas, four-hand compositions, fantasias, sonatinas, forty-three violin sonatas, quartets, piano trios, a quintet for the clarinet and strings, nine wind quintets, five string quintets, a mass and a requiem, forty-nine symphonies, eight violin and twenty-five piano concertos, four concertos for the flute, a clarinet concerto, a bassoon concerto, four horn concertos and a double flute and harp concerto, about thirty serenades, numerous divertimenti, etc. He wrote nineteen operas among which are Don Giovanni, The Marriage of Figaro, The Abduction from the Seraglio and The Magic Flute, which he finished only three months prior to his death. He never managed to finish his last piece, The Requiem, commissioned by an unknown person, but his student Franz Sussmayr completed it later on. On 5th December 1791, Mozart died poor and alone at the age of only 35. He was buried in a mass grave for paupers and homeless in Vienna.
---
MARCO BOEMI
Marco Boemi, conductor and pianist, also graduated in law at Sapienza University, Rome. During more than 20 years career he has worked with 3 generations of singers including Pavarotti, Taddei, Giaiotti, Lucchetti, Sighele, Kabaivanska, Bruson, Ricciarelli, Gruberova, Baglioni, Shicoff, Dessì, Armiliato, Scandiuzzi, Giordani, Sabbatini, La Scola, Siragusa, Gasdia, Rost, Kurzak, Michaels-Moore, Obratzova, Borodina, Abdrazakov, Burchuladze, Pertusi, Peretyatko, Leiferkus, Bros, Siurina, Shagimuratova, Gertseva, Zaremba, Vassallo, Breslik, Mei, De Carolis, De Candia, Antoniozzi, Bonfadelli, Coni, Devia, Ganassi, D'Intino, Barcellona, Frontali, Fantini, Antonacci, Dragoni, Canonici, Netrebko, Eyvazov, Colombara, Masiero. He appeared in many major venues and Opera Houses such as la Scala Milano, San Carlo Napoli, Opera Theatre Roma, Regio Parma, Regio Torino, Carlo Felice Genoa, Massimo Palermo, Politeama Palermo, Bellini Catania, Verdi Trieste, Sostakovic Hall Petersburg, Chaliapin Festival, Suntory Hall Tokyo, Bayerische Staatsoper, Helsinki Finnish Opera, Munchen ResidenzSaal, Amsterdam Concertgebouw, Paris Opera Bastille, London Queen Elizabeth Hall, Wien Musikeverein, Shanghai Grand Theatre, Warsaw Wiekl Theater,Sao Carlos Theatre in Lisbon, Budapest Opera, Filarmonico Theatre Verona, Rossini Opera Festival, Paris Salle Gaveau, Berlin Konzerthaus, Spoleto Festival, Bilbao, Zagreb, Oviedo, la Coruna, Pyongyang, Adelaide, St. Margarethen Festival, Macerata Sferisterio Festival, Athens Megaron, Prague Narodni Divadlo, he conducted also London Philharmonic Orchestra, all major Japanese Orchestras, Zagreb Philharmonic, Birmingham Symphony, Wurttembergische Philhamonic, Adelaide Symphony, I Virtuosi di S.Cecilia, World Youth Orchestra, Cherubini Orchestra, La Scala Young Orchestra, Verdi Orchestra. He has a huge repertoire, both symphonic and operatic, including authors like Wagner, Verdi, R. Strauss, Puccini, Rossini, Mahler , Beethoven, Gershwin, Bernstein, Tchaikovsky, Rachmaninov, Poulenc, Ravel, Massenet, Gounod, Debussy, Bizet, Falla, Walton, Respighi, Rota, J. Strauss, Lehar, Giordano, Mascagni, Leoncavallo, Cilea, Ponchielli, Saint-Saens, Offenbach, Mozart, Liszt, Grieg, Schubert, Schumann, Weber, Menotti, Bellini, Donizetti. He has recently conducted Rigoletto in Moscow and Sochi for Vishnevskaya Festival. He is considered an expert in lieder music and gives master classes throughout the world for young pianists, singers and conductors.
---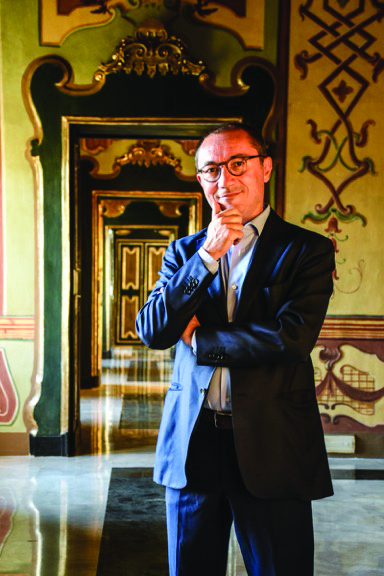 ALBERTO TRIOLA
A native of Milan, Italy (1965), Alberto Triola is considered as one of the most prominent and respected name of the opera in Italy - an opera manager, stage director end editor. He worked at Teatro alla Scala of Milano from 1988 to 2002, engaged in different departments and holding several positions, including that of Production Assistant, Assistant to the Artistic Director, Assistant to the Music Director (Riccardo Muti), and finally Assistant to the Technical Director. His rich and multiform professional profile - as well as his education in the music and theatre field, together with an engineering degree - highlights both artistic and managing tasks. After more than twenty years spent on support of artistic activity, Alberto made his international, admired debut as stage director at Wexford Opera Festival (Ireland) in 2008, with an acclaimed production of Rossini's "Il signor Bruschino", that received enthusiastic reviews by the international critic and huge success of public. In 2009 the Teatro Comunale di Bologna staged a new production of Puccini's "Madama Butterfly", with his own dramaturgic concept: the acclaimed production had an Italian tour with a number of successful performances. His debut as stage director in Germany was sensational: his "Carmen" for Theater Luebeck, in April 2011, was acclaimed by both public and critics. Following that success, even bigger with the revival of the following season, which got a great resonance in Germany, he was considered for new productions by some major opera houses. After a surprising production of "Macbeth" in Luebeck (January 2013), came his engagement for "La clemenza di Tito", that represented Triola's remarkable debut in Austria (Kammeroper of Theater an der Wien): an amazing, intimate production with thirteen "sold out" performances. He was President of Conservatorio "Nino Rota", Monopoli (Bari). He is regularly invited to hold master classes in Dresden, at the prestigious Semperoper, for the artists of the Junges Ensemble of the house. He is also editor of "Riccardo Muti alla Scala", published jointly by Teatro alla Scala and Rizzoli (2001), and author of "Giulio Gatti Casazza, una vita per l'Opera", a volume which includes the first Italian version of the famous "Memories of the Opera", the autobiography of the legendary Italian opera impresario, published in 2014 by Zecchini Editore. Starting February 2013, he took the delicate position of General Director at Teatro del Maggio Musicale Fiorentino (the Opera of Florence), that he kept until June 2017.
Premiere performance
Premieres: National Theatre in Belgrade - November 22nd 2017. / Main Stage
Opera & Theatre Madlenianum - November 28th 2017.

Opera in two acts
Libreto Lorenco Da Ponte
Conductor Marco Boemi as guest
Stage Director Alberto Triola as guest
Set Design Tiziano Santi as guest
Costume Designer Katarina Grčić Nikolić
Light Design Vlado Marinkovski
Make-Up Design Marko Dukić

Premiere cast:
Don Giovanni, young nobleman Vladimir Andrić, Miodrag D. Jovanović
Commendatore Aleksandar Manevski, Sveto Kastratović
Donna Anna, his daughter Snežana Savičić Sekulić, Aleksandra Petrović, Gordana Tomić
Don Ottavio, her fiance Marko Živković, Stevan Karanac*
Donna Elvira, lady from Bugose, abandoned by Don Giovanni Ivanka Raković Krstonošić, Aleksandra Stamenković Garsija
Laporello, Don Giovanni's servant Dragoljub Bajić, Vuk Matić
Masetto, young peasant Gavrilo Rabrenović, Marko Pantelić*
Zerlina, his bride Sofija Pižurica, Nevena Matić, Dragana Tomić Roksandić
Peasants, servants, musicians, dancers
It takes place in Spain in XVII century
CHOIR, ORCHESTRA AND BALLET OF
THE NATIONAL THEATRE IN BELGRADE
* member of the "Borislav Popović" Opera studio
Assistant Conductor Dijana Cvetković
Assistant Stage Directors Ana Grigorović, Libero Stelluti as guest
Concertmaster Edit Makedonska / Vesna Jansens
Chorus Master Đorđe Stanković
Stage Manager Branislava Pljaskić / Ana Milićević
Prompter Silvija Pec / Kristina Jocić
Music Associates: Srđan Jaraković, Eda Separ, Nevena Živković, Nada Matijević, Gleb Gorbunov
Chorus Instructor Tatjana Ščerbak Pređa
Caption Translation Gavrilo Rabrenović
Producers Maša Milanović Minić and Natalija Ignjić
Extras' Chief Zoran Trifunović
Assistant Set Designers Miraš Vuksanović, Jasna Saramandić
Assistant Costume Designer Aleksandra Pecić
Stage Crew Chief Branko Perišić
Sound Master Perica Đurković
SETS AND COSTUMES WERE MANUFACTURED IN THE NATIONAL THEATRE WORKSHOPS