About Performance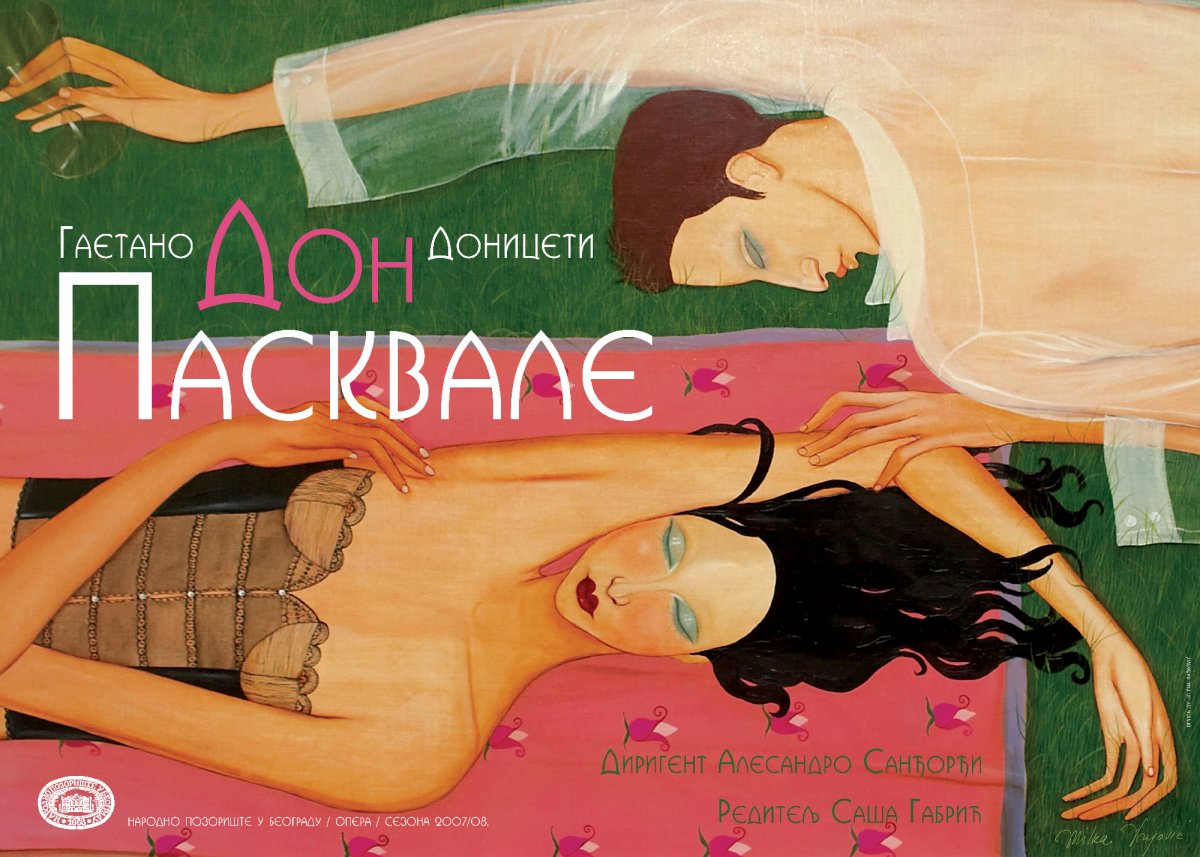 Buffo opera Don Pasquale is one of the most remarkable works of Italian composer Gaetano Donizetti (1797-1848, Bergamo). Audience is always eager to attend this opera, soloists are challenged by difficult and demanding roles, connoisseurs try to discover who is the author of the original version of the score, prove authorship of the libretto, and directors try to find new and original approach to this everlasting piece. It seems as if the tooth of time, so merciless to many music pieces, cannot harm a single tact of this opera. Plot is neither new nor original, on the contrary it is widely known throughout the history of theatre. Melody is flowing, soft, gentle, pleasing, with many comic turns. What's going on up on the stage is not all that spectacular, even set designers cannot let their imaginations take wing. Yet, as a whole Don Pasquale is not only a successful piece, moreover it is a masterpiece, one of the funniest operas ever composed, a piece that has remained constantly in the repertoire of many major opera companies. According to the reports from his correspondence, after he had written a series of nearly seventy operas of all genres, Donizetti composed his masterpiece in only eleven days, in Paris, during the autumn of 1842. For a long time he was considered to be the author of the libretto as well; even today we find librettist's name vary in different editions! However, it is doubtless that the libretto was written after Angelo Anelli's libretto for Stefano Pavesi's Ser Marcantonio, performed in 1810 at La Scala. Donizetti worked on the libretto with his friend, Italian emigrant and poet Giovanni Ruffini who preferred to stay anonymous – only under the initials M.A. (Michele Accursi). Yet in his usual way, he himself did corepetition, directing and conducting. A story of a rich old bachelor, stubborn, mistrustful, despondent geezer who in his old age wants to merry young and beautiful girl, and after lots of troubles, false wedding and sudden transformation of his timid bride into a despotic, cruel, wasteful, aggressive shrew, promptly agrees to get rid of this real "nuisance", was borrowed from ancient comediographers. In comedy dell arte characters and troubles they are going through reach virtuosity through improvisation. Goldoni favored to treat similar themes, although with moralistic tendencies. Donizetti and his librettist simplify the action, reduce number of actors to only four singers (one high female, one high male, and two lower male voices), marginal false notary and many servants who form the chorus. But they are the same servants that instigate everything in the usual plots used in comedy dell arte, in buffo operas, in Moliere's, Mozart's and Da Ponte's opuses. However, those four singers are not marionettes, but they are true characters, owing to music and its expressiveness. Apart from comic scenes and situations, full of sparkling music humor that shines and glitters, rhythms that overlap, tremble and proceed, overflowing melodies – the opera brings some improvements in regard to Rossini's buffo operas. Donizetti composes romantic music, that is emotional, inspiring, sometimes sentimental, sincere and beautiful. It is just as expected to be by the audience used to wonderfully melodious Bellini. (Introductory part of Norina's cavatina, Ernesto's aria and serenade, duet between Norina and Ernesto.) Irresistible buffo music dominates the opera from its very beginning: potpourri –overture with the use of the opera's most popular motives, Don Pasquale's aria, all the duets, vivid part of Norina's cavatina, famous quartet at the finale of the first act, lively chorus of servants and as a true gem duet between Don Pasquale and Malatesta with the countless rapid repetitions – jabbering. Besides the music showing emotional lives of the characters, the plot is enriched by details culminating at the moment when Norina slaps Don Pasquale's face thus provoking the situation of turning everything into tragicomedy. At the end, the intention to laugh at the stingy old man who hasn't managed to hurt love of young couple is neutralized by an appeasing tone – the title character is not an old fool, as in case of Terence and comedy, but kindhearted man who couldn't get accustomed to the role of bridegroom. Many of Donizetti's operas remained ephemeral and quickly sank into oblivion, so that in the last century only few of them used to be staged: Lucia di Lammermoor, La favorita, Lucrezia Borgia. At the beginning of our century in the repertoire were again buffo operas Don Pasquale, L'elisir d'amore favourized by conductors such as Toscanini and Bruno Walter. Twenty years ago a true renaissance of Donizetti took place; critic editions of his long ago forgotten operas were published, and scores nobody knew could be heard from opera stages. Historical operas such as Anna Bolena, Maria Stuarda, Roberto Devereux and others were presented at the festivals with great success. It was proved that still there were singers who could successfully cope with the most challenging singing demands. More frequently performed buffo operas were one-act pieces Rita and Il campanello as well as a burlesque on the lives of opera artists Viva la mamma (La Convenienze ed Inconvenienze Teatrali). Time will show weather these pieces were unjustly neglected, or they are supposed to stand side by side with Don Pasquale? Don Pasquale was first produced on January 4, 1843 at the Theatre Italien in Paris, with participation of the most celebrated stars. Norina was interpreted by 27-year-old Giulia Grisi, idol of audience, famous for her beautiful voice and appearance, outstanding scenic charm and vocal virtuosity. Ernesto was interpreted by the lyric tenor of the centaury Giovanni Mario, Grisi's future husband, Malatesa by Antonio Tamburini, and the title role by 46-year-old Luigi Lablache, famous bass.
Konstantin Vinaver, 1979
---
BELGRADE PREMIERE OF DON PASQUALE
If judged by storyline, characters, music, explicit and tacit tradition Donizetti created Don Pasquale as a piece of light, flowery, and dazzling rococo. Moliere's funny, girl-chasing old man who plans to get married, tricks of a loving couple deriving from brilliant and naively rejuvenated commedia del arte; and finally joyful music, melodious orchestra, thrillers, ironic remarks (…)
Instead of being designed in the rococo style, décor and costumes are designed in the early renaissance style, delivered from the heavy fetters of malignant and fantastic gothic epoch. Open lines, a touch of fresh and enchanting style: all of that in absolute contradiction with music pouring out from each of the tact: nicely set, decorated with numerous ornaments, frozen there to be blessed for eternity. But there is a charm in that contrast; there is a wonderful refinement in that counterpoint between the main melody and the accompanying parts; in the opposition between invisible music and visible scenery. Or in other words: the idea was to set sweet Donizetti's music in a most famous Italian epoch, in the renaissance, which in our minds undoubtedly evokes a thought of Italy. And the renaissance corresponds with the ideal of Donizetti's basic inspiration, although it is in collision with randomness of the rococo in which Donizetti, simply forced by circumstances, inserted his initial, but not at all rococo inspiration. It was lovely and sweet presentation, and music sounded so fresh and alive, for it was not caught up by the décor (…)
Stanislav Vinaver, "Vreme", November 19, 1924
---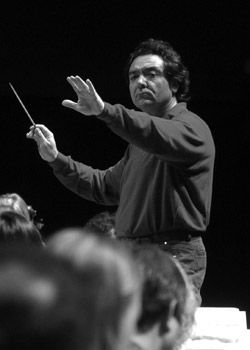 ALESSANDRO SANGIORGI conductor
Alessandro Sangiorgi was born in 1960 in Ferrara, Italy. Graduated in piano at Verdi Conservatory in Milan, furthering his studies with composition and conducting. In 1989 he went to Israel, conducting the Jerusalem Symphony Orchestra, obtaining great success of public and critics. Later, in the same year, he was invited in Brazil as Resident Conductor and Artistic Advisor at the Teatro Municipal of São Paulo where he stayed until 1993. From 1995 to 1998 he was Principal Guest Conductor at the Teatro Municipal of Rio de Janeiro. During his permanence in Brazil he conducted all the main Orchestras of that country, such as São Paulo Symphony Orchestra and Orchestra Sinfonica Brasileira, broadcasting for Brazilian TV Cultura. Continuing to develop his career in Europe, he conducted lyric and symphonic productions at the Stadttheater of St.Gallen (Switzerland), National Theatre of Split (Croatia), Verdi Festival of Busseto (Italy), "Guido Cantelli" Orchestra (Italy), Manoel Theatre of Malta, State Orchestra of Plovdiv (Bulgaria), Orchestra Regionale Toscana (Italy), "Dinu Lipatti" State Orchestra (Romania), Divertimento Ensemble (Milan), NeueVocalSolisten (Stuttgart). From 1996 to 1999 he was Music Director and Artistic Advisor of the Arezzo Symphony Orchestra and Lyric Workshop (Italy). Since 1998 he is also Guest Conductor of the Paranà Symphony Orchestra (Brazil), where he was appointed as Music Director/Conductor and Artistic Director from 2002. In 2006 was invited from the National Moravian-Silesian Theatre of Ostrava (Czech Republic), conducting Manon Lescaut and where now he is Guest Conductor. In the same year he conducted La Traviata at the National Theatre of Belgrade and immediately was appointed as Chief Visiting Conductor (La bohème, Un ballo in maschera, Il trovatore, L´italiana in Algeri). Last september he was invited from the National Slovak Theatre in Bratislava, conducting Cavalleria Rusticana, Pagliacci and Lucrezia Borgia and where now he is Guest Conductor.
---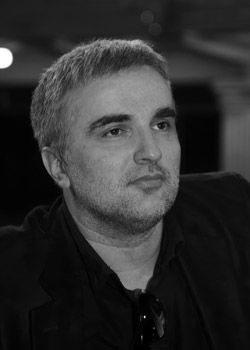 SAŠA GABRIĆ director
Born on February 17, 1967 in Subotica.He completed his primary and secondary school, as well as his university studies at the School of Economics, in Subotica. He graduated from the Academy of Art in Novi Sad in 1994, in the Multimedia Directing Department. He got the status of a freelancer in 1996.He lives and works in Belgrade. He has directed 20 professional performances, and several short and documentary films. His professional credits include:
A Portrait of the Artist as a Young Man by James Joyce
Fuente Ovehuna by Lope de Vega
The Three Sisters by Anton Pavlovich Chekhov
Rapid Dreams by Ady Endre
Timon of Athens by William Shakespeare
Drums in the Night by Bertolt Brecht
The Rose Garden by Aleksandar Popovic
Kaspar by Peter Handke
Corionalus by William Shakespeare
Joystick, based on James Joyce's Ulysses
Death of a Salesman by Arthur Miller
A Wedding in the Bathroom by Milorad Pavic
---
DON PASQUALE AT THE NATIONAL THEATRE STAGE
The sound of Gaetano Donizetti's music was heard for the first time at the National Theatre Stage in far away 1879 when a comic play in two acts Mary – The Daughter of the Regiment was presented to the audience. Following Rossini's The Barber of Seville, Don Pasquale, the first Donizetti's opera ever produced by the National Theatre of Belgrade, is deemed by many to be the best Italian comic opera, composed after the libretto by Salvadore Cammarano, as stated on the opera poster (the latest researches have proved that the true librettist is Giovanni Ruffini). Premiere was held on November 12, 1924, under the baton of Lovro Matacic, directed by Teofan Pavlovski. Sets and costumes were designed by Vladimir Žedrinski. Aleksandar Tucakovic appeared as Don Pasquale, Rudolf Ertl as Dr Malatesa, Živojin Tomic as Ernsto, Pasquale's nephew, Neonila Volevac as Norina, a youthful widow, Vasilij Šumski as a Notary. Performance was presented only five times in that season, and after that it was removed from the repertoire. The opera was produced again on October 18, 1947. It was conducted by Predrag Miloševic, who translated the libretto, and directed by Josip Kulundžic. Sets were designed by Stanislav Staša Beložanski, costumes were made after the sketches by Milica Babic Jovanovic, and the choruses were trained by Milan Bajšanski. The roles were assigned to: Žarko Cvejic (Don Pasquale), Stanoje Jankovic (Dr Malatesa), Nikola Jancic (Ernesto), Nada Šterle (Norina) and Živojin Milosavljevic (Notary). Don Pasquale was produced for the last time at the National Theatre Stage on February 1, 1979, under the baton of maestro Nikolaj Žlicara and directed by Dejan Miladinovic. Set design was made by Mileta Leskovac, costume design by Ljiljana Dragovic. The libretto by Giovanni Ruffini, as stated on the opera poster, was sung in Predrag Miloševic's postwar translation. Choruses were trained by Slobodan Krstic. Aleksandar Veselinovic played the title role; Slobodan Stankovic appeared as Dr. Malatesa, Predrag Protic as Ernesto, Gordana Jevtovic as Norina. The three notaries were interpreted by Vera Milcic, Slobodan Simic and Ðordija Boškovic.
Prepared by: Jelica Stevanovic
Premiere performance
Premiere, April 12, 2008 / Main Stage
Comic opera in three acts
Libretto Giovanni Ruffini
First performance Theatre Italien, Paris, 1843
Conductor Alessandro Sangiorgi, as a guest / Zorica Mitev Vojnovic
Director Saša Gabric, as a guest
Set Designer Boris Maksimovic
Costume Designer Marina Medenica
Choreographer Isidora Stanišic
Premiere Cast:
Don Pasquale Dragoljub Bajić / Vuk Matić
Doctor Malatesta Vladimir Andrić / Predrag Milanović
Ernesto Dejan Maksimović / Ljubomir Popović
Norina Sofija Pižurica / Dragana Tomić / Ivanka Raković / Gabrijela Ubavić
A Notary Sveto Kastratović / Nebojša Babić
Trumpeter Vladimir Jovanović
Ballet dancers, models, actresses, singers, photo-models Ivana Glišić, Milena Ivić, Silvija Džunja, Ivana Savić, Dušanka Đorđević
Ensemble"Vagabundo" Igor Lazarević, Aleksandar Paunović, Dušan Slijepčević
Citizens
The action takes place in April 2008
With participation of Orchestra, Chorus and Ballet Company of the National Theatre of Belgrade
Assistant Director Branislava Pljaskic Ristic
Assistant Costume Designer Ivana Guteša
Music Associates Nevena Živkovic, Nada Matijevic, Srdan Jarakovic, Tatjana Šcerbak Preda
Language editor Maja Janušic
Stage Managers Branislava Pljaskic Ristic, Maja Ružic
Prompters Silvija Pec, Biljana Manojlovic
Organizers Maša Milanovic Minic, Snježana Vujasinovic
Caption Translation by Gavrilo Rabrenovic
Lighting Designer Miodrag Milivojevic
Stage Master Zoran Miric
Make-up Designer Dragoljub Jeremic
Sound Designer Tihomir Savic
Video Realization Petar Antonovic
Costumes and decor were manufactured in the workshops of the National Theatre of Belgrade under management of Željko Rudic