About Performance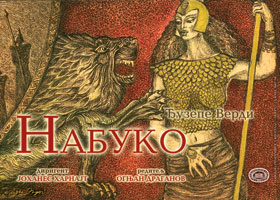 NABUCCO VERDI'S FIRST BIG HIT
After a modest success with his first opera (Oberto) twenty-six year old Verdi experienced a real failure with buffo opera Un Giorno di Regno (La Scala, 1840). Moreover, within a short period of time, he lost his children and wife and nearly gave up composing. He even asked Merelli, impresario of La Scala to release him from the contract, feeling unable to fulfill his obligations. The arguing between composer and impresario was unavoidable. In his autobiographical account, Verdi quoted Merelli's words: "Listen Verdi, I cannot force you to write! My confidence in you is as great as before. Maybe one day you will decide to take up your pen again. You need only to inform me two months before the start of a season and I promise you your work will be staged." One winter evening Verdi, who came to live in Milan, chanced upon Merelli. They walked to La Scala and Merelli told him that he was in trouble over the new opera he was to stage, since Otto Nicolai, a German composer, was not satisfied with the libretto. "Just think", Merelli said, "a libretto by Solera, magnificent, extraordinary, grand dramatic positions… but that blockheaded musician won't have it and claims it is an impossible libretto." Verdi was ready to help Merelli so he parted from him with Solera's libretto in his hands. When he got in his apartment he threw the manuscript down on the table and as it landed he saw these verses "Go, thought, on golden wings". He glanced through the verses that followed and was deeply touched since all the verses were almost a paraphrase from The Bible. He continued to read the manuscript, but stayed firm in his decision – he didn't want to compose anything. He closed it and went to bed. However, it didn't work. He couldn't sleep. Nabucco kept running through his head. He got up and read the libretto three times successively. However, he decided to take it back to Merelli. But Merelli persuaded him to go on with composing and stuck the manuscript into his coat pocket. In the autumn of 1841, Verdi informed Merelli that the opera was finished, and that it could be performed, as it was previously agreed, in the following carnival season. Impresario tried to escape the situation and told him that he had already put in repertoire three new operas by well-known composers. It was obvious that he didn't want to take a risk by staging the fourth one composed by an absolute beginner. But Verdi kept insisting on his idea to perform Nabucco either at carnival or never. He knew that he wouldn't find such brilliant artists as Gueseppina Strepponi and Ronconi ever again. Since in the new season repertoire there was no Nabucco, Verdi wrote a fiercely letter to Merelli. Then followed an unpleasant talk and Verdi practically forced Merelli to stage the opera in spite of everything. It was decided that due to the very heavy expenses for three already announced premieres, this one should be prepared only from the available resources. Verdi himself took part in making final version of libretto. Once he even locked up Solera in a room leaving him only with The Bible and the blank sheets of papers. Rehearsals started by the end of February. The premiere of Nabucco was held in La Scala, on March 9, 1842 – just twelve days after the first piano rehearsal. "With this opera", wrote Verdi, "my artistic career got off to a start". During the rehearsals everybody in the theatre: administrative stuff, lamp cleaners, tailors, stage workers, painters and servants, left their jobs and carefully listened to the new music. Even redesigned costumes and sets were met with approval. After the first scene audience applauded for a good ten minutes, while Chorus of the Hebrew Slaves was immediately recognized as a patriotic hymn, and has been treated likewise till nowadays. On the occasion of Verdi's funeral in Milan in 1901, nine hundred singers led by Toscanini honored the greatest Italian opera genius by this song, and tenths of thousands of people joined them singing a melody that became hymn of the people in the composer's country. Verdi had good luck with Nabucco. New offers followed, publishers printed his works, and the first Abigaille became his wife. From the Vienna congress till the Unification, all the Italians and Verdi himself fearlessly fought for unification of people and their country. Venice and Lombardi were under Austrian occupation; the Habsburg lateral branches controlled Toscana and Modena. The Bourbons ruled the Sought and Sicily. The Risorgimento, a national movement for liberation and the unification of Italy, gathered together all Italian patriots. That is a reason why most of them who were present at the premiere of Nabucco perceived the history of the Hebrews as their own destiny. Nabucodonosor, king of Babylon, is most widely known from Herodotus, The Bible, as well as from archeological sites of the end of the last and the beginning of this century. He ruled from 604 to 562 B.C.; he was identified as cruel invader but also as the Builder of the Hanging Gardens and the tower of Babylon. He won Jerusalem twice, in 598 and 586. He captured tenths of thousands of Hebrews, mostly craftsman and engaged them on building up Babylon. Hebrews were not released from this captivity after Nabucodonosor's convert, as it is described in the opera, but when Babylon was destroyed. Libretto written by Temistocle Solera was neither much worse nor much better than the usual practice of his time: in fact most of the pieces were mixture of history, biblical events and authors' imaginations. However, plot was full of dramatic situations, contrasts and surprises and it was excellent basis for young Verdi to build his personal style. The Old Testament Book of Kings and Book of Jeremiah tell the history of Nabucodonosor's invasion of Jerusalem, Hebrew slavery, destroy and burning of Solomon's temple, as well as Nabucodonosor's ill belief that he himself became a god, his madness and his penitence. "He burned the house of the Lord, the king's house, and all the houses of Jerusalem; even every great house he burned with fire." Today, after terrible crimes committed during the Second World War, various pogroms and genocides that are also marking our days, a plot of Nabucco is especially provocative and challenging. Nabucco was not just single one, who owing to his mental state, destroyed, burned, killed and turned into the slavery all the nations. He was, unfortunately, one among many whose mind-set threatened mankind, in our time more than ever. Verdi and Solera ended the opera by Nabucco's transformation from the tyrant to a reasonable person who cooperates with all peace-loving nations. After the premier at La Scala, Nabucco conquered opera world: it was presented in Vienna in 1843, in Berlin, Barcelona and Stuttgart in 1844, in Marseille and Paris in 1845, in Copenhagen, London, Budapest and Istanbul in 1846, in Havana and Bucharest in 1847, in New York and Brussels in 1848. In Belgrade Nabucco was presented for the first time on June 1, 1963. It was in the repertoire for years, being always the most attended performance. The same state of euphoria about Nabucco caught all the theatres in Yugoslavia except Zagreb, where it was not staged after the Second World War. The fact that Nabucco opened the restored and expanded La Scala Theater, witnesses the popularity of this Verdi's work. Music from Nabucco attracts us with its power, vivid, almost wild rhythm, exceptionally successful chorus parts, grandiose ensembles and beautiful arias. However, there are some "common places", especially noticeable if performed non-dramatically. There are even some places that sound trivially from today's point of view. But the great mastership expressed in Othello or Falstaff could not be expected from young Verdi. Overture is a real potpourri of the famous melodies; introductory chorus in the first act, beautifully contrasted to "maiden voice", catches auditorium's attention with its power, while Zaccaria's aria with accompaniment of chorus is a real temptation for all the basses. On very first appearance, Abigaille holds listeners' attention with her vertiginous intervals. Trio brings certain appeasing of passions, but chorus turns everything back to the beginning. Appearance of the huge ensemble, followed by solos of Nabucco and Abigaille, presents novelty in the development of opera. Chorus powerful final part in the first act attracts us with its rhythm, movement, and determination. Short introduction to the second act brilliantly expresses disturbance of Abigaille's soul. Her aria is very demanding for soprano, and her interaction with chorus wins over the audience. Zaccaria's prayer is a real oasis of peace and devotion. A chorus of Levites interacted with Ismaille is again rhythmical. The second act finale, with the use of imitation surpasses everything previously written for opera stage. Scenes of Nabucco's ill belief that he is a god and repressed fear felt by everyone around him are composed in accordance with the established convention. Scene with Nabucco and Abigaille in the third act has to be listened from a bel canto perspective. Famous Chorus of the Hebrew Slaves presents: "aria written for alts, tenors and basses" (Rossini). Zaccaria's prophesy of a better future is typical for young Verdi and is given in a powerful, effective and exceptional way. In the fourth act, Fenena's aria presents appeasement against fierce emotions of Nabucco's former followers who bravely destroy power of tyrant. Prayer to the "Mighty Jehovah" of all the participants, sung without orchestra accompaniment is also a brave idea, which Verdi shall apply again (Macbeth). Final scene of Abigaille is made after Bellini (Norma), to the extent of absolute resemblance. Finale comes with festive chorus and famous solo scenes. In a word, Nabucco is a very demanding opera for both soloists and chorus and it can be staged only in the opera houses with real vocal capacities.
Konstantin Vinaver
---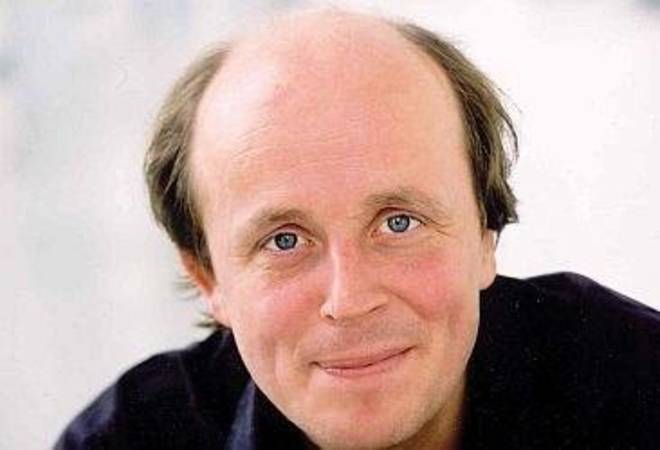 JOHANNES HARNEIT conductor
The new principal conductor of the Opera and Ballet of the National Theatre in Belgrade, German composer and conductor Johannes Harneit was born on March 16, 1963. He studied at the Academy of Music and Theatre in Hamburg. Following his first engagements at the Oldenburg State Theatre and at the Schiller Theatre NRW Wuppertal/Gelsenkirchen, he has been music director of the Hanover State Opera since the 2001/02 season. He has conducted at the Bavarian State Opera in Munich and the Bremen Theatre, as well as the radio orchestras of the NDR, WDR and SWR, the Danish Radio Orchestra in Copenhagen, and is permanent guest conductor of the Cairo Symphony Orchestra. He has received numerous composition commissions from the famous institutions such as: Hamburg State Opera, the Frankfurt Alte Oper and the Ensemble Scharoun (comprised of musicians of The Berliner Philkarmoniker) and invitations to Zurich, Basel and Berlin. Producers such as Herbert Wernicke, Christoph Marthaler and Anna Viebrock collaborated with Harneit in the border-area of new music theatre. Moreover, Johannes Harneit has been music director of the Leipzig Sinfonietta (consisting of musicians of the Gewandhausorchester) since autumn 2003. Harneit conducted Luigi Nono's opera Unter der großen Sonne von Liebe beladen (Burdened with Love under the Great Sun) at the Hanover State Opera (producer: Peter Konwitschny) which was singled out by Opernwelt (Opera World) as the best performance of the year 2004. In 2005 the premiere of Hans-Joachim Hespos's iOPAL, also conducted by him, received the same award from Opernwelt. Maestro Harneit appeared for the first time at the podium of the Belgrade Opera in 2006, when he brilliantly conducted Strauss' Salome. In 2007/2008 season he will conduct this piece during the Belgrade Opera Ensemble tour through Italy. In the same season he will conduct Verdi's Aida as well as Ludwig Minkus' Don Quixote.
---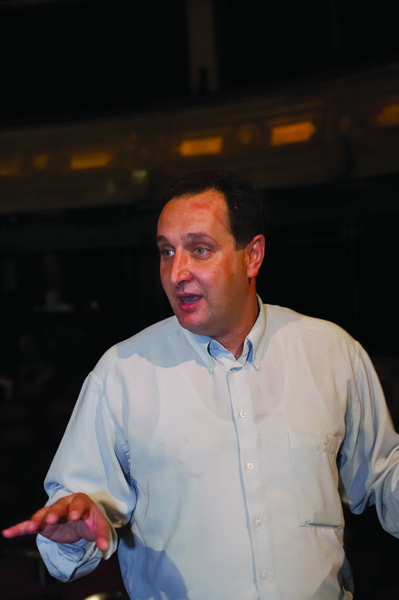 OGNIAN DIMITROV DRAGANOV
Ognian Dimitrov Draganov was born on July 29, 1964, in Stara Zagora, Bulgaria. He received his master degree in Opera Directing at the Bulgarian Music Academy in the class of professor Pavel Gerdjikov, in 1997. In his career he was engaged at the following positions: The Sofia National Opera as a stage manager (1986–1991), Assistant director for French opera director Albert-Andre Lheureux (1989–1990), Assistant opera director for Plamen Kartaloff (1991–1996), Opera stage director at the Sofia National Opera (1996–2002), vice-manager of the Sofia National Opera (1998–2002), Freelancer opera stage director (2002–2006.) From 2003 he is a General manager of the Balkan Opera Network-association. He has directed a lot of opera productions in Bulgaria, Greece, Rumania, Macedonia, Holland, Belgium, Italy, Bosnia and Herzegovina, Brazil, and Japan. His professional credits include:
R. Korsakov – Mozart and Salieri (Musical Theatre, Sofia, 1995)
G. Verdi – Rigoletto ("Euro stage" touring company, Holland, 1998), Il Trovatore ("Euro stage" touring company, Holland, 1999), Aida ("Euro stage" touring company, Holland, 1999), Nabucco (National Opera Macedonia, 2000), Ernani (Open ear performance Stara Zagora, 2000), La Traviata (Oss , Holland, 2001), Il Trovatore (Оpera Enshede, Holland, 2003), Il Trovatore (for opera festival in Belem, Brazil, 2003), Aida (Timisoara National Opera, 2006), La Traviata (Timisoara National Opera, 2006)
G. Pucini – Madam Buterflay (Theater "Lucsor" Rotterdam, 2002), La Bohema (opera "Ovideo" Konstanza, 2003), Tosca (National Opera Macedonia, 2004)
A. Jossifoff – Max and Morits (for Sofia National opera1994), Maya the bee (for Sofia National opera, 1995), Pinocchio (for Sofia National opera1997)
G. Donizetti – Lucia di Lamermour ("Euro stage", Holland, 1998), Lucia di Lamermour (Sofia National Opera, 2001), Lucia di Lamermour (Bucharest National Opera, 2007), L'Elisir d'amore (Enshede, Holland, 2004), L'Elisir d'amore (Co production CEE Musiktheater Vienna, Opera Timisoаra and Sarajevo National Opera, 2006)
E. Humperdinck – Haensel and Gretel (for Sofia National opera, 1998)
G. B. Pergolesi – La Serva padrona (for opera festival in Belem, Brazil, 2004)
B.Bartok – Duke Bluebeard's Castle" (Stara Zagora State Opera, Bulgaria, 2007).


Premiere performance
Premiere, October 10, 2007. / Main Stage

First performance: March 9, 1842, La Scala Theatre, Milan
Opera in four acts (seven scenes)
Libretto Temistocle Solera
Conductor Johannes Harneit
Director Ognjan Draganov, as a guest
Set Designer Aleksandar Zlatovic
Costume designer Ljiljana Dragovic

Premiere cast (firstnamed from listing):
Nabucco, King of Babylon Oliver Njego / Miodrag D. Jovanović
Ismaele, nephew of the King of Jerusalem Aleksandar Dojković / Hon Li
Zaccaria, High Priest of Hebrews Ivan Tomašev / Živan Saramandić
Abigaille, a slave, stepdaughter of Nabucco Jadranka Jovanović / Dragana P. Radaković as a guest
Fenena, daughter of Nabucco Nataša Jović Trivić / Aleksandra Angelov / Željka Zdjelar
The High Priest of Baal Branislav Kosanić / Nebojša Babić
Abdallo, elderly officer of the King of Babylon Darko Đorđević
Anna, Zaccaria's sister Ivanka Raković / Aleksandra Stamenković

With participation of: Orchestra and Chorus of The National Theatre of Belgrade
Assistant Conductor Ðorde Pavlovic
Assistant Director Ivana Dragutinovic
Chorus Master Ðorde Stankovic
Concert Masters Edit Makedonska
Assistant Costume Designer Milica Martic
Stage Music Ðorde Stankovic
Music Associates Nevena Živkovic, Nada Matijevic, Srdan Jarakovic, Ivan Jovanovic, Tatjana Šcerbak Preda
Stage Managers Branislava Pljaskic Ristic, Mirjana Golocevac
Prompters Biljana Manojlovic, Silvija Pec
Organizers Snježana Vujasinovic, Vanja Kosanic
Translation Dejan Mitrovic
Lighting Designer Lazar Streoski
Make-up Designer Dragoljub Jeremic
Stage Master Dimitrije Radinovic
Sound Designer Tihomir Savic
Video materiel direction Petar Antonovic
Décor and costumes were designed in the workshops of the National Theatre of Belgrade