NORMA
opera by Vincenzo Bellini
About Performance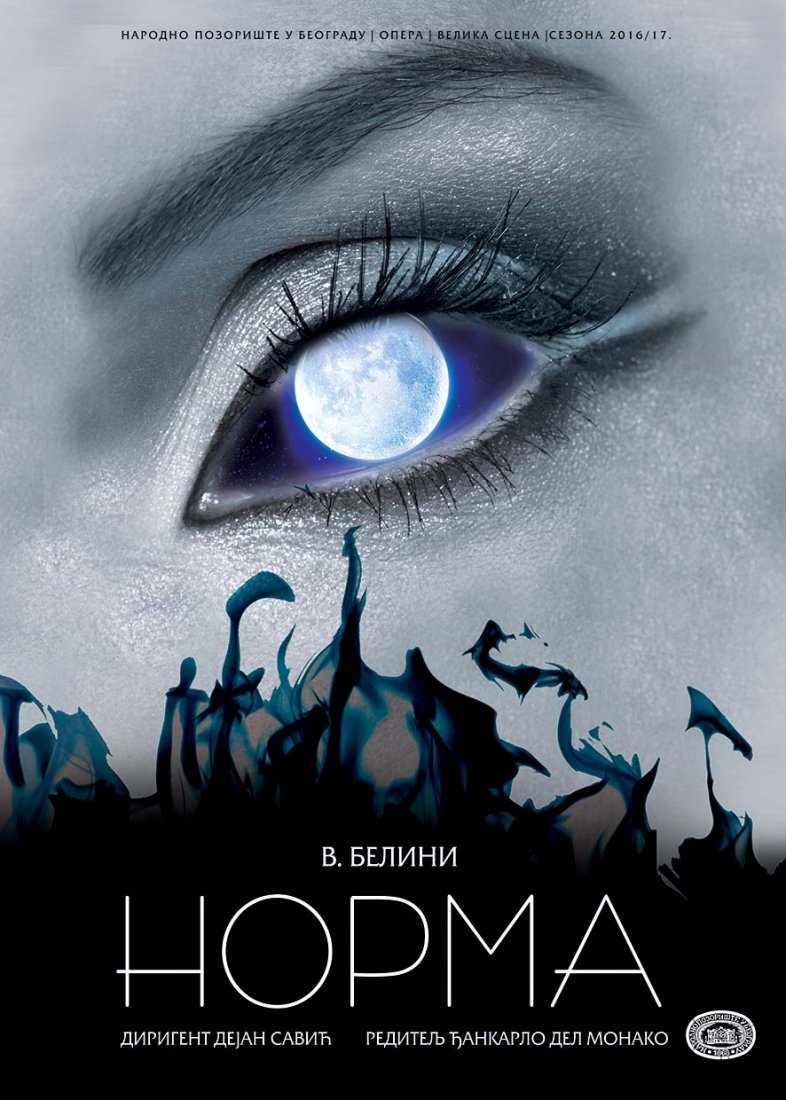 SYNOPSIS
Act I
Gaul, 50 BCE, during the Roman occupation. In a forest at night, the priest Oroveso leads the Druids in a prayer for revenge against the conquering Romans. After they have left, the Roman proconsul Pollione admits to his friend Flavio that he no longer loves the high priestess Norma, Oroveso's daughter, with whom he has two children. He has fallen in love with a young novice priestess, Adalgisa, who returns his love ("Meco all'altar di Venere"). Flavio warns him against Norma's anger. The Druids assemble and Norma prays to the moon goddess for peace ("Casta diva"). She tells her people that as soon as the moment for their uprising against the conquerors arrives, she herself will lead the revolt. At the same time, she realizes that she could never harm Pollione. When the grove is deserted, Adalgisa appears and asks for strength to resist Pollione. He finds her crying and urges her to flee with him to Rome. She agrees to renounce her vows (Duet: "Vieni in Roma, ah! vieni, o cara").
Norma tells her confidante Clotilde that Pollione has been recalled to Rome. She is afraid that he will desert her and their children. Adalgisa confesses to Norma that she has a lover (Duet: "Sola, furtiva, al tempio"). Recalling the beginning of her own love affair, Norma is about to release Adalgisa from her vows and asks for the name of her lover. As Pollione appears, Adalgisa answers truthfully. Norma's kindness turns to fury. She tells Adalgisa about her own betrayal by the Roman soldier. Pollione confesses his love for Adalgisa and asks her again to come away with him, but she refuses and vows she would rather die than steal him from Norma (Trio: "Oh! Di qual sei tu vittima").
Act II
Norma, dagger in hand, tries to bring herself to murder her children in their sleep to protect them from living disgracefully without a father ("Teneri, teneri figli"). She changes her mind and summons Adalgisa, advising her to marry Pollione and take the children to Rome. Adalgisa refuses: she will go to Pollione, but only to persuade him to return to Norma. Overcome by emotion, Norma embraces her, and the women reaffirm their friendship (Duet: "Mira, o Norma"). The Druids assemble at their altar to hear Oroveso's announcement that a new commander will replace Pollione. Oroveso rages against the Roman oppression, but tells the Druids that they must be patient to ensure the success of the eventual revolt ("Ah! del Tebro al giogo indegno"). Norma is stunned to hear from Clotilde that Adalgisa's pleas have not persuaded Pollione, and in a rage she urges her people to attack the conquerors. Oroveso demands a sacrificial victim, and just then Pollione is brought in, having profaned the sanctuary. Alone with him, Norma promises him his freedom if he will leave Adalgisa and return to her (Duet: "In mia man alfin tu sei"). When he refuses, Norma threatens to kill him and their children, and to punish Adalgisa. She calls in the Druids and tells them that a guilty priestess must die, then confesses that she is referring to herself. Moved by her nobility, Pollione asks to share her fate. Norma begs Oroveso to watch over her children, then leads her lover to the pyre.
Taken from www.metopera.org
---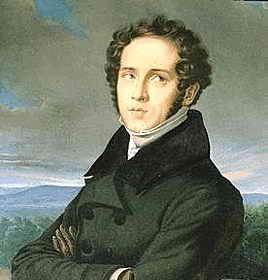 VINCENZO SALVATORE CARMELO FRANCESCO BELLINI
He was one of the most important composers of Italian opera in his time. He was born in 1801 in Catanina, Sicily, to a family already steeped in music; his father and grandfather were both career musicians. To perform one of his operas, singers required extremely agile voices. Bellini entered the Royal College of Music of San Sebastiano, now the Naples Conservatory, in 1819. Bellini's first opera, Adelson e Salvini, was chosen to be performed by the conservatory's students in February 1825, and was performed repeatedly throughout the year. This particular work was never performed outside of the conservatory, but it did serve as a source of material for at least five other operas Bellini composed. Shortly thereafter, Domenico Barbaja of the San Carlo Opera offered Bellini his first commission for an opera, which led to a long-term collaboration between Bellini and librettist Felice Romani and resulted in Bianca e Gernando (1826), followed by Il pirata (La Scala, Milan, 1827), and La straniera (La Scala, 1829), Zaira (Teatro Ducale at Parma, 1829) and I Capuleti e i Montecchi, based on Shakespeare's Romeo and Juliet (La Fenice, Venice, 1830). The year 1831 proved most successful for Bellini as two of his most famous operas, La sonnambula and Norma, were produced. Although Norma was unenthusiastically received, many critics and Bellini himself believed it to be his finest work. Its aria "Casta diva" is one of the evergreens of the classical vocal repertory. These two operas were followed by a less successful composition, Beatrice di Tenda (La Fenice, 1833); the failure led to the falling out of Bellini and Romani. He then moved to Paris, where he composed and produced his last opera, I puritani, which premiered on January 24, 1835. The libretto for this particular opera was written by the exiled Italian poet Count Carlo Pepoli. I puritani was enthusiastically received. At the height of his career and only 33 years old, Bellini died of a chronic intestinal ailment on September 23, 1835, in a small town near near Paris.
From: Bruce Lundgren, www.allmusic.com
---
DEJAN SAVIĆ
Dejan Savić (1957), an outstanding Serbian conductor, graduated conducting with distinction at the Academy of Music in Belgrade and received his Master's Degree at the Academy of Arts in Novi Sad. Since 1993, Mr. Savić has been the Principal Conductor and, in two mandates, the Manager of Opera and Ballet Companies in the National Theatre in Belgrade. In the period between 2005 and 2007, Mr. Savić held the office of the General Manager in the National Theatre and again, since 2012, he has resumed the same leading position in the National Theatre. Besides his continuous engagement in the National Theatre, he has been an Artistic Director of Niš Symphony Orchestra, as well as a music manager of "Pro Classica" Chamber Orchestra, Chamber Ensemble "Pro Musica" and "The Baruh Brothers" Choir. Mr. Savić has conducted numerous renowned international orchestras; several renowned Greek symphony orchestras, including those in Athens and Thessaloniki and he has been a guest conductor of the National Symphony Orchestra of Greek Radio (ERT). In the course of his career, he has conducted the following orchestras: Bloomingdale Symphony Orchestra (New York); Bulgarian Radio Symphony Orchestra and National Philharmonic from Ruse (Bulgaria); Symphony and Chamber Orchestra of Rumanian National Radio in Bucharest; Rhine Philharmonic and Opera Choir (Germany); National Opera and Ballet Company from Krasnoyarsk (Siberia); Portuguese Orchestra from Algarve; and many companies in Italy – Polyphonic Choir "David Brunori" and Philharmonic Orchestra of Marche Region; Italian International Orchestra and Choir of Ventidio Basso Theatre in Ascoli Piceno; Gioachino Rossini Symphony Orchestra from Pesaro; City Choir from Bitonto; Giuseppe Verdi Philharmonic Orchestra in Salerno; Chamber Orchestra of Puglia, etc. One should not forget the Choir and Symphony Orchestra of the Serbian National Broadcasting Company (RTS) and Belgrade Philharmonic Orchestra. He performed in opera houses in Dublin (Ireland), Athens and Thessaloniki (Greece), Strasbourg (France), Sofia (Bulgaria), Oslo (Norway), Vienna (Austria), Bucharest (Rumania), Burgas (Bulgaria). With the National Theatre and with companies he conducts, as well as individually, he has also performed in Israel, Holland, Switzerland, Spain, Cyprus, etc. His national and international successes have been recorded in numerous audio and video recordings. He has received numerous awards for his artistic achievements.
---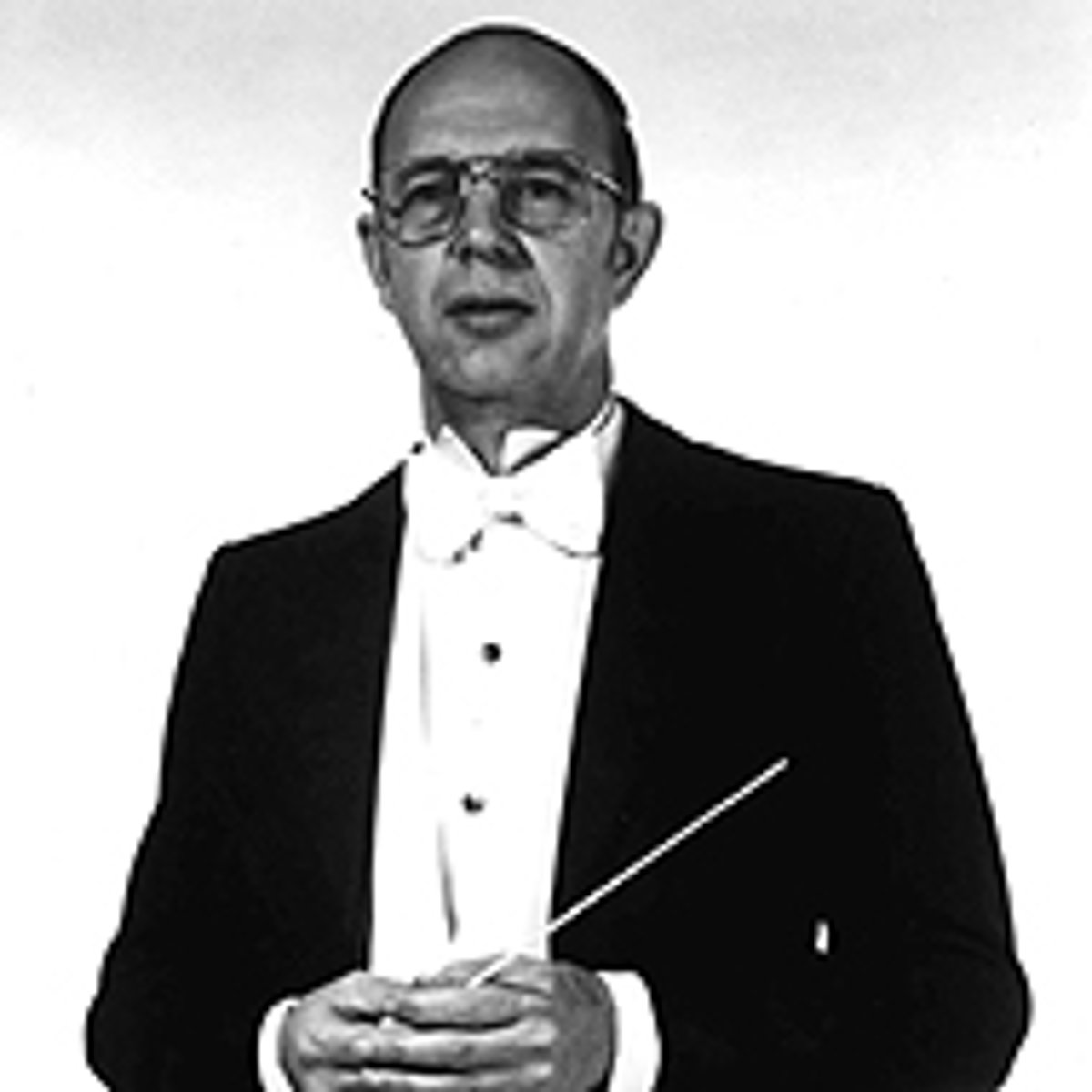 LARRY NEWLAND
He began his career with the New York Philharmonic in 1960. Invited to join the Orchestra as a violist by Leonard Bernstein, he later served as second keyboard player as well. In 1974 he conducted his first concert with the Philharmonic, later becoming Assistant Conductor of the Orchestra. During this time he worked closely with Bernstein on concerts, tours and recordings, conducting his revised version of the "Jeremiah" Symphony, transcribing his Clarinet Sonata for viola, preparing the chorus for Bernstein Mahler performances, etc. He left the Philharmonic in 1985. Maestro Newland served as Music Director of the Harrisburg (PA) Symphony from 1978-95. He has been guest conductor of many major orchestras in the U.S., Korea and Mexico. He was also guest conductor of the New York City Ballet. And he often conducted new opera productions for orchestras around the U.S. In all of his musical activities, he has been an ardent supporter of new music. From 1990 to 2000, he was orchestra and choral conductor at Adelphi University in New York, and from 1995 was Chair of the Music Department. Throughout his career he has been active as a conducting teacher, workshop faculty member and competition judge, and is keenly interested in furthering the art of conducting. He organized two national conferences for the Conductors Guild, and was later elected to serve two terms as President of the Guild. Lured by his love of opera, he moved to Kosice, Slovakia in 2000, where he was Chief Conductor of the State Theater, which work served as a spring-board for his conducting engagements, both operatic and symphonic, throughout eastern Europe, working in Poland, the Czech Republic, Rumania, and, of course, all of the major orchestras and theaters in Slovakia. He also appeared with the Slovak Philharmonic and the Philharmonic Chorus, plus soloists from the Slovak National Theater, in a major TV and film production of a new music/theater work. Newland is currently developing a multi-performance retrospective of Bernstein's serious works and music-theater pieces. He was a pupil of Pierre Monteux, Jonel Perlea and Tibor Kozma. He has won numerous awards, including the Koussevitzky Special Prize, the Bernstein Fellowship, and many governmental awards from the City of Harrisburg and the State of Pennsylvania.
---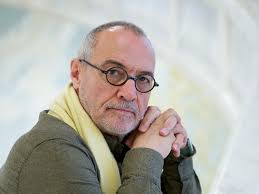 GIAN-CARLO DEL MONACO, the son of the famous tenor Mario del Monaco. He made his debut as a stage director in 1965 in Siracusa (Italy) with Samson et Dalila (starring Mario del Monaco). He started his career in Germany as assistant to Wieland Wagner, Günther Rennert and Walter Felsenstein before assuming the post of principal stage director in Ulm from 1973 to 1976 where he staged some 15 productions. He was the personal assistant of the General Manager of the Wiener Staatsoper, Rudolf Gamsjäger from 1970 to 1973. He was the General Manager of the Montepulciano Festival (Italy) in 1975, of the Staatstheater Kassel (Germany) from 1980 to 1982, of the Macerata Festival (Italy) from 1986 to 1988 and the General Manager of the Opera der Bundesstadt Bonn from 1992 to 1997 (becoming the first Italian man in its history to hold the office).From 1997 to 2001, Giancarlo del Monaco was the General Director of the Opera House of Nice (France). From 2009 to 2011, he was the artistic director of the Tenerife Opera Festival. With his great career as General director, Giancarlo del Monaco becomes one of the most important and sought after stage directors of his generation. He has staged productions among other theaters, in Barcelona, Beijing, Berlin, Bologna, Bregenzer Festspiele, Buenos Aires, Catania, Hamburg, Los Angeles, Madrid, München, Milano (La Scala), Montpellier, Napoli, the Metropolitan of New York, Festival d'Orange, Paris, Roma, Savonlinna, Stuttgart, Sydney, Tel Aviv, Venezia, Washington, Wien, Zurich, etc…and collaborated with the most important conductors and stage designers of the operatic world. Fluently speaking 5 languages, his operatic repertoire contains more than 100 Operas, staged in their original language. In 1991, he was invited to stage La Fanciulla del West at the Metropolitan Opera. This was followed by Stiffelio, Madama Butterfly, Simon Boccanegra and La Forza del destino (for which he was honored by the American Institute of Verdi Studies). All of these Met productions were filmed and internationally broadcast (three of them are available as home video and laser-disc). Giancarlo del Monaco has been the recipient of numerous honors, such as the Viotti d'Oro, the Bundesverdienskreutz 1. Klasse from the President of the Federal Republic of Germany, the Cavaliere Ufficiale della Repubblica, the Commendatore dell'Ordine al Merito della Repubblica Italiana, the Brasilian Ordem Nacional o Cruzeiro do Sul for the staging of the Brazilian work Il Guarany (1994) in Bonn with Placido Domingo (with whom he shares a 30 year mutual working relationship and friendship) as well as the recording of the work with the Bonn Opera (first in Bonn's Opera history) on SonyClassics, the title of Honorary Doctor of Cultural Arts of Palm Beach Community College, the title of Chevalier des Arts et des Lettres from the French Minister for Culture, the Premio Illica (1998) for his achievements as director, the title of Citoyen d'Honneur de la Ville de Montpellier and the Aigle de Cristal de la Ville de Nice (2001, France), the Spanish Lyric Award : "Premios Liricos Teatro Campoamor" (2008), for the production "Cavalleria Rusticana", P. Mascagni and "I Pagliacci", R. Leoncavallo, at the"Teatro Real", Madrid. He receives the title of Chevalier de la Légion d'Honneur, France, in 2015. In 2015 /2016 : productions at Leipzig, Bilbao, Lausanne, Astana, Zürich, Sydney, Melbourne, Macao…. Several television productions about Giancarlo del Monaco have been made, including a 90 minutes program on German television as well as a recent French television portrait. Many of his productions have been shown as Worldvision and Eurovision broadcasts. Giancarlo del Monaco has four daughters : Stella, Fedora, Alessandra and Laura.
Premiere performance
Premiere: June 10th 2017. / Main Stage

A tragedia lirica in two acts, four scenes
Libretto by F. Romani after a tragedy by A. Soumet
Conductors De­jan Sa­vić and Larry Newland
Stage Director and Set Designer Giancarlo Del Monaco
Set Design Realized by Mi­raš Vuk­sa­no­vić
Costume Designer Ste­lla Del Mo­na­co
Costume Design Realized by Ka­ta­ri­na Gr­čić Ni­ko­lić
Lighting Design Jakopo Pantani
Lighting realised by Miodrag Milivojević
Make-Up and Masks Marko Dukić

Premiere Cast:
Pollione, Roman Proconsul in Gaul Janko Sinadinović / Aleksandar Dojković
Oroveso, Chief of the Druids Nenad Jakovljević / Dragoljub Bajić
Norma, Oroveso's Daughter, High Priestess Sanja Kerkez/ Svitlana Dekar
Adalgisa, a Priestess Dragana del Monaco / Aleksandra Angelov
Clotilde, Norma's Friend Ljubica Vraneš / Nataša Rašić
Flavio, Pollione's Companion Marko Živković / Slobodan Živković

Druids, priestesses, companions, Gaul and Roman soldiers
Takes place in Gaul during the Roman reign.
CHOIR, ORCHESTRA AND BALLET OF THE NATIONAL THEATRE IN BELGRADE

Assistant Conductor Di­ja­na Cvet­ko­vić
Associate Stage Director Iva­na Dra­gu­ti­no­vić Ma­ri­čić
Assistant Stage Directors Alek­san­dar Ni­ko­lić and Vla­dan Đur­ko­vić
Concertmaster Edit Makedonska / Vesna Jansens
Chorus Master Đorđe Stanković
Stage Manager Ana Milićević / Branislava Pljaskić
Prompter Silvija Pec / Kristina Jocić
Music Associates: Eda Separ, Srđan Jaraković, Gleb Gorbunov
Chorus Instructor Tatjana Ščerbak Pređa
Caption Translation Maja Janušić
Producers Maša Milanović Minić and Nemanja Stanojević
Extras' Chief Zoran Trifunović
Assistant Set Designers Ja­sna Sa­ra­man­dić and Mi­li­ca Vuč­ko­vić
Assistant Costume Designer Alek­san­dra Pe­cić
Stage Crew Chief Branko Perišić, Zoran Mirić
Sound Master Tihomir Savić
DÉCOR AND COSTUMES WERE MANUFACTURED IN THE WORKSHOPS OF THE NATIONAL THEATRE IN BELGRADE