About Performance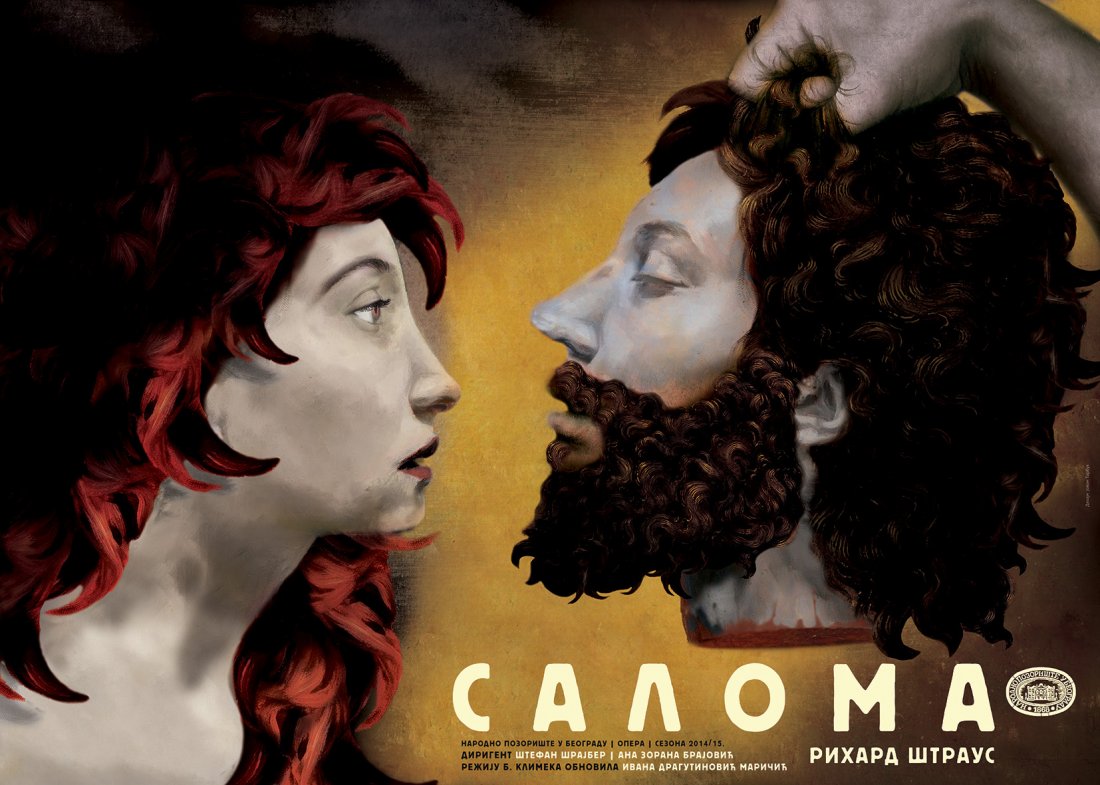 THE BIBLE ON SALOME
And King Herod heard of him (for his name was spread abroad) and he said that John the Baptist was risen from the dead, and therefore mighty works do show forth themselves in him.
Others said that it is Elias. And others said that it is a prophet, or as one of the prophets.
But when Herod heard thereof, he said, It is John, whom I beheaded: he is risen from the dead.
For Herod himself had sent forth and laid hold upon John, and bound him in prison for Herodias' sake, his brother Philip's wife: for he had married her.
For John had said unto Herod, It is not lawful for thee to have thy brother's wife.
Therefore Herodias had a quarrel against him, and would have killed him; but she could not:
For Herod feared John, knowing that he was a just man and holy, and observed him; and when he heard him, he did many things, and heard him gladly.
And when a convenient day was come, that Herod on his birthday made a supper to his lords, high captains, and chief estates of Galilee;
And when the daughter of the said Herodias came in, and danced, and pleased Herod and them that sat with him, the king said unto the damsel, Ask of me whatsoever thou wilt, and I will give it thee.
And he swore unto her, Whatsoever thou shalt ask of me, I will give it thee, unto the half of my kingdom.
And she went forth, and said unto her mother, What shall I ask? And she said, The head of John the Baptist.
And she came in straightway with haste unto the king, and asked, saying, I will that thou give me by and by in a charger the head of John the Baptist.
And the king was exceeding sorry; yet for his oath's sake, and for their sakes which sat with him, he would not reject her.
And immediately the king sent an executioner, and commanded his head to be brought: and he went and beheaded him in the prison,
And brought his head in a charger, and gave it to the damsel: and the damsel gave it to her mother.
And when his disciples heard of it, they came and took up his corpse, and laid it in a tomb.
(Gospel According to St. Mark, ch. 6. 14-29)
---
SALOME – FROM WILDE TO STRAUSS
Oscar Wilde wrote his only one act play Salome in 1891 in French, inspired by Flaubert's story Herodias (also, Massenet composed opera Herodiade based on the story) and by paintings of Gustave Moreau inspired by Salome. Their sources were the New Testament Gospels according to St. Mark (VI, 22) and St. Matthew (XIV, 6); however, the Gospels do not state Salome's name, they call her Herodiade's daughter instead. Lord Alfred Douglas, Wilde's friend, translated the play into English from manuscript. Rehearsals of Wilde's Salome started in 1892 in the Palace Theatre in London with the famous Sarah Bernhardt as Salome. However, the Lord Chamberlain's licensor… did not allow performances, because it was illegal to depict Biblical characters on the stage… Nonetheless, the Lord Chamberlain's ban did not refer to private performances. Wilde's Salome was performed "privately" five times in period between 1905 and 1931… In 1931, the ban was lifted. Wilde's Salome inspired the young British illustrator Beardsley (Aubrey Vincent Beardsley, 1872–1898) to create illustrations for English edition of Wilde's play in 1894; however, the writer was not satisfied with the illustrations and did not keep the edition at his home. Salome's first performance was in French, in Paris, 1896 (when the writer was already in jail)… directed and produced by Lugne-Poe… Max Reinhardt directed Salome in the Neues Theater in Berlin in 1905, after a less important Munich production in 1901. In Russia, Salome was performed for the first time in the Chamber Theatre in Moscow, 1917, directed by A. J. Tairov with Alisa Konen in the title role… Wilde's Salome was recorded as a silent film in 1922. The film was directed by Charles Brayant, screenplay was written by Peter M. Winters. Alla Nazimova (1879–1945), a Russian-born actress, who stayed in the USA after tours to London and New York, interpreted the title role in the film…
Wilde's play Salome had its first Belgrade performance in the National Theatre on 4th June 1909. It was translated by Haim Davičo, directed by Ljuba Stanojević, with A. Krnjić in the title role… Salome by Wilde was performed at the XI BITEF Festival in 1977, directed by Lindsay Kemp, who interpreted the main role… After translation of Salome into Serbian by Haim Davičo, from the beginning of the twentieth century, which has never been published, the translation by Radivoje Dragić was published by the French-Serbian Bookshop, owned by A. M. Popović, in Belgrade, 1932 …
***
Richard Strauss composed the opera Salome based on the play by Oscar Wilde. Hedwig Lachmann's translation of the Wilde's text into German was used for the opera libretto. The opera's premiere took place in the Dresden Opera House on 9th January 1905. Subsequently, the opera has been staged in numerous great opera houses throughout the world: Wroclaw, Köln and Berlin (1906), New York, Brussels, Paris and Vienna (1907), London (1910), Cairo (1911), Budapest (1912), Zagreb (1915), Moscow (1925), Bucharest (1926), Helsinki (1930), Belgrade (1931). The opera based on Wilde's play has been produced much more frequently than the Wilde's play itself. Stanislav Binički translated the libretto for the Belgrade premiere. Maestro Ivan Brezovšek conducted. The opera was directed by Josip Kulundžić, the title role was interpreted by Bahrija Nuri Hadžić, the set and the costumes were designed by Vladimir Žedrinski and the premiere took place on 25th November 1931… The choreographed version based on Wilde's Salome, to the music by Richard Strauss, was performed in the National Theatre in Belgrade on 25th June 1952. The choreographer and stage director of the production was Mira Sanjina (Salome), Miomir Denić designed the set and Milica Babić Jovanović designed the costumes…
Jovan Ćirilov, 1997 (From the Programme of the production by YDT)
***
The following production of Strauss' opera Salome by the Opera of the National Theatre in Belgrade premiered on 19th January 2003, in a joint production with the "Đurđevka Čakarević" Fund. The team of authors consisted mainly of guest artists – conductor Stefan Schreiber, stage director Bruno Klimek, costume designer Uta Winkelsen, together with the National Theatre's artists – maestro Dejan Savić, set designer Aleksandar Zlatović and assistant director Ivana Dragutinović. The title role was interpreted by Clarry Bartha, a soprano from Sweden, while other roles were interpreted by Hans-Dieter Bader (Herodes), Leandra Overmann (Herodias), Miodrag D. Jovanović and Goran Gligorić (Jochanaan), Radivoje Simić and Aleksandar Dojković (Narraboth), Olivera Dukić and Tamara Nikezić (Page). The five Jews were interpreted by Boris Babik, Ljubodrag Begović, Darko Đorđević, Igor Matvejev and Sveto Kastratović; the First Nazarene and the Second Nazarene were interpreted by Branislav Kosanić and Milan Prosen. The roles of the First Soldier and the Foreigner were interpreted by Goran Krneta and Aleksandar Tasić in alternation; the Second Soldier was interpreted by Aleksandar Stamatović and the role of the Slave by Stevo Jovićević. The production was performed three times during the season. In season 2005/06, the production was on the repertoire again, only this time the cast was altered and maestro Johannes Harneit conducted; and in season 2007/08, the production toured Italy and was performed in the Teatro Sociale in Rovigo and in the Teatro Alighieri in Ravenna. Besides the above mentioned cast, the roles were interpreted by Ana Rupčić and guests Maruza Ksuni and Elena Berera (Salome), guest artist Julius Best (Herodes), Jelena Vlahović and Aleksandra Angelov (Herodias), Aleksandar Stamatović (Jochanaan), Ljubomir Popović and Svetislav Stojanović (Narraboth), Željka Zdjelar, Tatjana Mitić and guest Xin Du (Page), the First Soldier was interpreted by Nebojša Babić, while the role of the Second Soldier was interpreted by Gavrilo Rabrenović and guest Philip Mayerheffer. Salome, directed by Bruno Klemek, was performed 12 times for more than 6000 viewers.
Jelica Stavanović
---
SALOME IN ICONOGRAPHY
Herod's feast (Greek, Херðдēс). Herod Antipas was a "tetrarch" (in colloquial speech "a king") of Galilee and Perea in period 4 BC – 39 AD. He divorced his wife in favour of Herodiade. John the Baptist condemned him for this incestuous and immoral marriage with a relative and Herod had him arrested and put into dungeon. When Salome (the name Salome is derived from Hebr. shalem – perfect, complete), the daughter of Herodiade, dances at the Herod's feast, he promises her any reward she may wish. At her mother's suggestion, Salome demands John the Baptist's head. On Herod's order, the executioner decapitates John and brings the head to Salome on a silver platter. Later on, John the Baptist's remains were burned by Julian the Apostate (according to an apocryphal document). There are two most frequent motifs of Herod's feast in visual art. The first one is the presentation of Salome's dance: King Herod is usually portrayed with a crown on his head, seated either next to Herodiade or with guests; Herodiade's daughter, Salome, dances; starting from the twelfth century, she has always been portrayed in acrobatic postures (standing on her hands; contorting like a snake); there are musicians as well. In the second one, Salome holds John the Baptist's head: she usually carries the platter with the head to Herodiade, however in some rare pieces, she brings the head to Herod; Herod and Herodiade sometimes cover their eyes with their hands; in French art, Herodiade sometimes thrusts a large needle or a knife through John's head.
(BF)
According to: Lexicon of the Iconography, Liturgy and Symbolism of Western Christianity and Introduction into Iconography, edited by Anđelko Badurina,
University Publishing "Liber kršćanska sadašnjost", Zagreb 1985
---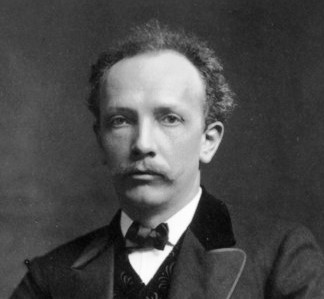 RICHARD STRAUSS (1864, Munich – 1949, Garmisch-Partenkirchen)
Richard Georg Strauss is an outstanding German Romantic composer of the late 19th and early 20th centuries. His symphonic poems of the 1890s and his operas of the following decade have remained an indispensable feature of the standard repertoire. Strauss's father, Franz, was the principal horn player of the Munich Court Orchestra and his mother came from the prominent brewing family of Pschorr. When he left school in 1882, he had already composed more than 140 works, including 59 lieder (art songs) and various chamber and orchestral works. At 1884. he become the assistant conductor at Meiningen, than conductor of the Munich Opera (1886–89), director of the Weimar Court Orchestra (1889–94), second and then chief conductor at Munich (1894–98), conductor (and later director) of the Royal Court Opera in Berlin (1898–1919), and musical codirector of the Vienna State Opera (1919–24). In Weimar in November 1889, he conducted the first performance of his symphonic poem Don Juan. The triumphant reception of this piece led to Strauss's acclamation as Wagner's heir and marked the start of his successful composing career. At Weimar, too, in 1894 he conducted the premiere of his first opera, Guntram, with his fiancée Pauline de Ahna in the leading soprano role. Her tempestuous, tactless, and outspoken personality was the reverse of her husband's aloof and detached nature, and her eccentric behaviour is the subject of countless anecdotes, most of them true. Nevertheless the marriage between them was strong and successful; they adored each other and ended their days together 55 years later. In 1904 he and Pauline, who was the foremost exponent of his songs, toured the United States, where in New York City he conducted the first performance of his Symphonia Domestica (Domestic Symphony). The following year, in Dresden, he enjoyed his first operatic success with Salome, based on Oscar Wilde's play, where he transferred his mastery of the orchestral tone-poem to an opera that is outstanding for the intensity with which it conveys Salome's naive lust for John the Baptist and the depravity of her stepfather Herod's court. Although Salome was regarded by some as blasphemous and obscene, it triumphed in all the major opera houses except Vienna, where the censor forbade Gustav Mahler to stage it. After 1908 Strauss lived in Garmisch, in Bavaria, in a villa that he built with the royalties from Salome. Strauss's collaboration with the Austrian poet and dramatist Hugo von Hofmannsthal lasted 20 years (untill Hofmannsthal died in 1929), and resultet with operas Elektra (1909), Der Rosenkavalier (1911), Ariadne auf Naxos (1912; Ariadne on Naxos), Die Frau ohne Schatten (1919; The Woman Without a Shadow), and Die ägyptische Helena (1928; The Egyptian Helen). Strauss's political naïveté tainted his reputation when the National Socialists came to power in Germany in 1933. Thus from 1933 to 1935 he served as president of Germany's Reichsmusikkammer (Chamber of State Music), which was the state music bureau. But he had collaborated with the Jewish dramatist Stefan Zweig on a comic opera, Die schweigsame Frau (1935; The Silent Woman), which was banned after four performances. The fact that his son's wife was Jewish was also held against him, so he spent part of World War II in Vienna, and in 1945 he went to Switzerland. Allied denazification tribunals eventually cleared his name, and he returned to Garmisch in 1949, where he died three months after his 85th birthday celebrations (September 8, 1949, Garmisch-Partenkirchen). As a young composer, Strauss came under the influence of Wagner, Hector Berlioz, and Liszt just when his technique and imagination were sharpened to make the most of their impact. From the tone poem Aus Italien (1886) onward, his style became recognizable as the big, bravura, flexible, post-Romantic panoply that dominated audiences in the late 19th and early 20th centuries. But, having achieved fame as an avant-garde composer, Strauss after Der Rosenkavalier became a conservative whose musical evolution was pursued in isolation, unaffected by the advances and experiments going on around him. In later years Strauss's style became more classical in the Mozartean sense. Indeed, the opera Capriccio (1940–41) and other late works may be said to have achieved a perfect fusion of the late German Romantic and the Neoclassical manner. Other operas: Feuersnot (1900–01; Fire-Famine), Intermezzo (1918–23), Arabella (1929–32), Daphne (1936–37)… he also wrote tone and symphonic poems, symphonies, concerts for solo instruments with orchestra, ballet music, chamber-music, 200 songs…
According to: Michael Kennedy
www.britannica.com
---
Every day, a Salome demands the head of a John. Every day, in favor of the moment of sensual pleasure, a Herodes decides about somebody's destiny. Every day, people are blind for miracles, deaf for God's word of wisdom, insensitive to somebody else's pain and misfortune. Every day, temptations can be found everywhere for everybody. John is uncompromising, short-tempered, high-principled, God-loving and he loathes immorality. Salome is young, capricious, unhappy and hungry for love. Herodias is exactly what a mother or a woman should never be like. Herodes is insane and apparently powerful in his own powerlessness. Evil and the original sin keep recurring. Jesus is sacrificed again. It is up to us to decide whether we will grasp the message and see the miracle, or we will remain shrouded in one of Salome's veils.
Ivana Dragutinović Maričić, Opera Stage Director
---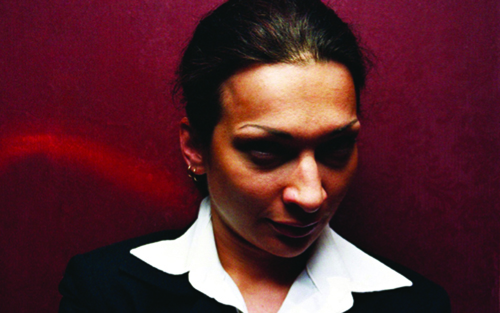 ANA ZORANA BRAJOVIĆ
Ana Zorana Brajović was born in Belgrade in 1975. She graduated at the Piano Department at The Faculty Music Arts in Belgrade, in the class of Professor Mirjana Šuica Babić. Later on, she obtained her Master's Degree in conducting in the class of Professor Jovan Šajnović. She won the October Prize for her accomplishments in music in 1995, as the youngest candidate. Ana Zorana won the first prize for performance and co-repetition in "Boris Hristov" Competition in Sofia in 2000. She received Fulbright scholarship for 2003/04 and studied at the Peabody Conservatory, Baltimore, USA, in the class of Professor Gustav Meier. As of 1st October 1994, she worked as an assistant conductor, and as of 2000/01, she became permanently engaged as a conductor in the Opera and Ballet companies in the National Theatre in Belgrade. As the youngest conductor in the Opera Company, she conducted Mozart's Magic Flute in 1995. In 2006, Ana Zorana conducted at the world premiere of opera Violet Fire by Jon Gibson, an opera on Nikola Tesla. In period between 2007 and 2012, she conducted in the regular repertoire in the National Theatre; amongst other accomplishments, she revived operas The Barber of Seville (2010) and The Masked Ball (2011). With performance of Rossini's The Barber of Seville, she celebrated 20 years of her artistic work on 24th November 1994. She started her career in 1991 as a pianist, by performing in numerous concerts in Serbia and abroad. In 1995, she held a Promenade Concert at Zaduzbina Ilije M. Kolarca accompanied by the Symphony Orchestra of the Serbian Broadcasting Corporation, when she performed both as a pianist and as a conductor. Since then, she has performed frequently with this orchestra and in 2003, with the Orchestra and the Choir of the Serbian Broadcasting Corporation, she recorded a CD – De¬us Ab¬scon¬di¬tus, suite by Aleksandar Kostić. She participated at the concert "Millennium Stage" in Kennedy Center in Washington, DC. In cooperation with musicians of the Metropolitan, she participated in the Brooklyn Music Festival in New York in 2006. She performed in opera houses in Baltimore and Washington, DC. In cooperation with the Philharmonic Orchestra of Sarajevo, she conducted Giselle in the National Theatre in Sarajevo, in 2011.
---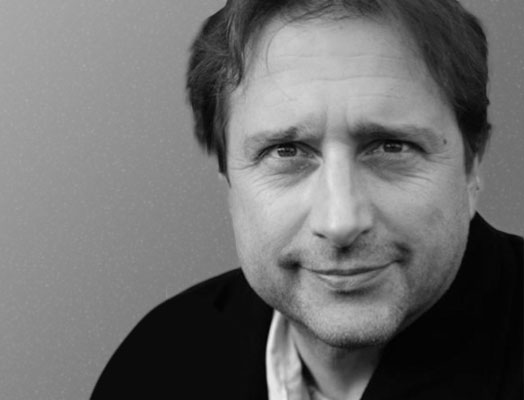 BRUNO KLIMEK
Bruno Klimek was born in Stuttgart in 1958. Starting from 1976, he worked in theatre as a technician, lighting technician, stage manager, assistant director, but in 1982, he has started working as a stage director. Since then, Klimek has been engaged in Nürnberg, Krefeld and Mannheim; in addition, he has worked as a guest stage director in theatres in Köln, Düsseldorf, Darmstadt, Munich, Hamburg and Berlin. He has staged over fifty drama and opera productions. In the period 1996-2000, he was a Manager of the National Theatre in Mannheim, and since 2000 he has been working as a freelance artist. Besides stage directing, Klimek is engaged in painting and writing. Selection of his works: Kroetz Neither Fish nor Meat, Kipphardt Brother Eichmann, Weiss Marat/Sade, Bernhard Eve of Retirement and Destination, Shakespeare Richard II, Chekhov The Three Sisters, Uncle Vanya and The Cherry Orchard, Molière Tartuffe Büchner Woyzeck, Schiller The Maid of Orleans, Shostakovich Lady Macbeth of the Mtsensk District (with Clarry Bartha, Nürnberg), Kurt Weill The Street Scene (in the Aachen Opera House)…
---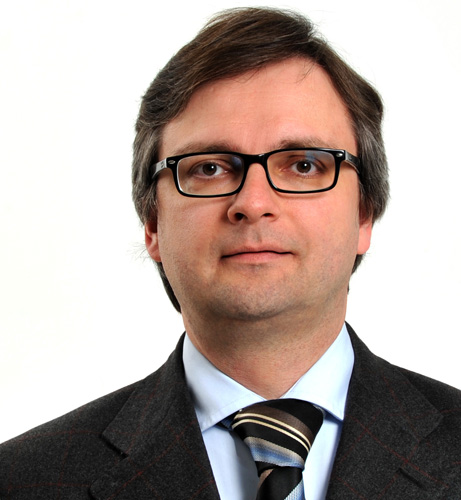 STEFAN SCHREIBER
Schreiber is pianist and conductor, born in Duisburg, currently living in Stuttgart. Head of Music at Hannover State Opera 2001-06 and Stuttgart State Opera 2006-12, teaches at the University of Music Stuttgart, specialized in the performance of contemporary music, has recently worked with composers such as Hans Joachim Hespos, Chaya Czernowin, Hans Thomalla and Helmut Lachenmann, as a performance artist has worked with the stage directors Anna Viebrock, Christoph Marthaler, Thomas Bischoff and Peter Konwitschny. Recent performances:
Helmut Lachenmann / Michaël Borremans – GOT LOST / Eating the Beard (first scenic performance of GOT LOST by Helmut Lachenmann, Württembergischer Kunstverein february 2011)
Ming Tsao, Die Geisterinsel (first performance of the chamber opera by Ming Tsao as "zeitoper X" at the Staatsoper Stuttgart, may 2011)
Die Menschliche Stimme/La Voix Humaine with music by Fredrik Zeller (one of the last productions by the dramatic mezzosoprano Leandra Overmann with Calixto Bieito at Staatsoper Stuttgart, july 2011)
Jennifer Walshe, Tactics/Die Taktik (first performance of the multimedia opera by Jennifer Walshe at Junge Oper Stuttgart, june 2012)
OFF CAGE – for dismantled instruments (performance on One9 by John Cage at the University of Toronto on occasion of the composer's 100th birthday)
Child of Tree (an audio-video performance on Variations III by John Cage at the Staatstheater Stuttgart / NORD, december 2012)
Morton Feldman, Neither at Konzerttheater Bern, Switzerland, april 2013
New productions in 2014:
Doppelgänger. Musiktheater by David Marton (1st performance on January 11 at the Staatstheater Stuttgart, Kammertheater)
stop listening start screaming eine überwachungsoper by Jorge Sánchez-Chiong (1st performance on June 21 at the Junge Oper Stuttgart, Kammertheater)
New CD released in 2014:
Ming Tsao, Die Geisterinsel - Kairos music production
---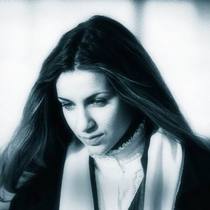 IVANA DRAGUTINOVIĆ MARIČIĆ
Ivana graduated from the Piano Department at the High School of Music, and from the Mathematical Grammar School. She got her university degree from the Department of Opera Stage Directing at BK Academy, in the class of Professor Mladen Sabljić and Professor Gordan Dragović. Since 1998, she has been working as an assistant director in the National Theatre and the Chamber Opera Madlenianum, and since December 2003, she has been engaged as a stage director in the Opera House of the National Theatre. Ivana directed the following operas: The Troubadour by G Verdi, Suor Angelica by G. Puccini, The Wife Hassan-Aga by R. Kambasković performed on the National Theatre's Main Stage; The Marriage of Figaro – Variation by W. A. Mozart and The Secret Marriage by Domenico Cimarosa (directed in cooperation with Radoslav Zlatan Dorić) performed on the Raša Plaović Stage. She has directed the play One Century of the Politika staged for 100 years' anniversary of the newspaper agency Politika in 2004. She has also revived the original direction by Mladen Sabljic of Don Carlos by G. Verdi and adapted Salome by R. Strauss (originally directed by Bruno Klimek, Germany); with this play, the Opera Ensemble of the National Theatre had successful tours in Italian towns of Ravenna and Rovigo. In 2009, together with colleagues from the National Theatre, she toured Portugal with Mozart's Don Giovanni, specially prepared and directed for the Silves Summer Festival. The following season, she revived Borislav Popović's stage directing of The Barber of Seville by Rossini. As a director and assistant director in the National Theatre's Opera, she cooperated with many local and international artists on the following operas: Witches of Salem, Attila, Madame Butterfly, Cinderella, Hansel and Gretel, Magic Flute, Werther, Elixir of Love, The Bat, Pagliacci, Cavalleria rusticana, Gianni Schicchi, Violet Fire, Carmen, Italian Girl in Algiers, Nabucco, La Boheme, Rigoletto, Tosca, Aida and many others; and in the Madlenianum Opera: The Rape of Lucretia, Die Kluge, Two Widows, Cosi fan tutte. Ivana is a member of artistic management of the National Theatre's "Borislav Popović" Opera Studio and she works as a professor of Opera Studies at the Academy of Fine Arts in Belgrade. Ivana is a member of MENSA, and in March 2011, she became a mother to a girl, who completes her both as a woman and as an artist.
Premiere performance
Premiere revival on 27th December 2014 / Main Stage

Conductor Stefan Schreiber / Ana Zorana Brajović
Stage directing by Bruno Klimek revived and adapted by Ivana Dragutinović Maričić
Set Designer Aleksandar Zlatović
Costume design by Uta Winkelsen revived and adapted by Katarina Grčić Nikolić
Saloma's dance coreography by Paša Musić
Premiere Cast:
Herodes Darko Đorđević
Herodias Aleksandra Angelov / Nataša Jović Trivić / Jelena Vlahović
Salome Ana Rupčić
Jochanaan Miodrag D. Jovanović / Aleksandar Stamatović
Narraboth Aleksandar Dojković / Nenad Čiča
Page Tatjana Mitić / Ljubica Vraneš / Tamara Nikezić
Jew 1 Boris Babik / Marko Živković
Jew 2 Ivan Debeljak / Igor Vujašković
Jew 3 Marko Živković / Ivan Debeljak
Jew 4 Igor Matvejev / Slobodan Živković*
Jew 5 Sveto Kastratović / Predrag Gligorić / Mihailo Šljivić
Nazarene 1 Pavle Žarkov / Gavrilo Rabrenović
Nazarene 2 Milan Prosen / Marko Živković / Radojko Rumenić
Soldier 1 Mihailo Šljivić / Sveto Kastratović
Soldier 2 Gavrilo Rabrenović
Foreigner Aleksandar Paunović
Extras: Dragoljub Denić, Akesandar Vukić, Milan Šavija

ORCHESTRA OF THE NATIONAL THEATRE IN BELGRADE
* Assistant Conductor Stefan Zekić
Concertmasters Edit Makedonska / Vesna Jansens
Music Associates: Srđan Jaraković, Marko Bogdanović, Gleb Gorbunov
Producers Maša Milanović Minić and Snježana Vujasinović Đorđević
Prompter Silvija Pec / Kristina Jocić, volunteer
Stage Manager Ana Milićević / Brankica Pljaskić
Make-Up Dragoljub Jeremić
Lighting Operator Miodrag Milivojević
Set Crew Chief Master Zoran Mirić
Sound Operator Tihomir Savić
SET AND COSTUMES WERE MADE IN THE NATIONAL THEATRE'S WORKSHOPS
Premiere, January 19, 2003 / Main Stage
Based on Oscar Wilde's play, libretto by the composer
Conductor Stefan Shraiber, as a quest
Director Bruno Klimek, as a quest
Set designer Aleksandar Zlatovic
Costume designer Uta Vinkelsen, as a guest

Premiere cast:
Herod Hans-Diter Bader, as a guest
Herodias Leandra Overman, as a guest / Jelena Vlahović
Salome Kleri Barta, as a guest / Ana Rupčić
John Goran Gligorić / Miodrag D. Jovanović
Narobot Radivoje Simić / Aleksandar Dojković
Page Olivera Dukić / Tamara Nikezić
Jew I Boris Babik / Darko Đorđević
Jew II Ljubodrag Begović
Jew III Darko Đorđević
Jew IV Igor Matvejev
Jew V Sveto Kastratović
Nazarene I Branislav Kosanić
Nazarene II Milan Prosen
Soldier I Goran Krneta / Aleksandar Tasić
Soldier II Branislav Kosanić / Aleksandar Stamatović
Stranger Aleksandar Tasić / Aleksandar Stamatović
Slave Stevo Jovićević

Assistant Director Ivana Dragutinović
Assistant Director and Language Instructor Sandra Milankov
Assistant Scenographer Tijana Bjelajac
Assistant Costume Designer Saša Kukić
Stage Manager's Branislava Pljaskić Ristić, Dejan Filipović
Accompanist Srđan Jaraković, Aleksandar Brujić
Promter Silvija Pec
Organizers Snježana Vujasinović, Maša Milanović Minić