A SUSPICIOUS PERSON
comedy by Branislav Nušić
About Performance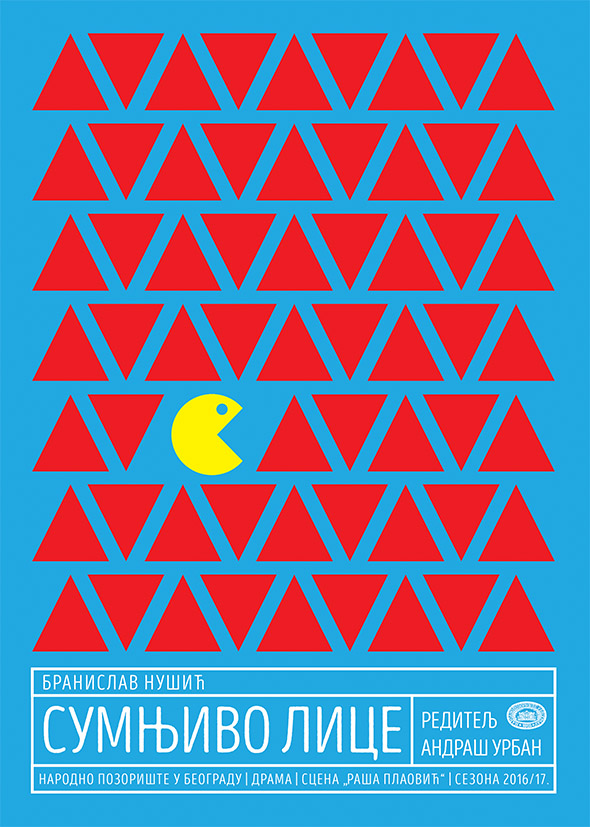 DRAMATURGICAL NOTE
Josip Đorđević (1861-1892) from the village of Trbušnica was a real person of whom Nušić wrote, under the name of Josif of Trbušnica, and realistically portrayed him in his play A Suspicious Person. Josip had been in a conflict with his village captain, the one in Lazarevac and with the district captain of Kolubarski District. In the book by professor Miomir Ž. Plećević, Historical Overview of Surroundings of Trbušnica and the Origin of the Trbušnica Population, we find out that "The District Captain sent policemen to capture and bring him in, but he managed to escape. After this event, Josip rarely slept in his house, but nonetheless he did not take to the forest. According to well-known Ljubivoje- Ljuba Kandić, a huntsman from Trbušnica and a descendant of Dimitrijević line, Josip found refuge in a cabin on his estate in Rakovac or in a quarry in the field next to the sacred oak tree near the estate. Ljuba used to meet and talk with him often, whenever he came to hunt in the forest of Rakovac early in the morning. When the situation settled and changed a little, and since he never committed any wrongdoing or crime, Josip returned home. However, he paid dearly for his gullibility and cooperation with the rebels. The rebels, Đurica Dražetić and Vladislav Jovićević, killed him. Svetolik P. Ranković, a teacher and a writer from the village of Garaš, wrote about Đurica and called him the Emperor of the Mountain in the eponymous novel… Josip was buried in Lipar. A small marble headstone with an inscription was placed on his grave. The headstone was removed in 1945."
---

ANDRAŠ URBAN
Andraš Urban was born in Senta in 1970. As a seventeen year old, he establishes an independent theatre and literary workshop as an author, director and actor. Later on, he establishes a theatre troupe 'Aiowa' (aiowa maffia), which treats the theatre as a specific and yet all-art-included ideological action. He starts studying directing at the Academy of Arts in Novi Sad, under mentoring of Professor Vlatko Gilić, where he studies film and stage directing; he directs plays in the National Theatre in Subotica. At the beginning of 1990's he leaves the university, stops directing in theatre and then lives in seclusion for years. Urban graduates in stage directing in 2000, mentored by Professor Boro Drašković, and again intensively works in theatre. With support of MASZK from Szeged and his own ensemble (The Andraš Urban's Ensemble) he produces independent theatre performances. Since 2006, he has been a Manager of Hungarian Theatre 'Dezso Kosztolany' in Subotica. He is a founder of an International Theatre Festival 'Desire Central Station'. He directed plays in Subotica, Niš, Novi Sad, Belgrade, Szeged, Bitola, Ljubljana, Berlin, Cluj, Varna, Maribor, Rijeka. He has directed about 40 productions. He sees the theatre as an enlightened space for, sometimes, provocative action, where one thinks, speaks and organises a specific vision of creative reality. A production is, in his opinion, a communication and the other reality, which exists in its own right, but is created and presented in relation to a performer, presented reality and a viewer. His stage directing is implemented through interactive communication with an actor. Andraš Urban won the Jaszai Mari Award (the most prestigious award in theatre art in Hungary), Joakim Vujić Award, Pro Urbe of the City of Subotica, Pro Urbe of the City of Senta, Award for Parallel Art (Mediawave). His stage directing and productions won awards at the Festival of Professional Theatres of Vojvodina, Sterija Festival, Infant, Joakimfest, Fortress Fest, Teatarfest, Festival of Alternative Theatres of the Republic of Hungary, Festival of Hungarian Theatres, Bitef, Mess, MOT, the Days of Satire – Zagreb.
---
We could say that there was a final and most desperate battle between two eras during 1870s and 1880s, a battle between an era at its end and the other at its beginning. The battle took place in all spheres and on all fronts, including politics, literature and everyday life. It was a time of conflict, tension, turmoil and all other things that characterize such an epoch in the development of a nation and of a society. The past was on the defensive; without any concern, a new way of life, new kind of people, new opinions and new directions have been aggressive and victorious and quite temperamental in their effort; thus, in the period of a whole decade, the temperature of our public life has not been normal, quite often it has been up to forty-one degree, sometimes even higher. Politics, especially, was characteristic for its epidemic nature, it was such an epidemic that infected the whole nation, therefore it is no wonder that politics often trespassed into the sphere of literature or, vice versa, the writers trespassed into the sphere of politics. Even a most gentle lyrical poet of the time, who wrote only about sighing and "her eyes", never missed an opportunity to write a politically engaged poem or, at least, an epigram. Therefore, how could a comedy playwright, who wants to write a chronicle about his time, avoid joining the general trend? Furthermore, how could the author of A Suspicious Person, who writes under direct influence of Gogol, avoid ridiculing the bureaucracy of the time? (…)
If, however, this comedy contains allusions which are not outdated; or words that could be said even today; or if there are events that we could see today as well – it is only a proof that bureaucracy of humankind, of all nations and all races, possesses elements that are general and everlasting, which will provide material for future comedy playwrights, just as I found the material in the past.
(…)
Taken from Nušić's Preface to A Suspicious Person
---
A SUSPICIOUS PERSON BY NUŠIĆ ON THE NATIONAL THEATRE'S STAGE
After more than 35 years since it was written, Nušić's "Gogoliade in two acts", A Suspicious Person, finally had its premiere on the National Theatre's stage, on 29th May 1923. Nušić himself wittily explained such a long waiting period between the play's writing and staging to the audience (later on the lecture has been published as a Preface to the play); namely all theatre managers, Nušić included, were afraid of censorship. The production was directed by Pera Dobrinović, who also interpreted the role of Jerotije Pantić, while the other roles were interpreted by leading actors of the time – Persa Pavlović as Anđa, Ljubinka Bobić as Marica, Čiča Ilija Stanojenović as Žika, Nikola Gošić as Vića, etc. Announcement of the premiere in the press stated, "A humorous piece, abundant in lively characters and abundant in Gogolian comical situations as well, will certainly be enormously successful", which was the case of every premiere of Nušić's play in Belgrade at the time. In line with the generally accepted opinion the contemporary critics at the time had about Nušić as a writer, they emphasized the writer's "natural and unsurpassed gift for comedy", his "prolific comical innovation", while they criticized the lack of "deeper psychological motivations," on this occasion as well. The play was assessed as an unpretentious, light, entertaining comedy that strives to laughter for laughter's sake. However, there was an opinion that the play "from literary point of view is adequate, even exhilarating", firstly due to lively portrayed typical characters, but also for "directness and freshness of young Nušić's talent". It was even noted that A Suspicious Person contains traces of comedy of character, that it represents a mild and "non-malicious satire on political and social circumstances of thirty-five years ago" and that the play "due to its lively fantasy, is socially engaged; thus, with its truthful portrayal of characters, it serves as an interesting record of our collective history of thirty or so years ago". Perhaps this emphasis on time distance is most interesting – the critics from 1920s found the play to be "similar to a walk through history" and that it portrays the circumstances, events and characters that belong to the past. Because, Nušić has "vividly revealed serving to selfish interest under a mask of state affairs" and produced a play which is "a true likeness, or shall we say, a part of our fathers' lives who went as far as folly whenever a word 'dynasty' was pronounced." This, of course, is no longer the case…
When staging of the play is concerned, opinions were (as usual) diverse – some claimed that the stage directing managed to "revive a historical milieu and vividly reveal the personalities", they appreciated the realistic setting of a district captain's apartment, "paltry offices at the border" and masks that were "masterpiece" and skilfully staged scene with notaries and assistants. The others, however, found that the staging did not use everything that should have been used in the play. Some critic thought that both the stage directing and acting were "superb", while the others thought that the play "was not adequate when both stage directing and acting are concerned". Again, some critic said that the roles were not cast as they should have been, while the others claimed that "the evening belonged to our artists, who have all contributed to quality of the performance. It was the night of triumph." Nonetheless, all critics declared that the performance caused "a roar of laughter" and that it was quite appreciated by audience, thus predicting that it would remain on the repertory for a long time. The following staging, directed by Jovan Gec, who interpreted the role of Jerotije Pantić, premiered on 14th March 1938, and remained on the repertory until the occupation. Before the end of XX century, A Suspicious Person had two more premieres: on 7th October 1960, directed by Braslav Borozan, and on 20th April 1985, directed by Gradimir Mirković.
Jelica Stevanović
Premiere performance
Premiere 21st June 2017 / "Raša Plaović" Stage

Adaptation and Stage Directing by Andraš Urban
Dramaturge and Associate Stage Director Kata Đarmati
Dramaturge Molina Udovički Fotez
Set Designer Andraš Urban
Set Design Realized by Miraš Vuksanović
Costume Designer Marina Sremac
Composer Irena Popović Dragović
Speech Ljiljana Mrkić Popović
Executive Producer Milorad Jovanović
Organizer Nemanja Konstantinović

Premiere Cast:
Jerotije Pantić Slobodan Beštić
Anđa Nela Mihailović
Marica Suzana Lukić
Vića Pavle Jerinić
Žika Nikola Vujović
Milislav Hadži Nenad Maričić
Tasa Nebojša Kundačina
Aleksa Žunjić Miloš Đorđević
Spasa, Miladin Anastasia Mandić
Đoka Bojan Krivokapić
Josa Dragan Nikolić

Stage Manager Sandra Žugić Rokvić
Prompter Danica Stevanović
Organizer in training Martina Vranjić (student of the AA)
Assistant Set Designer Jasna Saramandić
Lighting Master Srđan Mićević
Make-Up Marko Dukić
Stage Master Dejan Radenković
Sound Master Nebojša Kostić
DÉCOR AND COSTUMES WERE MANUFACTURED IN THE NATIONAL THEATRE'S WORKSHOPS