COPPELIA
ballet by Léo Delibes
About Performance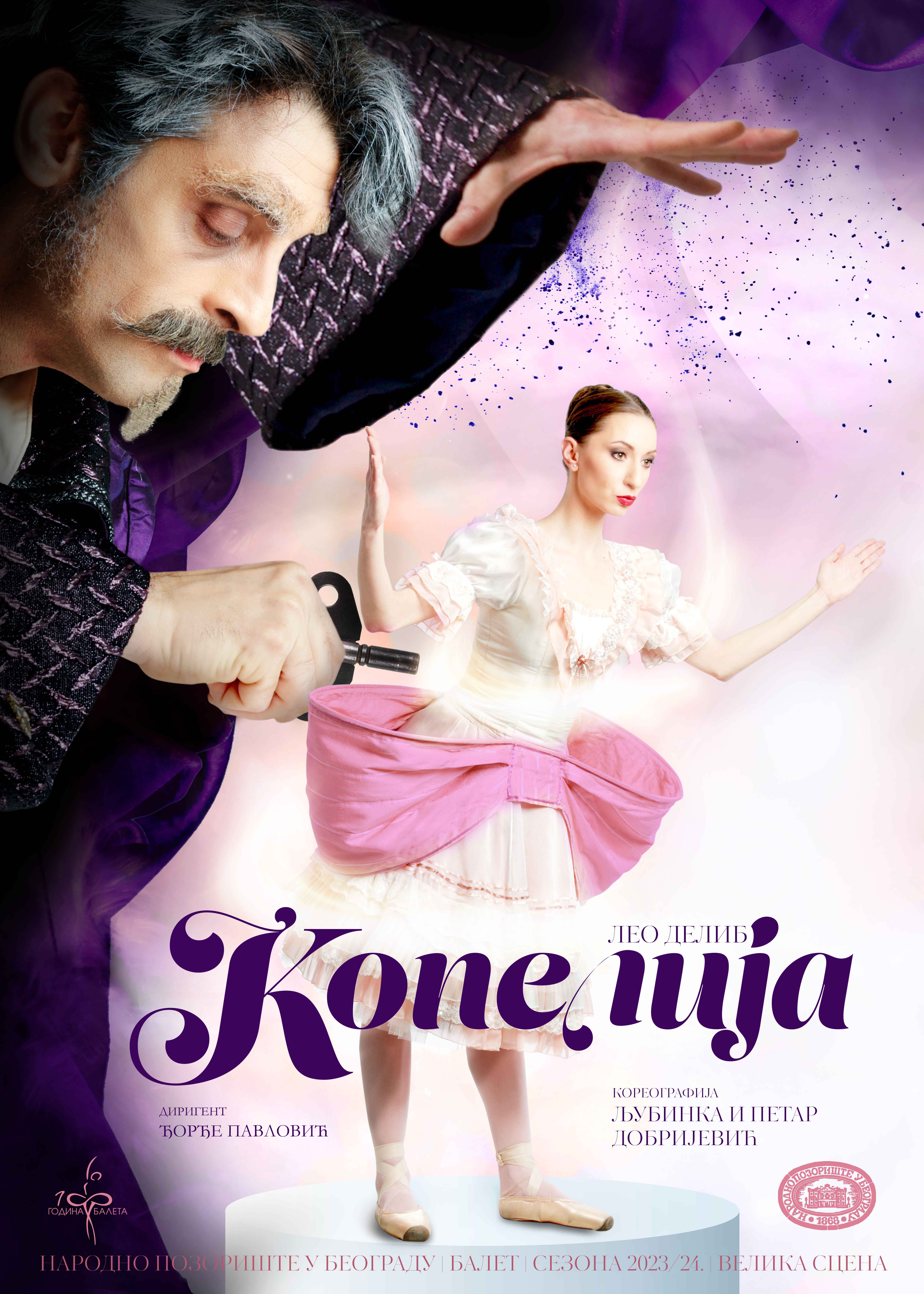 A NOTE BY THE AUTHORS
There is no limit between the reality of a dream and the truth!!! To the wonderful music by Leo Delibes, with certain adaptations to the libretto by Charles Nuitter, we made the Coppelia ballet, convinced that this is one of the most beautiful pieces, perfect in its essence. The strange Doctor Coppelius's dream to make his creation, a doll, alive, surpasses the story and becomes a universal theme about someone different from us. Swanhilda, with her pretence to be Coppelia, confuses the good Doctor, she makes him happy; his dream is shattered when he finds out that Coppelia is still only a doll. He remains alone and desperate with his creation – a broken doll. However, Coppelius, a creator, an artist, a maker, forgives the transgression of the young people and joins the villagers, who have shunned him until then, and takes part in merriment and celebration of life and youth. We adapted Nuitter's ending because we believe that differences do exist and that there are ways to overcome them. It is possible to make dreams come true if people are ready for it. Our Coppelius is also a Don Quixote in a way, he is a dreamer, an idealist, or a ballet master who gives his creation what he can give, the Soul of Dance.
Ljubinka and Petar Dobrijević
---
INTERVIEW WITH THE CHOREOGRAPHER
Coppelia for Both Young and Grown-Up Children
Your voyage through the world of dance has lasted for more than six decades. We believe that there have been numerous dilemmas and problems during your creative voyage. How did you deal with them?
I think that the essentially important fact is that I have never had a dilemma if I had chosen the only option that would belong exclusively to me and my aspirations. Constant working and learning in the process are a good way to overcome any problem one may encounter, which I have always done, and I still do today. Having a talent for a specific profession or a commitment in life is very important, but not sufficient. Hard work is of extraordinary and probably of crucial importance, as well as a wish to achieve perfection.
Your private and professional life has been permanently connected with Petar Dobrijević, whom I mention with admiration. He was a superb artist, dancer, choreographer and a pedagogue. He was also your partner both in life and on stage and he left a strong impression in the world of ballet art. Were you guided only by love in your artistic voyage?
It is very difficult to explain what our life was like in just a few sentences. It was, actually, a joint voyage through the ballet history of the twentieth century by cooperating with best choreographers and best pedagogues. Our common guiding star was the thirst for knowledge that we could pass on others. One should really write a book about that. Pera was a genuine erudite. He approached our profession in this way. His theory was that past is not of importance; the present and future are. This was our policy in both personal and professional life. Simply, we were happy. Our primary goal was to overcome issues with constructive work. In cases when this was not possible, we went to other places where we could reach our goals. Our place was always in a ballet hall. We have always lived as one with dancers. Any other professional position, or even a post of an artistic director, could never substitute this feeling of pleasure. Nothing could stop us in our quest of reaching this feeling. We moved at least twenty times. And to your question if love was the only thing that guided us on our joint voyage, my answer is: Of course, having a true love is the best thing in life, everything else comes naturally with it. Petar and I were partners in every way. Now, when he is not around any more, I will remain on the same path we followed together.
One of the goals on your joint path was the Coppelia ballet. It is a professional challenge, loaded with emotion.
The production means a lot to me, because it was meant to be staged in order to celebrate my jubilees, 60 years of my artistic career and 80 years of age. However, the time to celebrate the jubilees has passed, but I am still here and I am happy because I know that realisation is near. I believe that every person somehow finalises his or hers life-path circle, thus I have returned to the place where I set off into the world 62 years ago. Besides the happiness I feel, there is also some sadness, because my life partner and my partner in art, with whom I staged this ballet together, is not among us any more. And yet, I am sure that he is around and that he is happy because young dancers contribute to the character of Coppelius which he masterly interpreted. Interpretations of the four main characters represent a challenge even for experienced principal dancers, as well as for young soloists and ensemble members. I have to admit that the young dancers have inspired me, because working with gifted artists is a challenge for every choreographer. I hope we will succeed in creating a beautiful and fine ballet. The idea was not only to send an important message, but also to create the ballet, so the audience can enjoy both in nice music and in happenings on the stage. The ballet has been staged for all the children, young ones and adult ones, because we all remain children deep inside. The biggest award to us artists is happy audience, who leave the theatre pleased and joyful because they have experienced something beautiful and positive. Young students from the "Lujo Davičo" Ballet School also take part in the performance; it is the school which showed me the way I should follow.
This is not your first staging of the Coppelia ballet.
Petar and I have staged this ballet for the first time in Saarbrücken, in one of the biggest theatres in Germany. Later on, we performed the first and the third act, in the form of divertissimo, in performances of the Ballet Academy we led in Zurich in Switzerland. The previous staging should have been performed in Kiev, but unfortunately, because of the war, it did not happen. Cooperation with the National Theatre's Ballet has lasted for many years, so we decided to present Coppelia in Belgrade. This production will help the ensemble and soloists to improve their interpretation potentials. The production is very challenging and they will have a very difficult task in front of them. Nonetheless, they have my full confidence. I will use this opportunity to thank all the artists and associates who take part in this artistic project.
When I watched you in the ballet hall, I had the impression that you are never tired. What is the source of your vitality and your endless energy?
It is difficult to answer this question. Everybody possesses a certain legacy derived from their original environment. Positive energy, will to achieve a goal and unselfish striving to share achievements with others who need it, may be precisely where the capability to communicate with dancers come from. Finally, I am at the right place when I am in a ballet hall, it makes me happy.
Brankica Knežević
---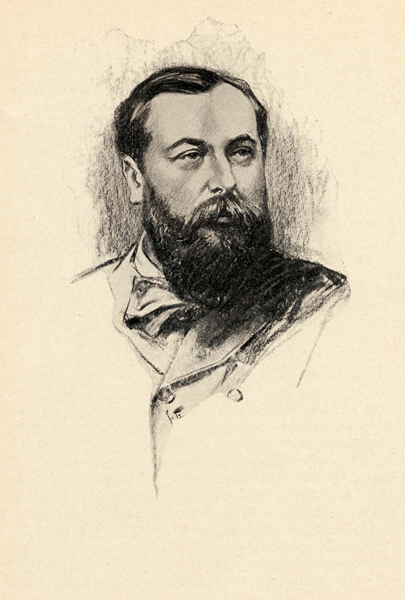 LEO DELIBES (1836-1891)
At the age of 33, Delibes was commissioned by the Paris Opera to write two grand ballets, Coppelia and Sylvia. Coppelia is based on Hoffmann's story, the same one Offenbach brilliantly used earlier for his opera The Hoffmann's Tales. Coppelia became very popular with young and adult audiences soon after its premiere in 1870. Leo Delibes is a French composer of the Romantic era, a dominating genre in music of the 19th century. He was appreciated as a creator of numerous ballets and operas. His most notable works, performed in modern times as well, are ballets Coppelia (1870), Sylvia (1876) and operas Le roi l'a dit (1873) and Lakmé (1883). By following the Romantic era tradition, he searched for inspiration in national dances and music, especially Eastern European ones. He was among the first composers to introduce elements of national folklore into the music of classical ballet, thus opening the door to later great pieces like Swan Lake and Raymonda. Mazurka and czardas become central dances in mass scenes in his ballet, which stays as a model of a true ballet construction. Delibes was a ballet composer with a special gift for dance illustrations, action and creation of certain atmosphere that inspires movement in his music and he managed to do what impressionists did in painting, to emphasise colours. Thus, he created the first symphony ballet that encompasses melodies of national dance and specific musical expression for main characters and especially spectacular musical effects that attract attention. Music of this ballet unifies two great historical periods, French Romantic Movement and Russian Neoclassical Style; it is often called the last ballet of the Romantic Movement. In The National Theatre in Belgrade this popular ballet was staged in 1924 by A. Fortunatno. Later it was staget in 1948 by D. Parlić, in 1963. by V. Kostić and in 1980 again by D. Parlić.
---
LJUBINKA DOBRIJEVIĆ
Ljubinka Dobrijević is a ballet pedagogue, ballet master and choreographer. She graduated from the "Lujo Davičo" Ballet School in Belgrade. After graduating, she was engaged by the Croatian National Theatre in Za­greb, where she interpreted a series of roles in choreographies by Margarita Froman, Dimitrije Parlić, Pia and Pino Mlakar, Octavio Chintolesi and others. With her husband, Petar Dobrijević, she went to Paris, where they started significant international careers. She got an engagement by the Theatre D'Art du Ballet, first as a soloist and then as a first ballerina, where she interpreted roles in ballets by Fokine, Myasine, Janine Charrat and at the same time she worked with famous ballet pedagogues Victor Gzovski, Olga Preobrazhenskaya, Lubov Egorova and others. A new chapter in her career started when she met Maurice Bejart in Paris, as well as with the establishing of his famous company the XX Century Ballet in Brussels. The cooperation lasted for sixteen years and Ljubinka Dobrijević danced in all the significant roles in ballets by this ingenious choreographer, The Rite of Spring, The Ninth Symphony, Queen Mab, Actus Tragicus, The Firebird, Nijinsky, as well as the famous Bolero in which she danced with forty male dancers. She worked on Bejart's ballets with well-known ballet stars, such as Maya Plisetskaya, Natalia Makarova, Carla Fracci and others. After her dancing career, she started her teaching career as an assistant professor at the school of Teatro alla Scala in Milan, where she trained numerous dancers who have become significant ballet artists. Some of them are Alessandra Ferri, prima ballerina assoluta, Paola Cantalupo, prima ballerina in the Monte Carlo Ballet, Davide Bombana, choreographer, and many others. For Teatro Communale in Florence, she staged Les Sylphides by Mikhail Fokine, she choreographed Incontro con la Danza and The Classical Symphony by Prokofiev. For the festi­val Maggio Musicale Fiorentina, she created the choreography for the ballet Actus Terzo, which had 150 performances in Italy, in the Rome Opera House, Teatro Regio in Torino, as well as in other European countries. Upon her return to Brussels, as an assistant and co-director in the Maurice Bejart's XX Century Ballet she staged The Second Brandenburg Concert. With Petar Dobrijević, as an ambassador of Bejart's choreographic opus, she staged Four Last Songs by Richard Strauss in the Paris Opera and, later on, in Budapest, Antwerp and Madrid. Important part of her career is the cooperation with Natalia Makarova. They worked together in numerous projects, out of which we can select the preparation for the season in the Juris Theatre on Broadway, work on realisation of the La bayadere ballet in Rio de Janeiro, as well as the work on the new staging of La Bayadere, choreographed by Makarova, in the Kiev National Opera House in 2013. Besides her pedagogic work, she staged ballet Paquita in the Ballet Academy, as well as Switch on Bach in the National Theatre in Munich. In the Rome Opera House, she staged the third act of La bayadere in 2012. Together with Petar Dobrijević, she worked as a co-director of the Ballet Theatre in Saarbrücken, where they choreographed numerous ballets, Francesca da Rimini by Tchaikovsky, Scythian Suite by Prokofiev, Transfigured Night by Schoenberg, Six Preludes by Rachmaninov, Coppelia by Delibes, Games by Debussy, etc. For the renowned Ballet de Monte Carlo she prepared Giselle, Swan Lake, Sylphides and many other ballets. At the same time, together with Petar Dobrijević, she staged Six Preludes and Illuminated Night in Budapest. The Dobrijevićs realized a considerable project in Switzerland where they started the first Ballet Academy in this country. In the course of seven years, owing to the programme and the work of this couple, over fifty ballet artists were trained in this Academy. As a Ballet Director in Teatro alla Scala in Milan, she staged Paquita together with her husband. They also staged Paquita and Francesca da Rimini in the National Theatre in Belgrade in 2006. In the same theatre, as a tribute to her husband, Ljubinka Dobrijević staged the Duo ballet to the music by Schoenberg in 2010.


PETAR DOBRIJEVIĆ
Choreographer, pedagogue, ballet master. Upon graduating from classical grammar school in Zagreb, Petar Dobrijević studied Law and Academy of Theatre as a member of the film studio "Jadran Film". When that studio ceased to exist, he went on with his studies of Law, but became a member of "Lado", folk dances ensemble. Very soon he realized that art dance was his true calling, so he, by happy coincidence, but primarily because he was very talented, became a member of the ballet of the HNK in Zagreb, where he met his life companion, young ballerina, Ljubinka Dokić. At the invitation of the distinguished ballet artists Ana Roje and Oskar Harmoš he went to Split as a guest, where he danced successfully the role of Romeo in the ballet Romeo and Juliet. After working for two seasons in Zagreb the Dobrijevićs, wishing to perfect themselves, decide to try their lack in Paris. Petar starts his long professional career in the companies of Janine Charrat, Ludmila Charina, "Les etoiles de Paris", "Theatre D'Art du Ballet". He works with Milorad Mišković, international ballet star, who, as Mr. Dobrijević use to say himself, taught him a lot. One of the greatest choreographers of the second half of the 20th century, Maurice Bejart, after seeing Mr. Dobrijević as one of the leading dancers in The Rite of Spring by Stravinsky, offers him engagement in his соmраnу. Mr. Dobrijević accepts under one condition: he wants his wife, Ljubinka Dobrijević, to be engaged as well. She satisfied Bejart's strict criteria and the next sixteen years she stays, together with Petar in Bejart's соmраnу as a distinguished dancer, soloist, assistant and pedagogue. The two of them were co-founders of Bejart's соmраnу "Ballet of the 20th century" in Brussels. Petar Dobrijević successfully staged Bejart's ballets in Paris Opera, Ballet of the Opera in Budapest, Bolshoi Theatre in Moscow, in Milan's Scala, the National ballet of Canada, Ballet of the National Theatre in Belgrade (Bolero, 1977). At the same time Mr. Dobrijević worked as a pedagogue in the above mentioned ensembles, as well as in New York, Sao Paolo, Rio de Janeiro, Berlin, Oslo and other ballet centres in the world. His work as repetiteur with Rudolf Nurejev on his role in The Rite of Spring should be pointed out. Later he became the director of the ballet ensemble in La Scala in Milan, then in Teatro Comunale in Florence. After three years, at the invitation of Bejart he returned to work, together with his wife, as an assistant and art co-director of the соmраnу "Ballet of the 20th century". As a respected ballet master he became first a member and then the President of the Јurу at the well-known European competition for young dancers "Prix de Lausanne". After that he was engaged by the State Opera in Munich, and then in Saarbrucken. They renewed traditional ballet repertoire and staged the following ballets: Francesca da Rimini by Tchaikovsky, Scythian Suite by Prokofiev (the first choreographic realisation in the world), Six Preludes by Rachmaninov, and Coppelia by Delibes. After four years Mr. Dobrijević left for Monte Carlo where he worked as a pedagogue and a ballet master, and later as free lancers they both toured in Budapest, Rome and Paris. As hard working followers of Terpsichore they founded their first professional Ballet Academy in Zurich, and by applying such a programme of ballet education – from thorough music education, classical ballet to jazz – they managed to educate over fifty young ballerinas and dancers. Petar Dobrijević returns to Milan's Scala in 1996 where he is in charge of the seminar for ballet masters and pedagogues. He continues his work as a choreographer, ballet master and pedagogue at the Teatro Municipal in Rio de Janeiro. In the National Theatre in Belgrade, with his wife, he staged classical ballet Paquita by Minkus and Francesca da Rimini by Tchaikovsky in 2006.
(translated by Jesenka Selimović)
Premiere performance
Premiere, 15th December 2015 / Main Stage
Ballet in two acts
Libretto Charles Nuitter, based on a story The Sandman by E. T. Hoffmann
Choreography by Ljubinka and Petar Dobrijević
Costumes designed by Katarina Grčić Nikolić
Sets designed by Miraš Vuksanović
Conductor Đorđe Pavlović
Premiere Cast:
Swanhilda Ana Pavlović
Franz Jovan Veselinović
Coppelius Dejan Kolarov
I Act
Priest Božin Pavlovski
Doll – Coppelia Mina Radaković
Swanhilda's girlfriends Dušanka Đorđević, Milja Đurić, Brankica Mandić, Jovanka Zarić, Ada Raspor, Tatjana Tatić, Sanja Ninković, Margarita Čeromuhina, Dejana Zlatanovski, Stephanie Lee Goldhahn, Martin Grainger, Danil Kolmin, Sebastian Held, Miloš Marijan, Nikola Bjanko, Bernardo Badano
Variation I Dušanka Đorđević, Brankica Mandić, Ada Raspor
Variation II Martin Grainger, Sebastian Held, Danil Kolmin
Adagio Milja Đurić, Jovanka Zarić, Tatjana Tatić, Nikola Bjanko, Bernardo Badano, Miloš Marijan
Mazurka / Czardas Nada Stamatović, Olja Đukić, Ivana Savić Jaćić, Smiljana Stokić, Tijana Šebez, Mina Radoja, Čedomir Radonjić, Branko Sarić, Miloš Kecman, Max Robertson, Željko Grozdanović, Dušan Milosavljević
II Act
I Scene
Dolls Drina Pešić, Igor Karakaš, Jurij Gregulj, Mihajlo Stefanović, Vladimir Panajotović, Miloš Živanović
Swanhilda's girlfriends Dušanka Đorđević, Milja Đurić, Brankica Mandić, Jovanka Zarić, Ada Raspor, Tatjana Tatić

II Scene
The Clock Dance Dušanka Đorđević, Milja Đurić, Brankica Mandić, Jovanka Zarić, Ada Raspor, Tatjana Tatić, Martin Grainger, Danil Kolmin, Sebastian Held, Nikola Bjanko, Bernardo Badano, Miloš Živanović
Prayer Sanja Ninković, Margarita Čeromuhina, Dejana Zlatanovski, Stefani Li Goldhan, Martin Grainger, Sebastian Held, Nikola Bjanko, Danil Kolmin
Dance with Coppelius Nada Stamatović, Olja Đukić, Ivana Savić Jaćić, Smiljana Stokić, Tijana Šebez, Mina Radoja, Čedomir Radonjić, Branko Sarić, Miloš Kecman, Max Robertson, Željko Grozdanović, Dušan Milosavljević
Children Students of the "Lujo Davičo" Ballet School
Orchestra of the National Theatre
Acting Director of the Ballet Company Konstantin Kostjukov
Assistant Director of the Ballet Company Miloš Dujaković
Organizers Brankica Knežević, Gojko Davidović
Assistant Choreographers Duška Dragičević, Wilhelm Wunder
Ballet Rehearsal Associates baleta Marija Vještica, Paša Musić, Svetozar Adamović
Concertmaster Vesna Jansens
Assistant Set Designer Jasna Saramandić
Costume Art Ružica Ristić
Lighting Master Srđan Mićević
Make-Up Dragoljub Jeremić
Stage Master Zoran Mirić
Sound Master Tihomir Savić
Stage Managers Brankica Pljaskić, Ana Milićević