About Performance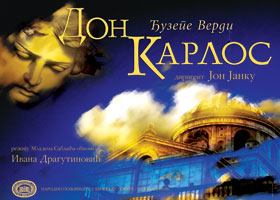 AUTHENTIC EVENTS FROM SPANISH HISTORY
1527 (21 May), Philip II was born
1545 (8 July), Don Carlos was born, he was a son of Philip II and seventeen-year old Maria of Portugal, Maria died on 12 July
1556, Emperor Charles V abdicated. The title of the Emperor and Germany were passed to his brother Ferdinand I. Spanish crown was passed to Charles's son, Philip II, including the possessions in Netherlands, Italy and America.
1566 (1 December), Duke of Alba was placed at the head of army sent to fight against revolt in Netherlands
1568 (18 January), Don Carlos is imprisoned
1568 (5 June), Count Egmont and Count Horn, leaders of Dutch nobility, were assassinated
1568 (24 July), Don Carlos died
1568 (3 October), Queen Elisabeth dies after childbirth
1572, Dutch uprising against Spain
1581, Provinces in Netherlands declare their independence
1598 (13 September), Philip II died
Even though some historians portrayed infant Don Carlos as a not too intelligent and handicapped young man who should not be given any important state assignment, it seems that Carlos was a sensitive young man who, in the dark kingdom of his father, could never feel well. In the night between 18th and 19th January 1568, in the Royal Court in Madrid, the king, with his sword drawn, followed by the group of nobles and a dozen guards entered the prince's room and imprisoned him. The young price asked, 'What is happening? Will Your Highness kill me?' and the king said, 'Remain calm, this is for your good'. Carlos tried to throw himself out of the window, but he was averted. His letters and documents were confiscated and he was taken to prison. King Philip tried to justify this incident in letters to other rulers and the Pope, but he revealed no information about treason, emphasizing that the young man is challenged with faults that completely prevent his eligibility to be the heir to the throne. It remains unclear if the unfortunate Infant died in prison of natural causes or if his death was yet another crime of king's followers. Carlos had physical deformities (he was hunchback and one leg was shorter than the other), but these were not the primary reasons for his elimination.
Konstantin Vinaver
Premiere performance
Revival, Season 2005/2006 / Main Stage
Opera in four acts (seven scenes)
Libretto by Joseph Mery and Camille du Locle based on Schiller's play
Stage directing by Mladen Sabljić revived by Ivana Dragutinović
Set Designer Vladimir Marenić
Assistant Set Designer Aleksandar Zlatović
Costume Designer Ljiljana Dragović
Choreographer Vladimir Logunov
Conductor Jon Janku
Assistant Conductor Đorđe Pavlović
Premiere Cast (first name on the list):
Philip II, the King of Spain Ivan Tomašev / Živan Saramandić / Mika Jovanović
Elisabeth, Philip's wife Jasmina Trumbetaš Petrović / Ana Rupčić
Don Carlos Dušan Plazinić / Janko Sinadinović
Princess Eboli Dragana del Monaco
Rodrigo, Marquis of Posa Oliver Njego / Miodrag D. Jovanović
The Grand Inquisitor Živan Saramandić / Ivan Tomašev / Branislav Jatić
A Monk Dragoljub Bajić
Tebaldo, a page Dragana Tomić / Ivanka Raković
A Voice from Heaven Snežana Savičić
Count of Lerma Darko Đorđević
Royal Herald Darko Đorđević
Countess of Aremberg, a lady of the court Suzana Todorović
Others: Flemish envoys and envoys from other Spanish provinces, ladies and gentlemen of the Spanish Court, pages and monks, inquisitors, guards, soldiers, the people.
It takes place in Spain around 1560
Orchestra, Choir and Ballet Company of the National Theatre take part in the performance
Concertmaster Edit Makedonska
Chorus Master Đorđe Pavlović
Choir Master Đorđe Stanković
Rehearsals Associates Ivana Jovanović, Nevena Živković, Tatjana Ščerbak
Assistant Stage Directors and Stage Managers Mirjana Goločevac, Dejan Filipović
Prompter Silvija Pec
Organizer Maša Milanović
Caption translation Kosta Carina
Lighting Master Srđan Mićević
Make-Up Dragoljub Jeremić
Stage Master Dimitrije Radinović
Sound Master Tihomir Savić
Sets and costumes were made in the National Theatre's workshops.