About Performance

ROSSINI'S IL BARBIERE DI SIVIGLIA
The rumour has it that young Rossini wrote to distinguished Paisiello, whose opera under the same name was performed thirty years before, asking him for permission to use the Beaumarchais's comedy in order to write an opera. Regardless if this is true, the twenty-four year old composer modestly addressed his predecessor in the embellished foreword of his libretto… Paisiello, of course, did not come to Rome for the opening night in order not to give way to the opinion that he pays tribute to his rival's music. Instead, the cunning old man incessantly supported and spurred his followers by creating an atmosphere of war, not only among the composers but also among libretto writers and impresarios. The fact is that actions of all these influential men of theatre led to hiring a group of men to boo the opera… The composer made his first oversight at the premiere when he allowed Manuel Garcia, the tenor, to persuade him to change the serenade under Rosina's window with a Spanish song. The Spanish song turned out to be a disaster (the guitar was not tuned, then the spring broke, so the audience waited… and, at the end, did not even like the song – note by the editor). On 20th February 1816, the group paid to boo the opera came to the premiere determined to sink the piece. As a result, they turned the premiere into an utter disaster… Nonetheless, Rossini presented the text of an everlasting and excellent comedy of The Barber of Seville with a remarkable musical dimension.
Nedeljko Grba, Biseri operske riznice, Madlenianum, Belgrade, 2006.

Rossini interprets certain models of Mozart's The Marriage of Figaro in the new social circumstances at the moment when the bourgeoisie replaces the old world of aristocracy by renouncing some ethic conventions of the eighteenth century opera, inspired by easy, vivid, joyous and satiric comedy by Beaumarchais. Thus, the characters from Beaumarchais's comedy get a new rhythm and realistic psychology and become a mirror to everyday life. Rossini creates a suitable artistic expression for each character by using not only inventive melodies, but also vivid and fruitful rhythms. Rhythmic basis is remarkably important in Rossini's vocal components. It creates an impression of movability and continuity that drives the plot on without burdening it with excessive decorativeness. In The Barber of Seville, Rossini is universal in his originality. There are vivid and true dramatic expressions in solos and ensembles (especially in the first act's finale); recitative is forceful; orchestra has a very important role, it is often equal to singers, which creates an indivisible unity – these are all distinguishing marks that represent a basis for remarkable force of artistic impression of this master piece.
From the Programme, 1961.
---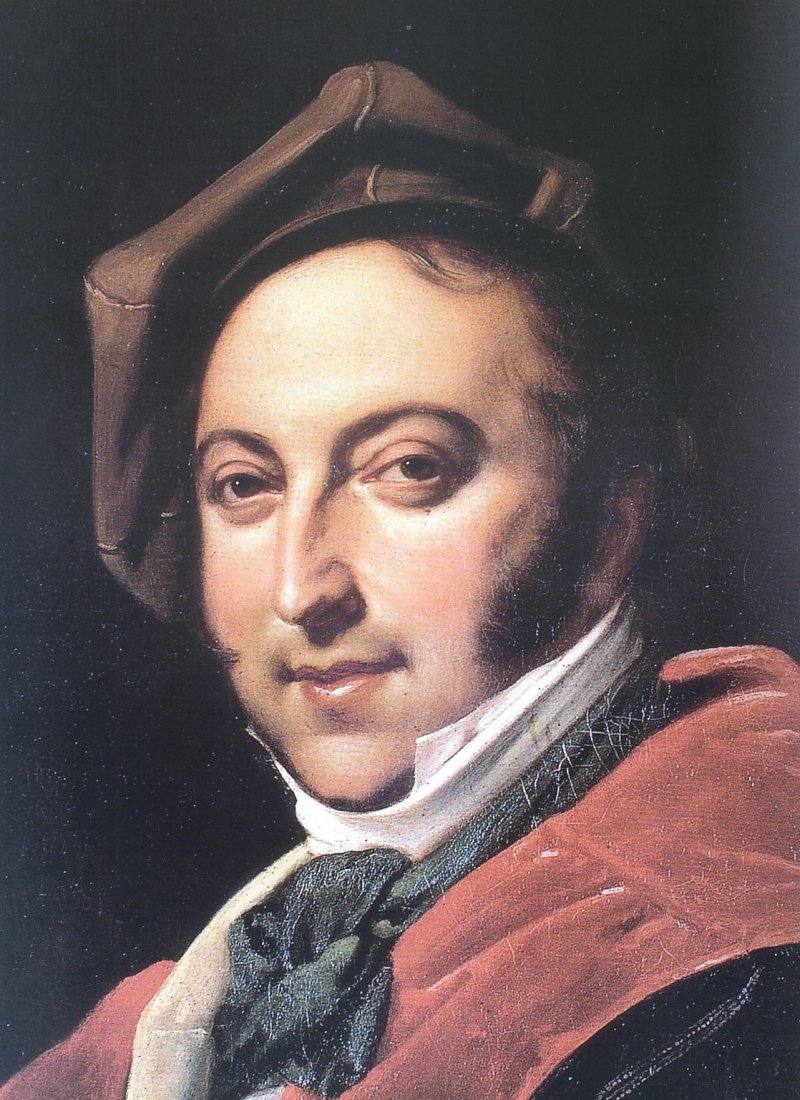 GIOACCHINO ROSSINI
Gioacchino Rossini was born in Pesaro on Feb. 29, 1792, into a musical family: his father was a trumpeter and horn player; his mother became a successful operatic singer. By the time he was in his early teens, he was an accomplished accompanist, sometimes played horn with his father in the orchestra at the opera, and had begun writing music. During Rossini's formal musical training at the Liceo Comunale in Bologna (1807-1810) he composed prolifically. His first opera was Demetrio e Polibio (1809), but his first work to be put on the stage was the comic opera La cambiale di matrimonio, composed in 1810 and performed successfully at the Teatro di S. Moise, in Venice that year. Success came quickly to the young composer. He wrote rapidly and fluently, in a style pleasing to singers and audiences alike. In 1815 the San Carlo and Del Fondo theaters in Naples engaged him as musical director, and his duties included writing a new opera every year for each theater. Rossini was in Naples until 1822; during this period he also composed works for such cities as Rome, Milan, Venice, and Lisbon. Almaviva, ossia l'inutile precauzione, based on Pierre Caron de Beaumarchais's Le Barbier de Séville, was poorly received on the occasion of its first performance in Rome in 1816, but soon (renamed Il barbiere di Siviglia) it enjoyed incredible success in Italy and all over the world, becoming one of the most widely sung works in the entire history of opera. The year 1822 was a critical one for Rossini in many ways. He went to Vienna for performances of several of his operas in German, married the famous singer Isabella Colbran, who had performed with great success in many of his operas, and worked with even greater care than usual on the new opera, Semiramide, for Venice. The poor reception of this work persuaded him that Italian audiences were no longer the proper ones for what he wanted to compose, and he resolved to write no more operas for performance in his native country. Later in the year he traveled - by way of Paris - to England, where he was royally received and realized a good profit from various performances of his works. He also sang some of his own vocal compositions. In 1824 Rossini accepted an engagement as musical director of the Théâtre Italien in Paris. He remained in Paris until 1836, when he returned to Bologna, where he served as honorary director of the Liceo Comunale. Political disturbances forced a move to Florence in 1847, the year after his marriage to his second wife, Olimpia Alessandrina Pélissier. In 1855 he returned to Paris, remaining there until his death on Nov. 13, 1868. The most curious aspect of Rossini's later years is that he wrote no operas after 1829. He retained a lively interest in the musical scene, composed occasional cantatas, religious works, and several hundred small "album" pieces for piano, voice and piano, and various instruments, but he never again attempted a work for the stage. Rossini's 38 operas (La pietra del paragone, Tancredi, Elisabetta, regina d'Inghilterra, La Cenerentola, Le Comte Ory and others), run the gamut from brief one-act comic works to the monumental and historic five-act Guillaume Tell. His works show remarkable craftsmanship, and in their brilliant integration of solo, ensemble, and orchestral writing and their sharp character delineation they are the most important link in the Italian operatic tradition between the late Italian works of Wolfgang Amadeus Mozart and the first works of Giuseppe Verdi. And Rossini's Guillaume Tell altered the entire course of French opera.
---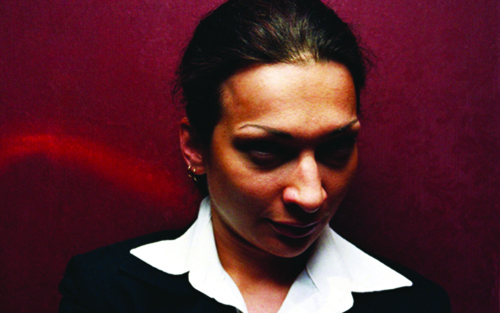 ANA ZORANA BRAJOVIĆ
She graduated at the Piano Department at The Faculty Music Arts in Belgrade, in the class of Professor Mirjana Šuica Babić. Later on, she obtained her MA in conducting in the class of Professor Jovan Šajnović. As of 1st October 1994, she works as an assistant conductor in the Opera of the National Theatre in Belgrade and at the time, she was the youngest conductor in this institution. In 1995, she holds a Promenade Concert at Zaduzbina Ilije M. Kolarca as a pianist and a conductor accompanied by Symphony Orchestra of RTS. Since then she regularly performs with the Orchestra. The same year, at the concert "Operatic Scenes" with Opera Studio of the National Theatre, she successfully conducts Mozart's Magic Flute for the first time. She continues to conduct this piece in the following seasons of 1996-97, and she also conducts Donizetti's Anne Boleyn. In 1995, she was awarded with October Prize for her accomplishments in music. Ana Zorana finishes post-graduate studies in 1999 and on her final exam she conducts Verdi's Traviata in the National Theatre. In "Boris Hristov" Competition in Sofia in 2000, she excels in category of pianists and co-repetition. She receives Fulbright scholarship for 2003-04 and studies at the Peabody Conservatory of the Johns Hopkins University, Baltimore, USA, in the class of Professor Gustav Meier. She participates at the concert "Millennium Stage" in Kennedy Center in Washington, DC – Evening Events, within the program of Fulbright Foundation and the Ministry of Foreign Affairs of the USA (2004). On 9th July 2006, Ana Zorana Brajović conducts the world premiere of opera on Nikola Tesla Violet Fire by Jon Gibson in the National Theatre and subsequently conducts it at the Brooklyn Music Festival (BMF) in New York. The New York Times' review states the following: "The energetic young Serbian conductor Ana Zorana Brajovic and a dozen accomplished local freelance musicians made the most of Mr. Gibson's simple, colorful melodies, with playing that was unfailingly secure and attractive."
---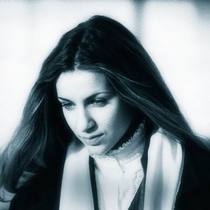 IVANA DRAGUTINOVIĆ MARIČIĆ
Ivana graduated from secondary music school, Piano Department, and mathematical gymnasium. She got her university degree at BK Academy in the group of Professor Mladen Sabljić and Professor Gordan Dragović. Since 1998, she has been working as an assistant director in the National Theatre and Chamber Opera Madlenianum, and since December 2003, she has been engaged as a director in the Opera House of the National Theatre. Ivana directed the following operas: The Troubadour by G. Verdi and Hassan-Aga's Wife by R. Kambasković, performed on the master scene of the National Theatre, The Marriage of Figaro – Variation by W. A. Mozart and The Secret Marriage by Domenico Cimarosa (directed in cooperation with Radoslav Zlatan Doric) performed on the Raša Plaović scene. She has directed the play One Century of Politika staged for 100 years' anniversary of newspaper agency Politika in 2004 and restored the original direction by Mladen Sabljic of Don Carlos by G. Verdi. She adapted Salome by R. Strauss (originally directed by Bruno Klimek, Germany); with this play, the Opera Ensemble of the National Theatre made successful guest performances in Italian towns of Ravenna and Rovigo. In 2009, she was involved in Don Giovanni, specially prepared and directed for Portugese Silves Summer Festival. She cooperated with many local and international artists, both as a director and assistant director on the following operas: Witches of Salem, Attila, Madame Butterfly, Cinderella, Hansel and Gretel, Magic Flute, Verter, Elixir of Love, The Bat, Pagliacci, Cavalleria rusticana, Gianni Schicchi, Violet Fire, Carmen, Italian Girl in Algiers, Nabucco, La Boheme, Rigoletto, Tosca, Aida and many others; and in Madlenianum Opera: The Rape of Lucretia, Die Kluge, Two Widows, Cosi fan tutte. As of January 2009, she has been working as a Professor of Opera Studies in the Fine Arts Academy in Belgrade.
---
Interview with Borislav Popović
HALF A CENTURY OF LEARNING HOW TO PLAY
Performance of Verdi's La Traviata at the main stage of the National Theatre on 18th April 2007 marked the fiftieth anniversary of artistic engagement of director Borislav Popović (1937 – 2009). He was completely devoted to opera in his career and he produced seventy operas; some of them were the most famous ones, namely: La Traviata, Il Trovatore, Othello, Power of Destiny (G. Verdi); The Magic Flute, The Marriage of Figaro (W. A. Mozart); La Boheme, Tosca (G. Puccini); The Barber of Seville, The Italian Girl in Algiers (G. Rossini); Carmen (G. Bizet)… Borislav Popović was a frequent guest in opera houses in Novi Sad, Ljubljana, Sarajevo, Skopje. In 1987 and 1988, he was engaged as an artistic director in Opera House in Rijeka. He was an artistic director in Opera of the National Theatre in Belgrade in period 1980-1983. On occasion of his jubilee in April 2007, Borislav Popović gave an interview to Pozorišne novine (theatre magazine) and we are taking the opportunity to convey a part of the interview.

In the course of your career, you had the opportunity to work with many significant artists. Who made an impression on you?
I worked as a stage manager for four years and during that time I was in charge of all opera and ballet productions and, it goes without saying, I knew them well both stage and music wise. At the time, we had many guest performances of internationally renowned artists in our theatre. My job was to get them acquainted with our productions, because they did not want to perform without rehearsal. Therefore, I was in charge of these rehearsals. Di Stefano impressed me the most. He was very relaxed, easy going, in a good mood and he quickly accepted our Slavic affection. At the time, he had concerts with Maria Callas, because they both rarely sang in opera productions. Del Monaco was inquisitive, almost as if he had been at the beginning of career, and simply – kind. Corelli seemed tired, slightly peevish, as if he had been fed up with everything. Bruna Baglioni, Martina Arroyo, Grace Bumbry, Jelena Obrazcova, Vishnevskaya were all exquisite artists without complex, superior performers with unprecedented expression.
Opera directorship has gained a lot of creative freedom. Do you find any "challenges" in such freedom?
Opera directorship today makes a double mistake with this vast creative freedom. The first mistake is that, as a rule, this freedom leads to complete separation of what we hear and what we see. Namely, all the notes that are written have to be played and sung. This is a dramaturgy of music. There are music's sentences that convey a very specific and distinguishing quality of characters, their relationships, etc. If we impose a different dramaturgy, relationships and situation – it inevitably leads to separation. The second mistake is more of a moral nature. This is being done because it is fashionable, there is a need to stoop and address the commonness and down-to-earth life we live, and less because there is a need to express genuine creativity and artistic impulse. This type of creativity is easily achieved in clothing fashion, because it can support body language. I heard a maxim recently, it says that beauty in fashion gets ugly with time, while ugly in art gets beautiful in time. This was said for painting, but it is applicable to every kind of slavery to fashion. In fact, our time lacks its own creativity, so it uses creativity from past to express itself.
Vanja Kosanić (taken from: Pozorišne novine, april 2007.



Premiere performance
Premiere renewal, April 17, 2010 / Main stage

Conductor Ana Zorana Brajović
Direction by Borislav Popović has been renewed by Ivana Dragutinović Maričić
Set Design by Miomir Denić has been renewed by Miraš Vuksanović
Costume Design by Božana Jovanović has been renewed by Olga Mrđenović
Make-up Designer Dragoljub Jeremić
Lighting Designer Miodrag Milivojević

Premiere cast:
Count Almaviva Ljubomir Popović / Darko Đorđević
Doctor Bartolo Mika Jovanović / Nebojša Babić
Rosina, Doctor Bartolo's ward Snežana Savičić Sekulić
Figaro, the Barber Predrag Milanović / Vladimir Andrić
Don Basilio, a music teacher Živan Saramandić / Goran Krneta / Ivan Tomašev
Berta, a servant to Dr. Bartolo Željka Zdjelar / Svetlana Nestorov
Fiorello, a servant to the Count Branislav Kosanić / Pavle Žarkov*
Officer Miodrag Matić
Ambrogio Božidar Katić
Guitar Player Slobodan Japundžić / Kosta Marušić
Lantern Attendant Zoran Trifunović
Innkeeper Srđan Dojković
Notary Dejan Mraković
Musicians, soldiers

Choir and orchestra of the opera house of the National Theatre in Belgrade
Head of the Choir Đorđe Stanković
Concertmaster Vesna Janssens
Music Assistants Srđan Jaraković, Nevena Živković, Tatjana Ščerbak Pređa
Recitatives played by Srđan Jaraković / Nevena Živković
Stage Manager Branislava Pljaskić Ristić / Ana Milićević
Prompter Silvija Pec / Biljana Manojlović
Producers of production Maša Milanović Minić, Snježana Vujasinović
Assistant Directors Aleksandar Nikolić**, Stevan Marković**
House Carpenter Zoran Mirić
Sound Operator Tihomir Savić
Costumes and decor have been manufactured in workshops of the National Theatre in Belgrade
*Member of Opera Studio "Borislav Popović"
** Students

Premiere, June 1, 1978 / Main stage

Comic opera in two acts
Libretto By Cesare Sterbini, based on Beaumarchais' comedy, translated by V.Živojinović
Premiere (under the title Almaviva or The Useless Precaution) took place at the Teatro Argentina, Rome, 20th February 1816
Conductor Ana Simić
Director Borislav Popović
Set Designer Miomir Denić
Costume Designer Božana Jovanović

Premiere cast:
Count Almaviva Dejan Maksimović
Don Bartolo Mika Jovanović
Rosina Sanja Kerkez
Figaro Oliver Njego
Don Basilio Ivan Tomašev