About Performance

ABOUT PUCCINI AND HIS TRIPTYCH
... Puccini is the greatest opera master, second only to Verdi. In his operas, he gives a new direction and new contents to Verismo style. Although brutal verism of a bloody knife, gallows and army gunfire (Tosca, The Girl of the West) set the character of some of his pieces, his other pieces (The Cloak, Sister Angelica and Gianni Schicchi) organised in one act, resemble the concentrated dramatics of first Italian Verists; nonetheless, Puccini in his other works (La boheme, Manon Lescaut) resembles French operatic lyric, or he follows his own exotic road (Madama Butterfly, Turandot)… Puccini was adamant that The Triptych is a unity that should not be divided into parts; he saw it as a single performance that had to be performed in full at all times. Nonetheless, Luigi Ricci quoted Puccini after a performance in Florence in 1920, when Puccini realised that The Triptych was too long and tiring, the performance and breaks took almost four hours, "I am tired as well, and I am the author", and since then Puccini allowed the individual performance of the three operas. After that, Schicchi was performed on its own, sometimes together with Cavalleria or Pagliacci. Or with Salome in London! Later on, The Cloak gained on popularity with its ambience of the Seine and its exceptional dramatics. Sister Angelica remained a festival opera however, although Sartori thought that it is the best of the three, which was Puccini's opinion as well.
Slobodan Turlakov, Puccini and the Verists, The Borba, 2003
---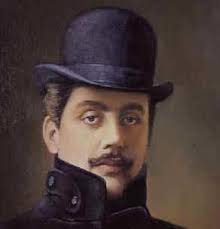 GIACOMO PUCCINI (1858–1924)
… Puccini was born in Lucca, a small town in Tuscany, on 22 December 1858. He graduated from the Milan Conservatory, mentored by Bazzini and Ponchielli; at the time, Ponchielli was famous for his opera La Gioconda. Since he possessed a lot of sense for opera theatre, Puccini dedicated himself exclusively to opera compositions. After his first attempts (Le villi, 1884; Edgar, 1889) and first successes (Manon Lescaut, 1893), he became internationally popular with his most significant and most popular operas, La Boheme (1898), Tosca (1900) and Madam Butterfly (1904). Later on, he wrote scores for The Girl of the West (1912), La rondine (1917), Il trittico (Il tabarro, Suor Angelica, Gianni Schicchi, 1918) and his final piece, Turandot (performed in 1926). Puccini chose his librettos quite effectively…Being a man of a certain theatre instinct, Puccini had a feeling for stage and was always looking for exciting drama plots and upheld the cult of grand gestures and desperate actions resulting from strong passions. Puccini formulated the secret of every theatre success, "There are three laws when theatre is concerned: stir interest, surprise and impress." This is his aesthetic motto. Puccini paid much attention to the nerves of his audiences and influenced them, frequently using even external stimulations. His operatic style presents more or less harmonic mixture of brutality and sentimentality. The two characteristics of his style have their special origins. When brutality, naturalism, rough contrast and wide lines are concerned, Puccini's style represents a direct continuation of Verismo style… When analysed from composition-technical point of view, Puccini's scores consist of mosaic musical contents, superbly and wittily instrumented and formulated into a unity by a hand of a master. Intensive orchestra emphasis of drama, surprising contrasts, great gradations, often artificial and implausible, temperamental outbursts, vocalisation of melodic lines in the style of Italian tradition – were main characteristics of Puccini's operatic style… Puccini remains a supreme master of opera stage, together with Verdi, when taking into account modern tendencies in opera.
B. Dragutinović
---
PUCCINI ON HIS IL TABARRO
I want to write two operas, each in one act, so that they could be performed together on a same evening. The operas will be completely dissimilar, almost in opposition to each other, one will be veristic and the other sentimental and poetic. The idea of the dissimilarity is very intriguing to me; this will be something completely new and quite a challenge for resourceful imagination. I already have the idea for the veristic opera; the story will be based on a play by a not so well known French playwright called Didier Gold. It is a romance tragedy that takes place on a barge that carries goods from Nantes, Rouen and even farther cities, into Paris and transports other goods from Paris to other cities. The barge is the residence of the owner, a middle-aged but still strong sailor of volatile nature, from Normandy, and his much younger, beautiful and appealing wife. The small barge comes to Paris often and it always docks in the same place where it is offloaded. A young and handsome sailor and the young wife become lovers. I find the life on the docks quite intriguing. The docks swarm with workers, boatmen and ordinary people. This gives a lot of opportunity for life-like scenes both on the boat and ashore. When the evening comes and everything becomes calm, there are far and subdued noises of cars passing nearby. The tragedy takes place on such tranquil evening. The lovers agree to meet aboard the barge late at the night, when the husband is already deeply asleep. The wife has to give a sign to her young lover by lighting a match, when he sees the light from his hiding place behind the trees on the dock he will come aboard. However, the wife and the husband are standing and talking on the deck, she is nervous and worried and begs her husband to go to sleep since he is tired. But the husband has doubts, and the more she asks him to leave the more he wants to stay, so he makes his wife go bellow the deck alone. Then he lights his pipe and the flame tricks her lover to come aboard. The two men face each other. They fight and the young lover is killed.
Giacomo Puccini
According to: Anonymous, Puccini on His Plans, The Small Journal, 12 May 1913
Premiere performance
Premiere revival, 9. march / Main Stage

Opera in one act
Libretto by Giuseppe Adami, based on Didier Gold's play (La houppelande)
World Premiere of The Triptych by Puccini (Sister Angelica, The Cloak and Gianni Schicchi) took place in the Metropolitan Opera in New York on 14 December 1918
Stage Director Dejan Miladinović
Conductor Zorica Mitev Vojnović
Set Designer Aleksandar Zlatović
Costume Designer Katarina Grčić Nikolić
Premiere Cast:
Michele, a barge-owner Vuk Zekić / Miodrag D. Jovanović
Luigi, a longshoreman Janko Sinadinović / Dejan Maksimović
Tinca, a longshoreman Nenad Čiča / Marko Živković / Slaven Čiča
Talpa, a longshoreman Mihailo Šljivić / Sveto Kastratović / Strahinja Đokić
Giorgetta, Michele's wife Ivana Gašić Petrović / Slađana Sarić / Slavenka Prstojević
Frugola, Talpa's wife Željka Zdjelar / Svetlana Nestorov / Ljubica Vraneš
Tenor voice Danilo Stošić / Stevan Karanac / Slobodan Živković
Soprano voice Marijana Šovran / Nevena Matić
Organ-grinder Danilo Stošić / Slaven Čiča

The Orchestra and the Choir of the National Theatre's Opera
Concertmaster Edit Makedonska
Chorus Master Đorđe Stanković
Music Rehearsal Associate Gleb Gorbunov
Organisers Maša Milanović Minić, Snježana Vujasinović Đorđević, Nemanja Stanojević
Caption translation of the libretto Maja Janušić
Stage Master Zoran Mirić
Make-Up Dragoljub Jeremić
Lighting Master Miodrag Milivojević
Sound Master Perica Ćurković
Costumes and sets were made in the workshops of the National Theatre in Belgrade