About Performance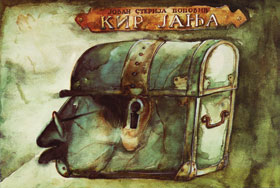 FIFTEEN YEARS OF KIR JANJA (THE MISER) DIRECTED BY EGON SAVIN
Right after having directed Liar of All Liars, by Sterija, in the Serbian National Theatre and winning Sterija's Award and "Bojan Stupica" Award, Egon Savin started directing Kir Janja (The Miser) also written by our renowned comedy playwright, in the National Theatre. As soon as he started, there was an atmosphere of something important happening. The "positive vibrations" started spreading from the production team throughout the theatre by hidden channels. As the time went by, there were more and more "technicians" around the stage during the rehearsals. And, it goes without saying – if they watch rehearsals, the production will be a successful one. The protagonist Predrag Ejdus, also a laureate of a renowned award, The October Award of the City of Belgrade and the leading actor in the National Theatre's Drama Company, has created, according to the then General Manager of the National Theatre, Mrs. Vida Ognjenović, "an anthology part, in style of Peter O'Toole and Lawrence Olivier". Prior to the premiere, Ejdus said, "This is my first experience of acting in a Sterija's play. Kir Janja is a role I always wanted to play, but I never thought that it will happen in this phase of my career". Director Egon Savin explains his relationship to the renowned national playwright with the following words: "Whenever a director does not direct a Sterija's piece, I feel he is being unjust, because his plays have to be produced since he is our Shakespeare and Molière. The National Theatre should always have at least one play written by Sterija on its repertoire." Next to the director, members of the production team are Geroslav Zarić, set designer; Bojana Nikitović, costume designer; Ksenija Zečević, composer; and Radovan Knežević, editor. Premiere cast: Predrag Ejdus in the title role; Nada Blam as his wife Juca; Tamara Vučković, their daughter Katica; Lepomir Ivković as Mišić a notary; Milenko Pavlov, the role of Kir Dima; and Mihajlo Viktorović as Petar a servant. Nevenka Vidak was an assistant set designer and associates for dance were Dragan Radovanović and Branislav Simonović. After the premiere there were the following newspaper headlines: SENSATION ON THE SQUARE, KIR JANJA SKY HIGH… And the critics wrote:
"Egon Savin builds on what Dejan Mijač started twenty years ago." (Petar Volk)
" Kir Janja turned out to be a real theatre event in the literal and essential meaning of the phrase: there is a highly creative frequency of the director, actors, set designer, costume designer and composer, which simply found their way into our hearts and consciousness, with its appeal, expression, magic and intelligence, so the impressiveness of the production will remain in memory forever. (…) Unexpectedly sensational event at the end of the year." (Avdo Mujčinović)
"It has been a while since the actors of the National Theatre played with such energy as they did in Kir Janja." (Radomir Putnik)

"Egon Savin, a director, emphasizes two contents in Sterija's Kir Janja: tragicomedy of a foreigner in a new country and drama of a man whose destiny is to lose all his possessions. (…) In order to achieve theatre appeal, the director had to solve two formal problems, to avoid mere staging of a paranoid state of mind of a comic character, and to make the plot live and rich. Egon Savin achieved both and neither lost track of Sterija's text nor adjusted or added onto the text. (…) Predrag Ejdus, a real master of micro-acting, turns everything happening in the play into silent tempest visible on the hero's face, grimace discretely turning into a little smile, or a smile into unwilling grimace. (…) Thus, one witnesses master at work, transfers from one state of mind into another are indiscernible, until the moment we become aware of a complicated character of Kir Janja, who is undoubtedly funny at the beginning and truly tragic at the end of the play." (Vladimir Stamenković)
"Savin directs this play in the manner of the best classical pieces: starting from the antique wardrobe with jars of fruit preserves and pickled vegetables, lavishing costumes and superb diction. This is why his interpretation of Kir Janja will remain one of Ejdus' top roles, distinguished by the moments when under the miser's mask we see a painful grimace of a man whose only social alibi is owning money in the environment he is not part of. (…) Predrag Ejdus has lifted Kir Janja to unquestionable theatre heights and the most subtle depths of human tragic (…) with unprecedented precision in building each little detail of Kir Janja's character." (Milutin Mišić)
Only several days later, Kir Janja receives the recognition of being "The Most Important Cultural Accomplishment of the Year 1992".
And then – Sterija's Pozorje Festival! Director Egon Savin, actor Predrag Ejdus and set designer Geroslav Zarić win three Sterija Awards. Predrag Ejdus also wins the Award of Audience for the Best Actor on the Festival, the award of no less importance.

According to the theatre critics' choice of TV Belgrade and all Belgrade magazines, the productions Kir Janja and The Mask of the National Theatre were recognized as the best ones in 1993.
On the Day of the National Theatre, Kir Janja receives two Awards and two Recognitions: Predrag Ejdus and Geroslav Zarić become laureates of the National Theatre Awards and Nada Blam and Bojana Nikitović receive Recognitions.
The production then lived a long and steady life. In fifteen years, there were 170 performances for more than 62000 viewers. The production toured Pančevo, Novi Sad, Vršac, Lazarevac, Požarevac, Bor, Užice, Priština, Podgorica, Obrenovac, Kragujevac, Negotin, Šabac, Ub, Zaječar, Niš – a total of 20 performances in the country and 8 on tour abroad: two in Vienna in the Accent Theatre in 1998; two in Banja Luka; one in Kumanovo and in Skopje in 2002; and two performances in Chicago in North Shore Art Center in 2006, which was the first tour of the National Theatre in the USA.
The hundredth performance of Kir Janja was given on 24 December 1999, almost seven years after its opening, while the hundred-and-fiftieth one was given on 21 April 2006.
Predrag Ejdus and Lepomir Ivković played in all 170 performances. Nada Blam shared her role for a while with Nela Mihailović. The role of Kir Dima was interpreted by Milenko Pavlov, Boško Puletić, Rade Miljanić and Peđa Miletić, while Tamara Vučković was replaced by Zlatija Ocokoljić, and then by Milena Đorđević and Danijela Tomović. Once, the role of Katica was interpreted, although only for one hour by Lidija Stevanović, who played the same role in Novi Sad, while the role of Petar was interpreted by our dear Mihajlo Viktorović, Boris Andrusević and Bogdan Mihajlović; for a short while, the role was interpreted by a guest artist, Janoš Tot, and for the last five years, the role was interpreted by Boško Puletić, Srboljub Milin and once Toma Trifunović.

Jelica Stevanović
---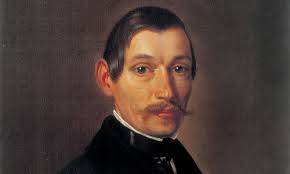 JOVAN STERIJA POPOVIĆ
Jovan Sterija Popović was born on 1 January 1806. His father was a Greek merchant while mother was Serbian, coming from the prominent family of artists. Influence of the mother's family and his poor health in youth make him decline a career of a merchant, instead he chooses the academic life. He studied in Budapest and during his studies, he had first contacts with theatre, which became and stayed one of his focuses in life. While in Budapest, he wrote and published poesy and tragedies. After returning to the town of Vršac, where he was born, he worked as a teacher of Latin and then a lawyer, in the meanwhile, he was very active as a writer. His first comedy, The Liar of All Liars (1830) influenced his decision to write comedies. Driven by his patriotic wishes to come to Serbia and help his nation in organising their new government, he comes to Kragujevac in 1840 and starts working as the Professor at the grammar school. He starts helping his colleague, also a Serb from Vojvodina, Atanasije Nikolić to start a student theatre company and he had the idea to start the "association of the learned". Next year, together with the grammar school, he moves to Belgrade and there, his activities regarding culture, society and education become very intensive. He actively participates in establishing the Theatre on Djumruk and then the Theatre "At the Deer's", he provides texts, translates, helps them regarding legal and administrative issues, coaches actors, writes reviews… He is tirelessly devoted to improvement of education; he writes textbooks, drafts regulations, establishes funds, establishes "Education Newspapers", takes active part in bringing the first law regarding schooling… He is one of the most dedicated founders of the Association of Serbian Academy (Academy of Science), he fights to introduce people's language into literature (however, not so radically as Vuk Karadžić, who actually achieved it later). He is among the first people who organized and kept important historical artefacts and he is one of founders of the National Museum. He spent a lot of time working in the Ministry of Education… and he achieved all of these things only in eight short years. However, at the time, he and other Serbs from Vojvodina who studied abroad and came to work in Miloš's Serbia faced dislike by the first generation of young people from Serbia who have just come back from schooling abroad. Sterija really resented this situation, and there were other issues, so he resigns in 1848 and goes back to Vršac. As a disappointed and tired person, with his illness worsening at the time, he dedicated himself to writing. Bitter comedy Patriots, his best one according to many, was written in this period of his life. It was a reaction to conflict between Hungarians and Serbs in Vršac during Hungarian revolution against Austrian government, 1848-49. He died on 26 February 1856. During his life, he left an inerasable mark on our culture. In one-hundred-thirty-seven years of the National Theatre's history, the Theatre produced eighteen plays written by Sterija and several plays about Sterija. During the first three decades of the twentieth century, his birthday was celebrated each year by organising "Sterija's Evening", which meant that at least one of his plays was performed during the evening. Amongst the prominent Sterija's Awards won by the National Theatre, those for Kir Janja in 1993 and The Upstart in 1998 have a special glow.

Jelica Stevanović

Premiere performance
Premiere, 25 December 1992 / Main Stage

Director Egon Savin
Set Designer Geroslav Zarić
Costume Designer Bojana Nikitović
Composer Ksenija Zečević
Editor Radovan Knežević

Premiere Cast:
Kir Janja, wealthy merchant and miser Predrag Ejdus
Juca, his wife Nada Blam
Katica, Janja's daughter from the firs marriage Tamara Vučković
Mišić, notary Lepomir Ivković
Kir Dima, merchant Milenko Pavlov
Petar, servant around the house Mihajlo Viktorović
Policeman Mališa Đurašinović

Artistic Producer Suzana Jovanović Zarić
Producer Jasmina Stevanović
Assistant Set Designer Nevenka Vidak
Assistant Producer Tatjana Dojčinović
Associates for dance Dragan Radovanović, Branislava Simonović
Make-Up Designer Nijaz Memiš
Lighting Master Miodrag Milivojević
Sound Master Goran Jovančić
Stage Master Dimitrije Radinović
Stage Manager Dragan Todorović
Prompter Ljiljana Paunović
The set was made in the National Theatre's workshops.