About Performance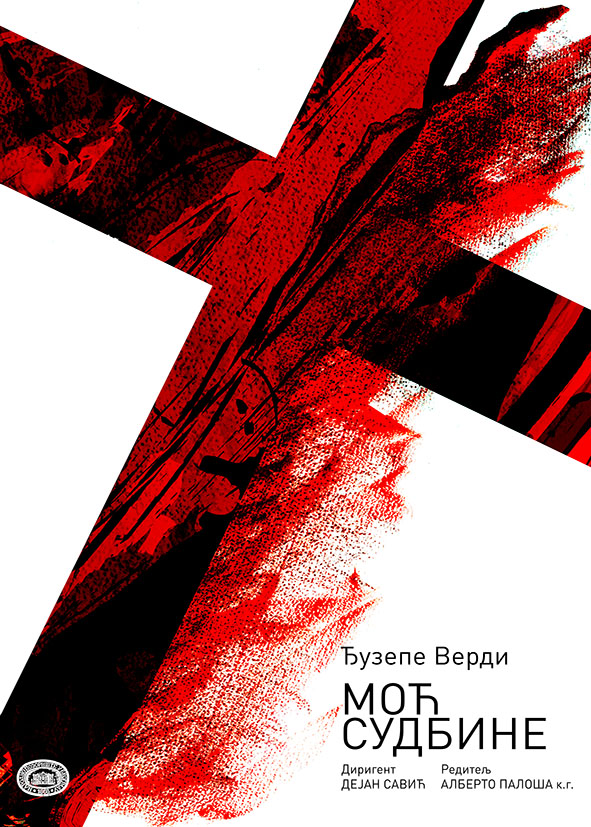 SYNOPSIS
ACT I
Seville, mid-eighteenth century. After the Marquis of Calatrava bids good night to his daughter, Leonora di Vargas, she tells her maid, Curra, about her imminent elopement with her lover, Don Alvaro. Hesitant to leave her father, Leonora is nevertheless torn by her love for Alvaro, an Inca of royal descent. Climbing in via the balcony, Alvaro reassures her, then accuses her of not loving him. She agrees to leave, but her father, awakened by noise in the courtyard, storms in with sword drawn, challenging Alvaro, who throws his pistol to the floor. It goes off by accident, fatally wounding the Marquis, who dies cursing his daughter. The lovers flee.
ACT II
An inn at Hornachuelos. Amid peasants and mule drivers, Don Carlo di Vargas, Leonora's brother, posing as "Pereda," a student from Salamanca, hunts for his sister and her lover to avenge the Marquis' death. Leonora, disguised as a man, comes to the door and recognizes her brother. Separated from Alvaro during their flight, she is traveling with a muleteer, Trabuco, who endures jibes as to the identity and sex of the "little person" with him. Preziosilla, a Gypsy girl, offers to tell fortunes and inspire morale for the upcoming battles of Italy and Spain against the Germans. She tells Carlo he is no student, while Leonora wonders how she can escape from her vengeful brother. Pilgrims en route to Holy Week celebrations arrive, and everyone joins in prayer. At the urging of the Alcalde (local mayor), Carlo tells the gathering he is a student, mentioning his friend "Vargas," who is bent on avenging the death of his father at the hands of his sister's lover. Outside the church and monastery of the Madonna degli Angeli, Leonora, still in male clothes, prays for the Virgin's forgiveness. Evening prayers are heard from within. She sounds the monastery bell and is greeted gruffly by Brother Melitone, who tries to send her away till next morning. She says she has been sent by Father Cleto to see the Padre Guardiano (Father Superior). When he appears, she tells him she is Leonora di Vargas, about whom Father Cleto has written. She asks to become a hermit and live in a cave, devoting herself only to God. When he learns her brother is bent on killing her, the Padre Guardiano agrees.
ACT III
Near a battlefield in Velletri, Italy, soldiers are gambling. Alvaro, now in the military, laments his outcast state, praying to Leonora — whom he believes dead — to pity him. Hearing the cries of another officer, he goes to the rescue and returns with Carlo. Neither man is aware of the other's identity, and both are using assumed names. Carlo thanks Alvaro for saving his life from soldiers who were quarreling over cards. They swear friendship in life and death, then run off to battle. The wounded Alvaro, borne in on a stretcher, asks Carlo to burn his private papers when he dies. Carlo agrees, but when his friend is removed for surgery, he muses on the possibility that Alvaro might be the "cursed Indian" who killed his father and dishonored his sister. Looking among Alvaro's belongings, he finds a portrait of Leonora. As word comes that Alvaro's life has been saved by surgery, Carlo exults that his enemy will live — to suffer his personal revenge. Some time later, Alvaro encounters Carlo, who announces he has found out who he is and wants to fight. Alvaro tries to pacify him, saying that Leonora, if still alive, as Carlo says, should be the object of their joint search. Carlo bullies him into a rage, and they fight, but a patrol separates them. Alvaro, repenting of his anger, resolves to enter a monastery. As the sun rises, soldiers and civilians crowd the scene, led by Preziosilla, telling fortunes, and Trabuco, peddling cheap merchandise. Melitone stumbles upon the motley gathering of people and lectures them on their ungodly ways. Finally, Preziosilla, wearing a drum around her neck, leads an unaccompanied marching chorus in imitation of a military drummer's sound.
ACT IV
Five years later. Inside the monastery, back on Spanish soil, beggars wait for Melitone to dole out soup while the Padre Guardiano cautions him against being impatient with the poor, who are dear to God. The gate bell rings, announcing Carlo, who demands to see "Father Rafaello," Alvaro's assumed name. As he waits, he vows to kill his enemy. Alvaro pleads for peace between them, but again Carlo goads him, and they rush off to find a dueling place. Leonora emerges from her cave, disheveled and distressed, to pray for the peace that continues to elude her: in her heart she still loves Alvaro. Hearing a commotion nearby, she retreats into the cave, only to be summoned forth by Alvaro himself: having mortally wounded Carlo, he asks the hermit to give absolution to the dying man. They recognize each other, and Alvaro cries that once again he has the blood of her family on his hands. Leonora goes to Carlo, who with his last strength deals her a mortal blow. The Padre Guardiano enters and silences Alvaro's frustrated rage as Leonora gasps that she will await him in heaven.
From: www.metopera.org
---
DEJAN SAVIĆ
Dejan Savić (1957), an outstanding Serbian conductor, graduated conducting with distinction at the Academy of Music in Belgrade and received his Master's Degree at the Academy of Arts in Novi Sad. Since 1993, Mr. Savić has been the Principal Conductor and, in two mandates, the Manager of Opera and Ballet Companies in the National Theatre in Belgrade. In the period between 2005 and 2007, Mr. Savić held the office of the General Manager in the National Theatre and again, since 2012, he has resumed the same leading position in the National Theatre. Besides his continuous engagement in the National Theatre, he has been an Artistic Director of Niš Symphony Orchestra, as well as a music manager of "Pro Classica" Chamber Orchestra, Chamber Ensemble "Pro Musica" and "The Baruh Brothers" Choir. Mr. Savić has conducted numerous renowned international orchestras; several renowned Greek symphony orchestras, including those in Athens and Thessaloniki and he has been a guest conductor of the National Symphony Orchestra of Greek Radio (ERT). In the course of his career, he has conducted the following orchestras: Bloomingdale Symphony Orchestra (New York); Bulgarian Radio Symphony Orchestra and National Philharmonic from Ruse (Bulgaria); Symphony and Chamber Orchestra of Rumanian National Radio in Bucharest; Rhine Philharmonic and Opera Choir (Germany); National Opera and Ballet Company from Krasnoyarsk (Siberia); Portuguese Orchestra from Algarve; and many companies in Italy – Polyphonic Choir "David Brunori" and Philharmonic Orchestra of Marche Region; Italian International Orchestra and Choir of Ventidio Basso Theatre in Ascoli Piceno; Gioachino Rossini Symphony Orchestra from Pesaro; City Choir from Bitonto; Giuseppe Verdi Philharmonic Orchestra in Salerno; Chamber Orchestra of Puglia, etc. One should not forget the Choir and Symphony Orchestra of the Serbian National Broadcasting Company (RTS) and Belgrade Philharmonic Orchestra. He performed in opera houses in Dublin (Ireland), Athens and Thessaloniki (Greece), Strasbourg (France), Sofia (Bulgaria), Oslo (Norway), Vienna (Austria), Bucharest (Rumania), Burgas (Bulgaria). With the National Theatre and with companies he conducts, as well as individually, he has also performed in Israel, Holland, Switzerland, Spain, Cyprus, etc. His national and international successes have been recorded in numerous audio and video recordings. He has received numerous awards for his artistic achievements.
---
ALBERTO PALOSCIA
He was born in Florence in 1958. He is a musicologist, a music organiser and a stage director. Since 1990, he has been an artistic director of the Theatre Goldoni in Livorno, the birth town of Pietro Mascagni. Paloscia has contributed to rediscovery and performance of Mascagni's less known works (I Rantzau, Guglielmo Ratcliff, Silvano, Zanetto, Iris, Le Maschere, Lodoletta, etc.); he has invited renowned conductors (Bruno Bartoletti, Massimo De Bernart, Piero Bellugi, Bruno Aprea, Dejan Savić…), stage directors (Giancarlo Del Monaco, Claude D'Anna, Piera Degli Esposti, Lindsay Kemp, Federico Tiezzi, Ivan Stefanutti) and some of the greatest singers (Giovanna Casolla, Denia Mazzola Gavazzeni, Adriana Morelli, Ines Salazar, Maria Dragoni, Katerina Ikonomou, Fedora Barbieri, Viorica Cortez, Ildiko Komlosi, Giuseppe Giacomini, Lando Bartolini, Giorgio Merighi, Pietro Ballo, Mario Malagnini, José Bros, Alfredo Portilla, Ignacio Encinas, Silvano Carroli, Vicente Sardinero, Armando Ariostini, Bruno De Simone). He Paloscia is considered a great "talent scout" (Fiorenza Cedolins, Paoletta Marrocu, Svetlana Vassileva, Patrizia Ciofi, Silvia Della Benetta, Laura Brioli, Stefano La Colla, Carlo Guelfi, Alberto Gazale, Alberto Mastromarino, Vittorio Vitelli and Silvio Zanon). Stage directions: Lo speziale by Haydn; Le convenienze e inconvenienze teatrali, L'elisir d'amore and Lucrezia Borgia by Donizetti; Norma by Bellini; La bohème, Tosca and Madama Butterfly by Puccini; Cavalleria rusticana and L'Amico Fritz by Mascagni; Pagliacci by Leoncavallo; Nabucco, Rigoletto, La traviata (in the Arts Centre in Seoul, with Mariella Devia), Il trovatore and Otello by Giuseppe Verdi; Le nozze di Figaro by Mozart. Teaching: a lecturer of interpretation and stage art in master classes (with Donata D'Annunzio Lombardi and Bruna Baglioni); lecturer at the training for organisation of music events at the Faculty of Literature at the University of Florence. He participates in conferences in Italy and abroad. Recognitions (as a music organiser): International Award "Luigi Illica", awards "Circeo Lirica" (which he shares with famous baritone Giuseppe Taddei), award "Alfredo Catalani" of Lucca.
---
THE FORCE OF DESTINY ON THE NATIONAL THEATRE'S STAGE
Verdi's opera The Force of Destiny found its way into repertory of the National Theatre's Opera for the first time on occasion of 125th anniversary of the composer's birth, on 7th October 1938. Erich Hezl directed the production, while Ivan Bre­zov­šek conducted, Mladen Jo­sić designed the set, Milica Ba­bić Jo­va­no­vić designed the costumes, an engineer Velimir Jovanović was in charge of demanding technical works, and Anatoly Zhukovski staged the Tarantella. Libretto that was sung in the production was edited by a German poet, Franz Werfel, in 1925 and translated by Miloje Milojević. Upon the premiere, the critics commented that the stage director seemed to have fallen into mannerism ("essentially leaning on a single method of stage arrangement – which is not to be disregarded – and on nervous movements in mass scenes"), which should be taken into account, especially because "it becomes tiresome and prevents a listener to appreciate the music in peace". This "imperfection" could be observed best in the warrior scene. There was also a comment that actors failed to react in emotional scenes (when the Marquis is wounded, the actors "listen politely to the dying man who curses them"). Nonetheless, the production received overall positive reviews, because majority of scenes were "built not only on careful psychological analysis of a drama and music text, but also on comprehensive knowledge and reliable use of stage architecture." There is also an interesting description of parts of this staging: "Lighting effects, as well, play one of the main roles in Mr. Hezl's staging. In the scene of Leonora's dedication in the monastery, Mr. Hezl has given the monumental form of chorus masses in almost sharp geometrical lines, thus the scene makes strong impression both with its perspective and with its lovely music. Let us also mention that first scene in the third act, the scene of famished masses' struggle around canisters with food, was perfectly arranged and full of realistic dynamics. In addition, there was a lot of colourful folklore freshness in the scene that takes place in front of a village inn; however, while Don Carlos and Preziosilla had notable place on stage, Leonora, hidden in a niche, was lost in the mass, so she was unnoticed by most of viewers." The critics emphasized that the success of the production was especially due to visual component ("Set designed by Mr. Josić possesses certain power to underline the symbolical character of drama. Mrs. Babić has shown a lot of taste and has skilfully designed the costumes"), as well as to accomplished technical component. The conductor, Brezovšek, has "given a lot of effort, accomplished fine dynamic effects, especially with the orchestra, which possesses liveliness and colour in its sound, as well as with the chorus; he has accomplished brilliant liveliness at times, however, he has not always maintained rhythmical accord with the stage". Zlata Đunđenac, who interpreted Leonora, was assessed as "a grand creation… lively and sincere. Immaculately accomplished technically, both regarding the singing and acting", owing to her "sharp intelligence, steady and deep musical gift, fine vocal culture, noble and adaptable voice and great acting talent". Father Superior, interpreted by Žarko Cvetić, was "a very impressive figure" owing to his "rich and massive voice", which he could "use at will" in this role. Our "most resonant", "most vibrant", "lively tenor", Krsta Ivić interpreted Alvaro somewhat artificially, pathetically and unnaturally, especially in the war scene. Sta­no­je Janković as Fra Melitone has contributed to a comical note of the performance; Rudolf Ertl gave "impressive interpretation of grim Don Carlos, by giving him remarkable drama character with his vocal technique", while Aleksandar Trifunović was "discrete" as the Marquis de Calatrava. Other singers were satisfactory as well, while the ballet ensemble could not show their full potential on the small stage of the National Theatre. Nonetheless, this production was performed 10 times (last performance took place on 13th October 1939). The following premiere of Verdi's opera The Force of Destiny took place on 6th February 1965, under the baton of Du­ša­n Mi­la­di­no­vi­ć, and was staged by Ani Ra­do­še­vić. Ra­do­še­vić's stage directing was reviewed as "Best quality of her directing is the fact that she managed to make the sinister and complicated base of the libretto filtered, lighter and easier". In this production, Pe­tar Pa­šić was the set designer, Inge Ko­stin­čer was the costume designer and Branko Marković was the choreographer. The critics assessed that the team of authors responded to the demands of the production, while the best reviews were given to the conductor and the stage director. The singers, however, had accomplished the demanding task Verdi had given them in the opera with more or less success. The premiere that followed took place in the newly reconstructed building of the National Theatre. It was held on 26th December 1989 and was conducted by Ni­ko­laj Žli­čar. Mla­den Sa­bljić and Bo­ri­slav Po­po­vić directed, Vla­di­mir Ma­re­nić designed the set, Lji­lja­na Dra­go­vić designed the costumes and Branko Marković choreographed the production. The critics did not give a good review to the production as a whole, while some of the authors and performers received conflicting reviews. General conclusion was that the stage directing was too traditional, tempo was slow and the male part of the cast was dominant. First premiere in the XXI century took place on 11th April 2009, under the baton of guest conductor Aleksandar Marković. The production was stage directed by Darijan Mihajlović, set was designed by Aleksandar Denić and costumes by Ivana Vasić. Leo Mujić choreographed ballet scenes, while Ana Zorana Brajović and Đorđe Stanković prepared the choruses. Unfortunately, despite of excellent reception from the critics and the audience, the production was short-lived: there were only 3 performances until the end of the season. The reason was of technical and financial nature – the set design demanded renting of very expensive technical equipment.
Jelica Stevanović
Premiere performance
Premiere 25th February 2017 / Main Stage

Opera in Four Acts
Libretto by Francesco Maria Piave
Conductor Dejan Savić / Zorica Mitev Vojnović
Stage Director Alberto Paloscia, guest artist*
Set Designer Miraš Vuksanović
Selection and Adaptation of Costumes Katarina Grčić Nikolić
Choreographer Dejan Kolarov

Premiere Cast:
Marquis of Calatrava Aleksandar Manevski / Mihailo Šljivić / Strahinja Đokić
Leonora Jasmina Trumbetaš Petrović / Ana Rupčić
Don Carlo di Vargas Miodrag D. Jovanović / Dragutin Matić
Don Alvaro Dejan Maksimović / Dušan Plazinić
Preziosilla Jadranka Jovanović / Aleksandra Angelov / Ljubica Vraneš
Fra Melitone Nebojša Babić / Aleksa Vasić
Father Guardian Ivan Tomašev / Nenad Jakovljević / Dragoljub Bajić
Maid Tatjana Mitić / Jovana Belić / Nevena Matić
Alcade Sveto Kastratović / Strahinja Đokić / Mihailo Šljivić
Trabuco, a muleteer Darko Đorđević / Slobodan Živković / Stevan Karanac
Surgeon Predrag Gligorić / Miroslav Markovski

World premiere took place in Saint Petersburg on 10th November 1862.
ORCHESTRA, CHOIR AND BALLET OF THE NATIONAL THEATRE IN BELGRADE
* Reconstruction of historical staging at the 1953 "Maggio Musicale Fiorentino" by Georg Wilhelm Pabst and Frank Lolli
Assistant Conductors – Dijana Cvetković and Patrick Burns (guest artist)**
Assistant to the Stage Director Theresa Gargano and Ivana Dragutinović Maričić
Assistant Stage Director Mateo Anselmi and Ana Grigorović
Chorus Master Đorđe Stanković
** Conductor in training – the Australian Personal Arts Development Grant
Concert Master Edit Makedonska / Vesna Jansens
Musical Associates Eda Separ, Nada Matijević, Srđan Jaraković, Nevena Živković, Gleb Gorbunov
Stage Music Dijana Cvetković
Stage Manager Branislava Pljaskić
Prompter Silvija Pec / Kristina Jocić
Organisers Maša Milanović Minić, Nemanja Stanojević
Extras under supervision of Zoran Trifunović
Assistant Set Designer Jasna Saramandić
Make Up Master Dragoljub Jeremić
Lighting Master Theresa Gargano, Milan Kolarević
Stage Master Zoran Mirić
Sound Master Perica Đurković
Art/Painting works by Svetislav Živković, Ilija Krković and Srđan Pušeljić
DÉCOR AND COSTUMES WERE MADE IN WORKSHOPS OF THE NATIONAL THEATRE IN BELGRADE