About Performance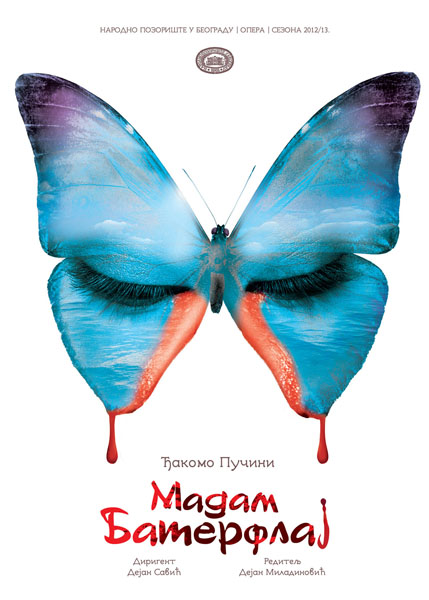 MADAM BUTTERFLY – DESTINY OF A GEISHA
Upon the success of Tosca at the premiere, 14 January 1900, in Theatro Costanzi in Rome, Puccini was looking for suitable contents of a new opera. As he said, the search for a new libretto was agonizing. During his stay in London, Puccini saw the play Madam Butterfly, written by John Long and dramatized by David Belasco. Deeply impressed with the poetry of little Japanese geisha's plight, her true and deep love filled with longing, disappointment and sacrifice, he decides to compose an opera to the libretto written after this story by his literary associates Illica and Giacosa. Madam Butterfly has all the characteristics of Puccini's musical and drama style we saw in his earlier operas La bohème and Tosca: intimate and warming lyrics, sudden and often brutal contrast, temperamental sections, exciting gradations, interestingly instrumented mosaic of music, intensive orchestral emphasis of drama, warm abundance along the melodic lines, which is the trait of strictly Italian opera tradition. However, Madam Butterfly is different from other Puccini's operas for its strongly emphasised exotic elements. Modern times brought vast interest in rhythmic, melodic and tonal characteristics of music developed in civilizations outside of Europe. When he started composing music for this touching tragedy of Japanese geisha, Puccini naturally had to develop an interest for Japanese music in order to underline Japanese background of the plot as suggestively as possible. Madam Butterfly possesses superbly styled elements of Japanese folklore, which add special appeal to Puccini's music score. In this sense, there is a special exotic motif of the knife with which Butterfly commits suicide. Besides, Puccini uses in abundance those bizarre harmonies that result from Japanese pentatonic scales, scales comprising of five notes per octave; he also introduced sounds of traditional Japanese wooden instruments into his instrumentation. From significant and characteristic moments in the music score of Madam Butterfly, we should stress the enchanting atmosphere of starry summer night when the great, demanding and warm love duet in the first act happens, then the music of anticipation, scene with a letter and flowery duet of Cio-Cio-San and Suzuki in the second act; as well as the symphony intermezzo between the second and third acts, which expresses the severe suffering of Butterfly and then continues to gentle wakening of nature and life in the port of Nagasaki. Although it was expected to achieve great success, Madam Butterfly had seen catastrophic failure at its first premiere in La Scala in Milan on 17 February 1904. Disappointed with failure, nonetheless aware that he has composed a piece of remarkable value, filled with poetry, Puccini wrote on the picture of a Japanese lady, given to him by a painter, Butterfly's words "Doomed, but happy". After a disastrous premiere in La Scala, Puccini withdrew the opera, as per the advice of his friend Tito Ricordi who believed that the opera had quality, and substantially rewrote it: he divided the opera into three acts, instead the two original acts, composed certain moments which had similarities with La bohème again and excluded some of redundant scenes and added a tenor aria into the third act. This second version of Madam Butterfly premiered with triumphant success in Teatro Grande in Brescia on 28 May 1904. It is one of the most popular Puccini's operas. Madam Butterfly, with its moving and deeply emotional theme still has a strong influence on audiences worldwide and it still can make many a viewer cast a tear for the tragedy of the young Japanese girl.
B. Dragutinović
---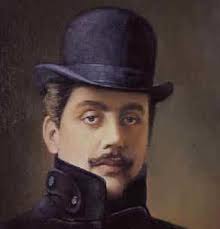 Giacomo Puccini (born December 22, 1858, Lucca, Tuscany [Italy]—died November 29, 1924, Brussels, Belgium)
Puccini was the last descendant of a family that for two centuries had provided the musical directors of the Cathedral of San Martino in Lucca. Puccini initially dedicated himself to music, therefore, not as a personal vocation but as a family profession. He first studied music with two of his father's former pupils, and he played the organ in small local churches. A performance of Giuseppe Verdi's Aida, which he saw in Pisa in 1876, convinced him that his true vocation was opera. In the autumn of 1880 he went to study at the Milan Conservatory, where his principal teachers were Antonio Bazzini, a famous violinist and composer of chamber music, and Amilcare Ponchielli, the composer of the opera La gioconda. On July 16, 1883, he received his diploma. In the same year, he entered Le Villi in a competition for one-act operas. The music publisher Giulio Ricordi immediately acquired the copyright. He also commissioned Puccini to write a new opera for La Scala and gave him a monthly stipend: thus began Puccini's lifelong association with Giulio Ricordi, who was to become a staunch friend and counselor. Puccini's second opera, Edgar, based on a verse drama by the French writer Alfred de Musset, had been performed at La Scala in 1889, and it was a failure. Nevertheless, Ricordi continued to have faith in his protégé and sent him to Bayreuth in Germany to hear Wagner's Die Meistersinger. Puccini returned from Bayreuth with the plan for Manon Lescaut, based, like the Manon of the French composer Jules Massenet, on the celebrated 18th-century novel by the Abbé Prévost. Beginning with this opera, Puccini carefully selected the subjects for his operas and spent considerable time on the preparation of the librettos. The psychology of the heroine in Manon Lescaut, as in succeeding works, dominates the dramatic nature of Puccini's operas. The score of Manon Lescaut, dramatically alive, prefigures the operatic refinements achieved in his mature operas: La Bohème, Tosca, Madama Butterfly, and La fanciulla del west. These four mature works also tell a moving love story, one that centres entirely on the feminine protagonist and ends in a tragic resolution. All four speak the same refined and limpid musical language of the orchestra that creates the subtle play of thematic reminiscences. The music always emerges from the words, indissolubly bound to their meaning and to the images they evoke. In Bohème, Tosca, and Butterfly, he collaborated enthusiastically with the writers Giuseppe Giacosa and Luigi Illica. The first performance (February 17, 1904) of Madama Butterfly was a fiasco, probably because the audience found the work too much like Puccini's preceding operas. The premiere of La fanciulla del west took place at the Metropolitan in New York City on December 10, 1910, with Arturo Toscanini conducting. It was a great triumph, and with it Puccini reached the end of his mature period. In 1917 at Monte-Carlo in Monaco, Puccini's opera La rondine was first performed and then was quickly forgotten. Always interested in contemporary operatic compositions, Puccini studied the works of Claude Debussy, Richard Strauss, Arnold Schoenberg, and Igor Stravinsky. From this study emerged "Il trittico" (The Triptych; New York City, 1918), three stylistically individual one-act operas — the melodramatic Il tabarro (The Cloak), the sentimental Suor Angelica, and the comic Gianni Schicchi. His last opera, based on the fable of Turandot as told in the play Turandot by the 18th-century Italian dramatist Carlo Gozzi, is the only Italian opera in the Impressionistic style. Puccini did not complete Turandot, unable to write a final grand duet on the triumphant love between Turandot and Calaf. Suffering from cancer of the throat, he was ordered to Brussels for surgery, and a few days afterward he died with the incomplete score of Turandot in his hands. Turandot was performed posthumously at La Scala on April 25, 1926, and Arturo Toscanini, who conducted the performance, concluded the opera at the point Puccini had reached before dying. Two final scenes were completed by Franco Alfano from Puccini's sketches.
Claudio Sartori
www.britannica.com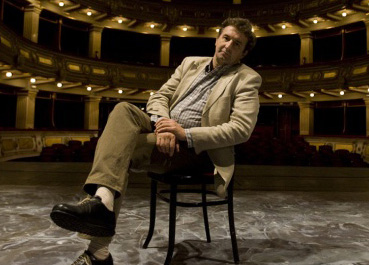 DEJAN SAVIĆ
Dejan Savić (1957), the outstanding Serbian conductor, graduated conducting with distinction at the Academy of Music in Belgrade and received his Masters Degree at the Academy of Arts in Novi Sad. Since 1993, Mr. Savić has been the Principal Conductor and, in two mandates, the Manager of Opera and Ballet Companies in the National Theatre in Belgrade. In the period between 2005 and 2007, Mr. Savić held the office of the General Manager in the National Theatre. Besides his continuous engagement in the National Theatre, he has been an Artistic Director of Niš Symphony Orchestra, as well as a music manager of "Pro Classica" Chamber Orchestra, Chamber Ensemble "Pro Musica" and "The Baruh Brothers" Choir. Mr. Savić has conducted numerous renowned international orchestras; several renowned Greek symphony orchestras, including those in Athens and Thessaloniki and he has been a guest conductor of the National Symphony Orchestra of Greek Radio (ERT). In the course of his career, he has conducted the following orchestras: Bloomingdale Symphony Orchestra (New York); Bulgarian Radio Symphony Orchestra and National Philharmonic from Ruse (Bulgaria); Symphony and Chamber Orchestra of Rumanian National Radio in Bucharest; Rhine Philharmonic and Opera Choir (Germany); National Opera and Ballet Company from Krasnoyarsk (Siberia); Portuguese Orchestra from Algarve; and many companies in Italy – Polyphonic Choir "David Brunori" and Philharmonic Orchestra of Marche Region; Italian International Orchestra and Choir of Ventidio Basso Theatre in Ascoli Piceno; Gioachino Rossini Symphony Orchestra from Pesaro; City Choir from Bitonto; Giuseppe Verdi Philharmonic Orchestra in Salerno; Chamber Orchestra of Puglia, etc. One should not forget the Choir and Symphony Orchestra of Serbian National Broadcasting Company (RTS) and Belgrade Philharmonic Orchestra. He performed in operas in Dublin (Ireland), Athens and Thessaloniki (Greece), Strasbourg (France), Sofia (Bulgaria), Oslo (Norway), Vienna (Austria), Bucharest (Rumania), Burgas (Bulgaria). With the National Theatre and with companies he conducts, as well as individually, he has also performed in Israel, Holland, Switzerland, Spain, Cyprus, etc. His national and international successes have been recorded in numerous audio and video recordings. He has received numerous awards for his artistic achievements.
---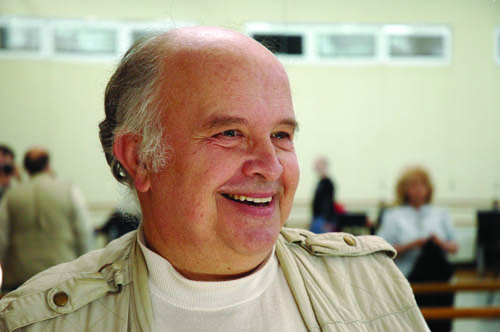 DEJAN MILADINOVIĆ
Dejan Miladinović was born in Belgrade, into a family of opera artists. In 1971, he graduated from the Department of Theatre Direction with the production of Jelisaveta's Love Plight, (Theatre Atelier 212) and in 1976, he received the title Master of Theatrical Arts from the Academy for Theatre in Belgrade with the thesis Development of Opera Direction in Belgrade and Novi Sad in period 1919 - 1975. Miladinović has served as first Director at Opera and Drama companies and Artistic Director of the Opera Company in the Serbian National Theatre in Novi Sad. He has also served as Director and Artistic Consultant for "Grand Opera Projects" with Convention Centre "Sava" in Belgrade. In 1978, he has assumed the position of Director in Opera of the National Theatre in Belgrade and in 1997, he has become Artistic Director in the same company. Since April 2005, he again has served as Artistic Director at Serbian National Theatre in Novi Sad and since October 2006, Artistic Director at Opera & Theatre Madlenianum in Zemun. As of November 2012, he has been appointed the head of the National Theatre's Opera in Belgrade. He has worked as an Associate Professor and Artistic Director of Opera Theatre at Meadows School of Arts, Southern Methodist University, Dallas, Texas; Associate Professor of Opera Theatre at Music Conservatory, Belgrade; and Associate Professor at Thornton School of Music, University of Southern California, Los Angeles, California. Miladinović has staged more than 160 productions with professional companies in former Yugoslavia and abroad (USA and Canada). He has cooperated with numerous renowned composers, conductors and international opera stars. He has directed most first productions of music and stage pieces of national composers. Besides direction, he has written librettos (The Power of Virtue, by Kuljerić, Prometheus by Bruci, Mandragola by Jevtić – verse by V. Miladinović, Merry Priests of Banat by Despić – verse by V. Miladinović), composed music and designed sets for drama productions. Miladinović is the only triple laureate for direction by the international jury at Yugoslav Chamber Opera and Ballet Festival – Osijek Annual, as well as "Jovan Đorđević" Golden Medal of Serbian National Theatre for outstanding accomplishments in operatic art (2006). Miladinović "is an artist of imaginative, bold and unconventional conception. He has directed numerous operas with resounding success. Both audiences and critics unanimously and with delight favour his productions for their obvious theatrical quality and modern direction" (Yugoslav Music Encyclopaedia, Zagreb). Radoslav Lazić, PhD, wrote, "…Josip Kulundžić, PhD Branko Gavela, PhD Erih Hecel, as well as Mladen Sabljić, Jovan Putnik and Dejan Miladinović have given foundation to modern Serbian opera theatre. They are the creators of Serbian opera theatre of the twentieth century and its aesthetics" (The Art of Direction, Novi Sad).
Premiere performance
Premiere December 15, 1984. / Main stage

Tragedy of a Japanese woman
Libretto by L. Illica and G. Giacosa, after J. Long and D. Belasco's piece

Conductor Dejan Savić
Director Dejan Miladinović
Costume Designer Svetlana Čkonjević
Set Designer Mileta Leskovac
Choreographer Vladimir Logunov
Assistent Set Designer Vladislava Kanington

Premiere Cast:

Cio-Cio San, Madam Butterfly Suzana Šuvaković Savić / Jasmina Trumbetaš Petrović
Cio-Cio San's son Tina Nikolovski / Danja Jovanović / Jovana Savić
Suzuki, Cio-Cio San's maid Željka Zdjelar / Dubravka Filipović / Olga Savović
Kate Pinkerton Tatjana Mitić / Svetlana Nestorov
F. B. Pinkerton, Lieutenant in the US Navy Janko Sinadinović / Dejan Maksimović
Sharpless, United States Consul in Nagasaki Vladimir Andrić / Miodrag D. Jovanović
Goro Darko Đorđević / Danilo Stošić / Igor Matvejev
Prince Yamadori LJubodrag Begović / Vuk Zekić
Uncle Bonze Stefan Pavlović / Mihailo Šljivić / Aleksandar Stamatović
Imperial Commissioner Branislav Kosanić / Pavle Žarkov

Official Register, Butterfly's mother, aunt, child, relatives, friends and servants.
Extras Chief: Zoran Trifunović
Takes place at the beginning of XX century.
Orchestra and Opera Choir of the National Theatre
Assistant Director Branislava Pljaskić
Chorus Master Đorđe Stanković
Concertmaster Edit Makedonska, Vesna Jansens
Assistant Conductor Đorđe Stanković
Music Associates Srđan Jaraković, Nevena Živković, Ivan Jovanović, Tatjana Ščerbak Pređa
Stage Manager Mirjana Goločevac / Ana Milićević / Branislava Pljaskić
Prompter Silvija Pec / Biljana Manojlović
Organizers Maša Milanović Minić, Snježana Vujasinović Đorđević
Caption Translation Konstantin Carina
LIght operator Petar Alagić
Make-up Dragoljub Jeremić
Set crew Chief Zoran Mirić
Sound Operator Dejan Dražić
Sets and costumes were manufactured in the workshops of the National Theatre