About Performance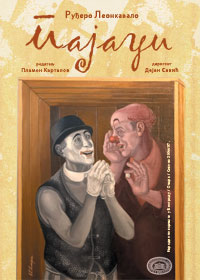 LEONCAVALLO'S PAGLIACCI
Leoncavallo's Pagliacci, like Mascagni's Cavalleria rusticana, came about as commission for a one-act opera from the music publisher Sonzogno in 1890. (…) Pagliacci, the best-known opera by Ruggero Leoncavallo, premiered in Milan on 17 May 1892, under the baton of young Toscanini. Leoncavallo's other operas La Boheme (based on Murger), Zaza and Zingari had been successful in Italy, but to this day almost all of his other operas, except the Pagliacci, have been forgotten.
(…) Although he does not possess Mascagni's originality, or his expressive directness, Leoncavallo has achieved full unity of libretto, plot and music with his sophisticated musical technique. His motifs are short, less melodic, but suitable for thematic function. He unites and expands them with skill, depending on the plot, by putting them in abundant orchestration, he intertwines them in orchestra, but vocal scores are always given the priority. He writes them suitably for singers, gives them right arias, and he pays a lot of attention to the choruses as well. Maybe, some of his bars could be deemed trivial, but events on the stage require such music. Manifesto of Verism is given in the prologue; it is a music and stage style that succeeded the ideas of naturalism of Zola and his followers. The real and true life on music stage, which had been completely congested by Wagner and his followers, had an appeal for audiences that wanted to see realistic plots and feel true sorrow or joy with characters on stage. This is why we can rightfully say that veristic operas were predecessors of sound film. Nonetheless, haven't real lives been presented in the Marriage of Figaro, The Barber of Seville, Traviata or Carmen, the last one anticipating all the main characteristics of Verismo, but in a much deeper, sophisticated and better way? Experience regarding Pagliacci shows that (…) it attracts a lot of attention from audiences that seek exciting plots, as does the audience on stage in the opera. Performance of Mario del Monaco in the role of Canio in our Opera House was the most distinguishing guest performance in operatic Belgrade and the performance attracted a lot of attention both prior and after it took place. Today, when Pagliacci and Cavalleria became inseparable as Siamese twins and when they have their rightful position in repertories of all the most prominent opera houses in the world which have protagonists for main roles, nobody thinks badly about these pieces for their brutality when plot is concerned, or their sentimental music or similar. Greatest singers have always interpreted roles in these operas with much pleasure; some of these interpretations, about twenty different casts, have been recorded on vinyl. Maria Callas, Renata Tebaldi, Zinka Kunc, Mario del Monaco, Franco Corelli, Tullio Serafin and Karajan contributed to fame of these operas, which have been seen and liked by so many viewers, including the cinema and TV viewers. The time has shown that these operas have not been at the top for a short while, due to immediate needs of repertories or owing to marketing, instead they found their rightful place on repertories due to their high artistic values. (…)
(Taken from the Programme for Pagliacci and Cavalleria rusticana from 1977)
---
ABOUT THE LIBRETTO
Around 1890, when Cavalleria Rusticana premiered, Leoncavallo was little known as a composer. When he saw the success of Cavalleria, he resolved to create his own opera in the same style, a one-act opera, composed in the Verismo style. Modern critics believe that the libretto was inspired by Catulle Mendès's play written in 1887, titled La Femme de Tabarin. When the play performed in Paris, Leoncavallo lived there and it is quite possible that he saw it. However, the composer claimed that the story was based on an actual incident he remembered from childhood. He claimed that a servant took him to see a comedy performance and, on that occasion, the event he presented in his opera took place. He also claimed that his father, who was a magistrate, had presided over the case and that he has documents in his possession to confirm these statements. None of the proofs has ever been submitted and many critics believe that Leoncavallo wanted to present his opera even more realistic with his statements. Pagliacci were, right after its first performance, very successful and remain popular to this day. One of the best known opera arias Recitar!...Vesti la giubba is from this opera. Recoding of Vesti la giubba performed by Enrique Caruso was the first record to sell a million of copies. In 1907, Pagliacci were the first whole opera that was recorded.
---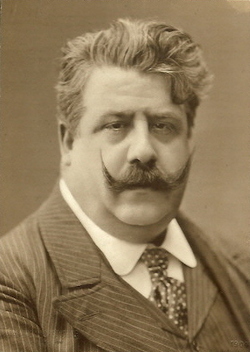 RUGGERO LEONCAVALLO1858—1919
Ruggero Leoncavallo was an Italian composer born in Naples, where he studied at the Conservatory mentored by Cesi and Rossi. He graduated at the Department of Italian Literature at the University of Bologna. At the beginning of his career, Leoncavallo resolved to write operas. His first piece was opera Chatterton. While waiting for production of the opera and because of the lack of money, Leoncavallo joined the traveling musicians and travelled around Europe for a long time (England, France, Germany) and then he went to Egypt. When he returned to Italy, he wrote the first opera from a trilogy about the Medici family (I Medici) commissioned by publisher Ricordi. This opera was never produced as well. This is why he approached Sonzogno, Ricordi's competitor, and wrote Pagliacci for him. First performance of the opera (17 May 1892) was an immediate success. Dynamic plot, with a comedian as the main character, and expressive music have attracted a lot of attention first from Italian audience and, later on, from international audience. With this piece, Leoncavallo introduced new theme into music theatre and brought it to life with new artistic expression. His next piece, opera La Boheme caused a lot of problems to Leoncavallo. It was based on the same novel Puccini used for his opera of the same name, which was a success several months prior to Leoncavallo's, therefore the opera was quickly removed from stage and forgotten. His other works, Roland from Berlin, Maia and Zingari, also failed, so he lived off the reputation of opera Pagliacci. With this opera, Leoncavallo proved to be one of the most distinguished representatives of Italian Verismo style.
Selection of Leoncavallo's works:
• Orchestra – Symphonic poem Séraphitus Séraphita
• Operas: Chatterton, I Medici (first part of the uncompleted trilogy Crepusculum), I Pagliacci, La Boheme, Zazè, Der Roland von Berlin, Goffredo Mameli, Edipo re
• Ballet La vita d'una marionetta
• Operettas: Malbrouck, La reginetta delle rose, Are you there, La candidata, Presta mi tua mogile, A, chi la giarretiera, Il primo baci
• Romances
Taken from: The Art of Music, Encyclopedic Lexicon – Mosaic of Knowledge, Interpress, Belgrade 1972
Premiere performance
Premiere, March 14, 2007 / Main Stage

opera consisting of a prologue and two acts
Libretto and music Ruggiero Leoncavallo
First performace, May 21th 1892, Milan
Conductor Dejan Savic / Zorica Mitev-Vojnovic
Director Plamen Kartalov, as a guest
Set Designer and Costume Designer Valentinos Jozef, as a guest

Premiere cast (firstnamed from listing):
Canio, head of the troupe Dušan Plazinić / Hon Li as a guest / Aleksandar Dojković
Nedda, Canio's wife, in love with Silvio Suzana Šuvaković Savić / Sofija Pižurica / Bosiljka Stevanović / Jasmina Trumbetaš Petrović / Ana Rupčić
Tonio, the fool Miodrag D. Jovanović / Oliver Njego
Beppe, actor Ljubomir Popović / Darko Đorđević
Silvio, Nedda's lover Predrag Milanović / Vladimir Andrić
Country man Gavrilo Rabrenović, Boris Babik

Premiere cast in commedia (firstnamed from listing):
Pagliaccio Dušan Plazinić / Hon Li as a guest / Aleksandar Dojković
Colombina, Pagliaccio's wife, in love with Arlecchino Suzana Šuvaković Savić / Sofija Pižurica / Bosiljka Stevanović / Jasmina Trumbetaš Petrović / Ana Rupčić
Taddeo, servant Miodrag D. Jovanović / Oliver Njego
Arlecchino, Colombinas lover Ljubomir Popović / Darko Đorđević
Chorus of villagers

Place: Calabria, near Montalto, on the Feast of the Assumption
Time: between 1865 and 1870.
With participation of: National Theatre Orchestra, Children Chorus Horislavci led by Draško Jankovic
Assistant Director Ivana Dragutinovic
Chorus Master Ðorđe Stankovic
Concert Master Edit Makedonska / Vesna Jansens
Stage Music Ðorđe Stankovic
Music Assistant Nevena Živkovic, Nada Matijevic, Srđan Jarakovic, Ivan Jovanovic, Tatjana Šcerbak-Pređa
Prompters Silvija Pec, Biljana Manojlovic
Stage Manager Branislava Pljaskic-Ristic
Organizers Snježana Vujasinovic, Vanja Kosanic
Translator Konstantin Carina
Lighting Designer Srđan Micevic
Make-up Designer Dragoljub Jeremic
Stage Master Dimitrije Radinovic
Sound Designer Nebojša Kostic
Costumes were manufactured in the workshops of the National Theatre of Belgrade.