About Performance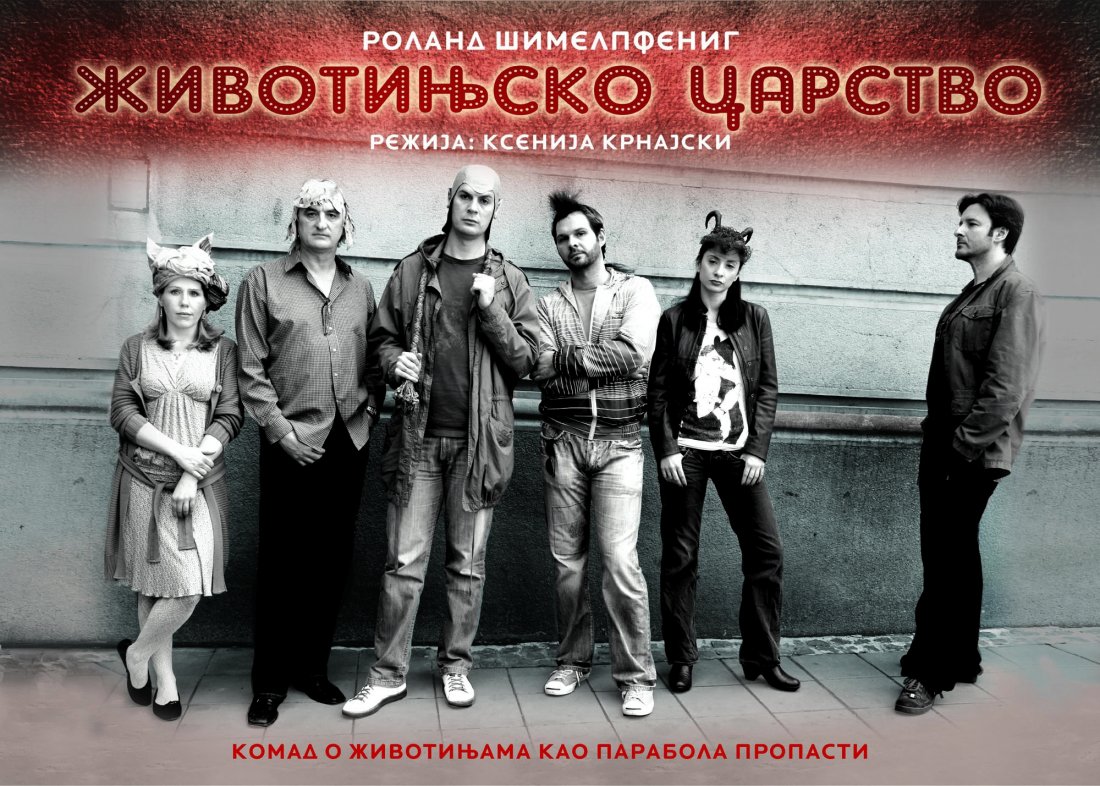 Interview with Ksenija Krnajski
PLASTIC IS SEDUCTIVE ONLY WHEN IT'S NEW
Animal Kingdom – is it a metaphor of interpersonal relationships, hierarchy inside the social and political system, criticism of culture or a report on artists in the backstage? What is your first association?
I have been delighted with the play because it functions, so unpretentiously, on all these levels… Many plays have been written and many films have been made about actors behind the scenes and, every time, it is exciting for both viewers and artists who deal with the subject. However, I find it more important that there is a parable of a certain cultural policy both nationally and internationally. Theatres seem to function, increasingly more so, as small workshops that produce colourful trinkets, so comforting, but not so beautiful and, by all means, not of good quality. The trinkets' role is to dazzle and to make money. It became irrelevant if our children will talk about them, or if our grandchildren will inherit them. Plastic is seductive only when it's new and when there are a lot of them on a pile. And so, the characters in the play have been acting animals for six years in a theatrical mishmash.
The play consists of three separate parts: a performance played for "an audience", events behind the stage and a new production that will replace the old one. How did you decide on the genres? I am predominantly interested in why you made a country musical out of a play that is quite narrative. Why did this particular genre attract you?
I felt that the genre of a production our characters play "six long years, seven times a week, even on Christmas and Easter" should be emphasized, because the play stole identities from these people, filled them with anger and gave them a bad case of jitters. The particular genre had to be appealing and relaxing, completely opposite from their real lives. We needed our own Lion King, not as nearly as expensive and pretentious as "theirs", but at the same time funny and eventually sad. Country music had its global renaissance in the last several years in films, TV and through many teenage music stars. It seemed to me that road the Country travelled, from Dolly Parton to pop-music in cities, is the same one some people take from a stable to limousine. What counts is the flash of one's smile, not the truth. This is how we designed this production – a musical for imaginary audience (read it – the public) and dressing rooms' events for destiny.
Animal Kingdom is the middle play in the trilogy that encompasses two more plays Visit to the Father and Before/After. To what extent are the three plays connected? How much does the idea about past and future of characters help? If you had the opportunity, would you agree to direct the whole trilogy, although it had never been done before?
The plays are connected more poetically than dramatically; therefore, they are autonomous and each of them is finalized, although it may not seem so at first glance. Bojana Denić has been precious to my work, not only because of her superb translation of Animal Kingdom, but also because she translated excerpts from the other two plays I thought important and juicy, as material for actors. I do not have a need to put these three plays together, mostly because they are almost as diverse in their structure as different epochs are, but I would love to direct each one individually.
One of the most important German directors, Jürgen Gosch, directed the first production of the play. Does it represent a burden? Judging from the photographs, how different are Serbian and German productions?
Probably as different as Serbian and German nations are different (ha, ha, ha)… Judging from what I have read and seen from the photographs, he saw "the parable of disaster" in an expressionistic way. Actors are placed in an abstract white space and are completely naked at the beginning of the play. They paint animals they act on their bodies, stick real feathers onto their skins and put paint all over them. According to Schimmelpfennig, this preparation lasts for twenty minutes! I wanted some reduced elements of a real dressing room and some realistic people who have been playing for six years the same play that could be easily on for that long in our country. I doubt that the performances with naked actors who play animals on a white stage would have so many viewers here. All of us interested to see the play would have done so in a fortnight. Animal Kingdom is different in Serbia in comparison to Germany, though I wish it were not…
The play deals with transition from the old production to the new one. How important was this aspect of the play to you? What is old and what is new for you?
It was important to show how little do the repertoires, fees and production circumstances depend on actors, though they are the most important mechanisms in a machine called the theatre. They are often not satisfied, some are grumpy, some have attitudes, some have none, some are geniuses, some are envious, but in each case, they are not consulted. This resembles a small state, where the political leaders are not concerned with the needs of individuals or groups; they are focused on their own vision of the future. The actors, especially those "on monthly payment cheques", will most often play what is on the table, whether they like it or not. This is what the story is about in our production; everybody resents the new production, because, without reading the text, they decided it is humiliating to play a Fried Egg and Bottle of Ketchup. Nevertheless, in the end, everybody plays his or her role in this nonsense of a badly interpreted text written by an accomplished writer… The end is depressing… This is the reason I am grateful to the whole cast, especially to Boris, Miloš, Anja, Gojko, Kubura and Zlatija. They have been so wise and so not self-conceited and managed to think and act what is important and what is so relevant to us.
By: Maja Pelević
---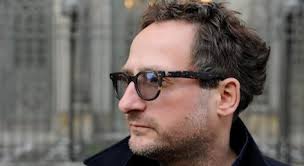 ROLAND SCHIMMELPFENNIG
He was born at Göttingen in 1967. He first worked as a freelance journalist and author in Istanbul before starting to study as a theatre director in Munich's Otto Falkenberg School in 1990. After completing this course, he became an assistant director and later a member of the artistic team at Munich's Kammerspiele. He was then engaged as dramaturge and author at the Berlin Schaubühne for the 1999/2000 season. At present, he is house author at the Deutsches Schauspielhaus in Hamburg. Prizes and Awards: * Else-Lasker-Schüler-Preis for "Fisch um Fisch" (Fish for Fish)(1997); * Nestroy Prize 2002 as best young author; * Nestroy Prize for the best play 2009 "Besuch bei dem Vater" (Visit to the Father); * Else-Lasker-Schüler-Prize 2010 for his work; * Invitations to the Mülheim Theatre Days: in 2000, with his play "Vor langer Zeit im Mai" (Long Ago in May); in 2001, with his play "Arabische Nacht" (The Arabian Night); in 2002, with his play "Push up 1-3"; in 2003, with his play "Vorher / Nachher" (Before / After); in 2005, with his play "Die Frau von früher" (The Woman from the Past); in 2009, with his play "Hier und Jetzt" (Here and Now). Play "Der Goldene Drache" (The Golden Dragon), written and directed by Roland Schimmelpfennig himself, is in selection for Mülheim Theatre Days (in best drama text category) and for Berlin Teatertrefen (in best director category) for 2010.
---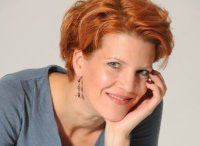 KSENIJA KRNAJSKI
Ksenija Krnajski was born on 10th April 1977, in Novi Sad. She studied theatre directing at "Braća Karić" Art Academy in the class of Professor Nikita Milivojević and Anita Mančić; and graduated in 2001. Ksenija worked for Theatre Magazine Scena (2004–2008). Her previous productions: Public readings – Far Away by Caryl Churchill, Belgrade-Berlin by Maja Pelević, Romania 21 by Stefan Peka. All-evening productions – Language Roulette by Daragh Carville (Bitef Teatar), Some Explicit Polaroids by Mark Ravenhill (National Theatre in Belgrade), Portia Coughlan by Marina Carr (Evening Stage "Radović"), omnibus Govornica (Telephone Booth) by Jagoš Marković ("Bulgarian Army" Theatre, Sofia, Bulgaria), Pokondirena tikva by Jovan Sterija Popović (Serbian National Theatre, Novi Sad), Under the Blue Sky by David Eldridge (National Theatre, Subotica), Budite Lejdi na jedan dan (Be a Lady for a Day) by Maja Pelević (39th BITEF Festival, Bitef Theatre), Belgrade-Berlin by Maja Pelević (Zvezdara Theatre), Četiri male žene (Four Little Women) by Ljiljana Jokić Kaspar, dramatized by Svetislav Jovanov (National Theatre "Toša Jovanović", Zrenjanin), Ghosts Henrik Ibsen (Serbian National Theatre), Lek od breskvinog lišća (Remedy Made of Peach Leaves) by Zorica Kuburović, dramatized by Maja Pelević (Little Theatre "Duško Radović", Belgrade), Sve o ženama (All about Women) by Miro Gavran (Culture Center Valjevo), Totally Spies – Totalni Mraz by Maja Pelević ("Boško Buha" Theatre, Belgrade).
Premiere performance
Premiere, 22. may 2010 / "Raša Plaovic" Stage

Translated by Bojana Denić
Directed by Ksenija Krnajski
Dramaturges Branislava Ilić and Maja Pelević
Set Design Siniša Ilić
Costume Design Bojana Nikitović
Composer Vladimir Petričević
Song Lyrics by Maja Pelević
Choreographer Milica Cerović
Speech Ljiljana Mrkić Popović
Assistant Set Designer Miraš Vuksanović
Assistant Costume Designer Momirka Bailović

Premiere cast:
Peter / Lion / Fried Egg Miloš Đorđević
Dirk / Marabou Bird / Ketchup Bottle Gojko Baletić
Isabel / Mongoose / Pepper Mill Zlatija Ivanović
Sandra / Antelope / Toast Bread Anastasia Mandić
Frankie / Zebra Aleksandar Srećković
Chris Boris Pingović

Producer Nemanja Konstantinović
Stage Manager Sandra Žugić Rokvić
Prompter Gordana Perovski
Head of the Set Crew Zoran Mirić
Make-up Dragoljub Jeremić
Lightning Operator Dušan Pivač
Sound Operator Roko Mimica
Masks and costumes for Fried Egg, Ketchup Bottle, Pepper Mill, Toast Bread made by Radica Komazec
Marabu puppet made by Nikola Komazec
Costumes and set were manufactured in workshops of The National Theatre in Belgrade